Dale Earnhardt Jr. has been a staying power in the world of NASCAR Sprint Cup racing. Celebrating his 39th birthday and 500th Cup start, how will he fare down the stretch in 2013?
Most NASCAR Sprint Cup drivers and teams are looking at this weekend's activities at the Charlotte Motor Speedway for the Bank of America 500 race as a "homecoming game," as instead of flying by plane, they're just a simple car drive away to the 1.5-mile venue in Concord, NC.
It's a big Saturday night affair where the winner of this race gets bragging rights as the winner of the only nighttime Chase race of the season (save for Chicagoland's rain delayed Geico 400 last month). For one driver in particular, namely Dale Earnhardt Jr., this is a very special weekend and return near his hometown of Kannapolis, NC, as he celebrates two major milestones.
First, it's his 39th birthday, a somewhat striking moment as some of us in the circuit can recall this two-time NASCAR Nationwide Series champion and 2004 Daytona 500 winner as a bold, brash youthful talent who once said in a TNT commercial, "Drama is growing up in the shadow of greatness."
Of course, Earnhardt was referring to his late legendary father, Dale Sr., a legendary stock car racing icon. For years, the third-generation race was often compared to his seven-time Cup title winning father. which could perhaps be an unfair position to place this solid driver. After all, he's established himself as quite the solid, consistent racer and has shown the ineptness to take on the best opportunity possible, not sitting idle with anything less than successful for himself and his team.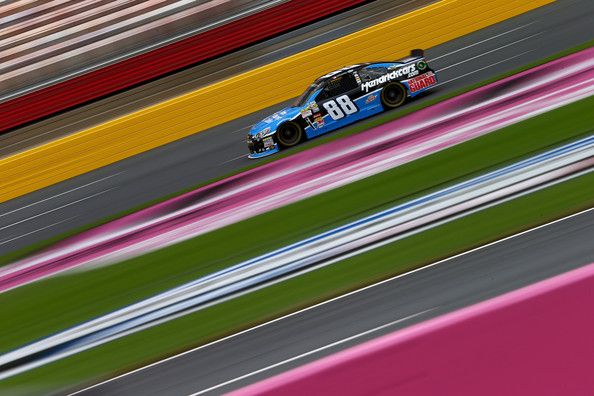 Although the 39-year old racer remains winless in 2013, there's reason to believe that the No. 88 Time Warner Cable/National Guard Chevy SS team can still be a force to be reckoned with down the stretch of 2013.
Crew chief Steve Letarte has been atop the pit box since the start of the 2011 season, piloting Earnhardt and his crew to a solid seventh place showing in the points standings and also propelling them into an emotional Father's Day victory at Michigan International Speedway in June of 2012. This year's been more of that steady consistency, as they sit eighth in points with two poles, six top-fives and 17 top-10's thus far.
Earnhardt is not only celebrating a big 39th birthday weekend, but Saturday night's showdown at CMS marks his 500th career Cup start, which ironically began at this very facility back in May of 1999.
Going from the bleach blonde rebellious 24-year-old rookie to a grizzled, bearded veteran with Hendrick Motorsports, he's matured, grown confident with who he's become as a person on and off-the-track, and much like his father, seemingly has improved with age behind the wheel. Only 54 markers behind points leader Matt Kenseth, this weekend could be a pivotal make or break race for the leader of "DMP," or "Dirty Mo Posse."
With their only hiccup being a 35th engine-related DNF at Chicagoland, Earnhardt and the No. 88 team have scored finishes of sixth at Loudon, a runner-up at Dover, and an eighth at Kansas.
Stepping it up when it really counts, might a win be in the offing at last in Charlotte? More importantly, how will Earnhardt fare in his 500th Cup start and down the stretch in the Chase?
However the No. 88 team places, one thing is for certain: we may not fully appreciate what Dale Earnhardt Jr. has accomplished and done in his NASCAR racing career until the helmet and skull gloves are put in the mantle for good.
There's been 499 starts for Earnhardt, where he's got highlight wins at Talladega and Daytona, emotional triumphs at Michigan, a sterling victory at Bristol, a pair of checkered flags from Richmond, and a Dover trophy to boot. For now, it's all about watching and waiting to see what's next for the most popular driver in the Cup circuit. Suit up and enjoy that birthday cake, Junior.