Maybe the dominant Jeff Gordon is far and long gone away. But as far as the title window, it's still there - but how so? Read on.
Maybe Jeff Gordon is not the dominant force that he once was back in the mid to late 1990's, winning 47 races between 1994-'99 and three NASCAR Sprint Cup championships. Every force in stock car, or any racing series, has that chapter in their career where the opportunities to win titles becomes narrow and the window to win races becomes smaller. Granted, when Gordon is brought into the discussion in today for NASCAR racing, he's still one of the oft-mentioned racers when it comes to contending for victories and on any given race day, he can still challenge the best on the track.
Sure, his hair's a semblance of those Ray-Ban sunglasses wearing, youthful years when Ray Evernham was atop the pit box and outfoxing the likes of Dale Earnhardt, Rusty Wallace, and Terry Labonte at Charlotte or Darlington. Back then, he was a wide eyed, bold, aggressive, and hard charging racer that didn't exactly calculate how to race - he just ran flat out and more times than not, despite those tactics, the trips to Victory Lane and the Cup trophies racked up.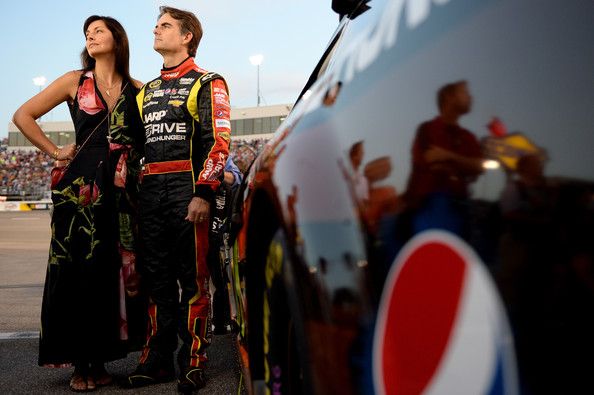 There's gray strands now and every once in a while, the mullet is there. At times, on the track, he doesn't look like the fast and fiery Gordon that would race the wheels off his machine when the No. 24 Chevy was the "Rainbow Warrior."
Today, the 42-year-old driver seemingly bides his time, knowing exactly when to punch it if his car has the speed and handling to keep pace with the hot shoes like Kyle Busch, Jimmie Johnson, and Brad Keselowski. That's when those moments like his wins at Phoenix, Pocono, and Atlanta from 2011 happen. It's when those lucky wins at Pocono and Homestead-Miami strike up last year.
Then again, that's somewhat of a trend in recent years, where that tactic has made the 87-time race winner appear tentative on the track. Sometimes, his feedback on the car's handling leads crew chief Alan Gustafson and the No. 24 Drive to End Hunger Chevy SS team to make well intended adjustments that backfire or make a marginal difference. Racing is a damned frustrating sport and at times, it can even make one of the best struggle in a series that once was a playground to rejoice in on Sunday afternoons. Even an engineer-minded crew chief like Gustafson and a veteran racer like Gordon working together can sometimes get stumped on the track.
Some say that the opportunities for Gordon to win titles are over, as the likes of Johnson, Busch, Keselowski, and the soon to be Cup talents of Kyle Larson and Austin Dillon will likely stave off any attempts for the Vallejo, CA to be on top of the Cup landscape. OK, maybe they'll thwart off a chance for a 13 win season - that was just a torrid clip and pace of wins for any driver.
And sure, he's not as young as he used to be. Critics have questioned Gordon's desire to compete at least since 2006, often bringing up his personal life as a reason why he hasn't won as much or scored a title. But those title chances are still there - if all the puzzle pieces and ingredients to be a champion are in place.
As most of the discussions all week long will focus on the Chase field and the fallout of Michael Waltrip Racing's actions last Saturday night at Richmond, perhaps the one story to pay attention to is with Jeff Gordon and the No. 24 team. Maybe the storyline of 2014 that will have its foundation created and formed is how Gordon and his crew handle the last 10 races of this season. After all, while 12 teams are focusing on winning the title starting at Chicagoland Speedway on Sunday, this Hendrick Motorsports unit has its own mission and 10-race plan: to win and work towards a championship next year.
Admittedly, Gordon has realized that the pieces to be a championship contender in 2013 haven't been there. He hasn't made an excuse or copped out, but rather, looked at what can be done to be better and stronger from here on out.
"We battled hard all race and all weekend long at Richmond, but we came up a few points short," said Gordon. "But the effort and never quit attitude is what I love about this race team. We're going to continue with that attitude through each of the final 10 races."
Richmond was perhaps the microcosm of their frustrating year, as they scraped hard even when adversity struck with a loose wheel past halfway during last Saturday night's race. After falling two laps off the pace, both driver and team refused to lose, battling hard with an ill-handling car to claw back into position for a Chase seed. Ultimately, it was all for naught, but to come from 26th and two laps behind to finish eighth and just within a whisker for a playoff position spoke volumes as to how strong Gordon and his crew have become in this trying season.
Adversities are nothing new to Gordon. He missed the Chase in 2005 after a hot start to his year with then-crew chief Robbie Loomis and endured winless campaigns in '08 and '10 with Steve Letarte, who now heads up Dale Earnhardt Jr.'s No. 88 team. Those struggles weren't due to a lack of effort, as in those years, at some juncture, he was a factor before struggles set in that relegated to "best in class" status. Still, when those tough times occurred, the following years saw a rejuvenated Gordon and No. 24 team come back a with a mission.
How many races can the 24 team win during the final 10 races of 2013? It isn't out of the question to say that they can win at least two or three of these events. Although memories of a mustached Gordon may linger with fans from last year, in which a retro-looking champion would ultimately crash hard towards the final segments of the race at Joliet, he is a strong choice for the win. Intermediates have become a strength for the Drive to End Hunger collective, as seen at Atlanta, Charlotte, and Texas.
Then there's Loudon, NH, a short track where his record boasts three Cup wins, as well as Talladega, AL, Martinsville, VA, and Homestead-Miami, FL. Long story short - Gordon stands a great shot to be a contender at any of the final 10 races of 2013. If they can run with the leaders and contend for victories down the stretch, we may be looking at the team to beat when the discussions about the 2014 season are brought up by Daytona Speedweeks.
Until the fire has stopped, the desire has waned, and that competitive spirit has diminished, as long as Jeff Gordon's work attire is an Alpinestars firesuit with the Drive to End Hunger and Axalta colors and his ride is a No. 24 Chevy SS, there is no quit in this driver and his supporting cast. As Dr. Jerry Punch of NASCAR on ESPN stated after Gordon's 85th Cup win at Atlanta in 2011, "On a bad day, he's better than most. On a good day, he's the best of the best."
When that good day comes for Gordon and his No. 24 team at the racetrack, we may just see that 42-year-old driver show flashes of that 24-year-old champion. Unlike the youngster in 1995, this time, Gordon will get to revel in that moment with wife Ingrid and his two children Ella Sofia and Leo Benjamin, taking in all the sights and sounds of what it means to be winners and champions in NASCAR. That will be a picture that will make race fans and stock car enthusiasts smile, when that moment happens.
Until then, the book is awaiting its author to compose the chapters. The pictures have yet to be taken and the swigs of soda and champagne have yet to be tasted. Gordon and his team will have races and moments on and off the track that will be chronicled in what may be the story of the 2014 champion, all starting here in these late summer days in September of 2013. Suit up, Gordon.