It's been one amazing 2013 and there's only way to do this year justice - by saying thanks to those that made it rock!
As I look back at this year in its waning moments, I'm left to reflect on the journey that I've had as an individual in terms of a writer, a racing fan, and as yours truly, Robert Virgil Tiongson. It's been one of the hardest years where I've been forced to grow up faster, to take accountability of my actions, and most of all, to learn to embrace who I am completely. I have to say that when I compare where I was in 2012 as opposed to where I am tonight, this is a far better year. In a way, it's like going from spinning out out of control to recovering and contending for the race win, within the top-five during the last 30 laps of the Daytona 500.
This year's amazing experiences and wonderful moments wouldn't be possible all on my own. There are so many people to thank along the way and to not make myself sound like I am writing my speech for a banquet at Las Vegas, I'll instead write from my heart and in this rare instance, write to you, the audience, with my personal experiences, still sharing stories but in a more first hand point of view.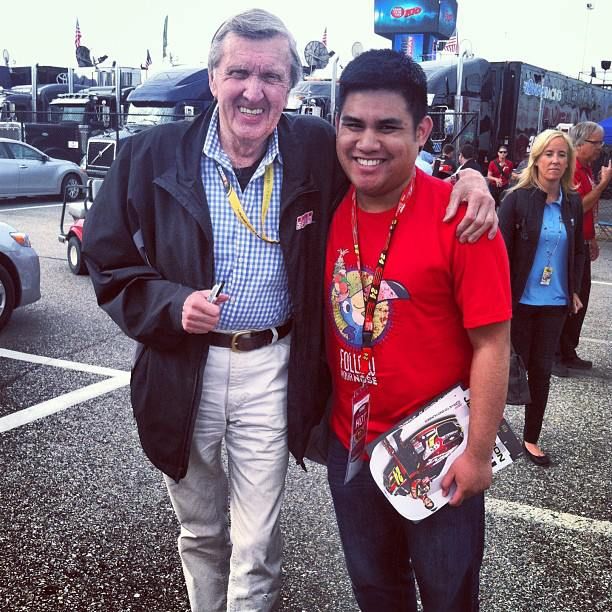 Needless to say, it was amazing to meet a lot of my racing heroes this year. Meeting Jeff Gordon, Kasey Kahne, Austin Dillon, Joey Logano, Sam Hornish, Mike Wallace, Jack Roush, Alan Gustafson, Dustin Long, Bob Pockrass, Alan Cavanna, Mike Massaro, Kelly Crandall, and of course, Ken Squier at Loudon, NH was nothing short of incredible. Gordon is one of the main reasons that I got into racing so to meet a driver who I've looked up to was surreal. Seeing the faces and figures of NASCAR racing up close and personal was truly larger than life and it's safe to say that it reinvigorated my love and passion for racing in a whole new level. All of those names and racing luminaries are certainly my catalysts with the sport and with life.
As if that wasn't enough, I even got to meet two of my drag racing heroes in the form of John and Brittany Force all in the backyard of Quincy Market over in Boston, MA. Quite possibly, it was the best lunch break in my workforce world life and even if I still didn't learn my lesson to look at the camera for a picture, it was still quite awesome and memorable for me.
This year was a wonderful one mainly due to my family, which starts with my parents, Virgil and Beth. They have seen me smile when I've had some great moments and have been there for me when I've experienced some of the struggles in my racing dreams. Their support and love is second to none and I know that they certainly are a huge driving force with all that I do and I love them both very much. One thing that most friends may not realize is that my parents are who got me into racing, and somewhat by accident. Long story short, they had bought me my first NASCAR diecast when I was five years old and it just so happened that we watched our first NASCAR race that same weekend which Dale Jarrett took the checkers in Brooklyn, MI back in 1991.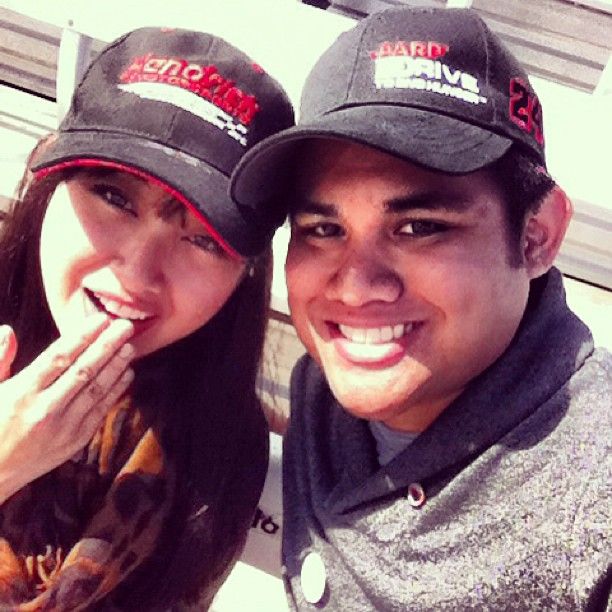 My sisters Cris and Tess are very inspirational, wonderful, and loving - growing up with them has been the best and even when we've had our rough spots, we've always seen it through and been supportive of each other's endeavors and ambitions. Tess experienced her first NASCAR race in September at Loudon and it was pretty cool seeing her watch what I've loved for pretty much all of my life. Needless to say, we look forward to more races and I certainly can say that I have the best sisters in the entire world.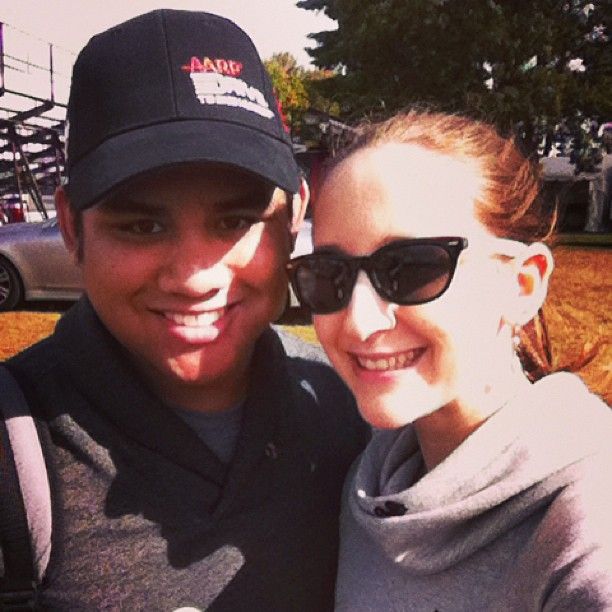 I've also got my extended family in the racing community and the first people that comes to mind with this are Isabelle Beecy, Kara Martin, and Jessica Tow. Isabelle joined TPF back in mid-2013 and she's really been growing into her own as a great writer, a more confident individual, and most of all, an even better friend. Kara and I have known each other since late 2008 and even if we don't always talk, it's like we pick things back from where we last left off and it's certain that when we need a laugh or someone to hear us out, we're both there for each other. Jessica is someone who I see a bit of myself with, as she's ambitious, an optimist, and crafty. Her skills as a writer and analyst with racing are truly professional grade and she's certainly been like a little sister to me, whether it's NASCAR or Boston Bruins hockey season.
Meeting my friend Tiff Daniels was possibly the moment which made TPF feel like it became a "three dimensional" entity. Tiff had written for me in late 2011 and while she's certainly made huge strides in racing, she's still been supportive and a huge part of reinforcing my passion for motorsports and she's a great friend as well. I'm still expecting that race with you, Tiff, so let's find time at GoPro Motorplex soon with Kaitlyn Vincie and our buddies. Also, getting to meet Mike Massaro of ESPN had to be pretty cool - he was the first professional racing interview that I did back in 2009 and it was awesome to meet him at last!
Without forgetting everyone else who's been there for me in 2013, if you're not mentioned, please know that I don't forget all the great people who've been around and that we'll have great experiences in 2014. From Team Arie, including Arie Luyendyk Jr., Cristin Munley and Kerrie Shellian, Alyssa Lasater, Fabienne Lanz, Jennifer McClenahan, Vicki and Greg Brand, Haley and Becky Moody, Tracey Chambers, Beth Chryst, Leilani Münter, Sabré Cook, Georgia and Jen Henneberry, Jessie Honigs, Taylor Nesbitt, Taylor and Jensen Jorgensen, Kaitlyn Vincie, Danielle and Andrea Trotta, Natasha Johnson, Kristen Beat, Austin Wayne Self, Kristen Murphy, Katie Stephenson, Hannah Newhouse, Cassie Simonton, Ashley Sanford, Ashley Hobbs, Ashley Schneider, Andy Marquis, Kerstin Smutny, Emma Blaney, Nick Brincks, Matt Kacar, Shelby Parrack, Kathleen Cassidy, Laura Neff, Korbin Forrister, Michael Lira, Emily Zartman, Shannon and Mary Mudro, Michael Hirschbein, Dustin Parks, Patti Rodisch, Rob Blount, Jessica Kline, Jamie Horner, Backwoods Girls Promotional Staffing, Jessica Bushee, Taylor Hartlin, Taylor Spear, Shanda Foster, Natalie Sather, Paul Heath, April Wilson, Annie Weissert, Amy Woedl, Patrick Reynolds, Matt Wiernasz, Jason Remillard, and my "we are somewhat aware of racing" friends Kacee Evitts, Nicole Jabines, Glerren Bangalan, and Mavic Casas, in the words of Jackson Browne, "you all know that you're the champs!"
Sure, it might sound trite and redundant, but from the bottom of my heart and sincerely from yours truly, I want to most of all thank all of you, the fans of The Podium Finish, for making this year as one that's most memorable, incredible, and truly the best one yet for me! Only time can tell how 2014 will be, but I'm certain about this much - no matter how each day goes, remember to always make the most of it! On behalf of the hard working crew here on TPF, let's ring in the new year happily and safely! And don't forget to spend time with the ones you love as well!