When one takes a stroll in the NASCAR Sprint Cup garage area, there are teams who seem content and poised for race wins and some where the pressure's on to make an earnest bid at this year's Chase field. For AJ Allmendinger and his No. 47 Scotts JTG Daugherty Racing Chevrolet SS team, while they sit 23rd in points, this young racing organization's shown some flashes of brilliance in scoring their first win in the most elite level of stock car racing.
The 32-year-old racer from Los Gatos, CA is poised for a solid follow up performance for Sunday's GoBowling.com 400 at Pocono Raceway (Live, 1 PM ET on ESPN), as he and his team are looking forward to applying their notes from the June race with a car that's capable of a strong finish at "The Tricky Triangle."
"For the most part, our biggest struggles have been being off when we start practice," Allmendinger said. "It's when we unload and we are off, we have to play catch up from there. I think going back to these tracks the second time around will at least help us have a starting point. We didn't have a great car the last time at Pocono Raceway, but it was not terrible. We needed to work on it in certain areas. We're hoping this time we will be able to start a little closer to where we need to be."
In the June race at Pocono, Allmendinger started 21st and placed in the same position, hovering inside the top-20 all afternoon long due to the see saw pit strategy that ensued. Applying those experiences heading into Friday's opening practice session, it would seem like Allmendinger and his No. 47 team have been working ardently on being fast off the truck, as he scored the seventh fastest speed with a speed of 179.251 mph, just 0.018 seconds off the fastest time set by Kurt Busch and his No. 41 team.
Qualifying was moderately successful, as they found some speed to score the 20th fastest speed overall at 179.986 mph. Instead of using the car that was utilized in the spring Pocono race, Allmendinger will pilot the same car that he used at Kentucky Speedway in late June which qualified 15th and placed 22nd in the Quaker State 400. According to crew chief Brian Burns, it's one of their strongest chassis in their arsenal.
"We are taking the car we ran at Kentucky Speedway," Burns said. "I think it is one of our best performing cars. We were running in the top 10 there and came to pit road with what we thought was a flat tire, which cost us track position. That's one of our better cars."
Although most teams are thinking about making the Chase Grid, the congenial and confident Californian is viewing the opportunity in a neat perspective.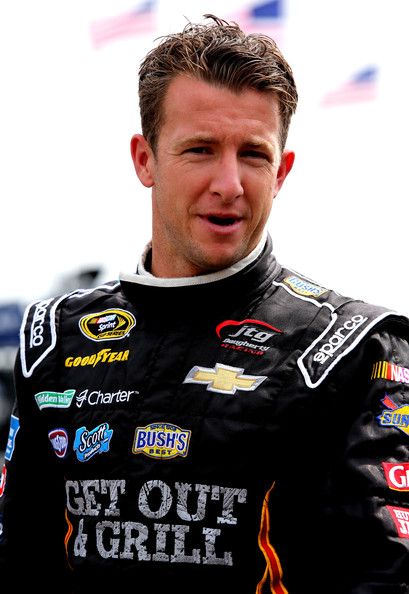 "It would be great to make The Chase because that would mean that we won a race," Allmendinger pointed out. "That to me is what would define making The Chase for us. It would be big for our team, our sponsors, our owners and just the exposure will help bring more money to the team and help with the sponsors that we have to keep building their brands. That's why it's important to win. The Chase doesn't even really enter my mind."
Following their rough 37th at Sonoma and a 43rd at Daytona, setbacks resulting from accidents, they've been able to turn the tide somewhat, scoring a pair of 18th place finishes at Loudon and Indianapolis, getting somewhat closer to the goal of being a team consistently challenging for top-15 results. Burns and his No. 47 crew have been gelling with Allmendinger, understanding more of what he wants out of that Chevy and ultimately getting closer with their chemistry.
Considering those aspects and the new relationships with Richard Childress Racing that started this season, it's a lot of changes that have been dealt with well, all things considered.
"The alliance with RCR and everything that comes with it, from engineering and cars and motors, has helped us out a lot," Allmendinger said. "If you look at the sport right now and compare it to last year, the field is that much deeper. Last year, when I drove this car, I felt like we showed up and we had to be realistic and say, 'This is the group of cars we're racing with.' I looked at it like, we could easily be 22nd or 23rd and anything better than that was outdoing the kind of equipment we had. Now if you look at it, it's 30-32 cars deep."
That said, this is a team that will be fun and interesting to watch in the final six races before the Chase starts in September at Chicagoland. Maybe they lack the prowess and resources of their fellow Bowtie Bridgade teammates but they've got a lot of heart, determination, and a lot of respect for the situations around them to be in NASCAR Sprint Cup racing.
"The little teams like us are trying to get better and it's made this field a lot deeper," Allmendinger said. "I think we have a lot better equipment and we're slowly improving. I look forward to the second half of the season and to come back to a lot of these tracks that we've been to once and hopefully improve at."
They've passed their first hurdles of opening practice with a strong effort and a qualifying performance where the position doesn't necessarily reflect the gains made during the day. Saturday is about dialing the car in race trim, something that this team has shown some strength in doing, especially at Indy last weekend with a 36th to 18th place comeback. Ultimately, it's about Sunday and the 400-mile race day that awaits this hardy team, ready to cash in on their competitions' mistakes and to apply a more aggressive game play with their strategy for track position.
Some point that the race at Watkins Glen is their golden opportunity at making the Chase Grid. However, at this treacherous 2.5-mile superspeedway that drives like a road course, there's no telling who might be leading the race as the laps wind down. Perhaps that driver and team that's ready to pounce and make some magic at Long Pond, PA is AJ Allmendinger and his No. 47 JTG Daughery Racing crew, who are about as ready to compile their best effort of the 2014 season.