Second chances in life are rare and few but at some point, that moment has been encountered for redemption, whether for a personal or professional situation. For AJ Allmendinger, he's worked diligently to complete his comeback as a superstar racer in the NASCAR Sprint Cup Series.
It was truly a two year journey that started with a failed drug test during the weekend of the Coke Zero 400 at Daytona International Speedway. Allmendinger, a driver with Team Penske and his No. 22 Shell/Pennzoil Dodge team, would see that opportunity disappear and sought for help with NASCAR's Road to Recovery program. Completing the program, he's worked in earnest to return back to the Cup ranks and to be a winner in this circuit.
Penske would offer the Los Gatos, CA native with a sample chance back in NASCAR racing, entering him in the No. 22 Discount Tires Ford Mustang ride in the Nationwide races at Road America and Mid-Ohio last year. The young racer would capitalize on those starts, winning both road course events while splitting time with two different NASCAR Sprint Cup teams en route to a full-time Cup ride with JTG Daugherty's No. 47 Scotts/Bush's Baked Beans/Kingsford Chevy SS entry for this season.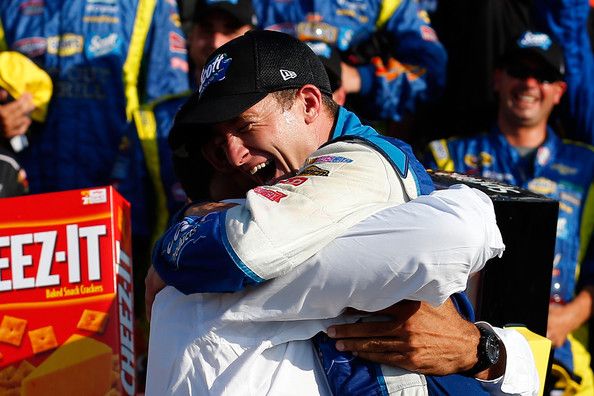 Simply put, it's been truly a remarkable journey for Allmendinger. Overcoming personal adversities and truly finding his home in NASCAR racing, on Sunday afternoon at Watkins Glen International, the 32-year-old racer was able to put the finishing touches of his two-year comeback story with a sentimental victory in the Cheez-It 355 at this 2.45-mile road course.
Often seen as a specialist on these types of racing venues, both driver and team treated this race with tremendous attention, testing two weeks prior to this racing weekend to make an earnest bid at their first ever Cup win.
Surrounded by his former team owner in Roger Penske as well as JTG Daugherty Racing's ally in Richard Childress, Allmendinger soaked in the amazing accomplishment and appreciated the moment in Victory Lane.
"It helped having Roger Penske and the Penske Racing guys and Richard Childress show up and congratulate me, too," Allmendinger said. "That meant the world to me because it means that to me, at least, that I'm still a part of their family, too, and they care about me."
As an individual who truly is passionate and views his current team like his family, the win was truly meaningful and special. In a moment shared with car owners Tad and Jodi Geschicker and Brad Daugherty as well as his family and girlfriend, the Victory Lane celebration was one that's safe to say will be cherished forever.
"You know, to be able to share it with Tad and Jodi and Brad and everybody at this whole 47 race team here at the race track, back at the shop, Tad, Jodi and Brad especially, and I've said it a million times, and I truly believe it, that they make this team feel like such a family, and like we're their own," Allmendinger explained. "To be able to share that together, that was what to me rolling into victory lane meant, that I was pulling into victory lane with my family because they were there. My parents are here, my girlfriend Tara. She's been such a great direction in my life."
Leading the most laps on Sunday (30) and having to stave off a very determined Marcos Ambrose, when he reflected upon the race and the laps leading up to his upset victory at Watkins Glen, his remarks emphasized the prestige and important of winning a Sprint Cup race.
"I was hoping to make it boring, honestly, "Allmendinger said, with a clever smile. "I wanted to lead all 90 laps and just have a cruise control. But that's what makes the Sprint Cup Series so fun. You know you're not going to get that. And Marcos, I don't believe he's one of the best road racers in NASCAR, I don't believe he's one of the best in the U.S., I believe he's one of the best in the world.
To be able to have to go with him basically one-on-one there, and I felt like -- I've always respected him, but I respect him so much now because he could have easily just wrecked me, and honestly probably moved me out of the way and wrecked me and drove to the win and made the Chase and everything is great, but he didn't. He moved me out of the way and he leaned on me and I leaned on him back, so to have that but have that mutual respect where we know what the limit is. It's just a memorable day to go out there and remember everything that just happened, and I hope I win a lot more, but if I don't, to be able to remember it like this, it's pretty awesome."
Whether or not Allmendinger wins another race remains to be seen. Most importantly, it's about a man and his team who've worked diligently, searched every way possible to win, and when it finally all came together, smoke billowed from many burnouts by turn one and a jubilant racer emerged from his No. 47 Scott Products Chevy. Constantly fist pumping, diving into the arms of his pit crew, and embracing about every one who's been a part of his comeback journey, wins like these are what make NASCAR racing truly special and brings fans into the stands each week..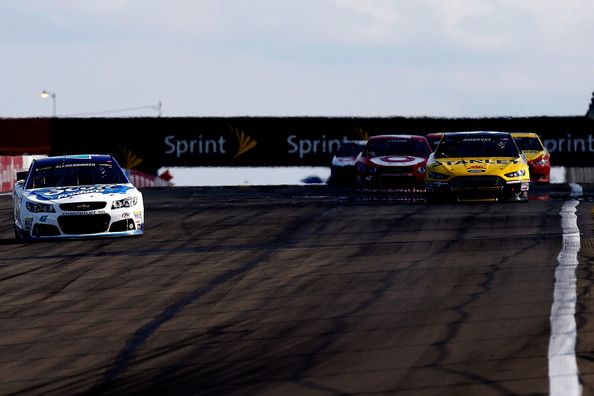 For some fans, if their favorite didn't win, to see the sentimental pick finally record his first winning moment and to rejoice with the ones close to his heart is why the human curiosity still goes on to see such an event unfold. Much like life, most times, it's the ones with the plentiful resources who will often succeed. When a driver and team like Allmendinger and JTG Daugherty Racing, who've worked with all of their efforts on their own in the past and now as a combination in NASCAR, finally get the job done, it's convincing that about anything is possible.
On a day when many in the racing world sought answers and relief from the Kevin Ward Jr. tragedy last evening, whose family and friends are in many individuals' thoughts and condolences, a moment like Allmendinger's win reminds us that in grief, there's solace when a community truly needs it.
It's not to forget the departed. Rather, it's to see the human spirit, often tested and tried in extremes, triumph and succeed in a way that resonates with everyone that's a part of this sport. That's exactly what the hardy Californian did on Sunday afternoon and it'll be a moment that will be reflected as a truly sentimental part of the 2014 racing season when all is said and done.