Some 30 years ago, the familiar No. 43 car of Richard Petty won the July Daytona race in a thrilling race where President Ronald Reagan greeted NASCAR's "King" in Victory Lane" for his 200th Sprint Cup victory. Fast forward to 2014 and while the skies opened up, Richard Petty Motorsports' No. 43 Air Force One Ford Fusion team with driver Aric Almirola and crew chief Trent Owens prevailed in Sunday's rain-delayed and shortened Coke Zero 400 at Daytona International Speedway.
The 30-year-old Tampa, FL native had been contemplating his first Cup win more so than the history and the magnitude of the magical moment that would be at Daytona, in a year that started with the No. 3 Chevy, driven by Austin Dillon, back atop the scoring pylon with the Daytona 500 pole and concludes with the No. 43 in a familiar place: the winner's circle.
"I'm more concerned with getting my first win than what happened 30 years ago," Almirola said prior to NASCAR's decision to call the race."
When the announcement was made, the moment became more real.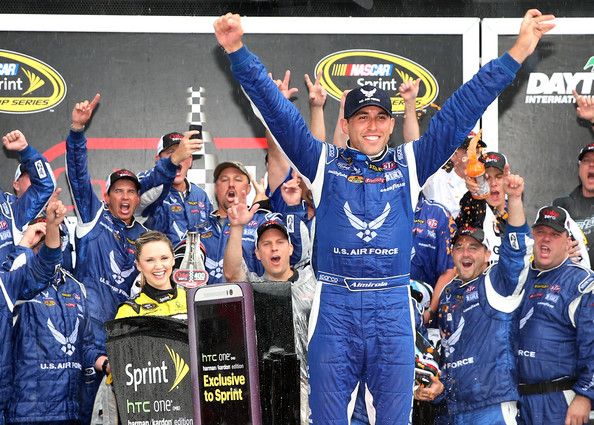 "Man, I just took the 43 car to victory at Daytona," said Almirola. "This is amazing. I grew up two hours away from here in Tampa and grew up (watching the races) in those stands, watching Daytona 500s and Firecracker 400s -- and grew up dreaming about what it would be like to win here."
It was a sentimental win for Richard Petty Motorsports, which went through some tough times with the passing of Lynda Petty earlier this year. Perhaps this moment at Daytona was the shot of optimism that was sorely needed for the whole organization, with car owner Richard Petty realizing the win via phone to the press. After all, it'd been 14 years since a team owned by Richard Petty had won in NASCAR, which took place at Martinsville Speedway with John Andretti in April of 1999.
"Today is the future," Petty said. "To be able to win a race down there, win it for the Air Force on the Fourth of July, the whole thing is great. We've had so many disappointments -- and it rained on us today. But it rained on us at the right time."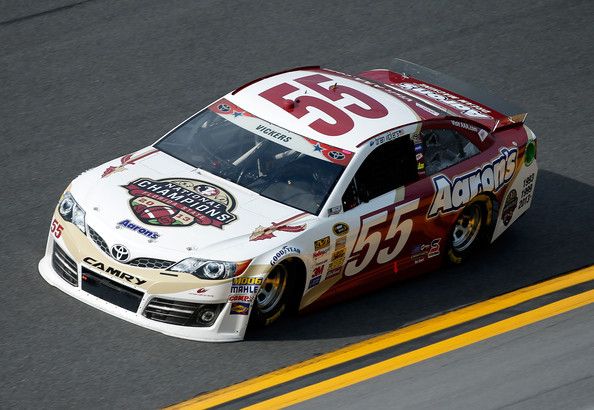 For the majority of the field, it was all about being at the right place and time to contend or miss the two major crashes of the race. Second place finisher Brian Vickers was in position to win in his No. 55 Aaron's/Florida State University Toyota Camry fieled by Michael Waltrip Racing. Unfortunately, the rains decided to spoil those plans. Still, as he would comment on Twitter, he wasn't too disappointed, as he'd tweet, "Weather wasn't in our favor. We had a great @AaronsSports @FSU_Football Toyota. Avoided wrecks & were in position if we went back racing."
Placing third was Kurt Busch and his No. 41 Haas Automation Chevy SS from the Stewart-Haas Racing table. Surviving the two grinding crashes and making the most of an unusual race day, the 2004 Cup champ led the most laps (36) and perhaps had the strongest car once all the smoke and sheet metal cleared. Like Vickers' situation, Busch simply ran out of time, tweeting, "We had a really good shot at the win and in disappointed for my @Haas_Automation we didn't get the chance to go for it after leading laps."
Still, all things considered for Vickers and Busch, their results were almost like victories compared to those who were swept up in the race's two separate "Big Ones," or the multi-car crashes which leave a track with a junkyard of former speed machines. Prior to the competition caution on lap 20, things got hairy at Daytona when Bobby Labonte raced to the outside lane, which forced Ricky Stenhouse to check up and caused his No. 17 Winn-Dixie/Cargill Ford Fusion to get swirly.
Points leader Jeff Gordon, who trailed Labonte and Stenhouse, also checked up a bit but tangled with Tony Stewart's No. 14 Chevy, resulting in a 16-car crash which eliminated AJ Allmendinger and Jimmie Johnson from the race. Also getting swept up in the crash were Matt Kenseth, Danica Patrick, Denny Hamlin, Kyle Larson, Carl Edwards, Dale Earnhardt Jr., and Trevor Bayne among others.
Gordon, who would rebound to finish 12th and retain the points lead in his No. 24 Pepsi "Real Sugar" Chevy SS, took responsibility for the crash, taking to Twitter and saying, "Wow what a crazy race @DISupdates! I'll take the blame and apologize to all involved for 1st wreck. Congrats @aric_almirola & 43 team!"
Stewart was nonetheless peeved with the crash, which left him placing in 40th with a car that was plenty fast and capable of contending for the win on Sunday. Frustrated but unhurt from the crash, he had some scathing remarks for Stenhouse.
"A half-lap from getting a competition caution and Stenhouse is going to be a hero," Stewart said. "I guess Ricky thought it paid something to get to Lap 20. I don't know what happened to him, but he took out a bunch of good cars right there."
Stenhouse, who finished 41st, defended his position in the crash, mentioning how his car's handling had went away.
"It just got loose," Stenhouse said. "We had a full head of steam. The 24 was pushing me pretty good there and the 33 (Bobby Labonte) pulled out ahead of us and blocked. I checked up a little and all of a sudden we got hit in the left rear."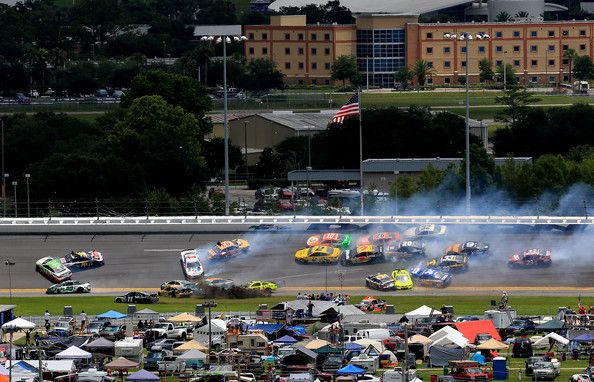 Just over 78 laps after the frontstretch calamity, turn three was littered with all kinds of racecars, when Kasey Kahne's No. 5 Farmers Insurance Chevy was tapped by Greg Biffle in his No. 16 3M Ford Fusion. That contact sent Kahne into the inside line and literally blocked turn three with cars hitting the wall, each other, or in Kyle Busch's case, up on his roof. In all, 26 drivers were involved in the lap 98 crash and 11 racers were eliminated from the race, including Kahne, Biffle, Kyle Busch, Justin Allgaier, Bobby Labonte, Reed Sorenson, and Jamie McMurray.
Sunday's unusual Coke Zero 400, which was postponed from its usual Saturday night time slot due to persistent rainy conditions, just never seemed to hit a true rhythm, with two red flags which totaled over a half hour with rain surrounding the 2.5-mile "World Center of Racing." Although multi-car crashes are an unfortunate staple of restrictor plate racing and pop up storms are inherent to summer days and nights in Daytona Beach, FL, it seemed like the race was marred plentiful by two common elements in doses.
Rounding out the top-10 finishers on Sunday afternoon were Casey Mears, Austin Dillon, Denny Hamlin, Michael McDowell, Danica Patrick, Clint Bowyer, and Marcos Ambrose. While Sunday's race had plenty in the crashing and raining department, it was also left with many "feel good" moments and stories as the drivers, crews, and teams departed for the trip back to the shop.
Mears and Dillon scored their first top-five finishes of the 2014 season while McDowell brought home a strong top-10 finish for his No. 95 Leavine Family Racing Ford team. Meanwhile, Patrick scored her second top-10 at Daytona in as many years, getting through the two big crashes and snaking her No. 10 Florida Lottery/GoDaddy.com Chevy in one piece to place eighth.
In all, Sunday's Coke Zero 400 at Daytona saw 21 lead changes among 14 drivers with an average speed of 130.014 mph. Following this weekend's activities at Daytona, the NASCAR Sprint Cup teams will prepare and drive up for a Granite State challenge for the upcoming Camping World RV Sales 301 at New Hampshire Motor Speedway.
Here's a look at the top-16 in points with the information in parentheses indicating the team, manufacturer, and number of wins, if any, along with the current Chase Grid:
Jeff Gordon (Hendrick/Chevy/1 win)
Dale Earnhardt Jr. (Hendrick/Chevy/2 wins)
Jimmie Johnson (Hendrick/Chevy/3 wins)
Brad Keselowski (Penske/Ford/2 wins)
Matt Kenseth (Gibbs/Toyota)
Joey Logano (Penske/Ford/2 wins)
Carl Edwards (Roush-Fenway/Ford/2 wins)
Ryan Newman (Childress/Chevy)
Kyle Busch (Gibbs/Toyota/1 win)
Paul Menard (Childress/Chevy)
Kevin Harvick (Stewart-Haas/Chevy/2 wins)
Clint Bowyer (Waltrip/Toyota)
Austin Dillon (Childress/Chevy)
Denny Hamlin (Gibbs/Toyota/1 win)
Greg Biffle (Roush-Fenway/Ford)
Brian Vickers (Waltrip/Toyota)
Chase Grid (as they currently stand after Race 18 at Daytona)
Jimmie Johnson (3 wins, 3rd in points)
Dale Earnhardt Jr. (2 wins, 2nd)
Brad Keselowski (2 wins, 4th)
Joey Logano (2 wins, 6th)
Carl Edwards (2 wins, 7th)
Kevin Harvick (2 wins, 11th)
Jeff Gordon (1 win, 1st)
Kyle Busch (1 win, 9th)
Denny Hamlin (1 win, 14th)
Kurt Busch (1 win, 24th)
Aric Almirola (1 win, 21st)
Matt Kenseth (5th)
Ryan Newman (8th)
Paul Menard (10th)
Clint Bowyer (12th)
Austin Dillon (13th)