Prior to Sunday afternoon's Quicken Loans 400, Jimmie Johnson was previously winless at Chicagoland, Homestead-Miami, Kentucky, Watkins Glen, and Michigan. After a bit of see-saw pit strategies and some hard driving on the track, Johnson and his No. 48 Lowe's/Kobalt Tools Cheverolet SS team finally drove their way into Victory Lane at Michigan International Speedway to capture their third win of 2014.
After coming so close in the August 2012 race before a blown motor dealt them a late race exit with six laps left and then smacking the wall in the winding moments of last June's showdown against Greg Biffle, Johnson held onto the lead for the last nine laps to win 400-miler at Brooklyn, MI. Leading on four different occasions for 39 laps, the No. 48 team found themselves in the top-10 for most of the race, rarely slipping outside of the top-20 save for the see-saw pit strategy late in the going. Otherwise, he crept in the picture with the leaders, as Kevin Harvick and Jeff Gordon combined to lead a total of 99 laps.
Ultimately, Harvick trailed Johnson to the line by 1.214 seconds to the stripe, outwit by his Hendrick engine ally once more almost like deja vu when he was a bridesmaid to Gordon at Kansas last month. Although he was short in his bid for a third win, the Bakersfield, CA native finally finds himself back in the top-10 points standings for the first time since round two at Phoenix. The No. 4 Budweiser Chevrolet team from the Stewart-Haas Racing shop has unloaded some fast cars and arguably, if it wasn't for some bad luck, they could easily have about two or three additional wins this season.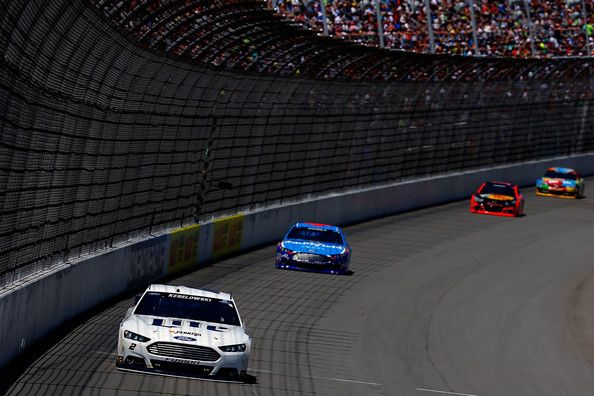 For the third straight race, Brad Keselowski and his No. 2 Miller Lite Ford Fusion team out of the Team Penske stable earned themselves another podium finish, placing third at Michigan. While they didn't quite dominate like at Pocono, it was a fine effort by the 2012 Cup champ, who now sits fifth in the points standings. Still, the 30-year-old racer was surely looking to earn a home state win and with Johnson finally overcoming the odds to win at MIS, BK's looking to be the next Cup star to break his way to the winner's circle at Brooklyn.
Saturday afternoon's Nationwide race winner Paul Menard churned in a fantastic fourth place effort in his No. 27 Pittsburgh Paints/Menards Chevrolet SS, giving his Richard Childress Racing team their second top-five of the season. As a result of that fine performance at Michigan, the Eau Clair, WI native is now 13th in the points race, just a race win away from making the Chase field. Steadily as one of the fastest cars all weekend long, it was a nearly complete race for this quiet but unmistakable team, who could be a dark horse down the stretch for wins and a Chase bid.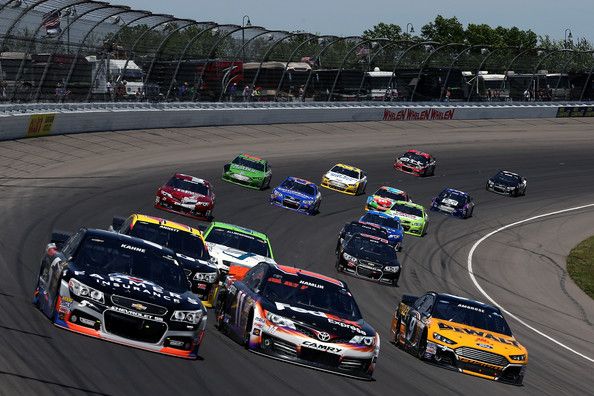 Kasey Kahne overcame a lap eight accident involving Kyle Larson and Martin Truex Jr. in the backstretch to pilot his No. 5 Farmers Insurance Chevrolet to a fifth place finish, their best result since third at Kansas last month. To say the least, Kahne and crew chief Kenny Francis were elated with that strong effort from their Hendrick Motorsports team after being constantly asked if anything was wrong with them by the press. Now with this top-five finish, perhaps their attention can finally turn to consistency and earning a Chase berth before Richmond in September.
Right behind Kahne was Hendrick teammate Jeff Gordon, the outside pole sitter, who finished sixth in his No. 24 Drive to End Hunger/AARP Real Possibilities Chevrolet. While crew chief Alan Gustafson has taken some slack for some pit calls, a two-tire pit stop in the late going of the Quicken Loans 400 helped Gordon will that Chevy to a top-six. Even then, it was like watching a good movie but expecting a spectacular finish for this bunch, as they truly felt like they had a winning car. For a while, it looked like the second win of 2014 was quite possible but as soon as the No. 24 car was in traffic, it became a different machine.
Rounding out the top-10 were Dale Earnhardt Jr., Kyle Larson, Joey Logano, and Clint Bowyer. Other notable finishes included Tony Stewart (11th), Justin Allgaier (16th), Juan Pablo Montoya (18th), Michael Annett (21st), AJ Allmendinger (22nd), Carl Edwards (23rd), and Kyle Busch (41st). Montoya made his return to Cup racing for the first time since the 2013 season finale last November, as he now races full-time in IndyCar, while Busch's finish was a result of a broken left rear wheel hub that sent the No. 18 M&M's Toyota to the garage for repairs. Overall, the Quicken Loans 400 saw 25 lead changes among 13 drivers and the race was completed with an average speed of 143.441 mph or two hours, 47 minutes, and 19 seconds.
Here's a look at the top-16 in points, with the information in parentheses indicating the team, manufacturer, and number of wins, if any, as indicated:
Jeff Gordon (Hendrick/Chevy/1 win)
Jimmie Johnson (Hendrick/Chevy/3 wins)
Dale Earnhardt Jr. (Hendrick/Chevy/2 wins)
Matt Kenseth (Gibbs/Toyota)
Brad Keselowski (Penske/Ford/1 win)
Carl Edwards (Roush-Fenway/Ford/1 win)
Joey Logano (Penske/Ford/2 wins)
Kyle Larson (Ganassi/Chevy)
Kevin Harvick (Stewart-Haas/Chevy/2 wins)
Kyle Busch (Gibbs/Toyota/1 win)
Ryan Newman (Childress/Chevy)
Denny Hamlin (Gibbs/Toyota/1 win)
Paul Menard (Childress/Chevy)
Clint Bowyer (Waltrip/Toyota)
Greg Biffle (Roush-Fenway/Ford)
Tony Stewart (Stewart-Haas/Chevy)
Sonoma Raceway awaits the NASCAR Sprint Cup drivers and teams for round 16 with next Sunday's Toyota/Save Mart 350 (2 PM EST on TNT). Martin Truex Jr. hopes to duplicate his win from last year in efforts to make a run at the Chase this year.