19-year-old Laura Neff is more than just a grid girl and racing fan - she's a fighter and a presence to be known at the races!
Picture yourself as a spectator at the Mid-Ohio Sports Car Course on a sunny summer weekend, with a hot pass to take in all the sights and sounds of the sports car and open wheel action at the famed 2.4-mile circuit.
You'll see the cars that will be the stars of the show, as well as the drivers who'll wheel those bullets for a competitive afternoon drive, the crews who work diligently in the garage area to find every ounce of horsepower left in their machines, and the models who represent a sponsor, team, or service pertaining to the weekend at the track.
Predominantly seen in the European and Asian racing markets, as well as with the sporting cars and open wheel series, grid girls are often seen, adorned in their team's colors or the race events' decor to promote the event in front of fans and media who attend the event or watch it on TV.
More than just eye candy, they also fulfill sponsor obligations to ensure that their driver and team's name is out there to be known.
In the case of young Laura Neff, she's more than just a grid girl with a beautiful smile and face - she's a girl with a passion for racing, like that familiar friend in the grandstands at any local track across the country. It's no surprise that her love of racing came from her family enjoying it long before she was around, and as the saying goes, the rest is history.
Neff isn't your typical racing and grid girl model who poses for photographs and fulfills her role as an ambassador for the teams and tracks she serves for, but she's also a resilient and strong individual with a story to tell. Her heart is definitely one filled with strength and care for the people around her, as well as for her life, which she regards preciously.
As you'll find in this exclusive interview with Neff, she opens up about the demons she faces each day, which she refuses to bring her down. She has her heart in the right place when it comes to how to live life, even if the circumstances around her as well as those who endure the same pains as her aren't fair.
At the end of the day, Neff is as much of a winner and champion as the drivers and teams she's with when she's standing there in the winner's circle with them.
Get to know Laura Neff, a true racing fanatic and a racing and grid girl model who'll make her presence known in the years to come!
Rob Tiongson : Well for the readers and racing fans of The Podium Finish, tell us a little bit about yourself and how you got into the world of auto racing.
Laura Neff : Well first off, my name is Laura Neff, I'm 19 years old, and I will be starting my 2nd year of college at Youngstown State University. I'm studying as a Double Major in Special Education and Early Childhood Education.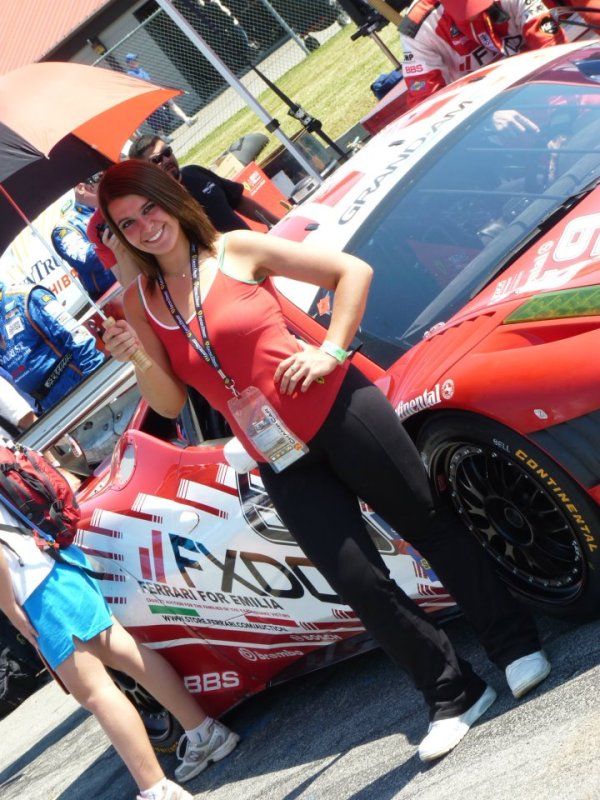 I'm from Youngstown, Ohio and I absolutely love racing! I always been a big racing fan ever since I can remember sitting on the couch, watching races on TV with my dad when I was 6.
The fun stuff all began when I was 11 years old, when my dad took me to my first actual race event ever. One of the best times I've ever had!
How the cars sounded on and off the track, how fast they went, how they looked all just fascinated and amazed me. The sounds they make though - I just love how the cars sound period.
There's just something about it. I can't quite explain, but I really love the sound of the cars.
RT : That's pretty neat how you got into racing cause of your dad and just from attending the famous open wheel race over at Cleveland. Did you realize right then and there that "this is where I had to be?"

LN : Yea, I definitely did realize then and there that this is where I had to be. Just all of the feelings I had and such felt right. I enjoy the thrill of the sport! I knew afterwards that I sure wanted to get more involved in the racing world.
RT : It's pretty neat when you can find yourself getting involved with something that you know you can feel at home with. How'd you get your first connection into the racing industry?
LN : My first connection into the racing industry began last year in August at Mid-Ohio for the ALMS/Indy Car Event Weekend. I was just walking around in the paddock with my dad and we happened to stop at a trailer for one of the World Challenge Series teams.
They invited us to come on in and feel free to check out the car and pictures. As I was standing there, looking at the car, the team manager came over to me and said, "Hey, would you like to be our TrueSpeed grid girl?"
Of course I said yes and was really excited about doing it! This was more of a opportunity I had found along the way at Mid-Ohio. During my walk through the paddock, I never would of thought in a million years that I would have the honor and privilege of being a grid girl. I was very pumped to do this for both World Challenge Series races on Saturday and Sunday.

RT : Did you have butterflies in your stomach when you did your first race as a grid girl? I could imagine that you had to be a bit taken aback at your moment being a part of something so big.
LN : No, none at all to be honest. I was way more excited then nervous. Just all of the good feelings going on at that moment in time were amazing. Every part to this special moment in my life were great.
From walking out onto the grid to get into my position, standing out on the grid, posing and smiling, having photographers take your picture, all of the male attention I received, but most of all, sitting down in the pits with the whole team and crew to watch the races with them. All of that definitely made the weekend worthwhile.

RT : Guess it's safe to say that you love the camera and the camera loves you right back, huh?

LN : (laughs) Yes, it's safe to say that. I'm very photogenic you could say in that aspect.
RT : I could imagine that growing up, you were the kind of girl who didn't mind having her picture taken at a family gathering or just in general, right?
LN : As a matter of fact, I was the kind of girl who absolutely loved getting my picture taken, no matter what. I always have been from what my family and everyone I know says. It's just one of those things besides loving racing I also love the camera.

RT : Did it ever pop into your mind how you'd be able to combine two of your loves and interests and make it into the living you have now?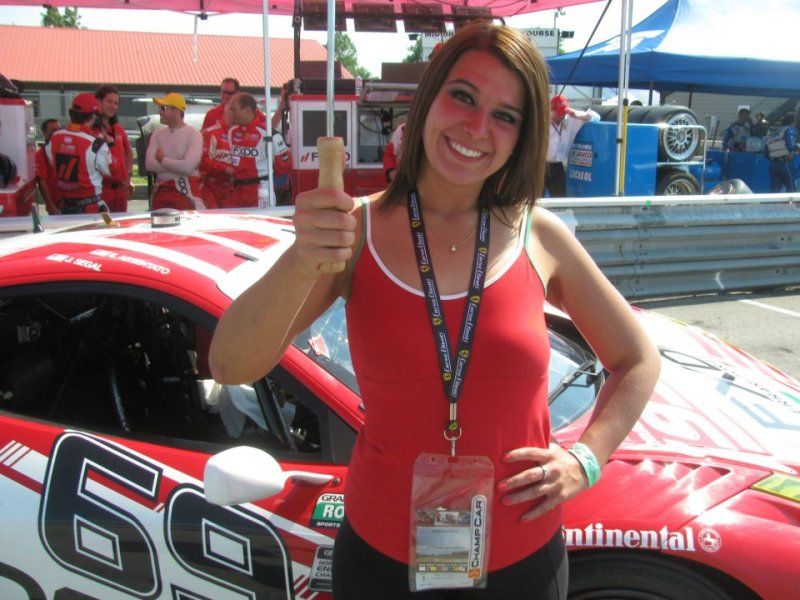 LN : No, I didn't ever think that. I definitely would like to keep being a grid girl for as long as I can, but then would really like to follow my dreams becoming a teacher and working with preschool kids with special needs.
RT : That's pretty sweet. It seems like you have a lot of ambition and a good heart and mind with what you want to do. Is it something where when helping kids one day that you want to give back to them?
LN : Of course! One day, I would want to be able to give back to these kids. I want to make sure they get the best education possible, as well as helping to meet their other needs. I just really hope to be a great teacher for my fellow future students and be a kind of role model to be able to look up to sometimes.

RT : I think your story alone as to how you earned the success you have at such a young age will inspire others. I understand that the road for you though to this point in your life wasn't always easy, as you've had your own struggles.
LN : Yes, I have had some of my own personal struggles. Well my personal struggles is that I have ADD and just recently found out that I have a form of MD called Hereditary Spastic Paraparesis.
RT : How have you dealt with both and how do you keep up with your positive mindset with what's gone on? I've dealt with both equally. Dealing with the ADD has been much easier I'll say then now having to deal with having MD.
LN : At first, when the doctor broke the news to my parents and myself, I was just so devastated and just wondered "Why? Why did this have to happen?"
To help me to be able to walk better, I wear leg braces everyday and will have to for the rest of my life. I have also been starting on Physical Therapy to help strengthen my legs a bit.
Unfortunately though, my doctor has confirmed that he doesn't know how long I can keep getting around with my legs. There'll possibly be a time where I'll be in a wheelchair, but for now, he said to get around as much as possible.
Until then, I keep up with my positive mindset with what's gone on by just living everyday to fullest. Putting everything that is most important in my life first and then last. It's as I always tell people, I may have MD and have to do everyday activities differently compared to everybody else, but that does not mean that I can't do what I love and enjoy.
The type of MD I have will progress slowly as life goes on, but that does not mean I will let it stop and defeat me. I'm always pushing myself and striving to succeed and just be positive about the whole thing, no matter what happens in the years to come.
RT : Now tell me, who are some of the people in your life that inspire you?
LN : The people in my life that inspire me I would have to say are my mom and grandma. I am really close with both of them. My mom is almost kinda like my best friend...and my grandma I just really appreciate how she taught me to be a strong, determined, and just quite the young lady. I
can't tell you enough how much they both mean to me as well as how much I love them both.

RT : Alright, Laura, it's about time for everyone's favorite part of the interviews....it's time for some Free Association! Tell me the first thing that comes to your mind with the following, ok?
LN : I'm ready! Go for it.
RT : Family.
LN : Oh gosh, so many things come to mind with family. My family is very loving, compassionate, caring, funny, kind, and so much more. I gotta say when we are all together over vacations or just get to see each other, there is never a dull moment. We are always laughing hysterically about something and smiling constantly.
We love each other a lot and are always willing to help in times of need, no matter the situation.
RT : Loyalty.
LN : To me, loyalty is being able to be honest with people and be able to trust them, no matter what. In any given situation, you have to be able to there for whoever to have their back.
RT : Dreams.
LN : Shoot for your goals in life and never stop trying. When the tough gets tough, you keep on going, as my grandma always says to me.
RT : Racing.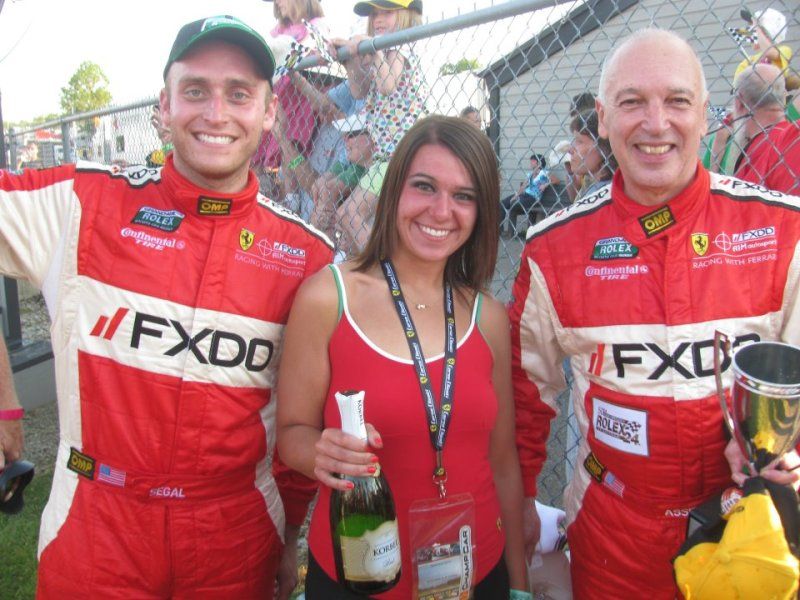 LN : Well, first off, go fast! (laughs) And being a "hot grid girl as the guys would say. Also, just having fun watching all of the excitement and the thrills.
RT : Ideal vacation spot.
LN : Oh boy. There are so many that I would absolutely love to go to, but I would most likely have to say Australia just cause it is so gorgeous and amazing there from what I have seen and heard.
RT : If you had the choice to be a runway model in Milan or at the local racetrack, you'd choose...
LN : That's a tough one for sure, but in the end, I would have to say I'd pick being a model at the local racetrack, no question, without a doubt.
RT : Your life's theme song has to be...
LN : My life's theme song would have to be "I Am Woman" by Jordin Sparks.

RT : Well with the checkered flag in sight for this interview piece, is there any thing you wanna shout out to your family, friends, and fans out there?
LN : Yes actually...I wanted to say I love you all to my family and friends, and for the fans out there. keep loving racing and don't stop!