While most of the focus for this NASCAR Sprint Cup season has been on the winners of the circuit, particularly Hendrick Motorsports and Team Penske, one driver and team that might be on the prowl is Clint Bowyer and his No. 15 5-Hour Energy/Peak Antifreeze Toyota Camry collective from Michael Waltrip Racing. Since round four at Bristol Motor Speedway, when the 35-year-old racer found himself 24th in the points standings due to a 15th place finish, the Emporia, KS native has jumped 10 spots, thanks in part to six top-10 finishes in the past 12 races.
Considering the struggles that this team encountered at Fontana in the form of a 16th place result, Richmond with a 43rd place finish, a 23rd at Kansas, and a 17th at Charlotte, in an almost "flying under the radar" fashion, it's this group from MWR that has been steadily improving in terms of results and their points standings position heading into the long hot summer.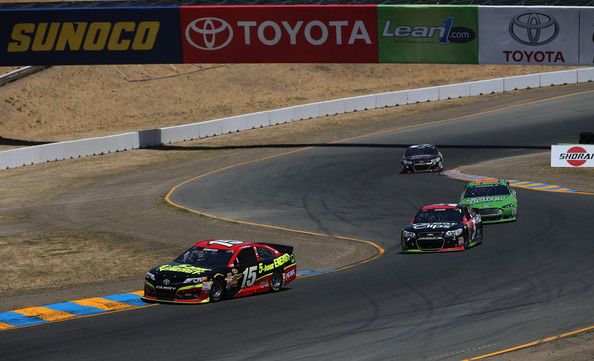 It's not been an easy climb up the points ladder in 2014 for this bunch, but with steady leadership from crew chief Brian Pattie, steadfast car owner Michael Waltrip, a diligent crew at the shop and on the track, and that cagey driver who knows how to drop the hammer, this is a potent combination that's ready to breakthrough at any moment. Sure, they're about 11 spots lower in the rankings compared to last year, but they've been getting closer towards being on the upside of their rollercoaster experiences since last fall's strangeness.
The tide seems to be turning for the better and the dark cloud over this team has been retreating, with Bowyer smiling more and their cars starting to pick up pace wise and performance wise. With finishes of fourth at Dover, 11th at Pocono, and a pair of 10th place finishes at Michigan and Sonoma, all signs appear to be pointing towards improvement in progress.
Of course, not many athletes like the idea or title of being "most improved" but they've certainly been looking like a team that's been making gains in the past few months. Perhaps Bowyer's no longer distracted by the controversy at Richmond last fall and amidst Toyota's struggle for speed this season, it looks like they've not been plagued by the motor issues that hindered a somewhat sparkling 2013 campaign. One thing that this team would like to certainly cross off on their "to do" list in the upcoming weeks is scoring that first win of the year, which would break a nearly two year winless streak dating back to the fall Charlotte race in 2012.
It's hard to believe that it's been that long since Bowyer last celebrated a win, considering that he had been riding a three-year streak of winning at least one race from 2010-'12. Then again, it might be a situation where, like most good teams, there's peaks and valleys with performance and results. On some occasions, as the Howie Day song goes, "Even the best fall down sometimes." For Toyota's top finishing driver and team in '12, they've encountered their fall and they've been working diligently on living the high life again as Steve Winwood once sang.
Music references aside, perhaps their season was defined during last Sunday's Toyota/Save Mart 350 at Sonoma Raceway, when Bowyer led some laps before losing some track position and ultimately getting collected in a dust up with Kevin Harvick in turn 11. Despite that setback, the grizzled veteran willed his machine to a 10th place finish, impressive considering the obstacles he had to overcome with not quite as much laps remaining. While most would be elated with a solid top-10 result, Bowyer reflected on what could have been, but realized the efforts of his No. 15 team.
"Bad luck, man," Bowyer said. "The way our season has been, we've been the lap closer here lately and if they keep bringing cars like that to the race track, we'll be just fine."
Heading into this Saturday night's Quaker State 400 at Kentucky Speedway, perhaps this group will unload more cars like the one he had at Sonoma, as they'll unload chassis No. 800, the same car that netted them a fourth place result at Dover. Placing 16th in 2012, his first year with MWR, and scoring a third place finish in '13, it's likely that at least another top-10 finish is in the offing. But is that what this No. 15 team wants?
"First things first, you need to find that consistency back and I think we've done that over this last month here," Bowyer said. "I'm telling you, some of these guys, maybe us included are going to race in. Somebody is going to race in. I think two maybe three cars are going to race in before the cutoff. However, it's time for us to win."
Maybe on Saturday night, much like one back in the fall of 2012 at Concord, NC, the Sparta, KY-based 1.5-mile speedway will play host to a celebration for Bowyer's ninth career Cup win. Before visions of a confetti-filled Victory Lane can happen for this exciting team, it's about fine tuning that Camry during practice, delivering during knockout qualifying, and of course, keeping their nose clean on the roughest track on this circuit. If anyone can get the job done, it's this rowdy, meticulous and unpredictable team, who two years ago, turned skeptics into believers.