26-year-old Cassandra Simonton is determined to become the next winner in the NHRA. After you read this piece, you'll be convinced that she's a champion in the making!
Racing is more than just a sport for the brave and few - it is a lifelong passion for those who want nothing else but to win, be it an event or a series championship.
Spring Lake Park, MN's Cassandra Simonton has been chasing the dream to be a winner since she was an eight-year-old, growing up around racing virtually all her life. The young gun assisted her father, lending a hand with his work, be it at the shop or at the race track. To say the least, she fell in love with racing right away and hasn't looked back after all these years.
Simonton, a racer competing in the NHRA Lucas Oil Drag Racing Series for Kon Rodz Racing, is one of motorsports' promising talents at the young age of 26. Humble, poised, and focused at the task at hand on every given race weekend, she can be counted on to absolutely drop the hammer and drive her car to its fullest down the drag strip. She leaves nothing on the table and her King City, Ontario, Canada based team certainly strives on its successes to become a consistent winning force in NHRA Drag Racing.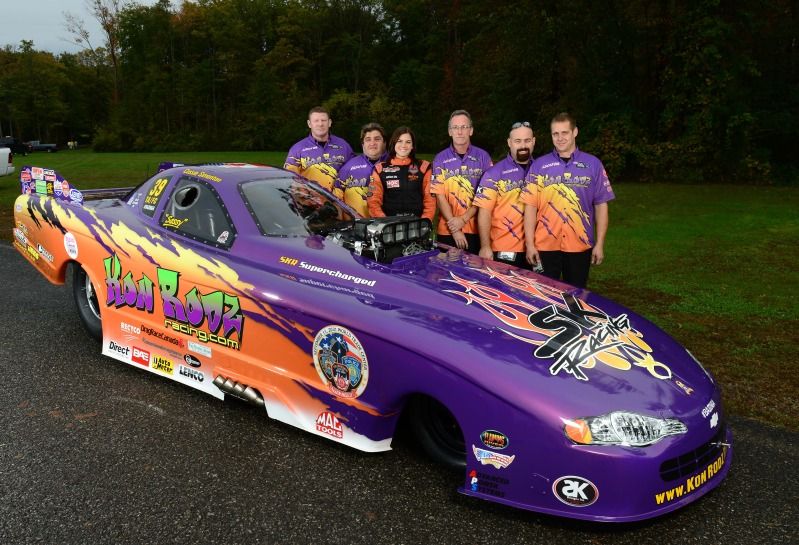 Last season was a solid one for Simonton and Kon Rodz Racing, with their highlights including a number one qualifying position at the Chicago regional as well as consecutive final round appearances. Potential and promise is there for more number one qualifying runs as well as victories, which are within reach for this potent combination.
The opportunity to drive for her team came when she worked as an intern following her 2008 graduation from the University of Northwestern Ohio. Her education and knowledge of the cars and sport have certainly translated into her rise to stardom as a force to be reckoned with in the NHRA for years to come.
A new season awaits Simonton and her promising race team, who are looking to capture their first win in the Lucas Oil Drag Racing Series. Make no mistake, after this young racer impressed a certain writer and race fan last summer during a summer race televised on ESPN2, the name Cassandra Simonton will be a household one in the world of NHRA drag racing real soon.
Taking the time from her busy schedule, we interviewed Simonton via email as she prepares for the 2013 season. If there's anybody who's about ready to get this year going and moving in the right direction, it's this superstar racer who's going to make a name for herself as a legit NHRA winner and future champion.
Ladies and gentlemen, let's buckle up and prepare to hit up the drag strip and go "Behind the Wheel with Cassandra Simonton, NHRA Lucas Oil Drag Funny Car Racer!"
Rob Tiongson : As I read about your racing background, I was fascinated by the fact that you began your professional racing career at age 8. Most eight year olds are more into playing outdoors, video games, or being in clubs – you've found your calling at quite a young age. What fascinated you about racing as a kid that's now become your full-fledged career?
Cassandra Simonton : My dad is a Chassis builder in Minnesota so I grew up at the track and around race cars. Instead of playing with dolls, I would be out getting my hands dirty in the shop, going to car shows, and going to watch the NHRA races in Brainerd, MN. He built my first Junior dragster at the age of eight and after my first pass I was hooked and knew that I wanted to make this my career.
RT : You graduated from the University of Northwestern Ohio back in 2008 with an associate's degree in High Performance, a remarkable personal feat. How much of an asset has your education at UNO been for you along with your experiences prior to your collegiate studies?
CS : The one thing my Dad was very persistent on growing up was how important it was not only to be a good driver, but be able to understand and work on the car your driving. I was always hands on with my Junior Dragster.
​When I turned 16 I stepped up into my dads Alcohol Dragster and worked very closely with my then crew chief Dave Freeman. Not only did this help me better understand the mechanical side of things, but it also enabled me to give him better feedback after the run and what I felt the car was doing. I knew growing up that my goal was to drive a nitro car so my plan was to go to school and work my way up.
The University of Northwestern Ohio has the best High Performance program out there. It teaches you about every aspect of a race car and is open to all forms of motorsports. Between all the hands on experience I had growing up and what I learned at UNOH, I was able to get my first job crewing on a Top Alcohol Funny Car at Kon Rodz Racing in 2008. After two years of being a crew member, I was given the great opportunity to become one of the their drivers.
RT : I've interviewed short track racers, NASCAR talents, and open wheel aces and their experiences are somewhat one in the same as far as the G-Forces in a long duration event. I could imagine for you when you're behind the wheel of your funny car just before the lights turn green. Describe the moments as you're in your car, with the engine all revved up and your competitor alongside, prior to the green, then punching the gas pedal down the strip before you slow your car down. What's it like?
CS : Top Alcohol Funny Cars have been known to be one of the most difficult cars to drive because of all the things the drivers have to do to get one of these cars down the track. The hardest part of the run is probably the starting line procedure.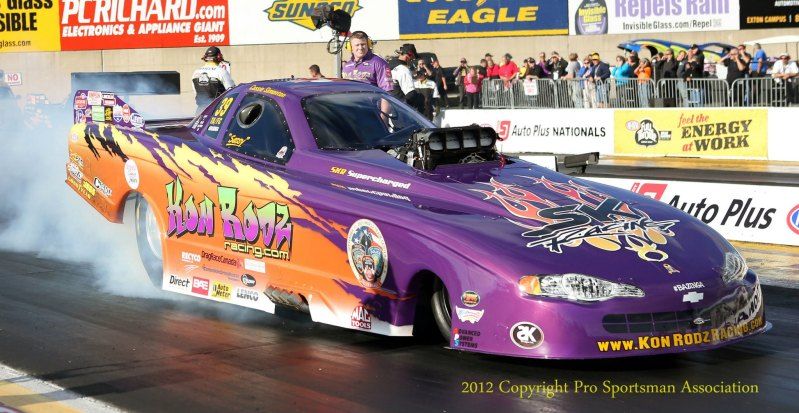 Once both cars are pre-staged, I bring up the motor to the RPM's I want to leave at. Then, while holding my throttle foot steady, I have to simultaneously let my clutch and break out to move forward into the staging beam.
Once staged, I am 100% focused on the tree and as soon as I see yellow, I swap feet. The best part is when the car takes off and throws you back in the seat and the front end is in the air. I keep my focus down track and wait for my shift lights to come on. Once I am in high gear, I bring my hand up to the parachute lever so as soon as I cross the finish line, I let off the throttle and hit the chutes.
It's amazing that no matter how tight you get yourself in the car, you will still get thrown forward pretty hard when the chutes hit. The fun part about a funny car is every run is different. You never know what its going to throw at you and you have to be ready for anything.
RT : Drag racing seems to have such a camaraderie that other leagues seem to lack, where it seems like family members compete against each other or work in the same team, as well as just about any qualified individual having a good opportunity not only to compete, but to win races. What is it about the NHRA that makes it such a great auto racing series to you?
CS : The great thing about NHRA is that it is truly a family sport. Everyone you race with and work with become your second family. There are no friends on the starting line but when you are back in the pits, we are all friends and have a great time after the races.
The other thing I love about NHRA is that every pass is a pit pass for the fans. The fans are what make this sport. I love being able to meet and interact with my fans at all the races. Plus, it is great for them to be able to come right up to the trailers and see what we do in-between rounds.
RT : Was it a hard sell to your family to become a drag racing driver growing up?
CS : No, my mom and dad have been very supportive throughout my career. I wouldn't be here if it wasn't for them.
RT : Who were some of your heroes in the sport and off the drag strip that you idolized? Are there racers that you particularly look up to who are in the sport today?
CS : My favourite race car driver growing up was Kenny Bernstein. He was a great race car driver and has championships in both Nitro Funny Car and Top Fuel Dragster. The two drivers I really look up to now are my crew chief Randy Anderson and Frank Manzo.
The great part about working with Randy is that he has driven these cars and can relate and give me advice if I am struggling or come across something I have not experienced before. It amazes me every time I watch Frank run because he can pedal the car twice and still run a low E.T. of the round. One day, I hope to be able to drive as well as he does.
RT : How would you describe yourself as an individual off the track as well as a competitor? Would you say you're completely intense or is there a game face that you put on at the track that's not prevalent when you're not in your car?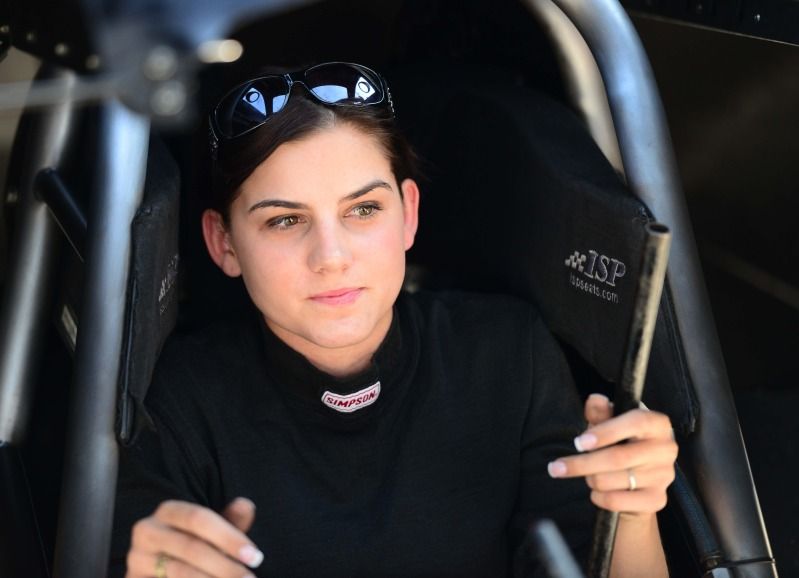 CS : I kind of get made fun of at the track because I get strapped in my car very early. I could be the last pair and I am usually the one suited up and strapped in my car before anyone else. I like to get into my car early so I can go through the run in my head a few times and just clear my mind and get focused on what I need to do. When I am working, I am very serious and focused but when I am done I love to go out and talk to my fans, sign autographs, and hangout with my team.
RT : Have you ever come across the skeptics who feel that racers are not athletes? Does it bother you that some critics feel that drivers aren't given the same respect and regard as those in other sports?
CS : I have never personally come across anyone with those feelings but I know there are people out there that think that way. Everyone is going to have their own opinions and I don't let things like that bother me. I work out and keep myself in shape so I can perform the best I can when I am racing.
RT : Your boss Spiro Kontos seems to be absolutely enthusiastic about drag racing and motorsports in general, based on what I've read from an article by Brad Turk in the Canadian Drag Racer Magazine. What's it like to drive for him and does his passion for the sport inspire you at each race?
CS : Spiro, Fay and Stefan have become like a second family to me. It is great working with Spiro because we both think very much alike, which at times can be a bit scary. (laughs) I have an amazing team and we all have a lot of fun together. We all have the same love and passion for this sport which makes that much more rewarding when we do well.
RT : You've obviously made tremendous strides and succeeded in your young drag racing series career. Where do you see yourself years down the road – are you going to keep at it in Funny Cars or does a part of you want to try out other drag racing divisions?
CS : My dream has always been to move up to the Nitro ranks, but right now, I love driving my Top Alcohol Funny Car. I have many goals I want to accomplish in this class first.
Editor's Note : Special thanks to Cassandra for allowing me to interview her as she and her race team prepare for the NHRA season ahead. All the photos seen in this piece are courtesy of Cassandra Simonton, credited by Mark Reblias. Fans, you can catch Cassandra race at your nearest NHRA Lucas Drag Racing facility or on the ESPN family of networks for auto racing coverage all year long! Also, catch up with the young star from her team's race site!