For 199 of the 267 laps ran at Kentucky Speedway for Saturday night's Quaker State 400, it was nothing but the blue, white, and red No. 2 Miller Lite Ford Fusion at the front of the field. That domination translated into a second win for Brad Keselowski and his Team Penske crew for the 2014 NASCAR Sprint Cup season, which bumped them up to fourth spot in the traditional points standings and to third in the Chase Grid system.
Everything was pretty much flawless for the Rochester Hills, MI native, until Victory Lane, as Keselowski pulled a "You May Be Right" by Billy Joel moment and "was only having fun" when one of the champagne bottles broke and sliced his right hand open. Despite needing four stitches, he was all smiles and thrilled with his dominant Bluegrass State performance.
"Welcome to the party," Keselowski said. "It's all good. I'm just glad we won. It's a lot better story when you win and get hurt."
After changing into a clean firesuit and getting his right hand cleaned up with four stitches and a wrap completed with the "Winner" sticker, it was business as usual for the 2012 Sprint Cup champion. It was about the biggest clinic seen in Kentucky since Tom Emanski likely held a baseball camp. That might have been a bit of a stretch, but what wasn't was how bulletproof that No. 2 Ford was all evening long.
No matter if it was in the dusk settings of Sparta, KY during the first half of the 400-miler or under the dark, nighttime skies during the waning moments of the race, some tried to challenge but ultimately, Keselowski and his Team Penske troop, led by crew chief Paul Wolfe, backed up their pole winning run with an incredible victory.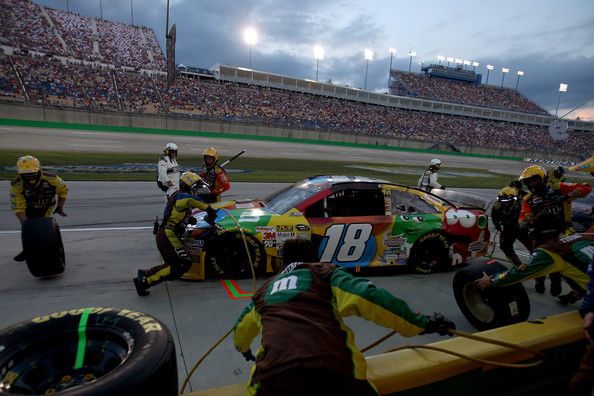 Trailing behind Keselowski to the stripe was runner-up and inaugural Cup Kentucky race winner Kyle Busch, who appeared to have put himself in a position to steal the checkered flag from his stock car rival. Instead, the No. 18 team's valiant effort came up a bit short, as the pride of Las Vegas, NV relinquished the lead on lap 248. Still, it snapped a four race streak of finishes of 12th or worse, re-entering the top-10 after slipping out of it following his 25th at Sonoma last weekend.
All in all, "Rowdy" was one of the few competitors who actually could mount a charge for the lead against Keselowski, although he would come up a bit short in his efforts. Joe Gibbs Racing showcased some prowess on a 1.5-mile track after struggling in the first four races at the intermediates.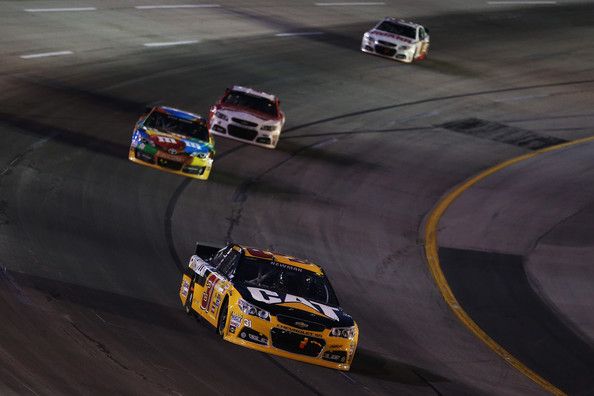 Ryan Newman and his No. 31 Caterpillar Chevrolet SS team took home a podium finish with a third place showing, an impressive effort for "The Rocket Man" as his Richard Childress Racing crew wrapped up a relatively strong month of June. Their third position result closed out three consecutive races where the South Bend, IN racer placed 15th or better, enough to boost them to eighth in the points standings.
Sure, their performances aren't exactly earth shattering, but it's been steady enough where they've been on the verge of getting a top-five after scoring five top-10's in the first 16 races of the season. Newman and his crew chief Luke Lambert have to like their chances of breaking into the winner's circle, as more strong runs like on Saturday night might be the catalyst for that breakthrough win for the No. 31 team.
Coming home in fourth position was defending race winner Matt Kenseth and his No. 20 Dollar General Toyota team from the Joe Gibbs Racing stable. Although it wasn't a win, it was a strong showing considering the lack of speed that JGR's efforts have been able to showcase on the 1.5-mile tracks. That's not to say they've been bad because the Jason Ratcliff-led team have logged six top-five's and 11 top-10's, parlaying consistency instead of multiple wins like last year.
Although starting from 14th position, the changing track conditions plus somewhat improving handling with that Camry helped the Cambridge, WI native charge his way to a strong effort and reminding the critics of their ability to overcome adversity as they did last year.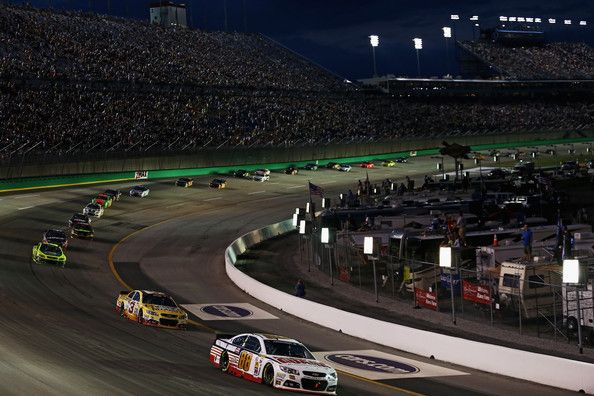 Dale Earnhardt Jr. and his No. 88 National Guard Chevy crew took home a fifth place result, a truly impressive feat considering the lack of speed that they showed during Friday evening qualifying with a 29th place effort. Instead of staying mired in traffic, the two-time Daytona 500 champion combined smart driving and steadfast pit work led by crew chief Steve Letarte to lead the Hendrick Motorsports contingency at Sparta, KY. Once the sun set and the skies got pitch black, Earnhardt was able to drop the hammer and pick off positions rather smoothly, enjoying the somewhat cleaner air. This month was relatively kind to the No. 88 team, which saw a ninth at Dover, a victory at Pocono, seventh at Michigan, a third at Sonoma, and a fantastic fifth, good enough for third in the points battle.
Placing sixth through 10th were Jeff Gordon, Kevin Harvick, Kasey Kahne, Joey Logano, and Jimmie Johnson. Chevrolet may have lacked the strong Team Penske Ford horsepower demonstrated all weekend long, but the Bowtie Brigade were 60 percent of the top-10 finishing order. Interestingly, it was the third straight race in which Hendrick Motorsports' drivers and teams all placed inside the top-10, showcasing the balance of power that this quartet has displayed when firing on all cylinders. Gordon was perhaps somewhat disappointed with his sixth spot, reflecting on another race that he felt his No. 24 team was more than capable of reeling off a stronger result.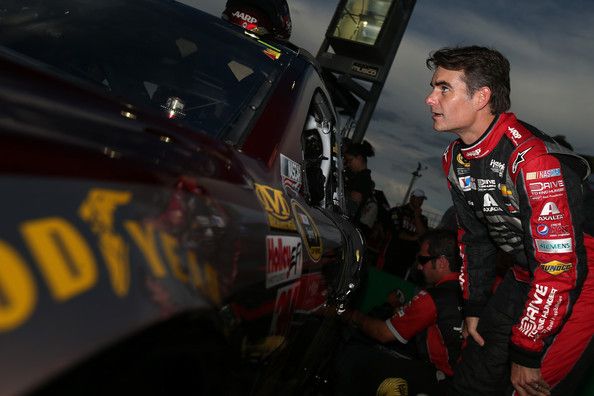 "'I'm disappointed, I thought we were going to be better than that," Gordon said. "We did have the issues [on pit road] and got behind. The car was pretty decent at the end, but not enough to really move up."
Still, when considering he's still holding the points lead by 24 markers over teammates Jimmie Johnson and Dale Earnhardt Jr., that's not bad at all for the Drive To End Hunger/AARP Real Possibilities Chevy team, continuing their solid performances this season with their 13th top-10 of the year, just four short of their season total from last year.
Other notable finishers include Marcos Ambrose (13th), Paul Menard (15th), Michael Annett (18th), AJ Allmendinger (22nd), and Josh Wise (29th). Saturday night's Quaker State 400 saw 12 lead changes amongst three different drivers, as Brad Keselowski led 199 circuits, while Joey Logano held the point for 37 circuits and Kyle Busch was up front for 31 laps. The margin of victory was 1.014 seconds, with the race's average speed at 139.723 mph.
Here's a look at the traditional top-16 points standings, with the information in parentheses indicating the team, manufacturer, and number of wins, if applicable, as the NASCAR Sprint Cup series heads to round 18 at Daytona International Speedway for Saturday night's Coke Zero 400 (Live on TNT at 7:30 PM EST):
Jeff Gordon (Hendrick/Chevy/1 win)
Jimmie Johnson (Hendrick/Chevy/3 wins)
Dale Earnhardt Jr. (Hendrick/Chevy/2 wins)
Brad Keselowski (Penske/Ford/2 wins)
Matt Kenseth (Gibbs/Toyota)
Carl Edwards (Roush-Fenway/Ford/2 wins)
Joey Logano (Penske/Ford/2 wins)
Ryan Newman (Childress/Chevy)
Kevin Harvick (Stewart-Haas/Chevy/2 wins)
Kyle Busch (Gibbs/Toyota/1 win)
Paul Menard (Childress/Chevy)
Kyle Larson (Ganassi/Chevy)
Greg Biffle (Roush-Fenway/Ford)
Clint Bowyer (Waltrip/Toyota)
Kasey Kahne (Hendrick/Chevy)
Tony Stewart (Stewart-Haas/Chevy)