After two years of driving the No. 55 Aaron's Dream Machine Toyota Camry on a part-time basis for Michael Waltrip Racing, 2003 NASCAR Nationwide Series champion Brian Vickers kicked off his first full-time Sprint Cup effort since racing with the No. 83 Red Bull Racing team in 2011. To say the least, the scene in stock car racing has changed since his last Cup campaign, when he had left the series in a somewhat antagonized position. Enduring a lame duck season with a team departing NASCAR racing, Vickers struggled to a 25th-place points position finish, tangling with a few of his Cup colleagues and left hung out to dry for any kind of ride heading into 2012.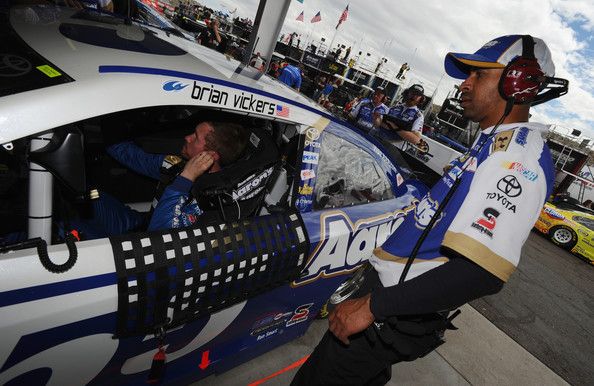 That's when Michael Waltrip Racing remedied Vickers' ride issue, signing him to drive their No. 55 ride and sharing it with Cup veterans Mark Martin and Michael Waltrip. Vickers truly redeemed himself in his two-year stint, scoring five top-five finishes and 11 top-10's in 25 races, enough to earn him that same drive for a full-season effort this year. To say the least, Vickers is like a racing phoenix, as his career has been rekindled after two almost certain roadblocks that seemed enough to derail his racing dreams for good. From two episodes with blood clots respectively in 2010 and '13 to the departure of the Red Bull Racing team back in '11, Vickers has been resilient and at age 30, he's truly making the most of his opportunities as a more mature, resolute, and confident driver.
Similar to Bobby and Terry Labonte, Vickers typically races in such a fashion where he's not noticed until the very end of the race, when the closers step up to the mound and throw their fastest and strongest array of "pitches," if you will. Much like a baseball closer, when the money's on the line and the laps are winding down, the odds of seeing Vickers and his No. 55 drive battling for a strong top-10 finish are pretty solid. The Labonte brothers were known to be clutch racers, often biding their time in the early going before making a fast charge to the front, often overwhelming the competition with their quick drive to the number one spot.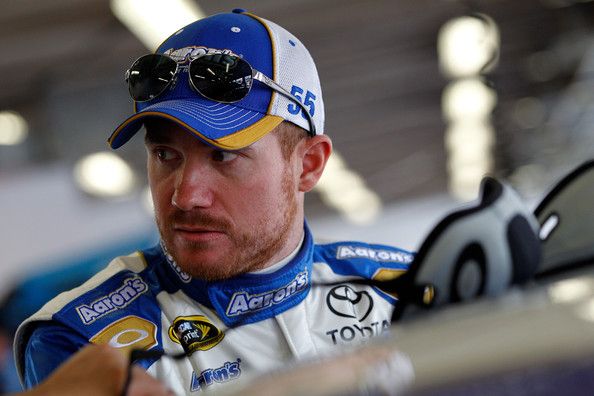 Save for accidents at Daytona and Phoenix, the pride of Thomasville, NC has wheeled that machine with the elite Cup efforts of Hendrick Motorsports and Joe Gibbs Racing, positioning himself thus far as the strongest driver and team from the Michael Waltrip Racing stable after round four at Bristol Motor Speedway. Traditionally a strong track for Vickers, the grizzled veteran racer piloted his Camry to a ninth-place effort, the first top-10 effort for MWR this season. Crew chief Billy Scott has been gelling with Vickers and the No. 55 crew in the spring segment thus far. Like most new combinations, it's all about building that rapport and learning the strengths and weaknesses of this competitive team, which when firing all cylinders, can be what it takes to be in Victory Lane like last year in the July race at New Hampshire Motor Speedway. Another factor to consider is that Vickers is making his first racing efforts since last fall, having sat out the last few races of the year when he experienced blood clots after he wore a walking boot. Still, he doesn't make excuses and does most of his talking with his right foot and his two hands to steer that Toyota Camry amongst the lead pack.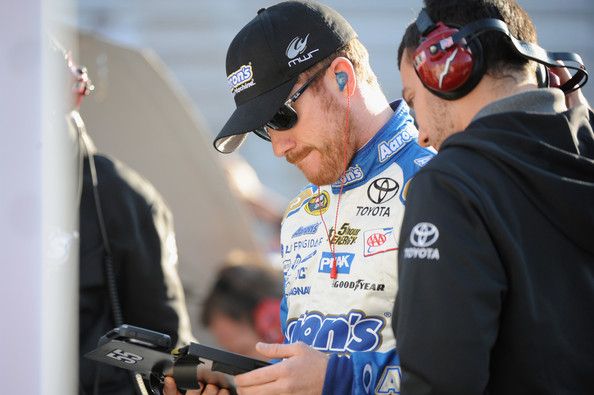 Auto Club Speedway is the next challenge for the Cup drivers and teams, with the spring time 400-miler next on the docket. Interestingly, this 2-mile superspeedway in Fontana, CA has been a very strong venue, as he's scored finishes of 12th or better in seven out of his last eight starts at this track.
Granted, he's not raced in a Cup car at ACS since '11, but he placed in an excellent eighth position, proving that he's got this track relatively figured out. For some reason, at the tracks that are relatively low banked or offer flat out racing, Vickers excels and rises to the occasion.
Despite his reputation as one of the stronger restrictor plate racers, he's quite the speedway specialist as well, a quality prevalent during that magical '09 campaign with Red Bull Racing that earned him a Chase berth and a 12th-place points finish that year.
Like most of the Cup teams who've yet to chalk up that big "W" thus far in 2014, Vickers and his No. 55 team will be fired up to get their first checkered flag of the year. After all, they're coming off two straight seasons of making the Chase, thanks to Clint Bowyer and his No. 15 team's strong, consistent efforts. Coming off a season with that rousing triumph at Loudon last July, Vickers absolutely knows how to drive that racecar to the winner's circle. Now, the question becomes this: can that Aaron's Dream Machine effort back up their magical moment in the Granite State by making the Chase?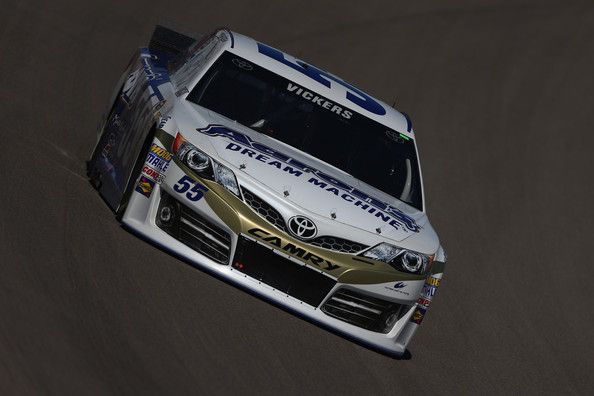 That question as well as any doubts about Vickers will be answered in the coming races. Currently, the focus for this group ought to be on capitalizing on their strong performances in the past two weeks and maintaining that momentum so that they could perhaps be that dark horse effort that sneakily and quietly wins the Cup like Brad Keselowski and his No. 2 team did back in '12. NASCAR racing may still be about teams with the most money, but effort and heart still counts for something.
Without a doubt, Vickers and this group have a lot of those qualities and a drive to commit for excellence, something that we may just see a lot of in the spring stretch of the schedule coming up. Borrowing some words from the great motorsports journalist Sam Moses, Brian Vickers can be "smooth, smart, efficient and restrained" on the track and may not be noticed until the checkered flag is waving - likely, when he's placed near the front of the field quietly and workman like after a hard day's work in the asphalt arena.