Before Sunday's Toyota/Save Mart 350 at Sonoma Raceway, most of the focus was on Hendrick Motorsports and their chances of winning a sixth straight NASCAR Sprint Cup points race. After all, Jimmie Johnson had been tearing up the Cup circuit with wins at Charlotte, Dover, and Michigan in the past four races while Jeff Gordon and Dale Earnhardt Jr. anchored wins at Kansas and Pocono respectively.
However, fourth place starter Carl Edwards and his No. 99 Aflac Roush-Fenway Ford racing team had other plans and that was to take the checkered flag at the winding 11-turn 1.99-mile road course. After 110 laps, it was the pride of Columbia, MO who not only stood tall and proud in Victory Lane, but managed to do a solid back flip from his car near the start/finish line.
This race wasn't handed to Edwards and his No. 99 team. Instead, it was one where brilliant team work, led by crew chief Jimmy Fennig, as well as great track position kept the 34-year-old driver in contention for the win. Lurking behind the dominant drives of AJ Allmendinger and Kevin Harvick, separate late race accidents eliminated the two Californians, leaving the race to be a duel that pitted Marcos Ambrose, Jimmie Johnson, Jamie McMurray, and Jeff Gordon to battle for the win amongst themselves.
Gordon would dispose of Johnson, McMurray, and Ambrose in the waning laps, setting up for a final 10 laps that saw Edwards looking at his mirror and thinking of protecting that coveted race lead. Needless to say, it was a great challenge for Edwards in the waning moments of the Toyota/Save Mart 350.
"Real tough. That last lap was ugly. I grew up watching Jeff Gordon do well here so to have him in my mirror is special," Edwards said. "This team has been working very hard. The whole group has. It's very special to be a part of something like this."
Staving off some challenges by Gordon, especially in the final five laps, Edwards would drive his way into Victory Lane. Trailing just 0.591 seconds from a second win in 2012 was Gordon in his No. 24 Panasonic Toughbook Chevrolet SS, who felt he may have cost himself a shot at the win in the winding laps of the race. Still, it was an impressive drive, starting from 15th position and making a hardy bid for the win before running out of time.
"Maybe five or six laps to go, I was making some ground up on Carl," Gordon said. "I was good in the fast sections and he was pretty good in the slow sections. So, I was having to hit everything so perfect. And I just overdrove it into four one time and went real wide off and that gave him enough of a gap that I had to close it back in and I just couldn't put enough pressure on him."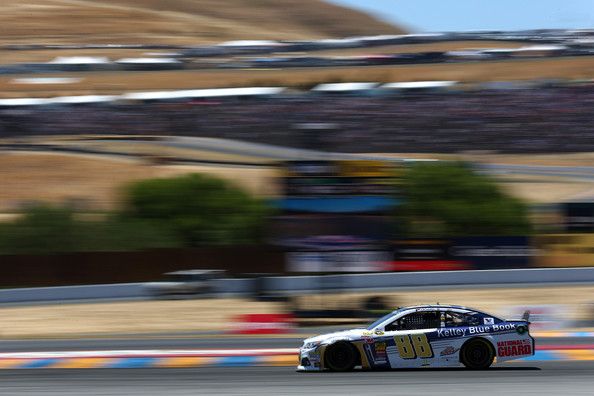 Placing third was Dale Earnhardt Jr., who piloted his No. 88 Kelley Blue Book Chevrolet SS to a solid podium finish. Although he was stoic about his first top-five result at this venue, it wasn't an incident free race.
Earnhardt tangled with Matt Kenseth on lap 76 in turn seven which resulted in the latter taking a hard, head-on hit with the tire barrier that ripped the front clip off violently. AJ Allmendinger's race was curtailed on lap 86 with a little help from accidental contract with Earnhardt's car, prompting the two-time Daytona 500 champion to issue some apologies via Twitter.
"Take full responsibility for @mattkenseth accident. Jumped the curb beside him and landed in his door. Glad he was unhurt. I got one coming" was Earnhardt's tweet about his incident involving Kenseth while his tangle with Allmendinger was described as "weird."
"Deal with @AJDinger was weird. Figured I left him enough room but we hopped wheels, his RF my LR. It was tight, didn't think I fenced him," Earnhardt tweeted.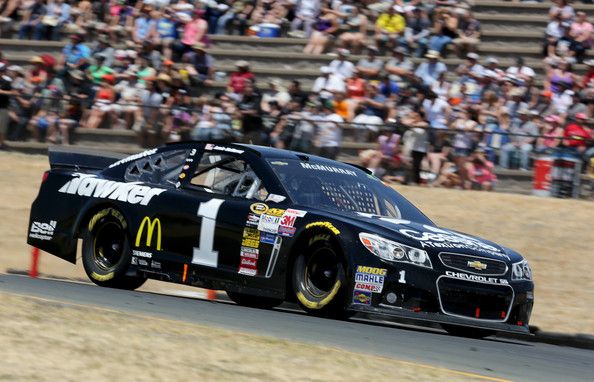 Jamie McMurray, who was the race's pole sitter, maintained his strong performance at Sonoma by hovering inside the top-five all afternoon long, rarely slipping out of contention in his No. 1 Cessna Chevrolet SS. Becoming quite the adept road course specialist, the Chip Ganassi Racing talent jumped up to 19th spot in the points and just a win away from making his way into the Chase Grid.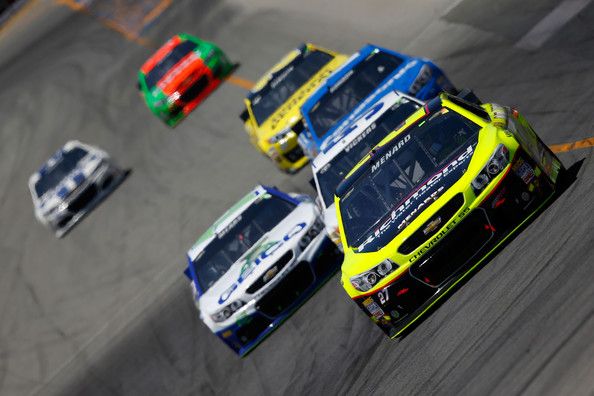 Rounding out the top-five scoring order was Paul Menard in his No. 27 Richmond/Menards Chevrolet SS prepared by Richard Childress Racing, scoring his third top-five finish and his eighth top-10 result for the 2014 season. To say the least, it continues a strong start for the Eau Claire, WI native, whose team, led by crew chief Slugger Labbe, has to be thinking how they're just inching closer to a win to play spoiler for the Chase field.
Kasey Kahne, Jimmie Johnson, Marcos Ambrose, Greg Biffle, and Clint Bowyer placed sixth through 10th in a race that saw 11 lead changes among nine drivers. For Kahne, it was a second top-10 finish in as many weeks, which propels him to 16th while Bowyer rebounded nicely from a late-race spin and crash with Kevin Harvick on lap 81. Bowyer charged to 10th while Harvick limped home to 20th, with both drivers' mounts heavily damaged from their turn 11 skirmish which started from some bottlenecking amongst the top-10 drivers. Other notable finishers included Casey Mears (13th), Austin Dillon (17th), David Gilliland (21st), and Cole Whitt (27th).
As the NASCAR teams start their drive back home and prepare for round 17 at Kentucky Speedway for the Quaker State 400 (Saturday night at 7:30 PM EST on TNT), here's a look at the top-16 in points, with the information in parentheses indicating the team, manufacturer, and number of wins, if any:
Jeff Gordon (Hendrick/Chevy/1 win)
Jimmie Johnson (Hendrick/Chevy/3 wins)
Dale Earnhardt Jr. (Hendrick/Chevy/2 wins)
Matt Kenseth (Gibbs/Toyota)
Brad Keselowski (Penske/Ford/1 win)
Carl Edwards (Roush-Fenway/Ford/2 wins)
Joey Logano (Penske/Ford/2 wins)
Ryan Newman (Childress/Chevy)
Kevin Harvick (Stewart-Haas/Chevy/2 wins)
Kyle Larson (Ganassi/Chevy)
Kyle Busch (Gibbs/Toyota/1 win)
Paul Menard (Childress/Chevy)
Denny Hamlin (Gibbs/Toyota/1 win)
Clint Bowyer (Waltrip/Toyota)
Greg Biffle (Roush-Fenway/Ford)
Kasey Kahne (Hendrick/Chevy)