James Taylor may have sang about seeing "Fire and Rain," which was seen on Sunday evening's rain delayed Food City 500, but he may have not seen a caution light inadvertently turned on by the race flag official in a NASCAR Sprint Cup race. Indeed, "human error" prompted a strange ending to what had to be one of the most exciting but wackiest stock car races ever at Bristol Motor Speedway. The springtime classic became a nighttime affair that saw the usual suspects like Kyle and Kurt Busch, Kevin Harvick, and Brad Keselowski run into issues late in the going while six-time series champion Jimmie Johnson encountered tire issues which derailed a promising day at the "World's Fastest Half Mile."
Instead, it was "Concrete" Carl Edwards who took the checkered flag at Bristol, claiming top honors over runner-up and Roush-Fenway Racing teammate Ricky Stenhouse Jr. and Richard Petty Motorsports talent Aric Almirola for a Ford podium finish. Edwards, who last won in the controversial fall Richmond race last season, benefited from a late-race call from his pit crew, namely crew chief Jimmy Fennig, by staying out in the final 78 laps on older tires, along with Stenhouse, Almirola, and Tony Stewart, who would take the top-four finishing positions in the extended race.
Trailing behind the top-four was Marcos Ambrose, placing exactly where he started in his No. 9 STANLEY Ford Fusion to make a it a 3-5 RPM performance. Almost as impressive as Edwards' win was the fourth place finish for Stewart, who has been off to a slow start in 2014 in his comeback effort since the injuries last summer in a sprint car race. Needless to say, "Smoke" silenced his critics with his solid run at Bristol.
Edwards was quite cognizant of his win being attributed to a brilliant non-pit call from his team, saying, "I don't know. Aric and those guys were really fast, I don't know if I could have gotten by them. That's a gutsy call with all the tire trouble. Goodyear makes great tires, we didn't have trouble at the end, it just was a bad matchup with the track."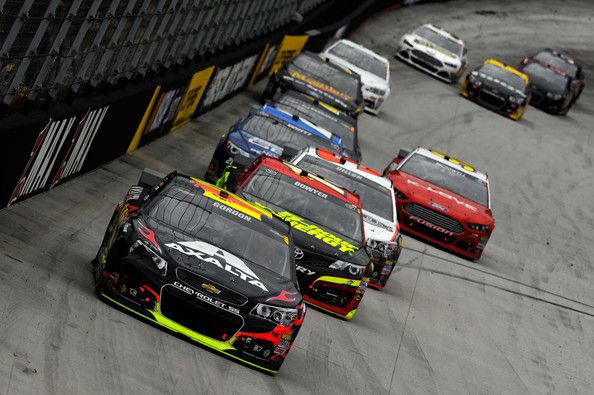 Indeed, the strategy to stay out seemed courageous at best because of the disparity between older and newer tires in a long run. However, Edwards and the lead pack didn't have to worry about an extended green flag run, as cautions for wrecks involving Kevin Harvick, Jamie McMurray, and Brad Keselowski about made it a race on a relatively short run. Behind the top-four, Denny Hamlin, Jeff Gordon, and Kasey Kahne among others, attempted to make the fresh four tire strategy work. All for naught, that tactic failed, as they'd place sixth through eighth.
Hamlin and Gordon both overcame some damage to their cars, passing as many cars as the Griswald family did in the rotary scene during European Vacation en route to solid but somewhat unsavory top-10 performances. At one point, Hamlin hit the wall but kept on going, while Gordon tangled with David Ragan on pit road during an early caution period. While his right front fender was crinkled up, the repairs and great teamwork by Team 24 propelled Gordon to his fourth top-10 of the year, the first time in which he's ever placed in the top-10 in the first four races of the season.
Additionally, Edwards pointed out the tire issues that had plagued his peers experienced throughout the race weekend, most particularly Johnson's tire issue during the race. The early race difficulties with the right-side tire relegated Johnson and his No. 48 Lowe's/Kobalt Tools Chevy team to place 19th, two laps in the rear. In a matter of speaking, it was safe to say that Johnson and Goodyear had differing stances on the early race incident.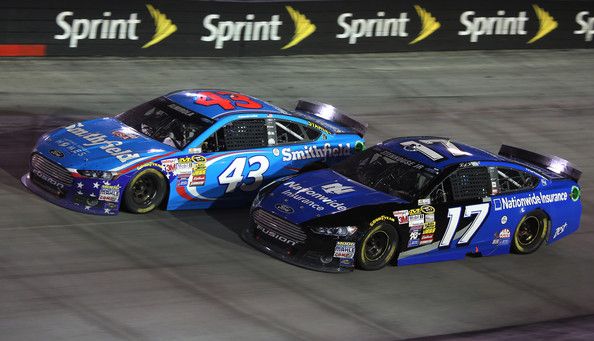 Meanwhile, the strong performances by Almirola and Ambrose were the first top-top finishes by both RPM teams in the same race since the spring Dover race, where they respectively placed sixth and 10th at "The Monster Mile." As a result of their strong performances, they both find themselves in the top-20 in points, mirroring their strong start last year.
Other notable performances included Brian Vickers and Kyle Larson, who rounded out the top-10, while Austin Dillon (11th), Greg Biffle (12th), Justin Allgaier (17th), David Gilliland (22nd), and A.J. Allmendinger (25th) took home top-25 finishes. Perhaps the race's scariest moment came when Harvick smacked the SAFER barrier in turn one and drove his No. 4 Budweiser Chevy SS, engulfed in flames, to the garage area before bailing out of his wrecked mount and bowing out with a 39th place DNF.
Overall, the Food City 500 saw 20 lead changes among 12 drivers with a 3 hour and 20 minute rain delay sequestered on lap 125 along with 12 caution periods tallying for 95 laps. Sunday night's race had an average speed of 84.051 mph, which was definitely slowed by the rain and the lengthy yellow flag between the red flag period.
Here's a look at the current top-16 in points, with the info in parentheses indicating the team, make, and number of wins (if any) applicable with each contender:
1) Brad Keselowski (Penske/Ford/1 win)
2) Dale Earnhardt Jr. (Hendrick/Chevy/1 win)
3) Carl Edwards (Roush-Fenway/Ford/1 win)
4) Jeff Gordon (Hendrick/Chevy)
5) Jimmie Johnson (Hendrick/Chevy)
6) Joey Logano (Penske/Ford)
7) Denny Hamlin (Gibbs/Toyota)
8) Matt Kenseth (Gibbs/Toyota)
9) Ryan Newman (Childress/Chevy)
10) Ricky Stenhouse Jr. (Roush-Fenway/Ford)
11) Kasey Kahne (Hendrick/Chevy)
12) Greg Biffle (Roush-Fenway)
13) Austin Dillon (Childress/Chevy)
14) Kyle Busch (Gibbs/Toyota)
15) Marcos Ambrose (Roush-Fenway/Ford)
16) Jamie McMurray (Ganassi/Chevy)