When one strolls in the NASCAR Sprint Cup Series garage area, there's the plethora of multi-million multi-car team haulers adorned with their Fortune 500 sponsorships and many amenities with hero cards for the fans to grab for autographs. As that individual explores the remainder of the garage, they might find the independent teams, with far less wrapping on their hauler or those that have shown progress over the years, but are still fighting a David vs Goliath battle against the bigger organizations. For Casey Mears and his No. 13 GEICO Chevrolet team from the Germain Racing shop, they've certainly been a hardy bunch that's holding their own, showing flashes of brilliance such as last Sunday's Toyota/Save Mart 350 at Sonoma Raceway with a 13th place finish.
Although that might be a finish that some of the smaller teams might gawk over, Mears and crew chief Robert "Bootie" Barker realize it was a result that didn't quite showcase how strong their car was last weekend. Running amongst the top-five drivers in the lead pack, a dust up in "The Chute" left Mears drilling the rear end of Kasey Kahne's No. 5 entry, bowing up the hood and damaging the front clip of his No. 13 machine. Forced into pitting early following a restart on lap 34, it was a day that went from a potential victory into one that was about surviving the battle of attrition.
Using some pit strategy that involved repairing their race-worn Chevy, while losing some of that amazing speed that saw them battle with the likes of AJ Allmendinger, Marcos Ambrose, Jeff Gordon, and Jimmie Johnson, Mears was able to pilot his car out of harms way to score a 13th at the 1.99-mile, 11-turn road course. The pride of Bakersfield, CA gave some props to his Germain Racing crew on Twitter, as he tweeted, "The @GEICORacing guys did a great job today! Rebounded well from the early crash. Had a issue with the front of the car last 12 laps."
Undoubtedly, when this team is firing on all cylinders, crew chief "Bootie" Barker's able to showcase his brilliance with preparing Mears' asphalt chariot, paying attention to all details in getting it running to optimum condition. This independent team, with some motor affiliation from ECR, sorely needed this boost after enduring five consecutive finishes of 23rd or worse between Kansas and Michigan. Of course, like the winless multi-car teams on the Cup trail, they're looking to score their first win of 2014 to punch their ticket into the Chase Grid.
Clearly, their struggles remain with the 1.5-mile intermediates, where aerodynamics and speed are critical in contending for a solid top-10 finish. One cannot simply be good anymore in NASCAR; they must be great. Although the No. 13 organization is a good team, they've got to make up ground towards becoming a great bunch, and the potential is there with the key personnel in place and the affiliations that have strengthened this unit as a whole over the past several seasons. Mears has been looking to score his elusive second career victory since 2007 while his Barker's bid towards his first win as a crew chief have been somewhat close, with a third by Dave Blaney at the spring Darlington race in 2003 and a fifth at the fall Richmond race four years later.
In other words, it's definitely worth noting that driver and crew chief are hungry and want to experience the joyous confetti and excitement of Victory Lane in the upcoming races ahead. Although Kentucky is a mile and a half which may see this bunch continue their uphill battle as prevalent with similar venues at Las Vegas, Texas, and Charlotte, there's also Daytona in the horizon, which is a solid track and equalizer that saw Mears score a 10th in the season opening Daytona 500. Germain Racing is the epitome of what makes NASCAR racing very interesting, as this independent, solo organization can truly swing for the fences and on any given race day, they at least know that if all the parts fall where they may, their chances of contending for a solid finish are all right there.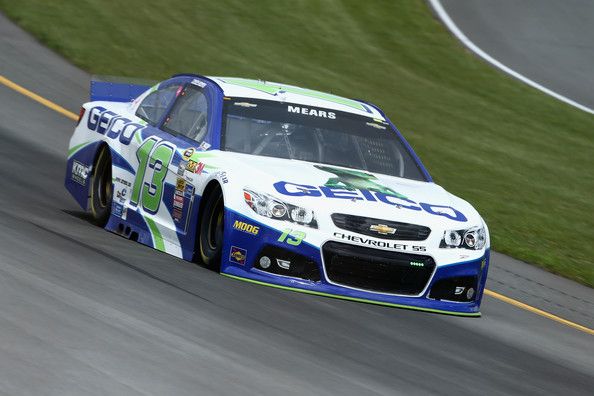 Perhaps their track record at Kentucky Speedway may point to some optimism for this bunch, as Mears has scored a 25th in 2011 and a pair of 18th place finishes in the past two years. Averaging a top-20 finish since this Sparta, KY venue joined the Cup series, this could be a team that plays spoiler on Saturday during the Quaker State 400. NASCAR's summer months tend to see some interesting and wild things happen and much like Russian Roulette, with the roll of a dice in pit strategy coupled with Mears' tenacious and precise abilities behind the wheel, it wouldn't be foolhardy to keep an eye on the No. 13 GEICO Racing Chevy starting this weekend.
Anything is possible out of this group and much in the case of last Sunday's road course showdown, adversity can strike this team, but it takes an ambitious team to overcome it all, and they did just that on a tough track. Kentucky's certainly another tough speedway but come Friday afternoon, it's possible that, in the words of a Bachman Turner Overdrive song, "you ain't seen nothin' yet."
Author's Notes : I'd like to dedicate this piece to my awesome friend and TPFer Ashley Hobbs - it's a reminder that life may be so, but keeping our eyes on the prize with our dreams, it'll happen. As the old Ruby and the Romantics song goes, "Our day will come" and her hard work and amazing talents will be noticed soon enough as a true asset in the world of sports and racing! I am forever grateful for you!