Just over a year ago, The Podium Finish strengthened with the addition of Isabelle Beecy of Melrose, MA, who's quickly grown in her role as the Co-Editor-in-Chief. Specializing in the Verizon IndyCar Series for the past year, this 20-year-old motorsports journalist, who'll be kicking off her third year as a journalism student at The Ohio State University, is changing gears and going from the world of open wheels and into the realm of NASCAR. Covering races at Pocono Raceway, New Hampshire Motor Speedway, Toronto's Exhibition Place, and Mid-Ohio, it's safe to say that those experiences this summer and her hands on role with working amongst her team has made her a truly valuable asset to TPF.
Since our interview last summer, she's not only produced countless interview pieces with IndyCar and NASCAR drivers, but she's also become a member of our podcast as well as our Track Talk NASCAR race preview team. A hard working, determined, and precise writer, she's meticulous about her works, always looking to improve on her material while being an ardent observer of the sport. Never afraid to ask questions, she's a keen observer and displays the professionalism of a journalist while remembering to be herself. Balancing her time with her family, friends, school, and her passions, it's safe to say that she's able to keep up with the fast pace of her world.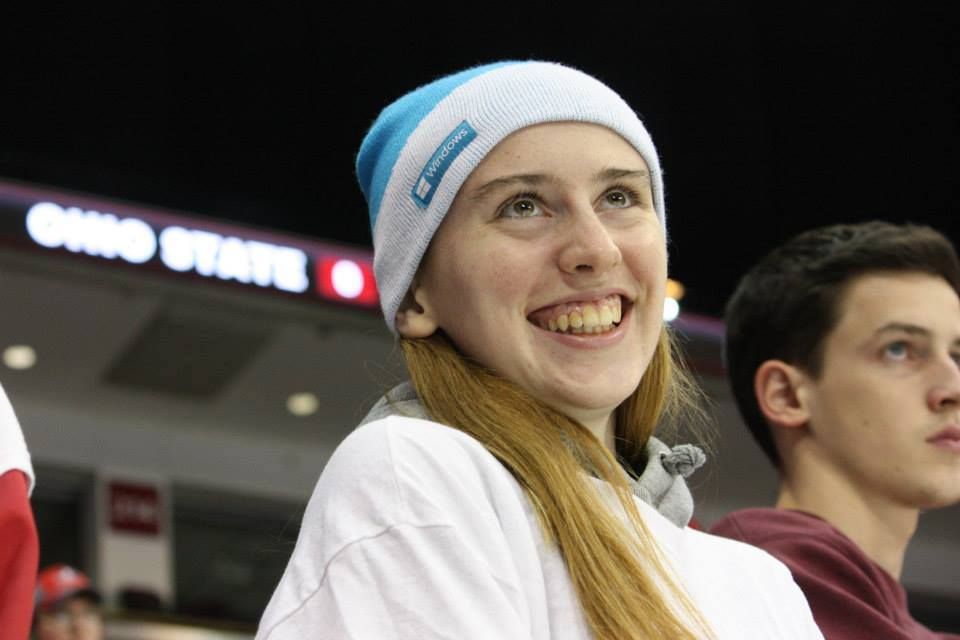 Sweet, kind, considerate, and supportive, Beecy's been an equal part of our website's growth and changes. A former go-kart racer who mainly competed in F1 Boston, she's also quite competitive as she would in her career behind the wheel. In some respects, a part of my traits and approach with writing and NASCAR racing are very much inherent with her. Bouncing ideas like musicians, we continually think of ways to improve TPF for our race fans.
Most importantly, we're both working tremendously hard to be in this sport, and for a young writer who cut her teeth just a year ago here, she's come a long ways! Not to mention, she's the kind who can walk the talk, and not just on a go-kart track!
Working alongside her during the Loudon race weekend last month, it's safe to say that the rapport we had online was further strengthened during our road trip. We learned a lot about each other, coalescing with each other's approaches, and most of all, we've strengthened our friendship and our working relationship. There are times where I see a lot of my younger self with Beecy, as she's got the focus and eyes of a focused individual who's set on realizing her dreams.
A year ago, I introduced you to the newest co-EIC. Tonight, I'm proud to sit down and follow up with not only one of TPF's biggest catalysts, but my best friend. Ladies and gentlemen, let's start "Catching Up with Isabelle Beecy, Co-Editor-In-Chief of The Podium Finish," right here, right now!
Rob Tiongson : Year one of your tenure as co-EIC completed a few weeks ago. You've now covered IndyCar and NASCAR races. Still, for those people still living under a rock, could you catch them up on what you've been up to at TPF?
Isabelle Beecy: So on TPF, I've been recaping races for IndyCar, F1, and NASCAR and interviewing drivers from IndyCar and NASCAR. At the moment, I'm transitioning over from open wheels to NASCAR but I'm hoping to still do at least some interviews over in IndyCar.
RT : If I may ask, what prompted the change from open wheels to stock car land? And what are your goals with NASCAR racing?
IB : This summer I was able to get credentials for several NASCAR and IndyCar races but felt more comfortable in the NASCAR media center than I did in the IndyCar media center. When it comes to goals, I'm really hoping for a career in NASCAR in one form or another, whether it's with a team or a media site. For short-term goals, I'm trying to learn as much as I can about NASCAR and build up experience so I can land said job.
RT : Good points and you've had that unique opportunity to see both series from the other side of the fence. Let's talk a bit about it, at least with NASCAR. It's safe to say you entered a brand new world. What's some of the aspects of it that took you by surprise?
IB : I wasn't expecting everyone to be so welcoming, first of all. I had only heard about NASCAR being nice, but to have everyone offer help and support to me when I first arrived in the media centers was unexpected and really amazing. I appreciate all the kindness that I received. I also wasn't expecting the amount of opportunity to get a story to be as high as it was. There were many press conferences I could attend and the teams who allowed me to interview their driver were willing to accommodate as much as possible. The whole experience was just phenomenal.
RT : Is it safe to say that it gave you a whole new perspective of NASCAR racing compared to what you heard in years prior?
IB : Oh absolutely. To have two completely different experiences between two different series was a real eye opener and made me realize which series would end up being the one I want to be more involved in.
RT : Speaking of involvement, you've definitely been a part of TPF's big changes since we first sat down and talked things over. You've also grown a lot in the past few years - what's different in Isabelle's world from when we first chatted?
IB : Oh gosh. So much is different. I've been able to work through several demons and have found some confidence that was buried somewhere. I've also found a great support system with family and friends, so that always help. Even though there were some really low lows this past year, I've been able to grow for the better and have come out stronger on the other side. Or at least that's what I would like to think.
RT : When it comes to coping with those fears, how's that helped with the on track experiences? Have you found yourself sometimes going, this can't be happening?
IB : I've really been able to find a way to take the coping strategies for personal demons and apply them to chasing the dream. Or at least it's been easier to quickly find coping strategies that work while chasing the dream. So far, I'd say it's worked pretty well. I've been able to get over most of my nerves involved with in-person interviews and in NASCAR it's been easier to find a way to network that works for me. So I'm getting there, but I'm still not 100% where I want to be (and maybe should be).
RT : You will be! Sounds like we share that characteristic of wanting to be better than we are, eh?
IB : True story!
RT : In terms of the changes you've been through, did you ever imagine that you'd be making the series switch and also to see TPF grow all at the same time?
IB : I never expected to ever make the jump from IndyCar to NASCAR. I thought I would get a job in IndyCar and then that would be it. I guess life wanted to take me in a different direction, but I'm sure I'm sure I'll be happy in NASCAR. With TPF growing, I never expected it to do so as fast as I did, but it's a good kind of surprise like the switch is. I love seeing this website grow and garner more attention because it means we're doing something right and we're doing it well. It's tough to be switching when the website is growing like this since I feel like more eyes are on me during the transition and I feel like I have to nail it, but I'd probably be putting pressure on myself to get it right no matter what. It's the good pressure, though, so I think I'll do fine.
RT : The whole team loves you for sure - you're a huge part of our success and growth since last summer. What would be the perfect song that describes your journey since last year?
IB : I'd maybe say "All You Need Is Now" by Duran Duran. It's a fun, upbeat song that's reminding me to live in the moment. I often find myself thinking too much about what I screwed up in regards to something that's happened in the past or get too worried about something that
It'll happen in the future and I need to remember to live for right now. I'd also throw in Duran Duran's "What Happens Tomorrow" for almost the same reason.
RT: Good choices, but how'd I know you'd say Duran Duran?
IB : Because you know me too well. Plus that's basically all I played on one of our roadies!
RT: Oh the road trips. Should we even talk about the awesomeness that ensued?
IB : Like drafting Trevor Bayne's hauler or you mooing at those cows?
RT : True story. We won't mention about Barbie Girl, either!
IB : Or me yelling at Kyle Busch's hauler to get out of my way?
RT : I think those should've been cues for me to know that you meant serious business in our Editor vs Editor race during your birthday! Speaking of which.....I think I can attest to our first interview. Even against me, you took the bulls by the horns!
IB : Yay for the uber-competitive nature of drivers?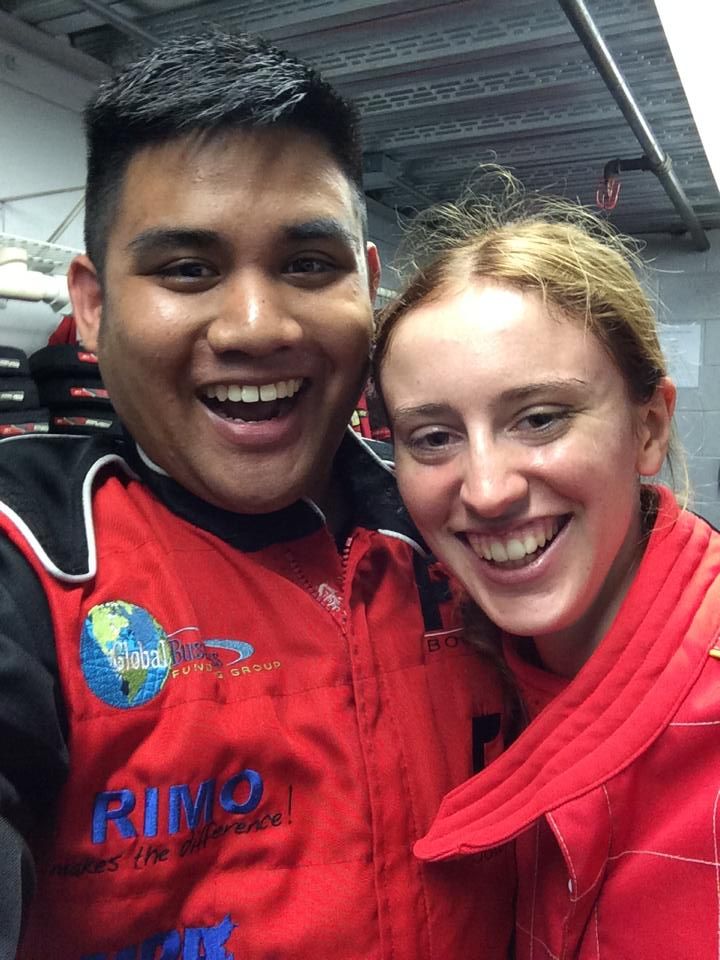 RT : You lapped me more times, I almost thought I was standing still. Safe to say you, as a former series racer at F1 Boston, have that competitiveness in you as a writer?
IB : Oh gosh yes. I think you've seen it on several occasions already. But instead of letting it fester like I used to, I try to turn it into trying to make myself better as a writer and try to focus on myself rather than comparing myself to where others are and getting upset if I'm not there yet. Sometimes it doesn't always work, but I'm getting better at it.
RT : Last question before we go back to work and all. What's been the most memorable soundbite from your first year with TPF? And do you think your fellow co-EIC is a bit crazy?
IB : I have two sound bites that I've really enjoyed. One was the quote Austin Dillon gave me last summer about wearing the cowboy hat because chicks dig it. I'm proud of how much that took off and that I was the one who got him to say that. The other is AJ Allmendinger's answer to your question about what's changed between then and now. For me, it's awesome that he's been able to change his life so much for the better and I've enjoyed watching his comeback from his hell year a couple years ago. And yes, Rob, you are very crazy!
Author's Notes : I would like to personally thank Isabelle for taking the time to let me follow up with the interview from last summer. She's a true friend indeed, and the best friend I've wanted! Isabelle's a huge reason for why we've gotten so far. We believe in each other and I'm excited to see how her second year with TPF goes! All of the photos are courtesy of Isabelle and if you'd like to "Follow" her on Twitter, do it up. You can also talk racing with her during NASCAR Nationwide Series races and as always, you can catch her latest works in stock car racing all right here. I'd also like to thank Paul and Maureen Beecy for their support and kindness, being there for Isabelle as she pursues her racing dreams and with her writings on TPF!