24-year-old Kaitlyn Vincie has come a long way since we first met her back in March of 2011. We catch up with her and talk about her career and racing!
Motorsports is one of the most competitive sports and industires in almost every aspect, be it as a driver, crew member, or even as a media personality. Nearly thousands of talents come and go into the sport, trying their earnest to make their big splash into the sport.
No matter the successes in the journey up the NASCAR ladder, it's safe to say that each of us have experienced struggles which have only made us stronger and more determined to make it in the sport.
The case can be said for young Kaitlyn Vincie, who as you may recall from a piece last year, made a name for herself through her works at Langley Speedway and her self-produced Hot for NASCAR video blogs on YouTube.
Much has happened in the 24-year-old's world since that March 2011 interview, from some struggles to perhaps one of her greatest triumphs as SPEED's newest personality on programs NASCAR Race Hub and NASCAR Trackside Live.
Her congeniality is matched by her kindness and her good heart, as she's still the same small town girl who's just grown up since those short track days busting for an interview with the local stars of the bullrings of Virginia.
With a bigger audience across the country via SPEED, she's been able to showcase her passion and talents in auto racing through one of the sport's biggest media outlets. From her special reports like "Hidden Heroes" to her stints as a SPEED Girl and panelist on Trackside, Kaitlyn's ambition still shows in her work and goals.
A good friend of The Podium Finish and with yours truly, the aim of this interview piece is to catch up and see what the sensational media personality has been up to since last year.
However, it's more than just a good sit down with a close buddy, but it was an inspirational conversation personally in light of recent events.
It's wonderful knowing that even with her successes, she's still the same girl I met and got to know last year.
Showing a lot of faith in me despite my struggles to make it into the sport, it's wonderful to know that even success hasn't changed this successful young girl who's bound to make bigger waves in the years to come!
Kaitlyn and I chatted about her career on the phone earlier this week and an excerpt from that interview will air on Saturday's podcast.
From her career to her thoughts on this year's "Chase for the NASCAR Sprint Cup Championship," she leaves nothing on the table!
So let's catch up with Kaitlyn Vincie of SPEED and get her thoughts on how she's been lately - in an exclusive sit-down interview which will be partially printed here as well as on our live podcast this Saturday at 11:30 AM ET/8:30 AM PT, we're going to talk racing now!
Rob Tiongson : A lot has happened since we last talked back on March of last year, and you've gone a long ways since your last video blog series on YouTube to one of the newer and more upfront personalities on SPEED'S NASCAR coverage, so congratulations on that!
Kaitlyn Vincie : Well, thank you!
RT : You're welcome - how's that experience been like for you following those years at short tracks and just chasing your dreams?
KV : Obviously, it's been a very rewarding experience. The goal has always been to be a reporter for SPEED and that's what it's been since I was a teenager. The fact that it's materializing now at (age) 24 is very exciting and and I've definitely been enjoying all the opportunities that they've given me and I just hope to continue growing from here.
RT : You certainly will and you've got some good mentors around so I could imagine that there's some people on the network who you turn to for advice as far as preparing a report or just dealing with the new environment that you're in now. Who would be some of your mentors?
KV : Oh gosh, the ones that definitely stick out are Steve Byrnes, Rutledge Wood, you know, everyone that I work with on Trackside has been very helpful. Krista Voda, Kyle Petty, and Matt Clark - you know, he came in and kind of said, "Yea, I know how it is to be new to the network," and he's offered advice. John Roberts has helped as well.
I've been very fortunate to work around them with the Road Tour team with all the RaceDay guys and with Trackside. I was always picking their brains, asking them questions, and getting insight any way I could. I've been very fortunate and honored that the talent at SPEED is very approachable and that they're happy to help. I've learned a lot from them over the years.
RT : Does it ever hit you that you're working alongside people that you've seen on TV since you were a teenager and you were like, "Oh my God, I'm here now! I'm at the same level as them?"
KV : Yea, on my first Trackside show, it was pretty surreal just cause it's Rut, KP, and Krista, three people who I think do a phenomenal job. Particularly with Krista, she's been certainly an influence to me as well as Wendy Venturini.
I think that they're two of the best in the industry so it's an honor to share that stage with them for Trackside. Yea, it's kind of really like, "Is this really happening?" (laughs)
RT : (laughs) That's pretty cool. I'm pretty happy for you cause I've been following you since last year, I remember, back in the spring. I'm very happy to see you succeed and work so hard and your efforts have paid off so far!
KV : There were a lot of no's along the way, you know, things that didn't work out and there were frustrations mounting when I felt like it was kind of more difficult for me to break in than I originally thought it would be.
But then the right yes came along with at the time with SPEED when I was interviewing at their marketing department and it's kind of gone on from there.
RT : You've worked a few races and you mentioned about working with the SPEED crew and I think you were a SPEED girl before you got your post as one of the newest members -
KV : (laughs)
RT : (laughs) That was pretty cool I will say, cause I was like, oh my God, I know that girl! And then you did your piece working with the NASCAR Trackside Live! crew. Was it a bit of a transition for you to go from that role or was it kind of seamless since you know the people around you?
KV : Well, basically I started with SPEED on the marketing "Road Tour" team, and they had an on-track appearance as emcees for the SPEED stage. They do on-camera stuff for social media, for Sprint Vision, the big screen at the track, and they obviously work really closely with the on-air talent.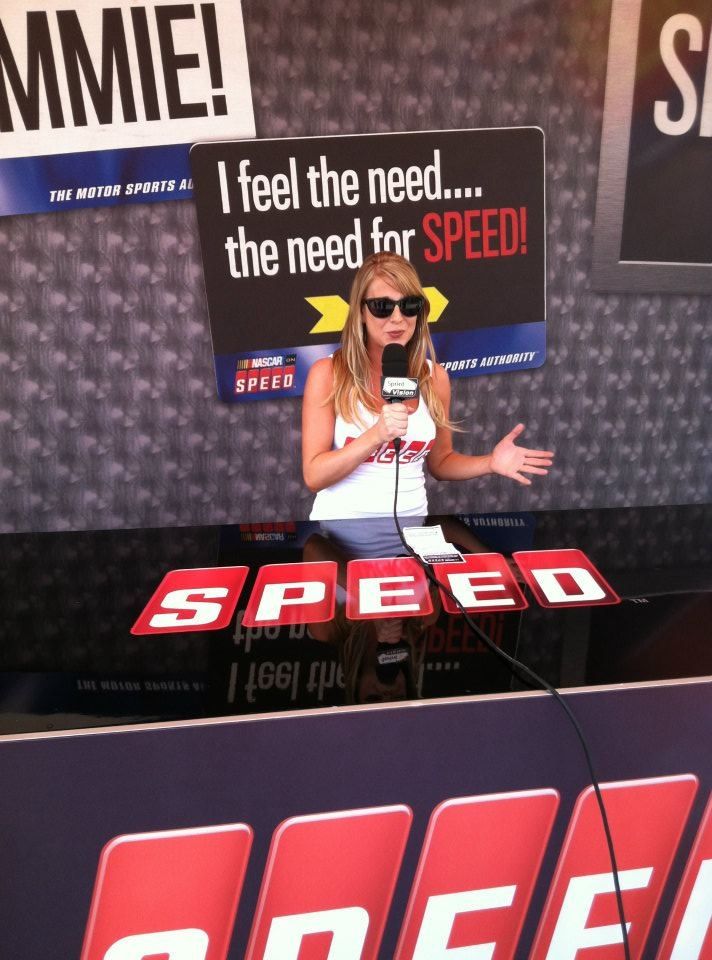 An opportunity came to do a segment for Race Hub, and then I started getting more on Race Hub, which I really enjoy and that led to the Trackside position.
Trackside is live TV, versus Hub, which is not, was easier for me because I already knew KP, Rut, and Krista from doing the "Road Tour" team that made the transition much easier.
It wasn't like being on stage with three complete strangers that I had never interacted with like it was before, which made it more seamless.
Rutledge and I have been friends for a while now and he's been hugely helpful with my career so it was pretty exciting when I got to hang out with him on the show and it's just a different kind of dynamic than previously when I was on the "Road Tour" team.
It's been a lot of fun, it's a fun show! (laughs)
RT : It really is and I can tell you guys do really get along well. It's almost like having like another family when the viewers watch it from home or wherever they are, it's almost like they have another set of siblings or cousins at the racetrack, y'know?
KV : A lot of people say that SPEED's my other family, you know, cause we travel together every week, we interact and work together and go on TV...it's fun, they're really a great group of people I'm around.
RT : And I hope there are many more years for you guys to work together as a team cause you guys have that chemistry to be a really good force - if you think about it, with the media, I'm working with it on the minor sense, but not only do we tell news, we're kind of the marketing force in a sort of way with the sport.
KV : Exactly.
RT : When you work on a story for Race Hub, like I know how you do the "Hidden Heroes," or sometimes you do pieces like profiles on pit crews or most recently, with that nice piece on The NASCAR Foundation's Betty Jane France Award, is there that rush of excitement for you knowing that you're covering new ground that usually wouldn't get coverage from other folks or circuits on the media?
KV : Yea, each story is unique and there's always something to be covered honestly. And I do like the "Hidden Heroes" segment just because it's fun to promote the pit crew guys' stories or the other things that other people wouldn't profile.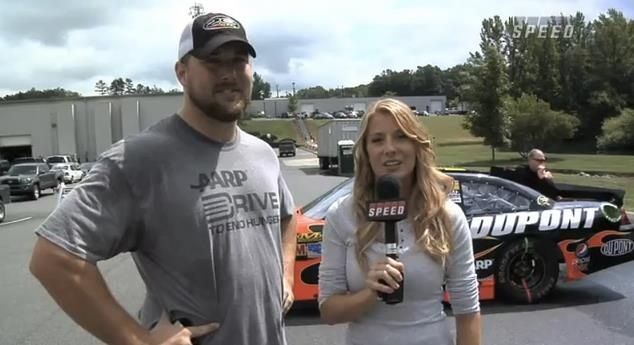 That has definitely been enjoyable for me and that's what I love about Race Hub. It offers a lot of stories that aren't the mainstream news stories.
It has a lot of news, but it brings a lot more to the table on that program, I think, like "Hidden Heroes," "Crash Cab," all those fun things that I think make it a very well rounded broadcast.
RT : Speaking of fun things, I know I've kind of picked on you about it on Twitter a little bit but I gotta say that "Call Me Maybe" lip dub that you guys did over the summer was pretty hilarious.
KV : (laughs) Yea, that was a lot of fun to put together. Myself, Heather Debeaux, and Gannon Hollywood, my teammates on the "Road Tour" team, came up with the idea cause it was just a fad. Everyone was making one and we were like, "Nobody in NASCAR's made one yet, so we should be the first ones to do it."
We just made one basically and I thought it turned out pretty well. Gannon did an awesome job and it was definitely a lot of fun. That was probably one of the highlights of the "Road Tour" team doing "Call Me Maybe" together.
RT : Let's talk a little bit about what's been happening this year in NASCAR, particularly with the Sprint Cup Series. It's been kind of a different Chase, although the one constant in it has been Jimmie Johnson - no surprise there.
What's your thoughts there with the last three races coming up and do you think - has your stance on the Chase been the same since we last talked or has it changed in the last year?
KV : It's remained the same but obviously, if you take a look at last year's Chase and compare it to this one, they're two very different competitors in the hunt in these last three (races). Last year, we had Carl Edwards and Tony Stewart and it couldn't have been a closer battle.
This year, I think it's going to be very close as well but we're looking at Jimmie and Brad K, and I think that everyone's thinking the same thing. We have Jimmie who has five championships and Brad, someone who hasn't gotten his first one, but Martinsville was a great race. I predicted Jimmie would win, which he did....
RT : (laughs)
KV : It wasn't looking good for Brad, starting in the back, but I think he proved that his team is certainly in the championship hunt after his finish and now he's barely chasing Johnson going into these last three. My pick, and I've said this since the beginning, is Five-Time, who's looking to get number six.
RT : Yea, I think he's pretty much sealed the deal unless he has a problem, which you don't want to hope for, but it'd make for some interesting storylines. This team has been there many times before and I think the biggest demoralizer for the competition was just when in Kansas, he looked like he was pretty much done for when he crashed in turn four.
But then with some teamwork and repairs to the car, he finished ninth place and ahead of some title contenders who didn't even crash so that's pretty scary stuff if you ask me.
KV : It is but it's also a true testament of how, just across the board that team is, from the over-the-wall guys, Ron Malec, Chad Knaus, and Jimmie, all of them - it shows why they have won five championships because of situations like that.
They don't fall apart under pressure and Jimmie does one of the best jobs in maintaining his composure in getting back out there and getting it done. That's how you win five championships and that's why he's my pick for this year.
RT : To get into the world of racing, we both know that it's not exactly the most easiest path at all. It's a lot of work, you know...it requires dedication, sacrifices, perseverance, you know....you get discouraged and you have days where it's like, "It's so easy."
So what's your advice to those who are trying to get into this field who trying to make a name for themselves in the motorsports, in the world of motorsports media, or in NASCAR...what would you tell them?
KV : I would tell them, "No matter how many no's you get, you never give up." Cause I thought there was a point where there was a window that was closed but another one, I'd knock on. You cannot get discouarged. You have to maintain in your head that, if it's something that you really love, you shouldn't give up on it and that's how I felt.
Racing has been my passion and now it's my life. There were certain things that seemed like they were gonna come close to working out and they didn't.
When I'm looking back at them, I'm so thankful that they did not.
I am very happy that the door with SPEED opened when it did. It was the right time.
Timing is everything - that's like the age old saying but it's true.
I think as far as racing goes, there's a couple of different factors that come into play as far as your success goes.
Obviously, you need to be qualified, passionate about racing. You need to have a good connection and network obviously but you need to have timing and a little bit of luck.
When all those things come together, it puts you in a good position.
And also, a lot of people ask me that, but don't give up on your goals, cause if you do, someone else will come along that will take your sport because it's fiercely competitive, whether you're a driver, or media person, or whatever you might be....NASCAR is no joke.
Author's Notes: I'd like to thank Kaitlyn, who's been a very amazing and good friend for the past year in supporting the website and my career. To see her succeed is like seeing family succeed so I'm happy she's living her dreams. Friends can be hard to come by in all walks of life but I am so glad to have Kaitlyn as a good one who's one of the sweetest and most supportive friends I know in my life.
Also, I'd like to say thanks to Megan Englehart and Erik Arneson of SPEED for making the interview possible with their busy schedules. They are some of the hardest working individuals in this sport and they're partly why racing is so accessible unlike any other spectacle in the world!
All the photos used in this interview are courtesy and credited to Kaitlyn Vincie, who's allowed us to use her pictures throughout her racing career for this piece! You can catch Kaitlyn every week on SPEED on shows like Race Hub (primarily on Tuesday and Wednesday nights) and on Trackside every weekend! Additionally, you can follow her on Twitter and Facebook!
Lastly, this piece is dedicated to everyone who's been a believer in me since day one, from family, friends, and just anyone who's cared for me over the years. Thank you!