Saturday night's Federated Auto Parts 400 might have offered up some excitement. However, the Chase picture wasn't without its dark clouds.
On the afternoon following a Saturday night celebration or heartache, it's safe to say that the NASCAR Sprint Cup drivers and teams are slowly gathering exactly what transpired at Richmond International Raceway. While 12 drivers and crews are busy preparing for their first Chase for the Cup race at Chicagoland Speedway, at least three notable talents are pondering "what could have been" for their playoff hopes.
Saturday night's Federated Auto Parts 400 had about the same level of drama and excitement as last year's regular season finale that saw Jeff Gordon race his way into a wild card Chase seed while ousting Kyle Busch and his No. 18 team. Although it was a different Busch brother, the same task applied for the driver of the No. 24 team for the 2013 edition of the race: race your way into the Chase, and the title hunt's all theirs for the taking.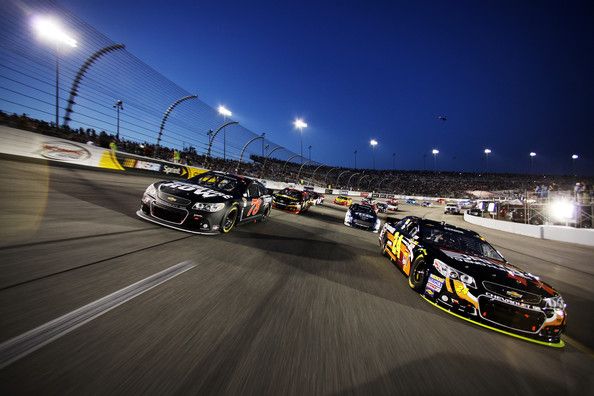 Starting on the right note with the pole position, Gordon rocketed his Drive to End Hunger "Hunger Action Month" Chevy SS to the point, taking off early and leading laps before being caught by defending Cup champion Brad Keselowski. While Gordon surrendered positions on the track, Keselowski and Kurt Busch would put themselves in the positions they needed to be for a Chase berth, staying towards the front of the field. Meanwhile, the Vallejo, CA native would suffer a setback past the halfway point when a loose wheel would relegate him to a green flag pit stop.
That stop would put Gordon and his No. 24 team back in 26th spot, two laps down. Refusing to lose, Gordon charged his Chevy past the leaders to gain back a lap and by nearly traversing the entire 0.75 mile track to catch the first lap down car of Brian Vickers. After passing Vickers to become the first car that was a lap down, a caution flag would fly laps later that propelled the 42-year-old racer back into contention on the lead lap.
A valiant effort, Gordon would march his way from the back of the pack and into the eighth position, right where he needed to be to make the Chase. Also in position to punch his ticket into the postseason was Ryan Newman, the 2013 Brickyard 400 winner. Running in the lead with just six laps to go, their Chase complexions would greatly change by a "spin cycle" on the frontstretch, when Clint Bowyer would loop his No. 15 5-Hour Energy Toyota Camry for a spin that brought the caution out.
As a result, the leaders would wind up pitting for fresh tires for what wound up being the green-white-checkered finish for the race.
Newman and Gordon would pit for four tires, winding up having to fight and claw their way back to make their way into the Chase. Ultimately, it was all for naught as far as their playoff pushes were concerned, as both drivers missed the cut for the 12 driver field in a matter of events around the final six laps as Carl Edwards drove on to his second win of the 2013 season.
Making the Chase field of 2013 are Matt Kenseth, Jimmie Johnson, Kyle Busch, Kevin Harvick, Carl Edwards, Greg Biffle, Joey Logano, Clint Bowyer, Dale Earnhardt Jr., Kurt Busch, Kasey Kahne, and Martin Truex Jr. With reseeding in play, the field was reset with the driver and team with the most wins towards the front of the pack while those winless and the two wild card seeds towards the back of the championship field.
Among the notables missing the playoff picture were Jeff Gordon, Ryan Newman, Brad Keselowski, and Jamie McMurray.
For Kurt Busch, it completes a comeback (if you will) for the 2004 Cup champion, as he worked his way back from his dismissal at Penske Racing and a brief shaky tenure with Phoenix Racing into a hard earned Chase berth with the No. 78 Furniture Row Racing Chevy team. It's all a full circle but it's their only efforts together for a title fight, with Busch heading to Stewart-Haas Racing following this season.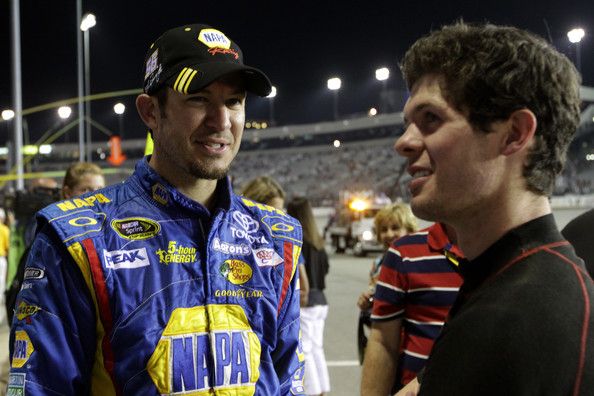 As for Truex's Chase comeback, while it was a story of courage battling back with a broken wrist, some may view his teammate Clint Bowyer's spin as a controversial moment of not only the race, but of the 2013 season. While Bowyer claimed he had tire issues in the waning laps, Dale Earnhardt Jr. had a different perspective on things.
"He just spun right out," Earnhardt said. "That's the craziest thing I ever saw. He was hemming around on the brakes and jerking the car around, and then the thing just spun out. It was crazy. I don't know what was going on."
Some communication relay between Bowyer and his No. 15 team, particularly with crew chief Brian Pattie, aroused some suspicion with the late-race spin that ultimately spoiled Gordon and Newman's Chase efforts and catapulted Truex into the playoff fight.
"Is your arm starting to hurt?" fielded Pattie to his driver. "I bet it's getting hot in there. Itch it."
Not long after, Bowyer's Toyota Camry went for a Saturday night spin, which set up the sprint to the finish at Richmond. While team orders are not uncommon in auto racing, to say the least, Michael Waltrip Racing's Chase berths weren't void of aroused suspicions by fans and some press in the garage.
Bowyer would say after the race, "I know it's a lot of fun for you guys to write a lot of wacky things. Go ahead if you want to. Get creative. But don't look too much into it."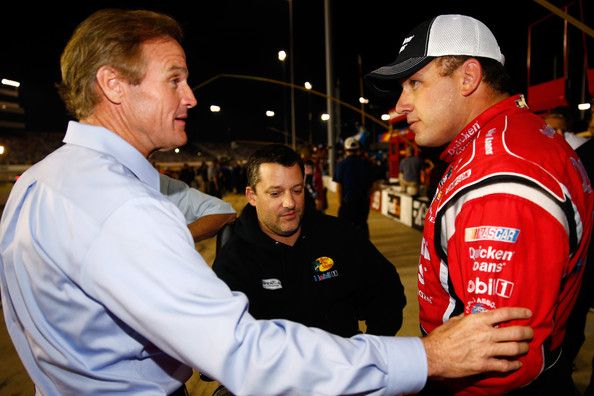 Meanwhile, Newman and Gordon expressed disappointment at missing the Chase field. After seeing their title prospects vanish before their eyes in the span of six laps, both drivers talked about their circumstances that led to their playoff omissions.
"If we were a championship-contending team, we needed a championship-contending pit crew, and we didn't have one tonight," Newman said.
Equally as dismayed was Gordon, who said, "Yeah, it's tough. I'm just bummed for this team. They work so hard and I don't know why we've had the kind of rough year that we've had. We're going to do everything we can to go to these next 10 races and step it up to get ourselves in position to be more competitive. Hopefully we can win a race or two and get ourselves in position to be in a better position when it comes to Richmond at this time next year."
Of course, it wasn't just this race that left Gordon, Newman, and defending Cup champion Keselowski on the outside looking in for the rest of 2013. A bad race or two could've been the difference that resulted in the trio missing out on the championship showdown. Instead, their focus is returning to Victory Lane and preparing for the 2014 season with strong finishes and momentum from here until Homestead-Miami Speedway in November.
As of press time, NASCAR has said that they are reviewing the race and that no further statements will be issued until they've watched the events of the race in completion. The reason for the review was not stated and it's unlikely that any penalties will be doled out.
However, the consequences of this race could very well resonate for the drivers, teams, press, and everyone in NASCAR not only for the rest of the season, but for the foreseeable future. It's safe to say that regardless of whose allegiance are set with, whether one's favorite driver and team made or missed the Chase, it's the kind of buzz that definitely has fans at the track and on social media circles talking heading into this coming Sunday's Geico 400 at Chicagoland Speedway at Joliet, IL (Live on ESPN at 1 PM EST).
As we say in the media and sports industry, stay tuned. Chaser or not, the storylines at the track and in NASCAR will not be short in publicity and attention.