Matt Kenseth is like vintage wine: got better with age. Well, how does the Peyton Manning fare this year in NASCAR?
If you're Matt Kenseth and waking up each day before the start of the 2014 NASCAR Sprint Cup season, you're probably tired about hearing about nearly every media outlet bringing up the runner-up curse. After all, after being the bridesmaid in the 2013 final rundown in a hotly contested title race against six-time champion Jimmie Johnson, the only thing on the pride of Cambridge, WI is "how can I make this year as one that's far better than last?"
To be fair, whether or not Kenseth and his No. 20 Dollar General Toyota Camry team have considered this question, it's a fair one. Scoring seven wins, 12 top-five finishes, 20 top-10's, and three poles last year, it's a tall order to try and duplicate those outstanding stats in what'll shape up to be a more cerebral, aggressive season in the Cup ranks.
With NASCAR recently making changes to the Chase format and elimination rounds occurring after every third race, winning is going to be so pivotal. Then again, this bunch loves to win so making the Chase and being right there at Homestead-Miami Speedway will not be a problem at all for this Joe Gibbs Racing bunch.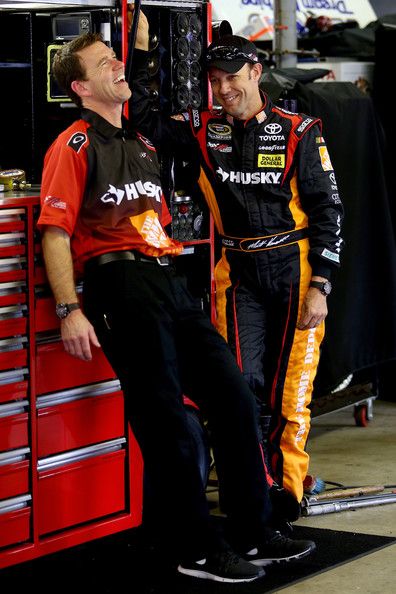 Sitting atop the pit box for his overall third year at the helm of the No. 20 team is Jason Ratcliff, a solid crew chief who knows how to keep his driver and crew focused as much as he can with the passion and fun for each race. Earning his dues in the NASCAR Nationwide Series, notably as the team leader for Casey Atwood's No. 27 ride in the 1999 and '00 seasons, this pairing of Kenseth-Ratcliff is about as potent as that of Peyton Manning and John Fox.
They just both get each other so well with similar personalities and the overall campus feel at Joe Gibbs Racing's aggressive racers meshed with the cool, wry style of Kenseth is a win-win situation for everyone with the No. 20 team. Perhaps its their approach with racing that just make them such a perfect combination, much in the same league as Jimmie Johnson and crew chief Chad Knaus.
There's plenty of reasons to believe that this year will be the one that Kenseth finally hoists his second Cup championship, such as the fact that they excel at the intermediate tracks. Well, wouldn't you know it, as a majority of the Cup schedule has these types of venues, namely Atlanta, Charlotte, Chicagoland, Kansas, Kentucky, and Texas to name a few. If it's a quad-oval and has at least over 20 degrees of banking, the 2003 Cup champ just knows his way around those tracks about as good as anyone else.
TPF sees Kenseth and his No. 20 team compiling a great season that will be like back-to-back gold records for a rock band that's made its home on the Billboard Top 200 charts. Unfortunately, there'll be two better teams ahead of them, one namely from the usual suspect and another being a teammate who'll improve on a career 2013 season.
Then again, maybe he'll be like his NFL counterpart, and it's not Aaron Rodgers who's being referred here. Instead, it's a quarterback who's playing in the big game at East Rutherford, NJ for the Denver Broncos, a talent who continually impresses even as the years progress. An old Steve Winwood song may describe Kenseth and Manning in such perfect fashion:
I'll be back in the high life again,
All the doors I closed one time will open up again.
Both legends will have that door of opportunity that for some reasons were closed (Manning's neck injury, Kenseth's title drought) but will reopen for a chance to revel as a champion again. Whether it happens this year or next, the point is that Kenseth has never forgoten how to drive a racecar as much as Manning hasn't forgotten how to lead a two minute drill.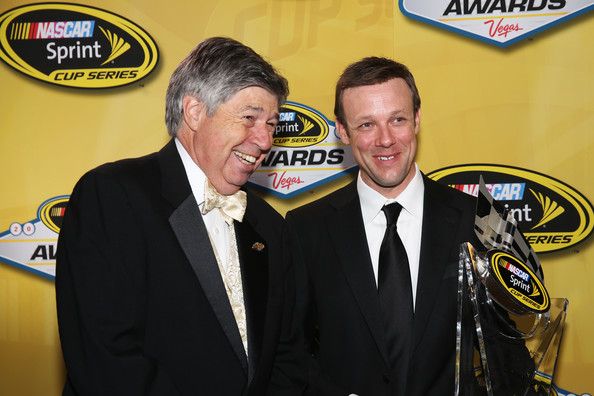 One day, we'll reflect on their achievements in awe and realize the special accomplishments that these athletes achieved on the field, respectively in the gridiron and asphalt arena. Until then, sit back, relax, and watch these remarkable talents and their teams work their magic on Sundays.
Author's Notes and Fans to Follow : I've got to give some props to Ashley Hobbs for helping with our stats and assisting with our selection with the 2014 Chase field, rules changes or not. If you're looking for a pair of great Matt Kenseth fans to "Follow" on Twitter, it wouldn't hurt to give Karen Burrell and W. Duane Cox a holler on there right now!