Kasey Kahne is the bee's knees for the ladies and makes the men jealous - drives a cool car and has the looks. Can that translate into a strong 2014 season?
For the ladies, this driver's the heartthrob of the garage area, whether he's racing that No. 5 Farmers Insurance Chevrolet SS to the front or strutting his way to his hauler without his shades. To the male race fans, Kasey Kahne is a top driver whose results in the Chase are somewhat of a conundrum, especially considering that he's an elite talent, has a great pit crew, and that he works with Kenny Francis, one of the top crew chiefs in the NASCAR Sprint Cup Series.
All the ingredients are there to be a winner in this Cup division but when it's pressure time, said co-lead singer of "Under Pressure" aka David Bowie probably feels more like Jimmy Fallon's Tebowie character when the racing season is done for Kahne and company.
That's not due to a lack of effort with the No. 5 team, who again, enter this season as a favorite to be in this year's Chase and is projected to place 10th in our predictions here at TPF. Kahne is a wheelman, as he's not afraid to wrestle that car with the aggressive bunch like Kyle Busch or Matt Kenseth on a weekly basis.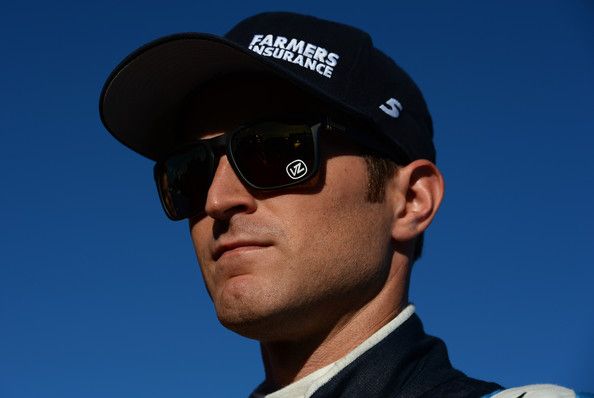 Often riding the high line at most speedways, this cagey veteran racer from Enumclaw, WA enters his third season at Hendrick Motorsports' campus in a crossroad: is he a safe bet for a Chase spot or can he rise to the occasion as a Cup champion?
Last year, TPF had projected him as the Cup champion, and why not? With two wins at Charlotte and Loudon in 2012 that enabled him to a fourth place points finish, it only seemed logical that Kahne would rise to the occasion, not that he knew of our devious prediction!
Joking aside, the 2013 season wasn't all that bad for Kahne, as again, there'd be two victories, this time coming at the spring Bristol race as well as at the summer Pocono spectacular. Much like Harry Gant would often serve as in his career, Kahne had some bridesmaid results, including Las Vegas, the April Kansas race, both Charlotte races, and Bristol in August.
As solid as those finishes were, there were also the disappointing results at the plate races, including an auspicious 36th at the Daytona 500, 42nd at Talladega's May race, 32nd in the Daytona summer event, and 36th at the fall Talladega scramble.
Again, it's not due to lack of performance, as Kahne's a solid plate racer and the Hendrick shop prepares some of the fastest machines. However, they were often collected in someone else's mess, and those races, along with the off days in the Chase last year were what resulted in a disappointing 12th-place Chase points finish.
Even when they avoided trouble on the track, their performances were lackluster in most races towards the final quarter of 2013. Something seemed amiss with this bunch, as they were unable to keep up with teammates Jimmie Johnson, Dale Earnhardt Jr., and Jeff Gordon. Adjustments during the race would result in a car that was OK, at best, at the start to become an ill handling beast for Kahne towards the final segments. Ultimately, it's not surprising that they placed 12th, but perhaps the best word to describe their 2013 season was that it was a "mixed bag."
There is room for improvement with this feisty bunch, who'll certainly look to duplicate their two win efforts from the past two seasons but with a stronger overall effort this year. Although they're not exactly going to be the top team in 2014, the No. 5 brigade could churn up an excellent effort and perhaps surprise with a finish much better than a 10th-place points effort. That said, they'll need to step it up on the short tracks, rise to the occasion on the intermediates (a Kahne specialty), and further more, finish races at plate tracks.
Of course, those three key areas are not easy to improve on and it's not going to exactly be a situation where it's completed with a flick of the switch, all set, and good to go for this team. Instead, they need to remember who they are as a group, particularly when they were able out of a deep hole like in 2012, while having that swagger that they're an edgy, aggressive, and fearless group that can race with the sharp Joe Gibbs Racing Toyota triumvirate, wrestle with Johnson and Gordon, and also, take more chances rather than race with a hopeful rhythm that took them out of contention rather than keep in the picture for wins.
As calculated by TPF statistician Ashley Hobbs, Kahne's averaged a 17th place finish since his rookie season in 2004 and has a 40% chance to make the Chase. Comparable to a driver like Marin Truex Jr., the 16-time Cup race winner often races hard but lets the race come to him and his car, almost as if he's biding his time for that final green flag run. A few interesting caveats to Kahne's Cup career is that he's yet to score a restrictor plate race win, although he has won a Budweiser Duel race in 2010 (good catch, Dawn Kinnaman).
For now, this group will see their day in the sun, and will nab their wins on an intermediate and a flat track while earning a third straight Chase appearance. From there on, it's up to Kahne, Francis, and the pit crew and the shop personnel to continually deliver with solid performances from Joliet, IL to Miami, FL. The potential is there for a great, breakthrough season and with just a few tweaks on their approach and strategy, race days in 2014 will be more successful and thus, the ladies (and of course, Kahne fans) will be going wild about Kasey Kahne.
Author's Notes and Fans to Follow : Again, I'd like to thank my friend and colleague Ashley Hobbs for her assistance with our stats for this year's Chase preview series! If you're looking to follow some great Kasey Kahne, give Mike Trzcinski and Tess Toth a follow on Twitter right now!