Kevin Harvick's grown into one of the most solid and versatile racers in the Cup circuit. Joining his new team at Stewart-Haas this year, will Harvick keep up his solid runs?
If there was ever an epic way to put in a year's resignation with the employer that you've known for over 14 years, it was on full display by Kevin Harvick in his eventful but successful 2013 season with Richard Childress Racing. With four wins, nine top-fives, and 21 top-10's in a year that was tumultuous, emotional, and at times, as difficult as any campaign in the NASCAR Sprint Cup Series for the pride of Bakersfield, CA, the 37-year-old showed his prowess and flexed some racing muscle under pressure.
At times, we saw a bit of the emotionally charged Harvick, especially during the fall Martinsville race weekend's NASCAR Camping World Truck spectacular. After a sheet metal affair with Ty Dillon, the normally candid racer wasn't afraid to air his thoughts on the air with the crash and his final months with his Cup team.
Considering all that he went through, it's amazing that he remained so focused, passionate, and was able to drive his Chevy SS to the point and keep up with his Kyra Sedgwick inspired moniker, "The Closer."
In the past decade, Harvick has become one of the more dependable and leading racers in the Cup ranks, with an average finish of 13.73 and he's only missed the Chase twice ('05 and '09). He's comparable to a driver like Matt Kenseth, Clint Bowyer, and Denny Hamlin, often racing with aggression but also with finesse, knowing when to go over the edge and when to not press the issue during race day.
It's a long ways since those early years when Harvick often raced so hard, you'd wonder if he'd literally drive the wheels off his car. Confidence exudes from this veteran racer, as he's grown into his own with his style and approach on the track and his identity is what we at TPF call as "the sneaky beer bandit."
Today's racing seldom sees a driver stay with the same team for virtually their entire career, so for a driver like Hendrick Motorsports' Jeff Gordon and Jimmie Johnson or a Roush-Fenway Racing sensation like Greg Biffle to remain at their same post is an accomplishment. Harvick's loyalties to RCR was second to none and with every race that he started and put on the driver's suit and helmet, rest assured, he gave it 100 percent and poured his heart on the track.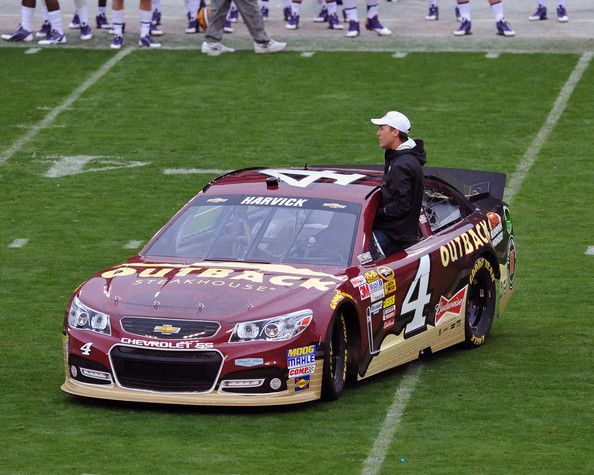 Nowadays, Stewart-Haas Racing will have these talents at their disposal, with crew chief Rodney Childers formerly of Michael Waltrip Racing calling the shots from atop the war wagon.
All the resources to win are there and teammates Tony Stewart, Danica Patrick, and Kurt Busch should prove to be an interesting trio to work with for race day set up and tactics, especially at the plate tracks.
Per TPF's Ashley Hobbs, Harvick has been quite the short track racer, scoring nine wins in 99 starts at tracks like Martinsville, Richmond, and Bristol. Recently, he's become quite the fan of the intermediates, with wins in the 2011 and '13 Coca-Cola 600 at Charlotte, as well as at Kansas Speedway last fall.
All around, Harvick's the complete, solid, and dare we say disciplined racer, which ultimately is what many expected this talented racer to be at this juncture of his career. Sure, he's got to the emotional outburst here and there and sometimes will make the snide remark, but then again, who doesn't today?
TPF expects more of the same from this successful racer, with a solid sixth place effort in 2014 and a lot more smiles and joy than last year. Oh, and don't forget, Stewart and Harvick are like peas in a pod friendship wise, so it'll be fun to see how these two interact and work together at the plate tracks.
And who said there wasn't love in racing after all? In this case, it's brotherly love and NASCAR's version of Mario and Luigi could make Cup racing into their own version of Kart Racing a la 1992 style.
Author's Notes and Fans to Follow : Ashley Hobbs has been bringing it with her help at TPF and the stats here are courtesy of her amazing skills. Kevin Harvick has a loyal bunch of fans behind him and we at TPF would like to recommend Scott Bates and Debbie Katsanos as enthusiasts that our friends and colleagues oughta "Follow" now!