Kansas certainly doled out some strangeness and off speed pitches to the Chase contenders. Ultimately, we may have ourselves a five man race for the Cup!
A week ago, the Chase for the NASCAR Sprint Cup Championship battle was declared by mainstream media as a three man/team race with Joe Gibbs Racing's Matt Kenseth and Kyle Busch surrounding Hendrick Motorsports' Jimmie Johnson. After all, there was no way in heck that fourth and fifth place drivers Kevin Harvick and Jeff Gordon could actually fight their way back into title contention. Outside of the triple title threat drivers, it was a race for who'd get the fourth best table at Las Vegas' NASCAR year end banquet. Well, not so fast, my friends, because Kansas Speedway may have increased the field to at least five drivers (maybe six or seven if we want to be generous to Greg Biffle and Kurt Busch) who are still thinking 2013 championship heading into this Saturday night's Bank of America 500 at Charlotte Motor Speedway (Live on ESPN on ABC Sports at 7 PM EST).
For now, the spoils and attention's with Kevin Harvick and his No. 29 Budweiser Richard Childress Racing Chevy SS team, who won their third race of 2013 on Sunday at Kansas Speedway. Winning the pole as well, it was a dominant effort for the departing RCR talent, who looks to close out his legacy with the only Cup team that he's known in fine style. Very few had anything for Harvick at the rough and treacherous Kansas Speedway, as he staved off the challenges of Kurt Busch and Jeff Gordon in the waning laps of the Hollywood Casino 400. Busch and Gordon put on a hearty race for second and just around halfway into the race, both champions had a spirited battle for a top-10 race position. Following the race's conclusion, both drivers had a conversation where basically, they agreed to disagree but at least appear to understand each other's position on their paint trading ways.
While Harvick, Busch, and Gordon got to enjoy the podium finish obligations, Jimmie Johnson probably found a new horseshoe that saved him from a heartbreaking trip to the garage in the last few laps to a top-10 finish with a motor that appeared to go ill at the conclusion of the race. Talk about being lucky, Team 48 dodged a huge bullet and will look to return to Victory Lane at Charlotte Motor Speedway to either snag the points lead away from Kenseth or close the gap (at the very least).
Points leader Matt Kenseth wasn't too strong as he has usually been at the intermediate 1.5-mile tracks, struggling with a car that he described as "evilest" in terms of its handling. Still, for a car to be behemoth to him on Sunday afternoon and place 11th, it's safe to assume that perhaps other title contenders wouldn't mind a "bad car" that nearly got a top-10 finish. With another 1.5-mile track coming up at Concord, NC, it's probably a safe bet that at least one of us at #TeamTPF will choose him for the win on Saturday night.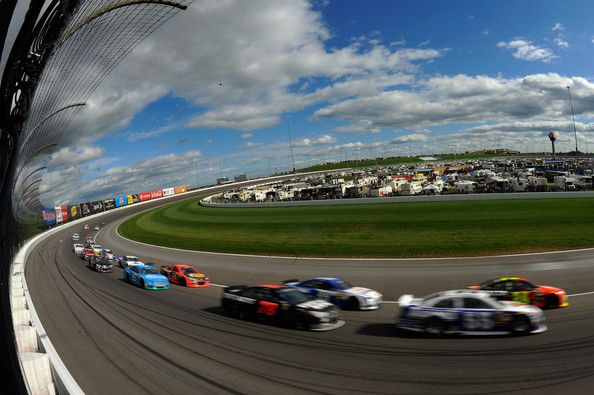 Chasers overall had a so so day at Kansas, with six of the 13 drivers placing in the top-10 while others limped home to pedestrian or horrendous finishes. Kansas Speedway may look like your typical 1.5-mile speedway but she's a track that is unforgiving on tires, equipment, and racers, requiring the fine balance between aggression and finesse that often separates the best from the rest. Say what you will about this track, but since its reconfiguration and refitting, it's becoming one of the most unique tracks in terms of racing style, although like most other tracks, the premium for clean air seems to be a commonality it shares with a majority of Cup venues.
Curious as to my thoughts on the Chase field as they head back home for 500-miles of racing at Charlotte Motor Speedway? Be curious no longer, because we'll go "Chasing the Field: Stacking up the 2013 NASCAR Sprint Cup Title Field," this time for the "Charlotte Edition!"
1) Matt Kenseth (previously 1st) "Evilest" may have to be a word added to either an Oxford English dictionary (if it hasn't been already) or at least a trending topic on Twitter, thanks in part to points leader Matt Kenseth driving home a beastly car to 11th at Kansas. Making the most out of something, Kenseth's somewhat shown some mortality but it doesn't mean that he and the No. 20 team are going to stay content with their performance. Look for them to step it up at Charlotte and remind us why they make the rest of the competition look weak at the intermediates.
2) Jimmie Johnson (prev 2nd) Another bullet dodged, another week to talk about Five-Time's chances of winning it all for a sixth time. Jimmie Johnson and crew chief Chad Knaus are putting together their best Chase effort thus far and if it all stays steady here, they could be talking about a sensational sixth title in their 12 years together at Team 48. And need it be mentioned that Johnson and the Cup tour head back to the track once dubbed as "their track?"
3) Kevin Harvick (prev 4th) Well the nickname held true for Harvick, as he was clearly "Happy" in Victory Lane for his third trip to the promised lands of NASCAR. Only 25 markers behind points leader Matt Kenseth, it could be a fitting end to his RCR racing days if he can win the title. Always a hard charging type racer, regardless of his status, he doesn't hold anything back so look for Harvick and crew chief Gil Martin to stay on the aggressive path with their title bid in 2013.
4) Jeff Gordon (prev 5th) This could be the "Cinderella" team of the Chase, as they were a last second addition to the playoffs by way of an announcement just before pole qualifying at Chicagoland Speedway just nearly a month ago. A month later, they're looking strong with a sixth at Chicagoland, 15th at Loudon, fourth at Dover, and now a third at Kansas, about as good as Team 24 has fared in some time. Watch for Gordon and crew chief Alan Gustafson to truly keep up the momentum here, with their focus on long green flag runs being key to either winning it all or coming up short for Cup glory.
5) Kyle Busch (prev 3rd) In the words of Dorothy, "There's no place like home, there's no place like home." Kyle Busch probably clicked his racing shoes after leaving the infield care center and magically finds himself back home in the Concord, NC area, ready to put Kansas all behind him and put his No. 18 Toyota towards the front...and out of Brad Keselowski's way as well. Still, he tried his hardest at Kansas but ultimately, the track won. On to Charlotte and gaining back lost points from the 34th-place DNF result.
6) Greg Biffle (prev 6th) Doing as much as they can with a Ford Fusion car that's just tried so hard to keep up with Chevy and Toyota on the track, crew chief Matt Puccia and driver Greg Biffle are definitely more capable than a 13th-place finish indicated at Kansas on Sunday. Still, returning back home to Charlotte, one has to think that "The Biff" will look strong in his No. 16 Ford Fusion and at least get one more win before this year's over.
7) Kurt Busch (prev 9th) It's not a case of too little, too late yet for the No. 78 team, who looked really stout again after a rough couple of weeks at Loudon and Dover. Perhaps that pit crew change with the No. 2 Nationwide RCR team was a wise move, but morale wise, was it the right thing to do? Furniture Row Racing will do what it can to win a title with its departing driver and there still remains the question as to who'll drive this car in 2014. Whoever inherits this ride is in for a sweet treat.
8) Dale Earnhardt Jr. (prev 10th) If it wasn't for that blown motor at Chicagoland, we'd be talking about how strong and amazing the 88 team has been down the stretch. Top 10's at Loudon, Dover, and Kansas have suddenly propelled the man who was once about the caboose of the Chase train to now nearly closing in on the freight cars. Up next comes Charlotte and Talladega, which are two solid tracks for the pride of Kannapolis, NC. Would be a ruckus in Victory Lane if DMP finds their way to Victory Lane.
9) Clint Bowyer (prev 8th) Another ho hum day for the pride of Emporia, KS, placing 14th and basically at this point looking like a driver and team that's just looking to place in the top-10 in points. This No. 15 team is still a regular contender for wins on any given day in the NASCAR Sprint Cup circuit, but something just seems a miss with this team.
10) Joey Logano (prev 12th) Similar to their performance at Dover, Logano and his crew chief Todd Gordon parlayed some good strategy to land a top-10 finish which has now put them back inside the top-10 points order and in position to say thanks in a Las Vegas banquet speech. Not a bad turnaround after starting the Chase off with a motor that went kaput at Joliet.
11) Carl Edwards (prev 11th) Solid performance by the man who returned home (sorta) with a fifth place effort. It's a shame that they had their issues at Dover, because next to Biffle, this was the strongest effort for a title bid with the Ford "blue oval" camp. Perhaps they'll be "first on race day" soon enough to ease the Chase pains.
12) Ryan Newman (prev 7th) Crash with Justin Allgaier definitely has hurt the No. 39's chances to win in the Chase for the Cup. Still, much like Logano's efforts in the playoffs, there's nothing to be ashamed about here as the sole entrant from Stewart-Haas Racing has put on a valiant effort in his final season with this organization. At least there's some strong tracks coming up for "Rocket Ryan," who clearly still has what it takes to be a winner in Cup racing.
13) Kasey Kahne (prev 13th) Maybe Kasey Kahne should've asked fans for some lucky dollars instead of pennies. An enigma all season long, this talented Team 5 crew just has to be wondering what's going on as the Cup season is heading down the stretch. At this point, it's about gaining points to get to Las Vegas, scoring some wins, and next year working on consistency to be a stronger title threat in 2014.
Agree or disagree with my assessments? Feel free to talk about it with me on Twitter right now or if you'd like to express your thoughts on this year's Chase field, tweet me and I may include it in next week's piece! Till next time, friends!