It's been a Chase that's pitted Hendrick versus Gibbs thus far in 2013, but with Jimmie Johnson winning at Dover, has it become just strictly a three horse race?
The story of the 2013 Chase for the NASCAR Sprint Cup Championship has so far been the battle between Hendrick Motorsports and Joe Gibbs Racing, with the main principles being Jimmie Johnson versus the two headed dragons of Matt Kenseth and Kyle Busch. Prior to Sunday's AAA 400 at Dover International Speedway, they've combined to win 15 of the 28 races run this season, which is a staggering amount of events considering the parity and close competition of the most elite series of stock car racing. Simply put, they've been the top of the class and the competition, as close as it is, clearly have a triple threat of dominant racers for the title race.
On Sunday, those three players were a major factor for the race win, but they possibly have a fourth driver to consider into that championship picture. While Johnson motored away to his fifth win of the year (by way of leading 243 of 400 laps) at Dover, his Hendrick Motorsports teammate Jeff Gordon compiled his most complete race thus far, never truly dipping outside of the top-10 after the halfway point and running in the third position, right there for the win had Johnson or Dale Earnhardt Jr. pitted for a splash and go during the penultimate green flag run. As it was, he placed fourth and now finds himself just 39 markers out of the lead, sitting fifth in points with seven races left in the title race.
Johnson reasserted himself as the favorite for this year's title, and why not? He's a five-time Cup champion, and he's won all of his titles in the Chase format. Heading into Sunday's race, all the focus was on the powerhouse Joe Gibbs Racing pairing of Kenseth and Kyle Busch, who had placed 1-2 in the first two Chase races at Chicagoland and Loudon. Both ran competitive races and well within the top-10 finishing order, but this race left a somewhat disappointing taste in their mouths after the fast but competitive 400 mile race.
Meanwhile, the Chase may have seen more drivers who may have fallen by the wayside, either on life support status for their title hopes or in some cases, perhaps looking to at least score a top-10 points position to do a speech in Las Vegas after the season finale at Homestead-Miami, FL. Those drivers, which include Kurt Busch, Dale Earnhardt Jr. Carl Edwards, Joey Logano, and Kasey Kahne are wondering what is to be for their championship prospects or if it's just time to refreshen for 2014.
As the Cup series storms its way over to Kansas Speedway for this Sunday's Hollywood Casino 400 (Live on ESPN at 1 PM EST), let's take a gander at our Chase field and profile the drivers and teams' chances at winning the Cup!
1) Matt Kenseth (previously 1st) Not a bad race for Kenseth, but to place seventh was a bit of a disappointment considering how fast and strong they've run as of late. Nevertheless, the circuit heads to another 1.5-mile speedway, which is a speedway that "Matt the Brat" tends run excellently at, regardless if it's in his old No. 17 Ford or in his No. 20 Toyota ride with Joe Gibbs Racing. He's won the past two races since the track's major reconfiguration in the summer of 2012, so if you're a fantasy race owner looking for a surefire win at Kansas, why not the 2003 Cup champion?
2) Jimmie Johnson (prev 3rd) Oh yea, remember him? The guy who transitioned from a clean faced, apparent twin of Bob Dylan to a bearded triathlon machine that has a knack for winning when it counts, that's who. With his fifth win of 2013 and his eighth victory at Dover (the most for any racer in the Cup ranks), Team 48's brought them back into the picture for the Cup and Kansas tends to be a decent track for the pride of El Cajon, CA. Watch for Chad Knaus and Johnson to be relentless down the stretch, taking on that killer instinct attitude to win it all, at any cost.
3) Kyle Busch (prev 2nd) If there was an award for "good job saving a loose racecar," it should've gone to Rowdy, who about lost that No. 18 Toyota towards the final stretch of the race. Yet, he hung on to his car, kept calm, and he brought his JGR chariot back home in fifth position. They're somewhat flying under the radar with those four wins, but when he captures the checkered flag, he often does it in dramatic fashion. Kansas hasn't been a kind track to Rowdy since the reconfiguration, but he could very well turn things around with a strong performance this Sunday.
4) Kevin Harvick (prev 6th) From fourth to sixth and back to fourth, "Happy" appears to be on a rollercoaster ride as of late. This time, it's going back up Helter Skelter style, and hopefully, it doesn't plan to go back down for the No. 29 team. Gil Martin and the Budweiser RCR Racing boys have worked diligently to close out their chapter with Harvick in fine fashion, and minus their hiccup at Loudon, it's been a good Chase effort so far. Just kind of missing the special ingredient that makes this playoff dish tasty, if you catch my drift.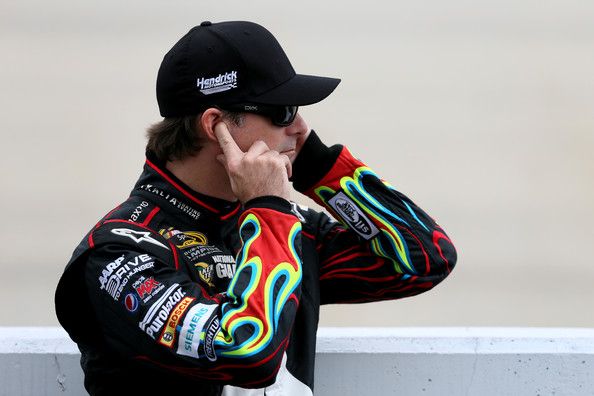 5) Jeff Gordon (prev 8th) Talk about a team that's stepping it up when it truly counts. Looking somewhat pedestrian in the first 20 races of the year, Gordon's turned things around behind the wheel and his No. 24 team have been improving as a whole in all aspects of the races. Closing out races had been a struggle but they're somewhat getting better at this aspect of their race strategies. Placing fourth at Dover, this was about as complete of a race for the Axalta and Drive to End Hunger team and with Kansas coming up, a track similar to Chicagoland, this could be the weekend to capture that elusive first win of 2013.
6) Greg Biffle (prev 5th) Harvick gets a lot of credit for being "The Closer," but perhaps we might want to call Biffle something similar to that as he closed out the AAA 400 in fine fashion with a not too bad ninth place effort. He hovered around just around the border of the top-10 all race long and when it counted, the driver of the No. 16 Ford brought it home towards the front and kept himself within shouting distance of the front runners. Like Biffle reminded espn2's NASCAR Now and Fox Sports 1's NASCAR RaceHub, don't quite count him out yet.
7) Ryan Newman (prev 9th) Perhaps heeding to Jimmie Johnson's suggestion to grow a Chase beard, "Rocket Ryan" and his No. 39 team put together a good race, placing within the top-10 finishing order and like Biffle, keeps his title hopes alive and within reach of the points leaders. Kansas comes up and it's a track where he's enjoyed Victory Lane back in 2003 with crew chief Matt Borland, who happens to be back setting up his racecars again. Maybe he could have a "Throwback Sunday" moment?
8) Clint Bowyer (prev 10th) Bowyer and his No. 15 team did more than their share of "stretching" at Dover, starting with the Emporia, KS native's appearance at a yoga session at the track on Saturday afternoon and virtually concluding with a fuel mileage gamble that was derailed by a late race debris caution with 27 laps to go. Still, he placed 10th and as iffy as his car was, he kept himself in the title picture, but now he's somewhat on the cusps of being in the race or being at least a top-10 observant in Las Vegas, NV.
9) Kurt Busch (prev 7th) Might the wheels be falling off the 2004 champ's chariot? From his No. 78 pit crew basically being replaced by Richard Childress Racing's No. 2 Nationwide pit crew starting at Dover to a car that just wasn't cooperating with the long green flag runs, it's been looking a bit rough for the Furniture Row Racing boys. Not exactly time to just focus on finishing in the top-10 in points but something just seems amiss with this bunch. Doesn't help either that this team is looking for a driver in 2014, so perhaps they're tackling a lot on their table.
10) Dale Earnhardt Jr. (prev 11th) The disappointment on the stubbled Kannapolis, NC native's face is actually a good sign. He sure wanted to win on Sunday and he came within a half second of the win. Earnhardt's car just didn't have the clean air to at least mount a charge and challenge in the last green flag run, so Team 88's got some work to do but to win the pole and run real competitively at "The Monster Mile," that's a good sign that this team could make a dark horse push for the Cup. Kansas is coming up and when Regan Smith drove the No. 88 car last October, he sure ran well in it so odds are, so can Earnhardt.
11) Carl Edwards (prev 4th) Late race hub issues with the car derailed a somewhat middling afternoon for "Concrete/Cousin Carl," who just hasn't had the speed to make a serious challenge in the Chase. It's not for lack of effort on Edwards, crew chief Jimmy Fennig, and the No. 99 team, who can show that they're amongst one of the best in the Cup garage and tracks. Unfortunately, time is running out and if bad luck keeps rearing its ugly head with the Fastenal Ford team, it might mean a shift in priorities for the 2013 season's conclusion.
12) Joey Logano (prev 12th​) Perhaps it's an all for naught situation for this group, but the No. 22 Shell/Pennzoil Penske Racing Ford crew had a terrific podium finish effort at Dover. Maybe a title run is out of the cards, unless everyone magically wrecks out in consecutive races, but a chance to thank the sponsors and get bonus money as a top-10 points finisher in Las Vegas is not out of the question for Logano and crew chief Todd Gordon. Nothing to be ashamed of with how this season turned out here for this bunch.
13) Kasey Kahne (prev 13th) Everyone knows that TPF loves Farmers Racing, who happens to have awesome folks running its Twitter account. We love the "bam bam bam bam bam bam bam" ad and we know the ladies love Kasey Kahne and his No. 5 Chevy SS. But something just isn't right here, and the Chase hasn't been too kind to Kahne and crew chief Kenny Francis. It's unfortunate because they've worked tremendously hard to be in the playoffs but perhaps if they even want to mount a challenge for the Chase (and Kevin Hamlin, stay tuned to our Track Talk piece this weekend), they need to win at Kansas.
Agree or disagree with my assessments? Feel free to talk about it with me on Twitter right now or if you'd like to express your thoughts on this year's Chase field, tweet me and I may include it in next week's piece! Till next time, friends!