Charlotte may have not shaken the points standings too much but it did result in a non-Chaser winning. How'd your favorite Chase contender fare?
There's an old saying that the more things change, the more they stay the same. Right now in the NASCAR Sprint Cup Series, the battle for the championship still remains a relatively five team battle from points leader Matt Kenseth to fifth place Kyle Busch with just a 37 point separation heading into the high banked, treacherous 2.66-mile Talladega Superspeedway for Sunday's Good Sam 500.
Before previewing the next challenge awaiting our 13 driver and team Chase field, there's the matter of last Saturday evening's Bank of America 500 at Charlotte Motor Speedway, where a familiar face returned to Victory Lane - and it wasn't a title contender!
Enduring a difficult and adverse 2013 season, Brad Keselowski, the defending Cup champion put the spurs to his No. 2 Miller Lite Ford Fusion to the front when it really counted. A four tire strategy called by crew chief Paul Wolfe urged the cagey racer to the point in the waning laps at Charlotte, passing by Kasey Kahne (albeit with some paint trading) and ultimately hoisting one of those beautiful CMS trophies in Victory Lane. Ultimately, the Chase field had solid races, all placing within the top-18 and leading a bulk of the BoA 500.
It was primarily a race dominated by Hendrick Motorsports, as pole sitter Jeff Gordon, Kasey Kahne, Dale Earnhardt Jr., and Jimmie Johnson led 313 of the 334 laps at the 1.5-mile Concord, NC speedway. Needless to say, it was a nearly perfect performance for the HMS quartet, just falling short of the ultimate prize at NASCAR's backyard. Kahne led the HMS contingency with a runner up, while Johnson scored a fourth place, Gordon clinching seventh, and Earnhardt placing 15th. Also, Saturday night's race reminded folks that Johnson's house is still Charlotte, at least with this writer's opinion.
Joe Gibbs Racing's Toyota triumvirate of Matt Kenseth, Kyle Busch, and Denny Hamlin had a solid showing, all netting top-nine finishes. While Kenseth and Busch nailed more top-10 finishes, Hamlin returned to his usual place in the top-10 for the first time since the June Pocono race. Their performances were just a reminder to the circuit that this Chase battle is primarily a Gibbs and Hendrick battle, although Richard Childress Racing's Kevin Harvick finds himself in between these powerhouse teams.
While Charlotte may have lacked some passes, it was exactly the kind of race that the Chasers were looking for by the checkered flag. No wrecked machines, blown motors, and most of all, not a total loss of points or shake up in the standings - until Talladega rears its beautiful face at the competitors this weekend.
One driver's mistake can result in catastrophe at any corner or straight at this speed arena. Precision and speed will be the premium qualities that drivers and teams vying for the Cup trophy will seek for on what'll shape up to be a high speed game of chess. It might not be the passing extravaganza that fans expect, but it'll be hair raising enough for the fans and certainly for the racers tackling Talladega.
Curious as to my thoughts on the Chase field as they speed their way up the 36 degree banked corners of Talladega Superspeedway? Be curious no longer, because we'll go "Chasing the Field: Stacking up the 2013 NASCAR Sprint Cup Title Field," Talladega style!
1) Matt Kenseth (previously 1st) Reports of Matt Kenseth's car staying "evilest" were greatly exaggerated. Starting 20th, "Matt the Brat" drove a solid race and his Dollar General crew were on top of their game, brilliantly adjusting on the car to score a podium finish effort at CMS. Nothing really new here but if they keep this up, it's performances like this that will give them a Sprint Cup championship in 2013.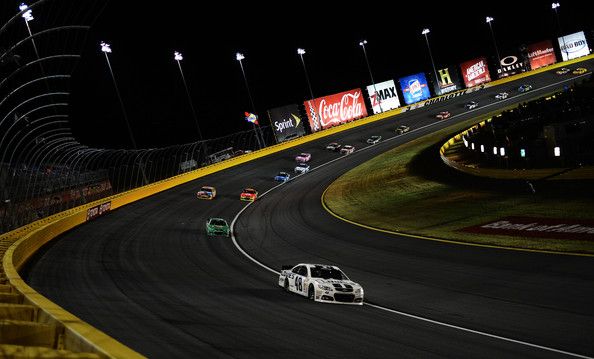 2) Jimmie Johnson (prev 2nd) Any reports that CMS wasn't Jimmie Johnson's house any longer were also greatly exaggerated. In the words of Scooby Doo villains, Johnson "would've won the race, if it wasn't for that meddling late race caution!" Team 48 was solid, dominating the event and coming home in fourth. Talladega awaits JJ and the Cup circuit, but this is one track that doesn't instill any fears at all with the Lowe's Racing group.
3) Kevin Harvick (prev 3rd) Seems like wherever Jeff Gordon and his No. 24 team are at on the track, you can find Kevin Harvick and the No. 29 team right there with them. Scoring a solid sixth on Saturday night, they weren't good enough to win but to place in the top-six isn't too shabby. Kept them in the hunt for now and Talladega is one track that they're looking forward to for a good performance and win.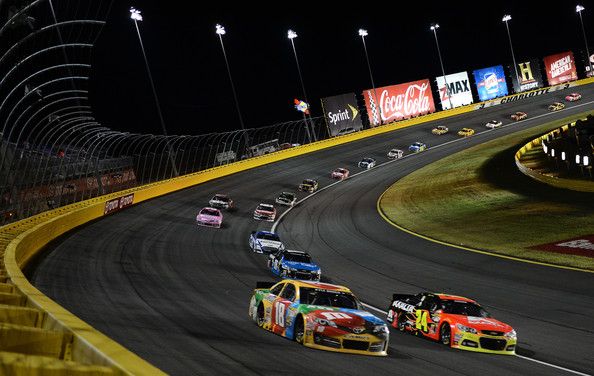 4) Jeff Gordon (prev 4th) Was Charlotte a lost opportunity for Gordon and his No. 24 comrades? Possibly, but it sounded like they earned this seventh place effort with a car that just wasn't cooperating on the handling side at all evening at CMS. They executed some amazing pit stops, if there was any bright spot for this bunch as they look forward to Talladega.
5) Kyle Busch (prev 5th) Don't look for a Kyle Busch blowup any time soon here. Sorry Keselowski fans, sorry Hendrick fans, and sorry RCR enthusiasts. Busch is absolutely on it and if these words aren't enough, read how focused and intense he is when it comes to races, especially leading up to them. Talladega could be a make or break race for the No. 18 team - look for this to be their defining moment in the Chase.
6) Greg Biffle (prev 6th) Pretty quiet evening at CMS with a 16th place finish that might have just taken them out of the Chase hunt. Maybe Talladega will get them back in the picture but honestly, as chronicled here on TPF, the Ford teams have a tremendous uphill battle that hopefully improves next season. It might be foolhardy to count them out though completely, as it's not over until Lenny Kravitz sings that it is for the fans.
7) Kurt Busch (prev 7th) Somewhat disappointing for the 2004 Cup champ, who honestly does take to CMS real well. Placing 14th isn't the end of the world, but it might as well may have stuck a fork on their Chase efforts. They're strong at Talladega, so look for the No. 78 Wonder Chevy (yes, it'll be painted just like Ricky Bobby's car) to finish first - or if he isn't finishing first, he'll be last. (Please laugh, fans.)
8) Clint Bowyer (prev 9th) The No. 15 team of Clint Bowyer and crew chief Brian Pattie made like Destiny's Child - "they were survivors who weren't gonna give up" at Charlotte, placing 11th with a car that had motor issues. Impressive but consolation prizes aren't going to cut the championship winning check. Don't be surprised if they have the speed and power to win at Talladega - the fall race and Bowyer seem to get along real well.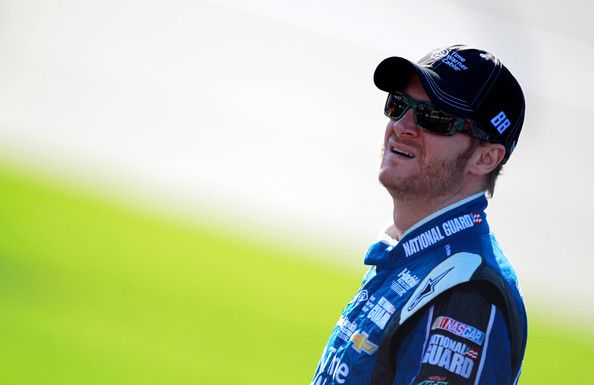 9) Dale Earnhardt Jr. (prev 8th) You have to feel for Junior Nation, who at times probably felt like they'd celebrate a win at Charlotte. Instead, they had to settle for a 15th place effort, which was like going to a restaurant that boasted it served prime rib and finding it was just glorified steak. Maybe they'll get a medium rare grilled at Talladega, after they see their man win on Sunday.
10) Carl Edwards (prev 11th) One has to admire his positivity, as he still felt he had a chance to win the Chase, at least heading into Charlotte. After scoring a 10th place effort, the 99 team might just want to consider winning races to solidfy a table at the banquet in Las Vegas.
11) Joey Logano (prev 10th) Cinderella's glass shoe might be shattering here. The No. 22 Shell/Pennzoil Ford team led by crew chief Todd Gordon have compiled a solid season but just not enough to be up there for the title race with too much ground to make up for a late year run at the Cup.
12) Ryan Newman (prev 12th) Scoring an eighth place finish wasn't too shabby for the departing SHR racer, who's probably looking forward to that new office chair at Richard Childress Racing. Probably is wondering if the seat squeaks in that No. 31 CAT Chevy SS.
13) Kasey Kahne (prev 13th) OK, so he came real close to winning on Saturday night. In a season that hasn't been exactly going his way in 2013, a possible third win for the year was quite nearly in their hands. Ultimately, he was a bridesmaid once more at the 1.5-mile track, and he's probably sick of it. On second thought, I'd imagine many conversations across the country was much like this:
My sister: "Yes, the handsome guy is winning the race!" Me: "Why yes, yes, your boyfriend is winning."
(After the race when Kahne placed second)
Me: "I had no idea you liked Brad Keselowski."
My sister: "Oh shut up."
Me: "OK, here's the remote for HGTV."
Agree or disagree with my assessments? Feel free to talk about it with me on Twitter right now or if you'd like to express your thoughts on this year's Chase field, tweet me and I may include it in next week's piece! Till next time, friends!