In NASCAR racing, wins are sometimes determined much like the Aesop fable pitting the Tortoise and the Hare, where the fastest doesn't get the checkers. During Sunday's GoBowling.com 400 at Pocono Raceway, it looked like Jeff Gordon was going to score his third win of the 2014 Sprint Cup season, leading 63 of the 160 laps ran in a crash marred event at "The Tricky Triangle."
Instead, Hendrick Motorsports teammate Dale Earnhardt Jr. capitalized on a brilliant fuel only pit stop strategy in the waning laps called by crew chief Steve Letarte, giving him precious track position and ultimately, their third victory of the year. Sunday's win for Earnhardt marks the highest total of checkers in a season since the 2004 season, in which he captured six races en route to a fourth place points finish.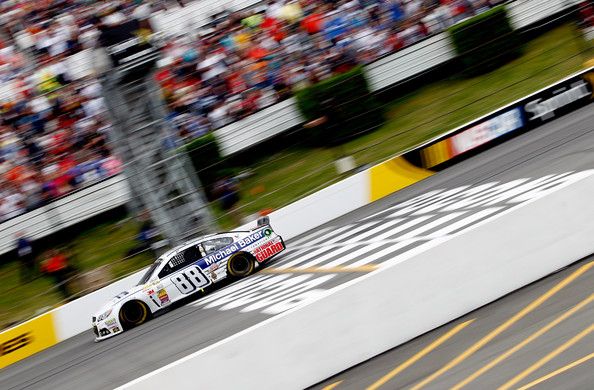 As a result, Earnhardt swept the races at Pocono, becoming the first driver to capture both events at the 2.5-mile superspeedway since Denny Hamlin 2006. More importantly, the No. 88 team now sits atop the Chase Grid points lead and just 17 markers out of the classic points lead.
Much like the spring race, the 39-year-old Kannapolis, NC native capitalized on being at the right place at the right time, crediting the win to his the call atop the pit box.
"We had a fast car all day," Earnhardt said. "(Letarte)'s strategy was perfect at the end. I don't know if anyone knew what was going on man, but that was pretty awesome. It takes a really really smart guy to understand what to do to take those gambles and sometimes they pay off and sometimes they don't. I can't believe we swept Pocono."
Although the scoring sheet shows Earnhardt led only 14 laps on Sunday, they were the most important ones of all. After a few weeks in which the No. 88 team somewhat cooled off after a solid June, it seems like the dog days of summer are starting to treat this bunch real well.
Looking to close out Letarte's career on a high note, Earnhardt cherished the win, acknowledging it as a team victory and realizing the magnitude of the moment following his hard fought race.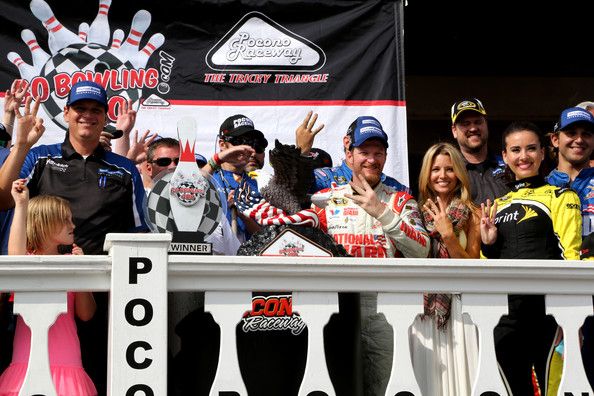 ''This group all really enjoys each other,'' Earnhardt said. ''We want to see everybody happy.''
Placing in second was Kevin Harvick, who was involved in a 12-car accident in the Long Pond Straightaway on lap 115. Despite smacking the inside retaining wall with his left side, the Bakersfield, CA native put the spurs to his No. 4 Mobil 1 Chevy SS to a solid position to possibly snag his third win of the year. All for naught, it was still a solid comeback by the Stewart-Haas Racing effort.
Nabbing the final spot for a podium finish was Joey Logano and his No. 22 Shell/Pennzoil Ford Fusion from Team Penske. After starting second, the Middletown, CT racer led 30 laps and hovered inside the top-five all race long. Much like Earnhardt's races in the recent summer stretch, Logano had a shaky go in late June and July. That trend's returned to a positive direction, with the 24-year-old racer racking up consecutive top-10 results in as many weeks.
Clint Bowyer and Greg Biffle rounded out the top-five, scoring solid runs after starting in 14th and 25th spots respectively. In dire need of wins, both drivers brought home steady results which may aid them in solidifying a spot in the top-16 as the series closes in to the regular season finale at Richmond next month.
As for Gordon, his No. 24 Axalta/Maaco Chevy SS was the class of the field, but pit strategy and track position dictated his sixth place result. Although they made tremendous gains from their eighth place result in the June Pocono race, they ultimately wound up short of a pivotal third win.
"It wasn't just the restarts, Gordon said. "Those guys knew they had to do the exact opposite strategy of us but the team just did an amazing job today. We had the dominant car but you had to have track position and there at the end we didn't have it."
Still, their performance was a strong indication that a third win may soon be coming, as they've continually strengthened their efforts heading into the Chase.
Completing the top-10 finishing order were Jamie McMurray, Ryan Newman, Denny Hamlin, and defending race winner Kasey Kahne.
For a while, the race had its frantic moments, which kicked off with a near disaster for Brad Keselowski and his No. 2 Alliance Truck Parts Ford Fusion effort. The 2012 Cup champ made a tremendous save in The Tunnel Turn, although he dropped from third to 12th. Fellow co-Chase Grid points leader Jimmie Johnson didn't fare any better, as he had two incidents with the SAFER barrier, which ultimately curtailed a promising day with a 39th place effort.
Keselowski may have placed 15 spots higher, but he was caught up in a 12-car crash that started when Denny Hamlin's car broke loose off turn one. Drivers tried to swerve out of the spinning No. 11 car's way, but wound up blocking the entire Long Pond Straightaway, littering it with mangled and loose sheet metal. Among those getting the worst of it were Brian Vickers, Tony Stewart, Paul Menard, and AJ Allmendinger, who were solidly inside the top-15 before getting swept up in the race's "Big One."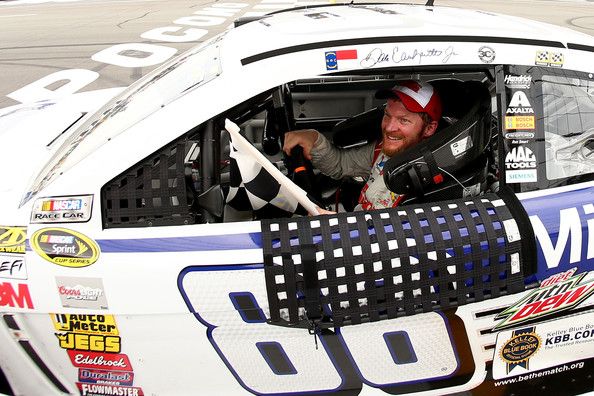 In all, there were 15 lead changes among 10 drivers and Earnhardt won the GoBowling.com 400 with an average speed of 127.411 mph. As the NASCAR Sprint Cup teams make the trip back home and prepare for Round 22 at Watkins Glen (Live next Sunday at 1 PM ET on ESPN), here's a look at the unofficial Chase Grid following Race 21 of 36:
Dale Earnhardt Jr. (Hendrick/Chevy/3 wins)
Brad Keselowski (Penske/Ford/3 wins)
Jimmie Johnson (Hendrick/Chevy/3 wins)
Jeff Gordon (Hendrick/Chevy/2 wins)
Joey Logano (Penske/Ford/2 wins)
Carl Edwards (Roush/Ford/2 wins)
Kevin Harvick (Stewart-Haas/Chevy/2 wins)
Kyle Busch (Gibbs/Toyota/1 win)
Denny Hamlin (Gibbs/Toyota/1 win)
Aric Almirola (Petty/Ford/1 win)
Kurt Busch (Stewart-Haas/Chevy/1 win)
Matt Kenseth (Gibbs/Toyota)
Ryan Newman (Childress/Chevy)
Clint Bowyer (Waltrip/Toyota)
Kyle Larson (Ganassi/Chevy)
Greg Biffle (Roush-Fenway/Ford)