The saying that "it was well worth it" could be looked at in two different ways. If you're a fan or participant of the 56th running of the Daytona 500, the six hour rain delay resulted in perhaps one of the most memorable "Great American Race" in the history of this crown jewel event. In all, there were 42 lead changes and the finish was about as exciting as can be, with Dale Earnhardt Jr. leading the field to the checkered flag en route for his second 500 win.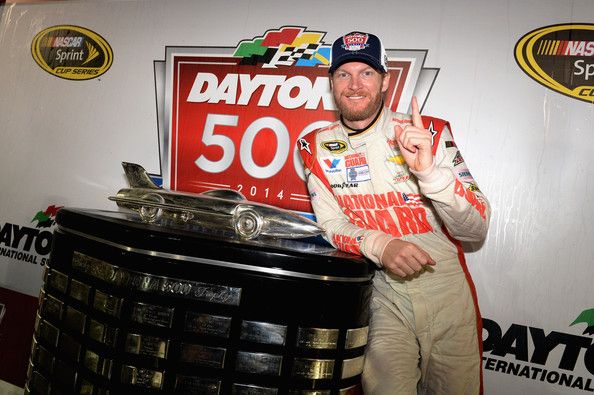 For Earnhardt, it was certainly well worth the wait to return to Victory Lane at Daytona International Speedway in a NASCAR Sprint Cup vehicle, as he last entered those sacred grounds just 10 years ago when he was a brash 29-year-old sixth-year racer from the No. 8 Dale Earnhardt Incorporated ride.
At age 39 and staring at his 40's in less than seven months, Earnhardt's more mature, resolute, and committed to his health and winning races and championships. That renewed vigor with the pride of Kannapolis, NC showed on Sunday evening, as he led on six occasions for 54 circuits.
Leading the final 17 laps, the cagey veteran wheeled his No. 88 National Guard Chevrolet SS with such confidence, accomplishing a feat that not even his legendary father could muster at this 2.5-mile speed arena: winning a second Daytona 500.
"Winning this race is the greatest feeling you can feel in this sport outside from obviously accepting the championship trophy," Earnhardt said. "I didn't know if I'd ever get a chance to feel that again. And it feels just as good, if not better than the first year because of how hard we've tried year after year, after year. Running second all them years and wondering why and what we needed to do."
Indeed, the popular driver ran into years of frustration to return to the winner's circle at Daytona, placing second in the 2010, '12, and '13 editions of this race. Despite his great skills at the restrictor plate tracks and outstanding teamwork from his Hendrick Motorsports pit crew and crew chiefs respectively in Lance McGrew and Steve Letarte, someone else would take the glory (Jamie McMurray, Matt Kenseth, and Jimmie Johnson respectively). For even one of the elite racers in the Cup circuit, the question had to be if a second win was in the offing.
Finally, after 10 years and a myriad of changes with his teams and with the sport, Earnhardt, enduring it all in his steady Cup career, would relish that win again. Jubilation and happiness was prevalent in Earnhardt's expression, as he smiled widely in his car, taking a brief Polish Victory Lap and embracing about every member of his No. 88 team. Even hours after winning the biggest race in NASCAR, the usually mild mannered racer took time to reflect on his accomplishment with perspective.
''I'm grateful to have one it twice now. I was grateful to have won it once,'' Earnhardt said. ''In about six months, I'll be as urgent to try to do it a third time as I was after the first.''
This win didn't come easy for Earnhardt, as he would have to fight off teammates Jeff Gordon and Jimmie Johnson as well as Brad Keselowski, Denny Hamlin, Kyle Busch, and Matt Kenseth, who each made valiant bids for the lead. Try as they might, even the Cup series' usual favorites just didn't have the "umph" to get past the man once called "Little E" and "Junebug."
As sports often displays the thrill of victory with Earnhardt, there was the agony of defeat with Hamlin, who about won every Cup event leading up to the Daytona 500 during this year's "Speedweeks" schedule, as well as with last year's pole sitter Danica Patrick, who was collected in a lap 146 multi-car crash along the frontstretch that wiped out her No. 10 GoDaddy.com Chevy. Aggression was on full display all race long, as drivers fought and clawed their way to what was the best lane at this already treacherous track. No line truly had the "preferred groove," thus causing some lane shifting and the many accidents that occurred late in the 500.
In total, nine drivers failed to finish the Daytona 500 all due to separate large wrecks, including Patrick, Justin Allgaier, Cole Whitt, Parker Kligerman, Trevor Bayne, Michael Annett, Kyle Larson, Aric Almirola, and Michael Waltrip. Simply put, there just wasn't enough real estate and the accidents weren't intentional - it just was a result of the hard racing to make it to the front and thus, the garage would be filled with mangled pieces of sheet metal that have likely met their fabricators' eyes earlier on Monday morning.
For all the talk about this year's Daytona 500 being dull and lacking lead changes, it definitely had excitement and a lot of racers who would grab that number one position. Ultimately, it was the Southeast's favorite son, the sport's Tiger Woods icon, and the man who has carried a legendary name who gave NASCAR the much needed shot in the arm that it sorely needed.
With many changes implemented over the offseason, including a revamped Chase format and qualifying procedure, the familiar sight of the sport's popular ambassador was comforting. In the words of four-time Cup champion Jeff Gordon, the Daytona 500 win by Earnhardt was best put in the simplest and universal fashion that resonated across the stock car nation.
''The world is right right now — Dale Junior just won the Daytona 500,'' Gordon said. ''That's a sign it's going to be a great season.''