There are supporters and then there are real racing fans - ladies and gentlemen, meet our first "Fan to Follow:" Jessica Bushee!
Author's Notes : Special thanks to my amazing friend Jessica for the pictures and great responses for this interview for being the first "Fan to Follow" on The Podium Finish! If you'd like to learn more about her and interact with her, Follow her on Twitter! You rock!
All too often in sports, we document and profile the playmakers of sports, from the athletes, supporting cast, and production crew who are responsible for the press coverage on the events that unfold before our very eyes. It's easy to forget that just as important as those stars are fans who sit at home, bars, or at the stadiums who support their favorite personalities in gear and by voicing their minds through vocal or social media means.
They'll invest money on road trips if their team's at an "away game," fiercely defend their city or organization passionately like a lawyer, and they'll feel those moments of defeat and glory as if they are that athlete. Yes, fans are just as important and in fact, are the driving fuel which keeps the cycle of sports alive.
Racing is no different in that aspect, although in a matter of speaking, with the NASCAR Sprint Cup Series, there's 36 "away" games and thus bringing a unique environment for the drivers and teams to contend with from the country pastures of Loudon, NH to the vineyards of Sonoma, CA. Unlike some sports, race fans will flock to the grounds around the track days in advance, camping out and taking in the weekend activities like a concert experience. Their dedication to their drivers and teams is so driven, that some may even devote themselves to supporting the companies adorning the cars.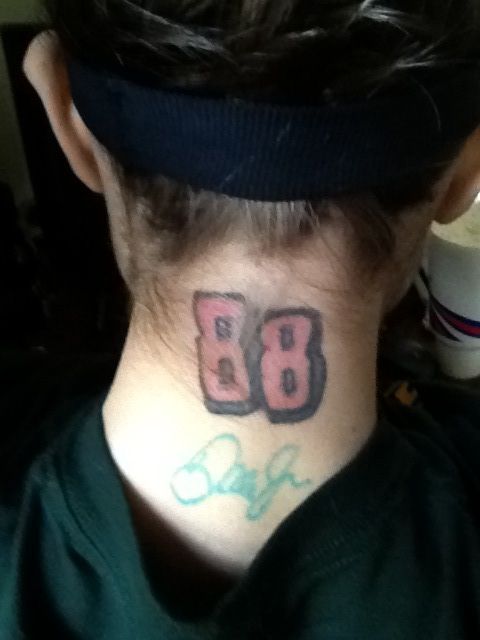 One fan who stands out from the rest of the pack is 28-year-old Jessica Bushee, who's about the most dedicated Dale Earnhardt Jr. and NASCAR fan there is in this sport. She embodies what it means to be a true and dedicated fan, going so far to having a tattoo of his car number on her neck! That's not all, as she bleeds the red, white, and blue of the No. 88 National Guard Chevy and can be on found on Twitter with some great remarks and interactions with her friends and other fans in the NASCAR community.
Passionate, sweet, and loyal, much like she is with her friends, Jessica is absolutely the same qualities with her support and enthusiasm with stock car racing. All I can say is while there's so much that could be said about my amazing and wonderful racing friend, it's my hopes that this piece displays exactly how she really is and allows you all, the race fans of The Podium Finish, to know this wonderful girl. So race fans, if you're ready, let's get on the track and get to know the "Fan to Follow: Meet Jessica Bushee, NASCAR Racing Enthusiast!"
Rob Tiongson : For the racing fans who are reading up on this piece, tell us a bit about yourself and how you got into racing.
Jessica Bushee : I'm a stay at home mom of two young daughters. I enjoy NASCAR, football, reading, karaoke and spending quality time with my friends. I was first introduced to racing at the age of 6, during a family holiday dinner. I was too young to help the women in the kitchen, so my uncles "kidnapped" me and had me watch a race with them. I've been hooked since!
RT : How long have you been into racing and which racing series do you tend to follow?
JB : Like I said, I've been a fan since I was 6 (22 years) and my favorite series is Sprint Cup. Every now and then, I'll catch a Nationwide race.
RT : Who are your favorite racers and teams, past and present? Have you met any of your track heroes?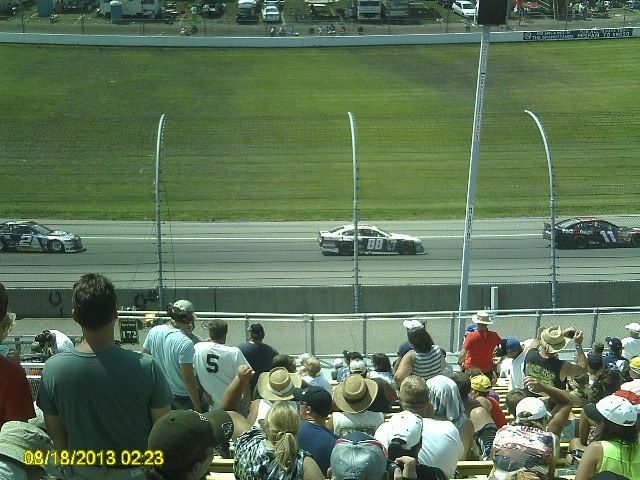 JB : My all-time favorite racer was Dale Earnhardt Sr. He will always hold a special place in my heart. My current favorite is Dale Earnhardt Jr.
The only driver I have ever met is Tony Stewart at an autograph signing at a J.D ByRyder. Let's see how many people know what I'm talking about! Ha!
RT : Let's just say we get to sit next to you during a race at the track or we're watching it from your place. What are you like during a race and is it safe to say that each race is like a Super Bowl?
JB : It doesn't matter if I'm at a live race or at home, I'm very loud and vocal. I wouldn't say I go all out with food and drinks like a party, but I don't take a break unless there is a caution. At a live race, I tend to be even more vocal and get into it more.
RT : How many races have you been to and which races/tracks have you attended?
JB : I've been to a total of four races, including two at the Brickyard and two at Michigan. Michigan has to be my favorite though.
RT : Now for some fans here reading this piece, they may have not been to a race yet. Could you describe what it's like to be at a track on race day?
JB : It's so hard to describe the atmosphere and ambiance. The energy is high, the people are fun. and they have so many pre-race activities that you can enjoy (some are free). I've met some of the coolest people at race tracks. It's a very laid back and fun environment to be in!
RT : Would you say that social media has allowed for fans like ourselves to truly connect and form friendships and establish meetings that otherwise wouldn't be possible say 5-10 years ago?
JB: Definitely! I was actually able to meet some Twitter friends whom I've known for a few years now (via Twitter).
They live in Canada, so meeting them 5-10 years ago would have happened by chance, not by connecting via Twitter.
RT : Do any of your family and friends back home follow racing and have you gotten some of them to become huge fans?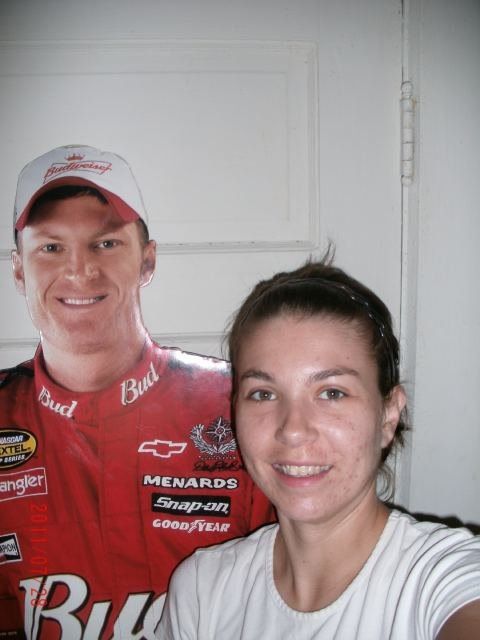 JB : I have several friends who follow racing but I wouldn't call them big fans. Occasionally, they'll call and ask me how Junior did or another driver, but they aren't that into it. I hope to get them hooked.
RT : Having been a racing fan for quite some time, what are some things that, if you had the power to, that you would change about this sport?
JB : There are so many things that have changed over the past 22 years, it's crazy. I think most of it has been good. I'm not a huge fan of the way the Chase is done now and even the whole lucky dog pass. But since I can't change it, I just keep watching.
RT : Would you ever set foot inside a stock car and wheel it around at full song at your local race track?
JB : I most definitely would! Sure, I'd probably pee my pants, but I think the experience would be cool! I had a cousin who raced at our local track and he would sneak me in to the pits in the back of his car. He did let me "drive" it a few times, but not full speed.