NASCAR fans at home know Danielle Trotta as one of the main faces of Fox Sports 1's NASCAR Race Hub show. Now, get to know Danielle's story in racing!
Whether as an aspiring racer who's looking to make their way into racing or a media personality who's looking to follow in the footsteps of their heroes in the booth, the pits, or at the studio, to be a part of the world of NASCAR takes a lot of effort, sacrifice, and passion. It's the most arduous journey that one could ever endure, but the journey itself and the end results are what make it all rewarding at the same time for those of us are who aspiring to be in the sport on a full-time basis. Everyone's racing stories are unique as it's all done in our pace, place, and time. The means of how we get from point A to B is probably the commonality we all share, as it's when we can meet our future colleagues, competition, and friends in the process.
One journalist who's found her place in the world of NASCAR racing is Danielle Trotta of Fox Sports 1, who certainly has made a name for herself as one of the most congenial, personable, diligent, and knowledgeable figures in this sport. Her introduction into racing happened at the work place, when she was immersed into the scene back in October of 2005 when she witnessed a Chase race at Charlotte Motor Speedway. That initialization into the sport is one we can all relate to in any capacity. It was right there when Trotta found herself surrounded by all the sights, sounds, and the smells of the track, the cars, and the heavy competition on the track. From then on, you could say she was bitten by what we affectionately call "the racing bug."
Trotta serves as the liaison between those in the NASCAR garage and race shops and the fans at home. Those fans, who could be students, the everyman or woman coming home from work, huddle in the living room to listen to her announcing of the news stories alongside co-host Steve Byrnes or Adam Alexander on NASCAR Race Hub. She interprets news stories as the new age face and voice for the fans, interacting and posing questions to her colleagues like former crew chiefs Jeff Hammond and Larry McReynolds, pit coach Matt Clark, journalists Bob Dillner, Ray Dunlap and Nate Ryan, or her broadcast partners like Alexander, Byrnes, and Dave Despain. Those of us at home who sit back on our couches, sofa, or at our offices watch their discussions unfold like it's one of us talking to our friends or family about the new story with a certain driver or team, as if it's like a dinner time conversation done intellectually with respect and fun.
In one of my most extensive and inspirational interviews in my writing career, I got the opportunity to sit down and talk with Danielle Trotta for this two-part exclusive story only on The Podium Finish. For Part I, Trotta talks about how she worked and earned her breakthrough moment into the sport as well as a day in the life of being on Fox Sports 1's NASCAR Race Hub program. She shares a lot of insights with her experiences in the sport, which are relatable to us, whether as a fan or a journalist. Like a racer on the track, she certainly earned her path and role in this sport, as she reflects on those first moments and acknowledges her colleagues who've helped her grow as a journalist and an individual.
Without further ado, let's meet one of racing's finest and amazing journalists who's not only a great personality, but a good friend to all of us who enjoy NASCAR racing. Ladies and gentlemen, without further ado, let's get started with "Getting Personal with Danielle Trotta, NASCAR Race Hub Host and Fox Sports 1 Personality" right here on The Podium Finish!
Rob Tiongson : Danielle, first of all, I want to thank you for taking the time to let me interview you for The Podium Finish blog and podcast. I understand that you've had quite the journey with racing and with your career in covering NASCAR racing, but for those who're just learning about your career and about you in general, could you take us a little bit through your path and how you got into racing?
Danielle Trotta : Sure! Thanks for having me on. Always a pleasure talking with you guys. My introduction into racing and television started at WBTV in Charlotte. It's a local news station that's a CBS affiliate and I was the weekend anchor from 2007 'til 2010. That was when I started covering racing – that was my first job in television. I was the weekend sports anchor. Whenever the races came here to Charlotte, twice a year and the All-Star Race, we'd cover those events and go to some of the local races close to Charlotte that would be intriguing to our viewers and also those in the South Carolina area. I spent some time at some of the smaller tracks like Hickory. That was really my first gig covering racing. It was with Channel 3 (in Charlotte).
RT : That's really cool! Would you say, because of those races that would come by, that you got to cover for those stations, did it enhance your passion for racing to the point that you said to yourself, "This is what I want to do for the rest of my life?"
DT : Yea, I mean definitely would say yes, I was bitten by the racing bug pretty quickly. Before I started anchoring for Channel 3, I was an intern there in 2004, 2005. That was my first time at Charlotte Motor Speedway in the pits and I was a photographer at the time and weekend editor. I would shoot video of the races from the pits for the sportscast and we would integrate those with the television highlights. That was really how we put our racing highlights on the air. We would go to Victory Lane and the media center to gather sound(bites).
Around 2005, I think, was the first time I got to experience that. I remember being in the pits and filming it and just being around it, seeing it, smelling it up close, just surrounded by all the intense action….I was bitten that night. It was the Chase race at Charlotte in 2005. It was awesome. I didn't know that my career would necessarily end up at SPEED, which is now Fox Sports 1, at the time because it would be six years until I would eventually covered racing full-time.
I have a passion for storytelling and for television and for sports in general. I can't say that I set out to necessarily only cover racing. I was covering football, basketball, and the other major sports at the time. When the opportunity came my way in 2010 to cover racing full-time, NASCAR racing in particular at SPEED, I jumped at the opportunity and I never had to second guess or hesitate at all. It was the perfect opportunity for me.
I took the job because I anchored most of my career and I hadn't really reported. I thought it was a really great grassroots role instead of being behind the desk in the studio. I really wanted to enter the NASCAR world at that level. Going to race shops every day during the week, talking to drivers, crew chiefs, car chiefs, owners, pit crew members and pit crew coaches, and competition directors – you meet race fans at the shop. Then you get to the track and then the coverage kind of changes at that point.
The offer on the table was to be a reporter for NASCAR Race Hub. We cover racing during the week. I had to be at a lot of different race shops and really learned the sport that way. I jumped at the opportunity and thought it would be a perfect fit. Three and a half years later, so much has changed. But my love for the sport and my passion for it has only grown. I never thought I would really take to it as quickly as I did but I am 100% in. I'm a diehard fan now. It's really a dream come true and I'm really lucky that I get to cover the sport every day.
RT : That's a really cool journey cause I think that's how we discover our passions. It's through experience and channeling what you are talented with, you can discover inadvertent or intentional way that that's what you're gonna end up doing. That's the thing I find natural about you when you host the Race Hub show with Adam Alexander and Steve Byrnes. Would you say in the past three and a half years, that it's been interesting to see yourself grow professionally as well with the show?
DT : Yes, absolutely. It's a great question and something I definitely feel like there's two different mindsets: there's the NASCAR IQ and the television IQ. It was a huge challenge, it's still a process where you're trying to get better and learn more every day. I remember entering the sport and the show thinking I had a pretty good baseline of racing knowledge and television knowledge.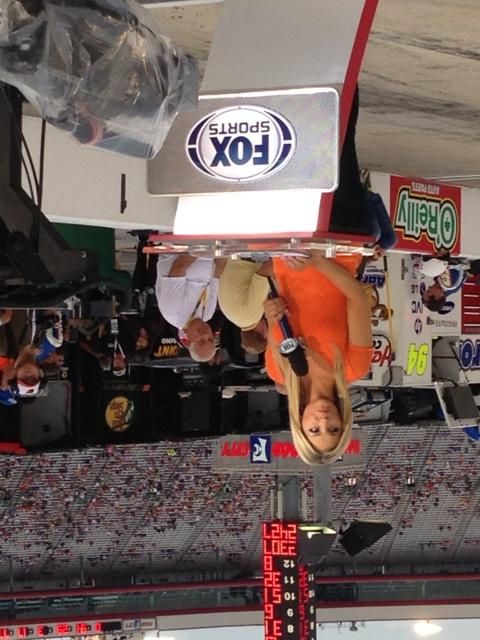 At the network level with the Trucks, Nationwide and Cup Series level, when you start covering it every day, there's so many intricacies that fans don't know about. I work with so many great people that have been in the sport for 30 years. I haven't thought about it. That's an interesting story because I was noticing things with a fresh pair of eyes and they helped me understand and I helped them. It was a great kind of information sharing. I learned a lot and I'm still learning every day about the sport. I love that our show not only covers breaking news, developing stories which is something I have a passion for, highlights and analysis, but we also cover the human-interest stories. We get to be in the race shops with the fans, we get to go to the NASCAR Hall of Fame, and we get to do historic pieces. There's so many different types of storytelling that we get to do on our show.
I feel like I've grown a lot at SPEED and now FOX Sports 1. I've been challenged in so many ways, from being a reporter to now being in the studio, which is a completely different art in itself. I work beside so many talented people and I think it's something that team owner Rick Hendrick preaches all the time when asked about his success. It's about being surrounded by the right people. I'm surrounded by some of the best people ever to cover the sport. I feel so blessed to work with so many great people that were open to helping me, not only to help me get better at my craft, which is storytelling and covering our sport in the field and in the studio, but they also made me feel really welcome to asking any question and there was really no dumb question.
When I got to work with Larry McReynolds, Jeff Hammond, and Chad Knaus on NASCAR Performance, it was a whole new experience because there were so many intricacies with the car that I didn't know about. They were so awesome because I had some of the greatest crew chiefs in the sport surrounding me saying "No question is a dumb question. We're all here to help you learn. And if you're asking (questions), you're wondering, your viewers are also probably wondering as well."
I kind of bring a fresh, young, kind of new eye to the sport because I haven't been around it nearly as long as so many of the people I'm working with. I think that creates a really interesting dynamic. I'm curious and they're such veterans of not only TV, but of racing in NASCAR. Totally, it's been an awesome ride and I've been surrounded so many great people. It never feels like work so I think I'm in a good place. That's a good thing, right? (chuckles)
RT : That's where I'm trying to get at with my career too! (chuckles) That's really cool to hear about that with your journey so far. When I watch you on TV, not only with Race Hub, but when you were briefly covering for Krista Voda during her maternity leave for the NASCAR Truck pre-race shows, you really do genuinely come across as someone very knowledgeable and very passionate about the sport. That's a really good thing. I think the fans at home want to see someone who's believable and also knows a thing or two about the sport. Like me, you're also learning too – it's a never-ending process, I guess (to learn about racing).
DT : Wow. That's really sweet and I appreciate the compliment very much. It means a lot to me. That's certainly the goal every day. I think there's a certain likability there that has to come across because the viewers are bringing you and welcoming you into their home every day. That wasn't a responsibility that I truly could say I understood in the beginning. I think even race car drivers are that way too. We just did a story on Kurt Busch not long ago. He said that when he first started with Roush, he came up so quickly and was so young, he didn't really appreciate it or fully understood the magnitude and responsibility that came with that job.
I think that's a fair assumption of me – I started at a top 25 market. I came up so quickly. I didn't come up the way a lot of others have in smaller markets that are just in a really tough grind for years before they make it to that level, and never mind the network level. It's certainly something that I've gained more appreciation for the longer I was in it. I feel like I have a huge responsibility every day. No matter how much fun we're having, and I think fun is certainly a huge part of sports and something we try to get across and have a good time as it comes.
It's my own philosophy too – if you get your facts straight, you can all have the fun you want. I do take the responsibility seriously and there's so much competition out there nowadays with social media and there's so many different platforms in the media that fans can get their news and entertainment. To spend 60 minutes with me and Adam every day is a blessing and it's something that we really enjoy doing but we take seriously too. I'm glad that people out there appreciate the hard work because the fans are why we do it at the end of the day.
RT : For sure and as a fan and colleague of the sport, I can really appreciate what you guys put into the works with the show. Running the podcast and the blog that I have with ThePodiumFinish.com, I know it's hard to manage people or to work with people that you have to mold into their philosophies and all. The camaraderie with you guys, it's so believable that I have to say it's almost like you guys are family. Would you say that's kind of true, not only what you see on camera, but also with the chemistry in person too?
DT : Yea, I don't really like them very much at all. It's all an act. (much laughter ensues)
RT : (laughs) I knew it! There's a little scandal right there on Fox Sports 1!
DT : (laughs) Don't spin it into a bad thing cause it was a joke!
RT : No no, we're not going to do any silly rumors or anything like that! We're a factual website too! (chuckles)
DT : They pay me to be nice to them. (laughs) No, it's because you spend so much time together, in a high attention, high stakes environment, you go through a lot together. We do about 300 shows a year. Some fans don't understand everything that goes into it but a one hour show is really 10-12 hours of work. I'm certainly not doing that all by myself. We have a phenomenal staff who comes in super early in the morning and works late into the night and sacrifices time away from their families to make sure that the stories that are supposed to make it tomorrow are as good as they can be.
Just to take you through the process, we have production meetings, rehearsals, and staff meetings. We're all working with each other. We feel like five heads are better than one and 10 heads are better than five and so on. We have growing pains just as any family would or any working environment. You don't always get along with everyone all the time. I've had crew chiefs say, "I get along with people all the time!" (chuckles)
Race teams talk about becoming families, too, because you go on such a wild journey together. It forces you to bond in a way. It certainly is a different lifestyle. I think that people in racing sacrifice so much and I can say the same for our staff too. You become like a family. You care about each other.
Steve Byrnes is going through a medical issue now. Watching Steve have to step aside to care for his medical situation is probably one of the most difficult things I've had to go through. . To have someone like that leave after three years, I think, is just one primary example of how close we are. Sometimes you don't realize it until one of your family members is sick. We really appreciate each other. It's a lot more than showing up and just doing a show with them. Personally, I think of Steve as a mentor and someone I'm extremely close with. I'm honored to have him as my friend. You do get surrounded by some awesome, awesome people – for sure.
RT : I agree with that and definitely, I can agree about that with Steve as well. He's been one of the people who've influenced me with my works as well. I grew up watching his works when I was a little boy when I was watching him on TNN and just watching his professional style – he has this kind of serious and then he can have this kind of goofy style on camera too. That's the same kind of approach I try to have with my works when I write articles and do podcasts. It's really amazing how many lives he's touched, whether indirectly or directly, he definitely has a good influence with all of us.
DT : Wow. That is awesome to hear and I know that you're one of the many he would appreciate that so much. I'll certainly pass that along to him. I know that'll make him smile.
RT : For sure. We're all thinking about him on The Podium Finish and definitely, personally for me too, he's a great guy and I'm sure I can vouch for all of us when we say that we really hope he gets better soon.
DT : Well that is so awesome and I'll certainly tell him you said so.
RT : I really appreciate that, Danielle.
Author's Notes : I'd like to personally thank Danielle for taking the time to let me interview her for this wonderful piece here on The Podium Finish. She's a wonderful and amazing journalist and a new friend indeed personally! Also, I want to thank Megan Englehart of Fox Sports for making this interview possible – a total team effort! All the photos in this piece are courtesy of Danielle Trotta and Fox Sports.
You can catch Danielle on NASCAR Race Hub each week day on Fox Sports 1 for 60 minutes on all the action on the track as well as the stories off the speed arenas. Check your local listings accordingly for the latest air-time and also with your local cable operator. Lastly, if you'd like to interact with Danielle, "Follow" her on Twitter right now! Stay tuned for Part II, where we'll talk more in-depth about her career, her take on 2013, as well as a little "Free Association!"