Danielle Trotta's journey in sports broadcasting has seen her go from reporting at the shops and tracks to a leading co-host of NASCAR Race Hub. Now, she talks about the top stories of 2013 and shares career advice to us at TPF!
Journeys in life often can be enlightening or inspirational, as they make us dig deep to find out who we are and what we want to be as a part of something bigger than us. While we may never fully understand or appreciate our roles or capacities at the time, it's through experiences and knowledge that we broaden our horizons and truly learn who we are as individuals, both on a professional or personal level. For Danielle Trotta of Fox Sports 1, she's transitioned from a reporter to her present-day role as the co-host of NASCAR Race Hub, having learned a great deal about the figures and the factors of racing that's helped her connect with her colleagues and race fans.
In Part I, we learned about her foray into the broadcasting world and the NASCAR racing scene. Trotta reflected on her role in the sport and her colleagues who've helped her grow professionally and personally as one of the leading journalists and figures of the motorsports industry. She showed a lot of heart too, reflecting on her journey and how far she's come along thus far.
Now in Part II, Trotta takes us through the year that was in NASCAR racing, starting with the Gen-6 cars' first laps during Daytona Speedweeks, as well as Danica Patrick's historical Daytona 500 pole, the injury-plagued season of Denny Hamlin, and the title showdown between Hendrick Motorsports' Jimmie Johnson and Joe Gibbs Racing's Matt Kenseth. It's in this part that we not only learn about Trotta, the journalist and Fox Sports 1 media personality, but we learn about her as a person and the struggles she endured to be where she is today. There's a sense of appreciation and strength when you learn and read what she experienced, particularly with the mindset of a few individuals who may have felt she didn't belong in this sport.
Point is, she definitely has shown and proven she belongs not only in the sports media world, but with all that she puts her efforts, heart, and soul into with her life. There's no quit in her and she lacks that pitiful sentiment in spite of her adversities. Instead, the fire that lights up as a journalist in the racing and sports world has only grown stronger and intense. She realizes where she's at and is cognizant to reflect on what may happen. For now, her approach is to take each day as it is, which may explain why she's a successful and very likable personality among fans and colleagues here in the racing community.
Grab your notebook and a seat, race fans. Let's sit down and truly start "Getting Personal with Danielle Trotta, NASCAR Race Hub Co-Host and Fox Sports 1 Personality" right here on The Podium Finish!
Rob Tiongson : So many things happened in 2013 in NASCAR with the Gen-6 car and all this talk about Hendrick versus Gibbs, and all this talk about Jimmie Johnson becoming a six-time champion. What were some of the stories as a fan, as a journalist, and a co-host of NASCAR Race Hub that surprised you with racing this season?
Danielle Trotta : Oh my gosh! (chuckles) How much time do you have? It was the craziest year. It was the most dramatic, intense year that I've seen in some time. You and I started talking about my seemingly short career in NASCAR compared to everyone else with whom I'm so blessed to work, and talking to guys like that like Larry Mac, Jeff Hammond or Steve Byrnes….it's been awesome watching this year unfold. We felt like there was never a dull moment . You asked what else could happen. --there were so many firsts.
That started quickly in the off-season, when we realized what a big deal the Gen-6 could be. People used words like 'revolutionized' for it. That's a big undertaking and effort and push by NASCAR before we got on track. We had that major storyline. That in itself was the big focus in February. We were shot out of a cannon when Danica Patrick won the pole at Daytona. From Speedweeks to Gen-6 to her winning the pole, the first female to ever do that in the Cup Series, it was astonishing. It gave us more publicity and a bigger platform than I think we could've ever asked for.
I didn't feel like there was a drop-off. Every race had its own identity but then very quickly, there was the incident with Denny Hamlin getting hurt at Fontana. You never want to see a driver hurt and that was certainly a big storyline that continued through the end of the year. Then the Penske penalty (at Texas); people were using words like 'harshest fine in NASCAR history.' To hear people that have been a part of this sport for decades say that was certainly a first as well.
Then the race at Eldora (for Trucks) was a great first and a huge milestone. The Camping Truck World Series went up to Canada, the launch of Fox Sports 1 in the middle of the season and SPEED ceasing to exist in its previous form was a huge story for us. There was never a dull moment on the track.
Then we get to Richmond and the Chase fiasco , and then the unprecedented 13th driver to be in the Chase. And then the epic battle with Matt Kenseth – you mention about JGR and just last year, no one could've predicted the magic that he found -- a storyline that carried throughout. There was one better, and it was the guy who won the first race in the Gen-6 car and the first championship in it, too. It didn't surprise anyone to see Jimmie Johnson win six, but as Kyle Petty said, he's in 'really rare air now, air that only two others have – Richard Petty and Dale Earnhardt.' It was pretty awesome.
There were really tough times too with the loss of Jason Leffler.
When we wanted to sit back and take a breath, there was some kind of big story developing. Sometimes as media, we feel we regurgitate storylines, for lack of a better description, when news is a little slow, but we didn't need to even consider that in 2013. Major stories were handed to us on a silver platter nearly weekly. Captivating headlines such as those don't happen every year. Each season has its own personality. From big things in our sports, moving to different teams, to seeing the first single-car team make the Chase, there's just so many interesting characters and storylines. It's awesome. It was a really great year and a long and dramatic year.
RT : That's for sure and it's given us this chance to be like, "We're glad to be in this off-season," although you can probably appreciate when I say, "There's really no such thing as an off-season for anyone in racing."
DT : Well, I'm waiting for the off-season. We keep calling it the off-season on the show, but it doesn't really feel like one. (laughter) The teams are still testing, the teams are still in the shops working and putting in way more hours than I could ever imagine. I could certainly never compare myself to them and all the hard work and sacrifices that all the teams put in and the sacrifices with their families.
There's not a true off-season, but maybe it's the holiday season, so hopefully they get a few of those days off to be with their families. Then SpeedWeeks rolls around, which will be bigger and better this year with NASCAR bringing in the Trucks and Nationwide cars. It'll fly by. There isn't much time to rest as the teams are working. Hopefully we get to relax for a few days before it all starts out again. (laughs)
RT : Let's do a little bit of Free Association here. I've got a few words where some are racing related and random. Tell me the first thing that comes to your mind with the following. We'll start with this first word.
Competition.
DT : NASCAR.
RT : Good one. Friendships.
DT : The first word that comes to mind with friendships? My sister.
RT : A good one – would you say that you guys are both your support system with personal stuff that happens?
DT : Yea, I think that's fair. Sure! (laughs)
RT : A little shout out to the sister! Ambitions.
DT : Career.
RT : Favorite band.
DT : Jackson 5.
RT : Interesting! You like a little bit of '70s music?
DT : Oh yea, I'm a big fan. I enjoy Motown a lot and I'm a big Michael Jackson fan.
RT : That makes me think I need to loosen up my music cause I can't get Lorde out of my head. That's another story for another day. (laughter) That "Royals" song. If I had a nickel…(laughs)
DT : For every time I….(laughs)
RT : Oh, those commercials. You should be in those commercials for Sunoco. (chuckles) That'd be awesome. This one's probably a professional or personal level one, but dreams. What's the first thing that comes to mind with dreams?
DT : Family.
RT : I like that. Interesting. This was probably one of the more intellectual "Free Associations" that I've done for The Podium Finish. (laughs) I like this. This is going really good! Now Danielle, I have a friend who's upcoming in NASCAR, her name is Hannah Newhouse. She wanted me to ask you if it's at times, a struggle for you to be taken seriously as a female in what's predominantly been a guy's sport?
DT : Sure, I think that there's certainly times where, you said she's a racer? I think it'd be a great question racer to racer, and I've heard Danica Patrick talk about this before. Female to female in business, sure, that can happen and you have to prove yourself. When I was in local coverage and just around town, a male sports fan and he watched my sportscast and he almost quizzed me about sports. It was almost like he was testing me and my sports knowledge.
I always found that so disrespectful because I felt like if it was a male sportscaster, if he recognized him around town and went up to him and said hello, he'd have shaken hands, and said, "Hey, I love your sportscast. Great to meet you. Love to watch you on the air." I don't think he would've quizzed him in that way. I don't ever see that happen with my male sportscaster friends, but it has happened to me on more than one occasion.
That's just an example of a time when I felt like I wasn't taken as seriously and had to prove myself even more. I've had men call me out and question me on television and say that I'd never make it in this business or that I wasn't good enough. But if anything, those comments drove me to work even harder and increased my desire to be here. I knew I had to be accurate and not make any mistakes. I wanted to be as sharp as I could. Those challenges took my game and work ethic to another level.
Maybe that's something she (Hannah Newhouse) could identify with, because I think there is a level of wanting to prove that you belong. There's so many women who have gone before me in sports broadcasting and paved that path and carried that torch. I feel a certain responsibility to carry it on and to do it with dignity, respect, and hard work, and to do it ethically.
I hope that I inspire young women to want to do the same thing. Not only should she look to her elders in racing and want to carry that torch and carry it proudly, but also remember to become the role model (one day) and carry that torch as well. It's important for women to stay together, to support each other, because if you're in a male-dominated industry, you are outnumbered. Sometimes, you can be questioned. Hopefully that perception is changing in life, in business and in sports.
RT : My friend and colleague from The Podium Finish, Jessica Tow, who's an upcoming journalist, wanted to know what advice you'd give to females who are looking to make their break into the sport of NASCAR.
DT : Into the sport of NASCAR as a journalist? I always tell people to intern, intern, intern. Get the degree and if you don't, attend a school with a journalism program that offers an internship program. That's huge. Find a way; where there's a will, there's a way. Go to your local radio or TV station. It may not be exactly what you're looking to do permanently, but it will help you break into the business. Be nice to people, work hard; the circles are small and your reputation is everything. Sometimes you don't get a second chance to make a first impression. Come prepared and eager to work hard, and even if it's not exactly what you want to do, do your best at it. You never know what doors can open.
Getting your foot in the door is so important these days. Internships can be crucial. I started as one at WBTV and was on the air within a year. Most times you don't get paid -- I didn't – but the sacrifices are worth it. . You work extra shifts or you work late so you can make money and still go to school and intern. It's not always easy.
But in the end, it's a really good start because once you're there, you can work on your (demo) tape. In television, that's really how you network. It's not a paper resume but an actual demo reel of your work. If you're not at a college with a great television station or program and you're not making a tape at school, if you intern, you can start growing and making gains, standing on the sidelines, going to races, doing stand-ups at the tracks, interviewing a driver or a crew chief or a basketball player or a coach.
That's how you get your tape together. Once you get your tape together, you can start sending it out to television stations. This usually is how you get your first job. Interning gives you a huge leg up because you're surrounded by people that are doing this every day and they'll be willing to help you and they're most of the time really talented and eager to help. I always tell young people who are trying to break into TV to find the closest, local TV station, if not radio station, and fight your way in there as an intern because it can open up a bunch of doors.
RT : That's appropriate advice because she's in college so I'm sure she'll appreciate that as well.
DT : Tell her if she has any question, she can contact me at any time. It's not always easy to navigate your way through. If I can pass any advice, I'll certainly be more than happy to.
RT : We both would appreciate that! I know that she's a little younger than me. I'm an old fart at age 28 (laughter). That's also very meaningful to me too. I say I'm an old fart because I'm competing against kids on social media, and going to work, planning on school a little bit. It's a fun balance, I know…it's a struggle (sighs).
DT : You're fighting the good fight and the people that work hard usually end up on top. I appreciate and understand what you're doing and trying to launch a career at the same time isn't always easy I've never seen anyone make it in easy You're on the right path. All that hard work will pay off.
RT : That means a lot to hear from you. You're one of my influences when it comes to my work. Just watching the more contemporary people on TV, you're one of the few people I try to mold myself after style-wise, writing-wise, and just doing the radio show – I definitely want to say you do a good job of covering NASCAR. Being a fan for 23 years, basically all my life (chuckles), you do an awesome job at that.
DT : Well that's very sweet, thank you so much. That means a lot.
RT : You're very welcome and it means a lot to do this interview piece (with you). Do you have your sights on covering the actions in the pits or working in the booth one day, if that opportunity ever happens?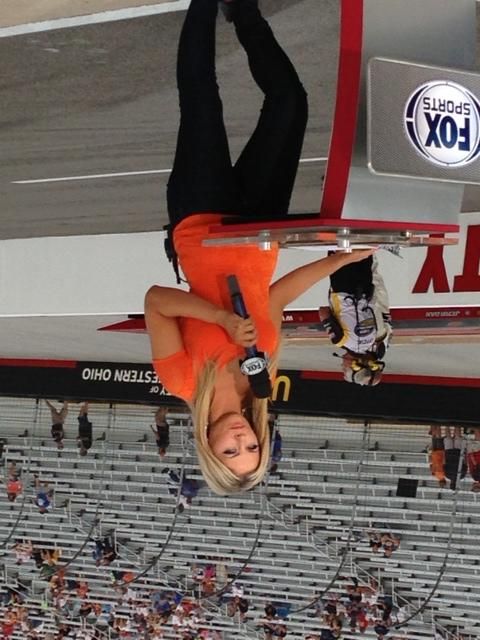 DT : Yea, I would never say no to anything. You always keep your options open and I think you're silly if you don't. You never know where the future leads. I try not to be a person that focuses too much on planning it out at every single step. If you work really hard every day, do the best job you can, and are good to people, doors will open. When doors open, it's great to be presented with opportunities. I never could say I had my eye on one set thing or that it's my sole focus to be at the Cup races. I try to not really plan too much.
It's important to have goals and I certainly do. Being on pit road would be awesome and it would be great, an awesome experience. I would welcome it. But I try to not project one certain goal because then you distract yourself from other opportunities that might come up.
Working at Fox Sports 1, the opportunities are endless, and I'm really excited to be part of the new network and company. Everyone has been great to me and I try my best to be make it a reciprocal thing. Whenever doors open, I'm certainly interested in taking a look, but I can't tell you today that I have something set for next year or have my eye doing one thing. I have to see where that path leads me. I'm really excited for the future – there's really no reason not to be.
RT : Well Danielle, I'll wrap things up here in a bit, but is there anything else you'd like to say to the fans at ThePodiumFinish.com or to your family and friends?
DT : Thanks for having me. I appreciate it very much. And to anyone that's listening or reading this, we appreciate it. If you're a viewer of the Hub, keep coming back and watching Fox Sports 1. Thank you so much for a great 2013 season. We look forward to 2014.
RT : Excellent! I appreciate you stopping by!
DT : Thank you!
Author's Notes : I'd like to personally thank Danielle for taking the time to let me interview her for this wonderful piece here on The Podium Finish. She's a wonderful and amazing journalist and a new friend indeed personally! Also, I want to thank Megan Englehart of Fox Sports for making this interview possible – a total team effort! All the photos in this piece are courtesy of Danielle Trotta and Fox Sports.
You can catch Danielle on NASCAR Race Hub each week day on Fox Sports 1 for 60 minutes on all the action on the track as well as the stories off the speed arenas. Check your local listings accordingly for the latest air-time and also with your local cable operator. Lastly, if you'd like to interact with Danielle, "Follow" her on Twitter right now!