You don't know racing until you meet Emma Blaney, daughter of NASCAR driver Dave Blaney. She reveals what it's like to be in the racing circle exclusively on The Podium Finish!
When race fans think about motorsports, it's usually about the drivers and pit crews that they consider into the making of a successful weekend at the tracks. However, there's more than just the cars, the machines, and the brave men and women who pilot these steel chariots to the front of a restless field somewhere in America.
There's the family members who often don't get to see their loved ones very often, or if they do, they often make the racetracks their home away from home on any given weekend. Be it at at Fort Worth, TX or Rockingham, NC, for 21-year-old Emma Blaney, the tracks have been a constant in her young life as she is the daughter of Dave Blaney, a prolific World of Outlaws winner and current NASCAR Sprint Cup Series competitor.
Emma is also the sister of K&N racer Ryan Blaney, who competes against her boyfriend, Cale Conley, this season. As if that's not enough, she's the niece of dirt track sensation Dale Blaney, who carries on the family name on some of America's slickest tracks.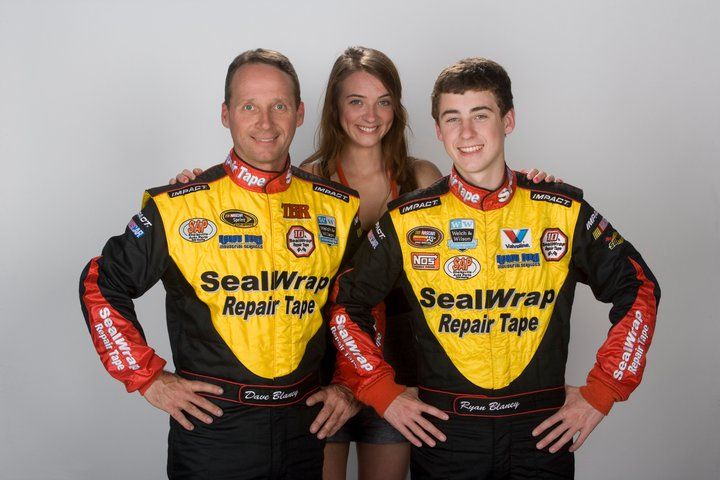 When most people would find themselves between a rock and a hard place in that situation, Emma takes it in stride and has her ways of managing any scenario with seeing her loved ones competing for the win at nearly 160 to 200 mph.
Congenial, sweet, charming, and fun loving, Emma's a cool customer who pretty much handles her life with ease.
She doesn't take a lot of things too seriously, and it's evident throughout this very lengthy and exclusive interview with this hip chick.
She reveals a lot about her perspective on what it was like to grow up into a racing family as well as a driving career she once had until she hung up the firesuit and helmet at a young age.
Truly in the making for the past year and a half, I'm happy to say that I finally got to sit down and interview Emma recently via the phone. What was planned as a typical half hour sit down interview turned into a conversation between two friends and it's quite obvious from the start, just as I prefer. Either way, it's one for the memory banks here on The Podium Finish and we're honored to interview racing's version of Aubrey Plaza.
Don't worry Ryan, Cale, Dave, and Dale, Emma has your back all the time, even after you and all the racing fans out there read this interview piece.
So sit back and we'll get started with "Getting Personal with Emma Blaney, NASCAR Racing Personality!"

Rob Tiongson : You ready for this crazy interview piece?
Emma Blaney : Yea, I think so…
RT : OK – you think so? (laughs)
EB : I think – I don't know! (laughs)
RT : Well, here we go, this is going to be awesome socks…(laughter) For the racing fans here on The Podium Finish who may not know about you, which I don't know why wouldn't…(laughter)…tell them a little bit about yourself and your background into the stock car and dirt track racing world.
EB : Well, my dad is Dave Blaney and he's raced my entire life. I grew up in a racing family. There hasn't been a time in my life where anything involving racing was there, I grew up by the dirt track and then we moved down to North Carolina and lived here with my dad doing the NASCAR thing so I've been to, on the dirt track side of things and traveled like 190 days out of the year to going away every weekend.
Now that I'm older, I'm 21 so I don't get to go a lot. Dad's career's kind of not slow, but it's different.
I've got a brother trying to work his way up and I've got an uncle who's doing the whole dirt track thing and I've got a boyfriend who's trying to work his way up.
Every day is kind of just hectic and crazy.
It doesn't have to be a race weekend to be crazy, it's just, oh, it's an on-going thing, that's for sure.
RT : Wow, that's pretty cool! (both laugh) I like that, you kind of guessed my second question. I like that, you already know where this is going!
EB : Yea, I've just been sweating a little bit, geez, getting a little nervous!
RT : Who, you or me?
EB : Me!
RT : Oh don't be, I should be the one who should be more nervous, I'm the journalist! (more laughter) Seriously. That's kind of funny cause that relates to the second question I have but I'll just entertain it anyways.
What's it like to be a daughter, a sister, and a girlfriend to racers who obviously, they make this their profession to be a racecar driver when they compete in different parts of the country, is it like second nature for you to just go, "OK, it's nothing, I don't have to worry too much about them" or is it a bit uneasy to just be at the track or home and follow it on your phone or your computer?
EB : Yea, obviously, I'd be pretty lost if I didn't have all of them racing, all four of them. I'll count my uncle Dale too. Sprint car is one of my favorite things so I follow my uncle a lot. It's good to keep up with him and I'd be just so bored and I would not know what to do if I did not have a race to watch every weekend and in the beginning, I remember sprint cars a lot.
Ryan and my little sister Erin, who grew up with sprint cars, but they don't remember it a whole lot. I remember Dad and all the sprint car days.
Me and Ryan started racing together actually. People don't really know that but I was pretty much a great quarter midget driver when I was younger. So we started racing and then Ryan got really good and now he's working his way up.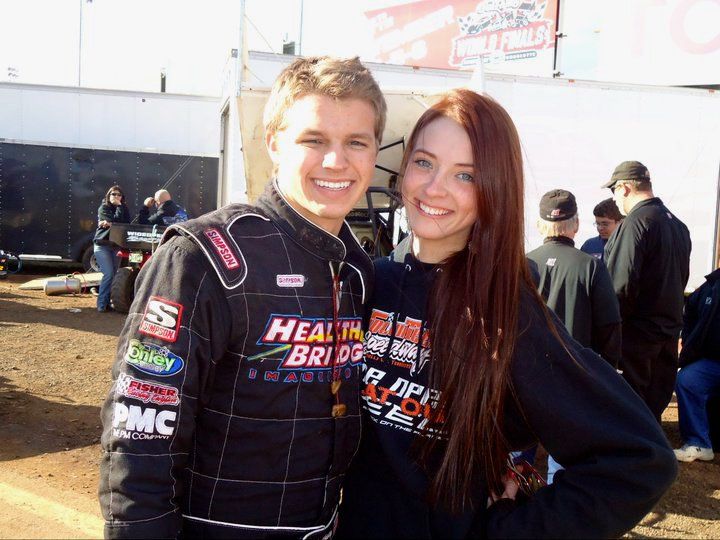 I met Cale through quarter midgets too and he raced sprint cars for the past three or four years so I grew up watching that.
Now that he moved over to asphalt, it's a lot easier to watch him on asphalt than it was dirt racing but it's definitely second nature.
I have my phone and my computer everywhere I go if I'm not at the racetrack with one of them. There's been times when Ryan and Cale are in the same race or Ryan and my dad and my uncle are in the same race.
One time, my dad, my uncle, and Cale were in the Kings Royal and it was just very different and I don't see other girls keeping up with what I do really cause it's a difficult job. I told Cale he's pretty lucky to have me because I don't think any other girl will like his racing too much.
I tell him a lot that he's pretty lucky to have me. I don't know, I love it though, I wouldn't change it for anything, I'm not a big college partier. A lot of my friends are juniors and they party a lot and do the whole college experience but I'd much rather be at a racetrack or with one of them anywhere so (in an Oprah kind of way) I just love it!
RT : (laughs) I just love it! (much laughter)
EB : Yea I change my voice a little bit for that one.
RT : That's OK, we can do a little Oprah in this interview…
EB : Yea, sometimes it comes out.
RT : Well that's fine, I mean it's going to be incorporated with the piece anyways so...it's all good!
EB : Yea!
RT : We've got to have a little bit of spunk on The Podium Finish! I mean, c'mon!
EB : Exactly!
RT : Y'know, it's been kind of slow times for us too.
EB : People gotta remember you, so my high pitched voice is probably how I'll be remembered! (laughter) Seriously! We'll see about it.
RT : We'll see, we'll what the reviews are gonna be and if we get good ratings. If not, we'll probably be canceled for this one.
EB : Yea, I know, exactly and it'll be my fault.
RT : Well no, we'll just have to get sponsors to compensate for it all.
EB : That's true, that's true. Good thinking!
RT : I know, that's why I'm an innovator like that. (laughs) I like that, you're like, "Cale's really lucky to have me, you know, you're really lucky."
EB : You know he is, I remind him of that all the time. Girls who don't know a whole lot about racing don't like it too much and they won't like that their boyfriend spends every day at the racetrack and every weekend at the racetrack so they may not like that too much. I know girls like that.
So yea, I constantly remind him that he's pretty lucky and I demand like presents and ice cream a lot so he gets my drift now. After four years, he gets the drift.
RT : Well, he doesn't want the seven year itch to happen to you guys with your relationship…
EB : That's true. Well, he's smaller than me so he really can't do anything. I'm the boss.
RT : Oh I see who wears the pants in that relationship!
EB : Basically, I let everyone know that too! (laughs)
RT : I am going to have to ask him this when I interview him later this year…
EB : OK, that's fine, yea…I do wear the pants!
RT : Cause if I have to do on The Podium Finish, I'm going to have to do the Newlywed Show and have you two on there and see what happens.
EB : Yes, I think we're kind of like a married couple. We're definitely not married, but we act like it a little bit. He gets mad at me sometimes for giving him racing advice and he says I can't say anything cause I don't race and I said, "Listen here, I'm older than you and I'm probably a lot wiser than you and I know my racing so you just need to shush."
RT : Next time, you should challenge him and be like, hey you think you're that good, let's go back to where we started…
EB : Seriously, honestly, if I can still fit in my quarter midget…he probably can cause he's small, but if I could still fit in my quarter midget, I would definitely race him. (laughs)
RT : Oh my goodness, sorry Cale! (raucous laughter)
EB : I told him about this last night. He knew some things I'd say. I'm gonna say some stuff about you. He said, "Don't be such a loose cannon," and well I'll try not to, Cale, but thanks for the advice.
RT : No problem, that's what I'm here for.
EB : (laughs) Oh gosh.
RT : Don't worry, you're not in the dog house.
EB : Yea, exactly!
RT : You won't be – it's gonna be me! One thing I've always wondered with family members, especially with you, your dad races, your brother, your uncle, and your boyfriend, is it tough sometimes to know the racetrack is your home or do you like that it's your home?
EB : I like it. If we could live in our motor home and go to each race, I would absolutely do it. I grew up on the dirt tracks, like I've said a hundred times, and we did summers where we wouldn't be at our house.
I remember our motor homes way more than I do our house that we lived in Ohio while my Dad still lived there.
I don't know, I love being on the road and I love being at the racetrack. When you're a part of the racing community, it really turns into your life.
Everyone there turns into your racing family and I've gotten to meet so many cool people that's coming up through sprint cars and NASCAR, and now even K&N, it's definitely a home and maybe a second home now that I'm older and that I don't get to go a lot to the NASCAR races and most of the weekends are 2 or 3 day trips.
Dude, if I had my own motorhome, I would absolutely travel with the boys and maybe that's a goal I should set up with myself that in a couple of years here if Ryan and Cale continue to do good and if my Dad's still in it, I'll just get a motorhome and I'll be the traveler.
RT : That's what I should call this interview: Emma Blaney, the traveler.
EB : Yea, the traveler. They can choose to ride with me or not but I'll do it myself.
RT : And you'll be the one telling them, "We're going to stop at Bojangles or Golden Coral or something."
EB : Yea, it'll be my motorhome so they just have to do everything I say so it's not a bad deal if you think about it.
RT : No it's not, I think I want in on this!
EB : Yea, I mean who wouldn't want to drive in a motorhome with me? I'm such a professional!
RT : Professional? Hey I'm down for that!
EB : (laughs)
RT : I've never been in one before actually. See how Northern I am?
EB : It's awesome. You definitely, whenever you go to a race, you just need to go to a motorhome one time. They're cool.
RT : Well, if that's the case, do you think I'll survive in Talladega knowing that I'm not the typical racing personality? (both laugh)
EB : Talladega…it's different. From what I remember, the past few times that I've been to Talladega, it's usually on Halloween weekend. Like last year…it's always around Halloween. One year, we went down there and it's a little scary on Halloween weekend in Talladega. I would advise you not to go during the October race but the other one, it's fun. It's different but you'll definitely get the whole racing experience there so no worries.
RT : We'll see, cause you know…you know!
EB : Yea, yea! You'll be fine! (chuckles)
RT : I might have to get my posse with me.
EB : Yea, make sure you have someone bigger in size than you just in case something happens.
RT : I'm assuming you're bigger than me, I'm like 5'6''.
EB : Ok, and I'm like 5'10'' and I'm pretty like muscular so don't worry, I got you.
RT : Alright, I trust you over Chuck Norris.
EB : (chuckles) Oh gosh…
RT : Now I understand you do some work with NOS Energy Drink. What's your role with them and does it give you a different perspective of the races when you work in that perspective?
EB : Well basically I'm just a promotional girl. I started last year because Ryan got to be one of the NOS drivers. It just kinda had a little deal where he gives out free products so that's how I started. I've done a bunch of different promotional works with companies.
NOS does this at all the racetracks and all these races. We can go to drift races or we go to PASS races, like little late model races or maybe we go to Bristol, like the whole weekend, the NASCAR weekend. You see things a lot differently when you're actually standing out there and working, especially at Bristol.
When I was younger, I didn't venture out anywhere. I just stayed in the motor home or stayed around my parents and now that you venture out, you really get the NASCAR experience and sometimes that's a little better than sitting in the drivers' lots just hanging out.
NOS last year was with Kyle Busch so we did a lot of stuff for him. It's weird working events for other drivers other than all the drivers in my family but it's a fun thing. I love it. This year is a little different. We're doing things a little different at NOS.
The other weekend, Ryan raced a little late model race over at Hickory and we got to work it so any day where I can go to the racetrack and get paid for it for working, I mean, that's fine with me. I'll be there all the time. It's fun, I love it, and all the girls in it, they're all race fans. You meet a lot of people through there that you wouldn't think you would meet but it's fun. It's a fun little thing.
RT : And that's kind of what the whole racing experience is all about. It's kind of different from other sports where it's kind of a fixed thing, like if you go to a baseball game, you get your drink and your food. You watch the game, you cheer for the team, and you go home and basically that's it. That's what I find so cool about it.
EB : Right.
RT : And you get to meet some crazy people on Twitter.
EB : Yea, definitely, that's for sure! (laughs) Oh my god. (both laugh)
RT : Don't be nervous, it's all good! (laughs)
EB : (laughter)
RT : You're fine, you're fine. You're not on the Hot Seat, it's not like something on SportsCenter and I'm not like those personalities on that show, it's all good. Don't worry.
EB : Oh I'm not worried man!
RT : See, that's good, that's good! (both laugh) Now something I'm curious about, actually, I know the answer to this one but this is just for the fans but, I'm kind of curious, who besides your family members and your boyfriend, of course, who are your favorite other drivers?
EB : Ok, that's a silly question because everyone should know by now, I think the whole world knows that I think I'm in love with Kasey Kahne.
RT : Oh no! (laughs)
EB : I think he knows that by now because you know, it's a big deal in our house cause Kasey has tweeted me back twice but he never tweets back Ryan or anyone. Obviously, we're kind of having a connection and I always tell a couple of people who know Kasey, you know, whenever Kasey is ready, I'm ready! You know?
So I get very nervous around him and I don't get nervous around a lot of people but I get very nervous around Kasey and the other time at Bristol, he came over. My mom and my sister were out there talking. Kasey and my dad are good friends and he comes and races my grandfather's race every year at my dad's dirt track so they're good friends.
Kasey and my mom are talking and I got so nervous that I faked a phone call and ran away because I couldn't even stand there and stand up next to him. I just got so nervous! So Kasey Kahne is definitely my little dream…yea, whatever you wanna call him. I do love him a lot so I don't care if he knows it, I think he knows it by now. One day, one day he'll figure it out that we are meant to be but until then, I just stick with Cale. Oh…(laughs)
RT : Oh my goodness, this is breaking news! (laughs)
EB : I know, I know. I get nervous talking about him. (laughs)
RT : Oh jeez, this is going to be on Jayski! Just you wait.
EB : That's OK! (laughs hysterically) The more he knows, the better! I mean, my dad knows, I've told him many times. One time, my dad asked me, he said, "Do you want me to bring anything back from Las Vegas?" And I said, "Just Kasey Kahne." He said, "I'll ask him how much he costs," so I'm not sure if he asked or not but that's what I wanted and I didn't it but we're making progress.
RT : I mean, think of it this way, your dad and him work for the same manufacturer, Chevrolet, and they kind of have a little bit of six degrees of separation with their teams so just sayin'…
EB : Yea, I mean, when I turned 21, I was like, this is it. We're definitely on now! (laughs) I can't get in trouble for anything now.
RT : No, not at all.
EB : I would definitely go for Kasey. Kasey's my man.
RT : Oh boy…(laughs)
EB : I know, I know.
RT : I'm just picturing those old Allstate commercials now back then or his Farmer Insurance cause that's his deal now.
EB : Those are a little weird but I'll take him. I used to have a little crush on Trevor Bayne but I know that he's taken so I let it die down and go to Kasey.
RT : Yea cause Trevor's kind of jailbait anyways. He kind of looks like it.
EB : Yea, he is a little tiny and…oh, I'll go with Kasey. I'll stick with Kasey.
RT : I got your back on that one too.
EB : (laughs)
RT : Ding ding ding ding ding! Oh boy, I love this. This is fun!
EB : (chuckles) I love when I can like profess my love for Kasey. Whenever I get the opportunity to do that, one day, I always thought to myself about one day if I ever get interviewed on TV, I will say it publically that I love Kasey so I'm just waiting for that day.
RT : Well if you ever go to a race on the major networks and your dad's there, like in Daytona , he was in the lead and they had the chance to interview you atop the pit box, like say Steve Byrnes or Matt Yocum was right there, and then they're like, "We're here with Emma Blaney, daughter of Dave Blaney, and your dad's in the lead right now, what do you have to say about your dad leading the race?" And then you'd say…
EB : I love Kasey.
RT : That's what you're gonna say?
EB : That's what I would say. And then I would give a little input about what I feel about dad's whole week but I would definitely say like, "I'm ready for a relationship Kasey Kahne! So whenever you're ready. " One day, I'm not worried about it yet.
RT : Nah, don't be. It's going to happen.
EB : Yea, that's what I think. Everyone tells me not to worry. (laughs)
RT : Let's not get you into too much trouble now.
EB : Yea, we probably need to stop this before it gets out of hand, before I get thrown into jail for like harassment or something.
RT : Or better yet, for fandom.
EB : Yea something, yikes!
RT : Nah, I don't want that to happen. One of the cool things I noticed you're doing or got involved with recently is with RealityTotes.com and they have this cause to help out Carly with their neat designer bags. Tell me a little bit about your role with that and what fans can do to help out children who are fighting progeria.
EB : I don't remember how long ago it was that Ellen contacted me and anything that has to do with helping – I mean, I have a really soft spot for kids with diseases, sickness, anything, I love kids a lot.
When she came to me, I said, of course I'm going to do it! That made me feel really special that they asked me so I got the bag shipped to me and we took some pictures for it.
I think it's really cool that she kind of going to the racing community and the girls in the racing community cause I think a lot of people underestimate the women in the racing community.
Obviously, they all think about the guys and the drivers but the women have a lot of power too. I know I'm nothing important or anything but the fact that you have a racing community behind you can really spread the word for Carly and progeria so that's what we're trying to do. I know a lot of girls are getting involved.
I know that sometime in the summer, we all want to kind of do something at a race, like walk around with our bags and pass out all this information and take up donations, something where we can all get together and all make it public that this is what we're doing.
There's just a lot of girls who are doing it now and it's good. A lot of girl drivers I know, I know Natalie's doing it, there's just a lot of good people out there who are going to help out a lot.
Once racing really gets started, it'll be really good for this cause. I think we'll be able to raise a lot of money to get awareness out which I see as the most important thing so I'm excited.
Anything where I can be social and ask and talk to people, anything like that, that's right up my alley so I'm excited and honored, that I got to help out with this and that they chose me. It's a cool thing and I'm excited.
RT : And as well you should be, it's a really good cause and it's not that expensive either to help out either it's like 25 bucks…
EB : Not at all. And getting awareness out is also a really important thing. We can all get together sometime and do a big thing for Carly and for all the kids. I think it'll be really good and cool to see something like that in the racing community. It'll be different.
RT : Paying it forward and looking good at the same time.
EB : Exactly with those cute little bags!
RT : It is and I like how they actually call it the Emma Blaney Bag. It's like wow!
EB : Wow, yes!
RT : Alright so more random stuff is going to happen right now…it's time for some Free Association! You know what that is, right?
EB : No.
RT : Oh my goodness, wow!
EB : I'm a rookie, I'm a rookie!
RT : Ok, I'll cut you some slack. No yellow tape or anything like that. Basically you best be ready for this cause you just have to tell me the first thing that comes to your mind with a word I'm going to give you or a phrase.
EB : Oh that's easy. Ok.
RT : Yea, that's what Free Association is, that's all. Here we go. Racing.
EB : Family.
RT : Oh my god, that's one of them, family.
EB : Aw! (laughs) Yee, failed it! (both chuckle) Oh do we need to switch it? I'm trying to think of a different thing. Let's come back to that one.
RT : We'll go back to that one, that's fine, that's fine. Favorite getaway place.
EB : Racetrack.
RT : School.
EB : (in an Oprah kind of way) Boring!
RT : Boring. Social media.
EB : Um…hm…gosh. (chuckles)
RT : Nervous laughter moment.
EB : I know cause I need to stop obsessing a little bit. I do have a little obsession with Twitter.
RT : Wanna go back to that one too?
EB : Let's do it again!
RT : Let's just start over. (both laugh) So it doesn't look like we went through three cuts.
EB : Oh gosh, ok. Yikes, ok!
RT : Racing.
EB : Cars.
RT : Better. Favorite getaway place.
EB : Racetrack.
RT : Cool. School.
EB : (Oprah voice again) Boring.
RT : (chuckles a bit) Social media.
EB : Twitter.
RT : Family.
EB : Racing! Oh! (both laugh) I like, I have, there is nothing else I can think of when I think about, other than weird. Racing is kind of weird. We're a different kind of family and it's a good thing. I just consider us a little weird.
RT : Shopping.
EB : Oh, my life! Shopping is my life. (chuckles)
RT : Oh boy.
EB : It is, I know! I'm a shoe freak. So that's a problem. Shoes. I love shoes.
RT : Favorite saying or expression.
EB : Crap.
RT : Oh is that it?
EB : Nope, that's not it. OK, well my dad, you know how people say 10-4?
RT : Yea.
EB : Well my dad says 10-40 all the time.
RT : Really?
EB : Yea, I don't know why but for some reason, I find it really funny. Like if I get it in a text message, and I'll say, "Hey Dad, good luck," and he'll be like "10-40." And I don't know why but he says it on the radio too and Ryan says it now too so 10-40 is a Blaney expression for sure.
RT : I like that, that's pretty cool.
EB : Yea, it's different! (laughs)
RT : That's something that fans will probably be paying attention on the scanners if they listen to it on the racetrack or on NASCAR.com. And just as I say that, it sounded like I was at the racetrack but I'm really just in my apartment so…
EB : Yea, one day, one day.
RT : I'm planning on it actually, I'm planning to go to Richmond and New Hampshire this year.
EB : Yea, Richmond would be fun. The Richmond that's coming up here in a few weeks is a big weekend for everyone here so it's going to be scary but no worries.
RT : Oh yea, cause that's the Denny Hamlin race, right?
EB : Yea, they do the K&N race on Thursday and then right after that will be the Denny Hamlin race and then Friday they'll do the Nationwide race which is Ryan's debut. And then Saturday, it'll be dad's so that whole weekend is going to be a little crazy.
Cale told me last night that, he'll race the K&N race with Ryan on Thursday, and he said, he asked if he could stay the rest of the weekend with us and I said well yea, and he said, "Well I'm not going to hang out with you on Friday," and I said, "Why not? That's Ryan's Nationwide debut."
And he said, "I think we need to have to contain you in a little glass box in the pits, somewhere on pit road so people can laugh at you while you're in your box. But nobody needs to be around you cause you'll be so nervous," and I do get a little nervous.
And especially for a Nationwide race, I'm going to be a little nervous. He thinks it's going to be funny how I'm going to act so he doesn't even want to hang out with me and told me that I need to be in a little glass box. And so, I'm not sure how I feel about that yet but I just don't get it.
RT : I don't get it either.
EB : Exactly! Why wouldn't you want to hang out with me? Jeez!
RT : I wanna hang out with you right now!
EB : (chuckles) Yea I don't know, he's just afraid that I'm going to be real nervous so he just told me that I need to be in my own little glass box. So I'm like, OK, thank you. I'll do that. I'll have NASCAR get right on that. I'll ask them if I can borrow a glass box.
RT : Or better yet, you can be in the commentator's booth with AB or Marty Reid, whoever's doing the race.
EB : Yikes, I would be very annoying!
RT : Not as bad as the current situation we have right on TV. OK, this one you're going to like. Being awesome means…
EB : Being me.
RT : I knew you were going to say that! (both laugh) I designed that question just for you!
EB : Oh, thanks!
RT : No problem, that's why I'm here.
EB : I, (laughs), I hope people understand that I'm very very sarcastic and people don't think that I'm…
RT : Some vain person?
EB : (laughs) Oh gosh…
RT : No, it's cool! I'm the same way too!
EB : Yea, you just have to have fun, you can't be too serious.
RT : Right, cause if you are, you're going to be an old fart.
EB : Yea, exactly, and you'd not be fun to hang out with.
RT : Exactly, same thing with people with me, if people took me at face value all the time, they're going to be really scared. I just tell them, lighten up. For real! For realios! Actually, this is one of my personal questions that I'm going to ask you but tell me the truth, do you love picking on your little brother?
EB : Well yea, it's like a job of mine kinda. And I'm very very offended by this because a lot of people at the racetrack think that I'm Ryan's girlfriend.
RT : What?!?
EB : Yea, that really offends me because not only am I bigger than him, but I'm three years older than him. And people can't see that that. I think me and my brother look really alike and I do hang around him a lot because especially during these little pit parties and during the times it's a little more quiet at the racetrack, I do hang out with him a lot.
It's because I don't want little girls around him. I don't want him to be interacting with any women, it's race time, not girl time. So I just make sure of that. During the pit parties, I usually stand out there with Ryan and kind of help him with the hero cards and half the time I'm passing out NOS anyways.
I hear little girls, not little girls but I hear girls say, that must be his girlfriend, we probably shouldn't go over there. And I don't say I'm not, I just, you know, go with the flow and Ryan told me that this year I need to make a shirt that says sister on the back of it so people won't feel like I'm the girlfriend. I would never do that cause…if people want to think I'm the girlfriend, I'm fine with that. No girls during race time.
RT : I like that. Race time, not girl time.
EB : Yea exactly. He can have girl time maybe some other time. Maybe. At the racetrack, I'm good at keeping him focused. That's what I like to be good at. Keeping him focused.
RT : I like that.
EB : (chuckles) He doesn't like it so much but one day he'll thank me.
RT : (laughs) It'll be like that Chef Boyardee commercial, he'll realize and go, "One day, all the kids in the world will thank-a me."
EB : Exactly.
RT : Wow. Now I know why my sister was huge on protecting me growing up…
EB : Yea, I mean and you're not trying to be mean, but you just really don't want these, I don't know, I don't want him to get off-track. He's there to do a job, (chuckles), and I make sure he does it.
RT : Otherwise, those muskrats will take him away.
EB : Yea and I get a lot of crap from people at the racetrack who know that I'm the sister. They always call me...what do they call it? Cock blocking or something? There are people who say I do that. And I'm like, well, I know, yes, I might do that a little bit but I get called out for it a lot but I'm not ashamed.
RT : No, don't be, you're just doing what you gotta do.
EB : Exactly, I'm just trying to look out for him, jeez.
RT : It's like, if I didn't care about him, whatever…
EB : Exactly, who knows what he'd be doing these days?
RT : I don't know, he'd probably be playing Dance Dance Revolution.
EB : Yea, he probably wouldn't be racing if it wasn't for me. That's how I like to look at it. If I hadn't quit quarter midgets, I'm sure I'd be the one in Ryan's shoes right now, racing Nationwide, I'm sure that'd be me.
RT : Not Danicamania, it'd be Emmamania.
EB : Yea, so not too worried about it.
RT : Cause if ever, that happens, you're going to have to do a crash course of racing again at the old age of 26…
EB : Oh god…(chuckles) I would never ever want that. I would harm a lot of people if I ever step inside a racecar again so I'm just going to remove myself from that situation at all times.
RT : Even hypothetical ones?
EB : Yes! (laughs) Even the ones in my dreams, I remove myself.
RT : I was gonna ask you like, what kind of racer were you?
EB : (laughs) I don't know! I drove quarter midgets which they're like USAC midgets but they're very tiny and I mean, I had fun. I wasn't doing it for anything serious and I knew that after quarter midgets, I wouldn't do it anymore. I played sports my whole life so racing was just something really fun.
We got to travel a lot this one year, me and Ryan. It was just fun, I had a lot of fun. I was more into the social thing, going away each weekend and seeing my friends but I mean yea, there are a couple of times where I kind of wrecked myself a little bit but I won some too.
I have big trophies that are from big wins and I made the A-Main.
Every year, they have this called The Grand and everyone in the country goes and races. I made the A-Main in one of my classes and it's pretty legit. But then I got pretty tall and got kicked out of it. It was fun. I had a lot of fun.
RT : They were like, OK you won enough. Let's just let someone else do it again.
EB : Yea right! Well actually, dad let me drive a Bandolero like three times and I did awful in every one of them so I just said, I'm not doing this anymore.
After quarter midgets, I'm done so I retired myself but I still have my firesuit and stuff so if anyone ever needs anything, they can call me right up.
RT : I am down for a race, actually, when I visit North Carolina.
EB : I can't guarantee you that I'll fit into anything that I used to race but we can try. I'm willing to try.
RT : I don't even have a racing uniform, I'm just a fan and a writer so it doesn't matter.
EB : You know, I have two of them so you can borrow one of mine.
RT : (slyly) Does it have ponies and pink hearts on it?
EB : Oh no, oh no, mine were legit. Me and Ryan matched and we were just too cool for school back in our quarter midget days. I'll send you a hilarious pictures during our quarter midget days. Ryan was so small and I was so tall, and it's so funny.
RT : And it's still this way to this day?
EB : Actually, Ryan passed me a couple of months ago in height and I don't know how and I don't really like it. But he did. We have a little sister too, she's 15, she'll be short. She's like a dad. My dad's pretty short and my little sister will be the short one of the family so I do feel kinda bad for her. We obviously got Uncle Dale's genes, maybe.
RT : Probably, I would say so.
EB : I would say so.
RT : Just a few more questions, kind of off-beat but I guess it's almost finals time for you in school over there?
EB : I have three more weeks , yea.
RT : Any chance you need a review buddy for this time of the year with school? Like me?
EB : Oh my gosh. If anyone knows anything about economics, that would be lovely. I've been in economics for like 13 weeks now maybe and I still have no idea what's going on. (laughs) It is difficult and I need help on that one but we'll just see how it goes. My brother's doing high school economics right now and I try to ask him for help but he's kind of in the same boat as me. We just kind of look at each other and go, I guess we'll both call it a day.
RT : You kinda do this Blue's Clues voice like, "Bawr?"
EB : Yep, exactly, that's how I feel everyday in class so…it's awful.
RT : Great, now I feel like I have to put up a tweet where I say, The Blaneys need help with economics! Are you willing to help out either one? Please let us know.
EB : Yep, both of us are a lost cause right now for economics. (laughs)
RT : But everything else is good, right?
EB : Yea, you know, I do like school, I just, I'm ready for it to be done. I'm at the point in my life where if I could not go to class every day, that would just give me so much more time to do activities and all this other fun stuff, I don't dread school. I'm just kind of ready for it to be over so I can move on. I feel like I've been in school forever and I have been, I feel like I actually have.
RT : I know that feeling all too well, cause I was in school for 23 years. It's weird. It's like, you wake up, and you're like, OK, what do I have to do next?
EB : Now what?
RT : It's gonna shock you a little.
EB : Yea, I'm sure but whenever that time wants to come around, I'm ready for it.
RT : You're ready to retire.
EB : Yea, I'm ready to retire from school, that's for sure.
RT : Might as well get your AARP too.
EB : Yea.
RT : And pretty much be like Mark Martin and decide, oh wait, I'm going to come back and go to school and get my graduate's degree!
EB : Yea right! When I'm done, I'm done. I'm not going back.
RT : I should have mentioned this way earlier but you mentioned about your grandfather's race, The Lou Blaney Memorial, right?
EB : My grandpa was a really good modified driver up in the North, like in Ohio/Pennsylvania. Three years ago, he died and it was really kind of sudden. My dad owns a racetrack in Ohio, Sharon Speedway, and it's Sharon, PA, right near the OH/PA border, and every summer, we do a race on either Tuesday or Wednesday night and it's usually my dad, my uncle, Kasey Kahne and Tony Stewart all come and they race.
My grandpa died from Alzheimer' s so we kind of do a walk for that. We help raise awareness for that disease and a lot of good guys come out and race. I think Brad Sweet and came out and raced last year. It's a really fun night, it's a good night of racing and it's really good to remember my grandpa.
A lot of people up there were really close to my grandpa and it's such a good night to honor him and it's a fun race. I mean, all these people come out for grandpa and this year, I know Ryan is begging dad to get in a sprint car and race and I don't think dad's too keen on it yet. I know Ryan really wants to race and Cale really wants to race it. We're trying to find Cale a little ride and it'll be a fun night.
The first year was really hard. He had just died six months ago and we were getting used to the fact that he wasn't there. That was my grandpa's racetrack too, you know. He was there every day and that's where my dad and my uncle started racing.
The track means a lot to our family and it's a good thing to honor him and a lot of people bring stuff about him, bring cards, bring stories and pictures. It's a good night. It's happening July 10th on Tuesday, sometime in the summer, so it'll be really fun. A lot of people come out to this race so it's a good time.
RT : It should be and I'm really sorry about the passing of your grandfather. That's really tough.
EB : Oh, it's all good. It's good that we do this once a year. I think this is what he would've really liked to see, everyone coming together and racing. One year, Tony Stewart, he won the first year, he donated all the money he won that night to the Alzheimer's Association so it's a really good night. It makes everyone at ease, and it's a cool night to experience, especially for my grandpa and my dad's dad.
My grandma is always there. My grandma works at Sharon Speedway and she's the head person up there so she gets real involved. It's a cool thing. My grandma doesn't watch the races. She doesn't' like it when dad and Dale are in the same race. She doesn't watch but she'll get her results afterwards.
RT : It's hard situation because it's like you, who would you choose, Cale or Ryan, if they're in the lead on the last lap in the same race?
EB : (laughs) Oh we discuss this a LOT!
RT : Really?
EB : Yea, Cale always says, Emma, what if I accidentally crashed and got a flat tire and I accidentally crashed your brother while he was in the lead? Would you be mad? And I said, absolutely! (laughs) I'd not talk to you the whole time! So he knows. It's hard.
Cale's family, he has a huge family. He has a big Italian family pretty much and tons of people come to his race. You'll see them in the stands, just tons and tons of people.
Tons of cousins, aunts and uncles, and they ask, how do you watch your brother and Cale race at the same time? I don't know.
I never watch the first lap of anything. I always shut my eyes. The first lap of either the race or a restart, I always shut my eyes so that helps a little bit.
And then if I open them – like one time, I opened them and Ryan had crashed. And I said, I crap. I shouldn't have kept them open.
Yea, I shut my eyes. That helps every first lap.
They know what they're doing. I used to think that Ryan and Cale didn't know what they were doing back in the day but they know what they're doing now.
They've done it for long enough that I trust them and they don't make me as nervous as they used to.
RT : Cause if they did, they're gonna get a black eye after the race, not from a crash they had…
EB : Yea, like, I would just not want to hang out with me if…when they race together. I get very nervous. I don't know. Sometimes, it can be pretty calm and other times you get so antsy. I can't sit for more than 10 minutes at a time so I walk around a lot. Like at Bristol, I made my laps around Bristol one or two times just to help put me at ease.
Ryan won that race out in Phoenix and I remember the last 50 laps, I was up and down pit road. I wasn't sitting still. I was up and down pit road and I bet people were like, what was she doing?
I could not just sit still so…oh, it's nerve wracking, but it's fun. I still wouldn't change it.
RT : And that's why they pay you the big bucks to be awesome!
EB : (chuckles) I wish!
RT : They do!
EB : If only it were that easy!
RT : They do, it's going to be credited to your account like in two days. Just give it some time. Basically, cause you're just so cool like that.
EB : Yea, I mean, totally! (laughs)
RT : Well for the fans at home who want to interact with you like I have, like on social media networks, like how can they reach out to you?
EB : I have a personal Facebook and I add everyone cause I like talking to everyone. I don't know how you search on Facebook, just search me. And I'm on there. If anyone tries to talk to me, I love talking.
Even if it's about the silliest things, I love talking. And I have a Twitter. It's that little, whatever that at sign thing is or whatever, @EmmaBlaney, and I'm on there all the time, constantly actually.
And I do Ryan's fan page on Facebook (Ryan Blaney Racing) so make sure everyone is a fan of that because it's pretty obvious that the older sister does it because I always make myself known. On the pictures, I'll be like "This is Ryan and his really cool sister Emma who is the best at everything." It's pretty obvious that I do that. Cale has a fan page too and his is Cale Conley Racing.
Dad has a Twitter and everyone needs to go follow (BuckeyeBullet10) and tweet at him and tell him that I deserve a puppy or something and that I need one. But yea, I mean, whenever people follow me, I always try to make sure I get Cale, Ryan, dad, and Uncle Dale's names out there and give everyone results.
I don't know, that's what I feel like my job is now. Keeping up with everyone is kind of my job. So I hope everyone starts following those guys. They are really cool. Dad and Uncle Dale are two of the funniest people you'll ever meet and Ryan and Cale are pretty cool, I guess.
They're all working hard and I'm behind them, whatever they do the next few years, we'll just see how things go.
RT : And I'm sure it's going to be awesome, they're all legit great drivers.
EB : And they're all a little bit different. You get a little bit different with dad, you get a little bit something else from Uncle Dale but then Ryan and Cale are kind of different, but then Ryan and my dad are a little different. But you see similarities with all of them and if they all sat down and talked about things, it's just really cool to see them all interact with each other.
Cale and my uncle raced together for so long in sprint cars and then dad started in sprint cars. And now Cale and Ryan are racing together in K&N, you know. It's all funny how it works but I'm glad it all worked and I'm proud of all of them. And I'm excited to see what the rest of the year holds.
Author's Notes: I'd like to shout out and say thanks to Emma for allowing me to interview her, as well as the men in her life, like her brother Ryan, her boyfriend Cale, her father Dave, and her uncle Dale for being good sports! Pictures were provided by Emma personally so again I'd like to thank her for that. And yes, we DO have a race together.
Also, this interview piece is dedicated to my parents Virgil and Beth Tiongson, who are the best parents ever and they're celebrating their 32nd anniversary together! I love you guys.