Cortney Dryden's racing story has been one where dreams have absolutely come true. Now, she's got another passion that she's realized and brought to fruition with CortInSession.com!
Beautiful, charming, ambitious, and personable, Cortney Dryden is a girl with many talents and passions. Like an ambidextrous racer who's got the skills to get around ovals just as well as the winding road courses, Dryden channels her trades with much vigor towards racing, designing, and blogging. Currently working as RAB Racing's Travel Coordinator, one of the top NASCAR Nationwide Series teams, she diligently works away, as she'd put it, "if it doesn't involve touching the car, I do a little of it." Mainly working on web design and press releases, she does it all to get the team's information out for the presses and fans to read leading up to race day.
Having worked her way into racing over the past several years, her love for racing all started at age 13 and like most of us, it all stemmed from a race she got to attend. From that one moment watching an ASA race with her father, she realized that it was her calling. She's certainly made a name for herself in this competitive sport, establishing herself in the stock car world as not only a hardy, dedicated talent for RAB Racing, but also one of the most congenial and interactive personalities of the NASCAR industry on the social media front with the fans and her colleagues.
Always one to engage in conversations with the most enthusiastic crowds around, Dryden is a strong example of how racing is a personable, relatable sport for the masses. She understands the intricacies of this sport, taking on a universal perspective when it comes to the operations for a team as well as how the fans perceive the news on the circuit for those fans in the grandstands.
Additionally, she's applied her skills from outside the track with web and graphic designing to racing, and as you'll read in this piece, there's quite the unique story when it comes to how both intertwined with one another.
Like yours truly, when she's not working at her daytime job, she runs a very comprehensive (and amazing) blog called "Cort In Session," where she showcases some of the latest fashion trends and displays them to her readers through detailed text and stunning visuals. Similar to how I started TPF, the concept behind her blog all formed from just placing those two worlds in her life together.
I'll say this much - even as a sports and writing guy, when Dryden informed me of her blog, I've become a regular reader and visitor of it to see exactly what's chic and share it with those in my life who fancy the latest accessories and not to mention, it's not a bad idea to share what's the hottest in looks for the wonderful ladies in our lives!
I've had the pleasure of knowing Dryden as a colleague and a good friend since 2011, sharing ideas and sharing our common passion for racing, starting from my last months in the Philippines to now being up the East Coast in the autumn cold settings of Boston. Needless to say, it's always an privilege to catch up with her and share to you, the race fans here on The Podium Finish, of her latest ventures. So without further ado, let's get "In Session with Cortney Dryden, RAB Racing Travel Coordinator" right here, right now on TPF!
Rob Tiongson : We've known each other for the past two or so years and you've really made a name for yourself in NASCAR racing. But for the fans here on TPF who may be getting to know you, tell all of us about yourself, how you got into racing, and what you do right now.
Cortney Dryden : I'm the only child, which means I shop with my mom and watch sports with my dad. He brought me to every sort of sporting event as a kid, but low-and-behold, it clicked for me when I was 13 at an ASA race and I knew this is what I wanted to do for a living. For the past two years, I have worked for NASCAR Nationwide Series team RAB Racing as Travel Coordinator first and catch-all second. From web design and maintenance to press releases to payroll to secretarial duties, if it doesn't involve touching the car, I do a little of it.
RT : Having the unique perspective that you do with working with a racing team on the NASCAR circuit, how greatly does it differ from being a fan on the social media platforms or from the living room?
CD : The toughest thing for fans to understand is that a race team isn't a charity. To stay in business, they have to make unpopular decisions sometimes. There is much more to a team than just the driver.
RT : Who would you say has taught you a lot about what you know about racing and has been supportive of you in your racing endeavors?
CD : My dad has been my biggest cheerleader from Day 1, but learning the intricacies of the sport can only come through experience and trial and error. I learn something new about racing every day.
RT : In addition to your passion with motorsports, you maintain a fashion blog and have a particular interest in this field. Tell us about your blog and how this passion developed.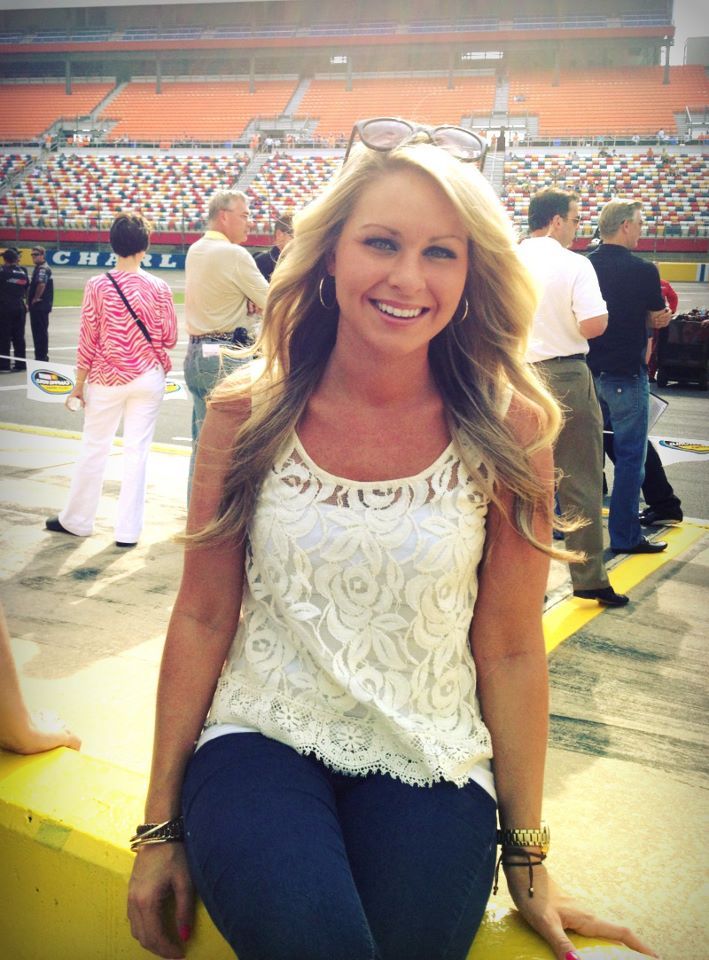 CD : Not only do I work for a race team, but I am the only female on the team. Additionally, my spare time is typically spent taking in the local racing at small tracks in the area.
Not quite the ideal locale for heels and dresses. I hated seeing my closet full of nice clothes sit unworn.
And the web developer in me was yearning to design something girly… I'm talking chevron, sparkles, leopard-print, the whole nine! It terrified me to put my style, thoughts, and suggestions out on the web but, as Sylvia Plath said, "the worst enemy to creativity is self-doubt".
Thus began CortInSession.com, my fashion and lifestyle blog.
RT : It may sound like a stretch to some, but to me, I can see the parallels with racing and fashion. Is it fun to get both to intertwine when you're behind the camera or the model posing in the shoots with your friends and colleagues?
CD : Well for my blog, they are definitely intertwined. The blog's photographer has done racing photography for years. I don't go to the track too often but I'd like to incorporate track looks the way Jordan Fish and Sam Busch do. Almost half of NASCAR fans are women! Additionally, the more I get to experiment on my own website, the more I learn to benefit my company's website and each of my clients'.
RT : Now with your blog and shoots, do you envision well ahead of time where you have an idea of the outfits, the themes, and settings for it all or does it happen on the fly sometimes?
CD : My style tends to lean towards the more urban chic. Unfortunately, you wouldn't categorize Lake Norman as "urban chic", so I have to get creative. I have tons of idea, but time and settings are limited. Hopefully, as it continues to grow, I can set aside more time to really experiment.
RT : Do you draw inspiration for your works from a particular stylist or figure from the fashion and photography field?
CD : I follow trends and various bloggers, but I hope that my style emerges as an outward expression of an inward uniqueness. What other way for it to be distinguishable amongst the vast sea of fashion blogs?
RT : Running a blog can be quite the undertaking and with it, you have to find ways to keep it fresh, original, and unique for your audience of all types. What are some of the ways that you have Cort in Session as one of the sleeker and polished fashion sites around?
CD : I'm lucky that I have a graphic and web designing background. I run the company Design Accelerated, which is more geared toward the automotive industry, but I have learned so much from it. CortInSession.com is a work in progress, but I didn't have to overcome the technological learning curve that so many bloggers face.
RT : I guess I shall ask you this, my friend. Which could you talk endlessly more about to anyone: racing or fashion?
CD : Racing. I am passionate about my blog and would love to see it do well, but at this time, it is more of an outlet than a career.
RT : We've both had our shares of successes and struggles and I can surely say that Cortney Dryden has been super successful in her career. Did you ever envision that you'd find the success that you've earned and worked hard for at a young age?
CD : I am extremely fortunate that I have had the opportunity to try as many things as I have. Moving here two years ago, I never would have expected it. Helping to emcee the Speed Stage at Charlotte Motor Speedway, doing on-camera work with Rowdy.com and 3 Wide Life, designing websites for NASCAR Sprint Cup Series teams, having my number design grace Kenny Wallace and Alex Bowman's cars, designing Ricky Stenhouse and Dave Blaney's hero cards… this sport has provided me with wonderful opportunities which I hope one day I can extend to someone trying to get their foot in the door.
Author's Notes : I'd like to personally thank my good friend Cortney Dryden for taking the time with me to make this interview possible. She's quite the sensation in motorsports and personally, I can say how amazing she is as an asset to this sport and also as tremendous colleague to have on your side. All the photos are furnished by Cortney and if you'd like to learn more about her, "Follow" her on Twitter and "Visit" her website, Cort In Session! Definitely well worth it, friends! Thanks again, Cortney!