When we first met 18-year-old Haley Moody of Kinston, NC, she was a wide-eyed Charger racer. Well, now she's a winner with a passion for an amazing NASCAR future - read all about it on TPF!
Racing is a lot like life where one can experience the highs and lows that can often make the journey truly worthwhile and rewarding. When the trophies and checkered flags are collected by the plenty, it can sometimes make those experiences seem too routine. During times of struggles, it might leave one feeling and thinking, "When am I going to catch that break?"
For 18-year-old Haley Moody, she certainly went through the peaks and valleys of NASCAR racing, reveling in her successes with her family, friends, team, and fans, while coping with the loss of her father Jerry's passing last month, a guiding light and inspiration to her with life on and off-the-track.
It'd be understandable if she wanted racing to stop for a while to compose, breathe, and collect her thoughts. Instead, this congenial girl was simply on a mission to keep racing hard, to keep making sure her world was still spinning around. When we first met Moody back in early August, we met a girl whose passion for racing stemmed from her father's love of this exciting sport with a bit of timidness. Clearly appreciative of her family's roots with the sport as well as with racing, she was more than a racer who spoke the talk - she absolutely put the pedal to the medal with it, too!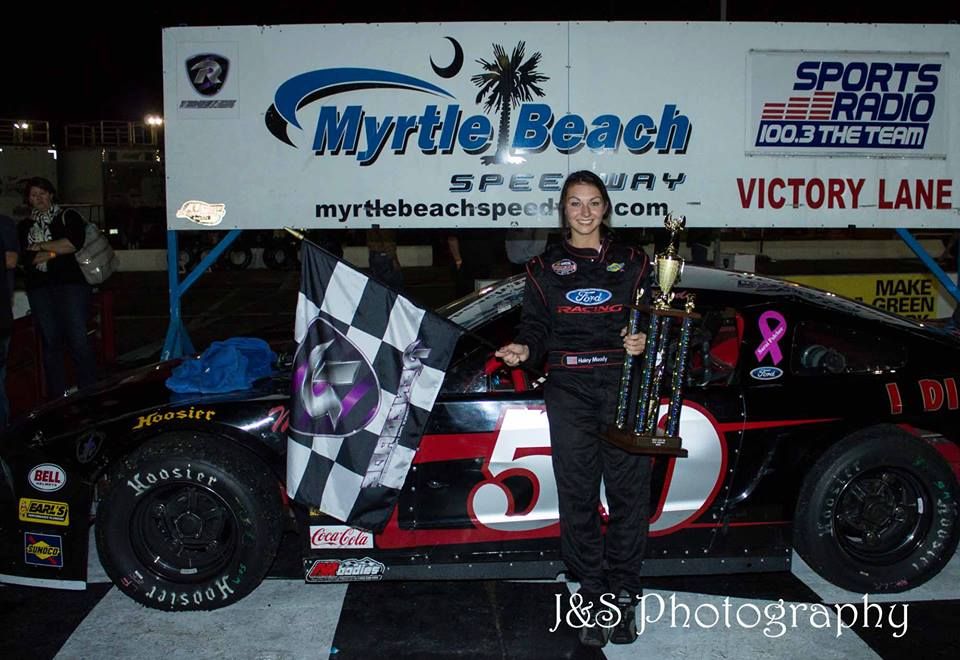 Carrying on the family tradition with her winning ways, she made her father, family, team, and those all around very proud when she would go on to place second in the track championship standings with the Chargers at Southern National Motorsports Park, collecting wins along the way. She would go on to get another checkered flag at Myrtle Beach Speedway last month, which would truly be a fitting way to cap off one exciting but eventful year.
Like some of us, she's about ready to get the offseason over with to go racing in 2014. Normally, my stories are pursued and interviews are generally arranged from writer to the individual who'll be featured. This time, it's safe to say that we both wanted to do a follow up immediately, and who wouldn't want to catch up with one of racing's hottest young talents? A good friend of ours at TPF and certainly a future talent in NASCAR who may be hoisting Sprint Cup race and series trophies, I got to talk about this past season and the PRI expo at Indianapolis. As you read on with our follow-up, I've learned that I probably got some competition if I ever challenged my buddy to a race.
Most of all, there's a sense of confidence with Moody, perhaps more so than when we first met in August. It might be due to us having more rapport but in this case, I think she's truly growing more comfortable with who she is as a person, a racer, and overall, with where her life's heading on and off-the-track. As Jeff Gordon once said, "There's nothing like confidence and believing in our minds. We can go to every race track and be a factor." Certainly with this year and with 2014, that is exactly what Moody and her team are all about - being a factor for wins and the championship.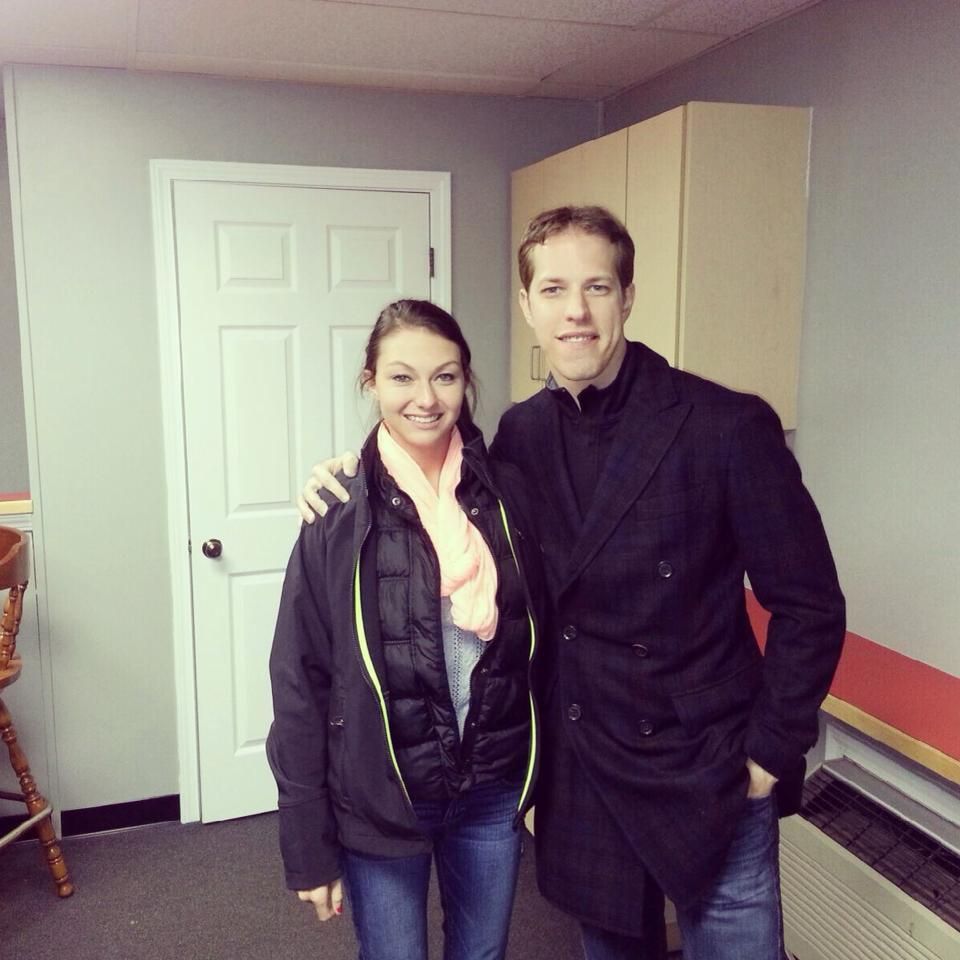 For now, it's about being proud of the achievements this year, and also with coping with a moment in life that none of us could ever imagine. It's about growing up sooner than later, but also remembering to smile (including with 2012 Cup champ Brad Keselowski), have fun, and most of all, as we say in racing, to keep on diggin'.
Always showing that radiant and beautiful smile, it's safe to say it's one of the more heartwarming pieces we've had here.
Ladies and gentlemen, it's my honor to present our latest interview, "In the Driver's Seat (Again) with Haley Moody, NASCAR Late Model Racer," right here, right now on TPF. Enjoy it, sit back, and get to know more about my amazing fast friend!
Rob Tiongson : Welcome back to TPF, Haley! I'm happy we could do another interview together. Wanna take us through what you've been up to since the summer interview we did?
Haley Moody : Well, we finished up the year finishing second in points at Southern National Motorsports Park, won the Southeast Limited race at Myrtle Beach as the first girl to ever sit on the pole and win a race there so I could say my year was successful.
RT : That had to be something and to finish second in points at that track is something to be tremendously proud about for sure. Would you say it exceeded your expectations and did you have inspiration?
HM : My biggest inspiration was my dad who recently passed away. He always wanted me to do my best and I believe I gave it my all and especially to win that last race with him there with me really makes me want to go even further. I know if he was here that's what he would want me to do.
RT : I'm sorry about your loss, my friend. It was heartbreaking to learn about it and I can't imagine how difficult it is, but you've been strong and I'm sure he'd be so proud of how you have held together. Is it safe to say that he's been an inspiration to you as a person and a racer?
HM : Oh by far yes, my biggest! He's always wanted me to do my best and that's what I plan on doing.
RT : When you won during the Myrtle Beach weekend, as a racer, how was it like to stand there in victory lane at one of the most premier short tracks in the world?
HM : It was the best feeling, having everyone there with me, family, friends, and my team. Everyone worked hard for me to get there and that win was for my dad!
RT : What's one of the few things that he taught you as a person, as a driver, and just with life in general that you'll carry forever?
HM : There are so many. One is always believe in yourself. And before every race, he'd always say, "Go get em,' you got this!"
RT : I like those and you certainly did both of those in 2013. You turned a lot of heads in racing and truly exhibited confidence and results on the track. 2014 is dawning upon us - how do you top your successful season this year with the upcoming season?
HM : Well, hopefully someone will come along board with us this season and help me. Race and get some more wins! I think we can be very successful.
RT : I'm sure of that as you raced against a lot of the top upcoming NASCAR talents at SNMP, and I'm very proud of how you did too! Speaking of which, I understand you went to PRI. Tell us about your experience there and did you make any new connections there at Indy?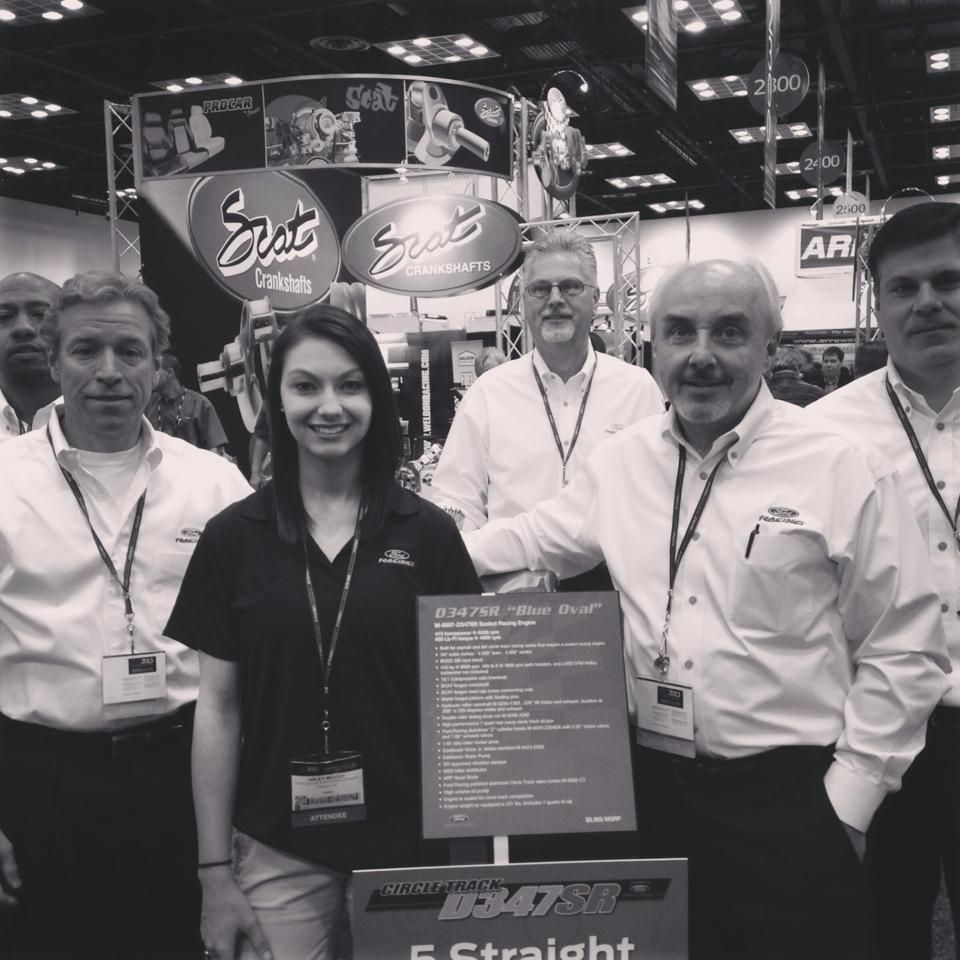 HM : Indy was awesome. Mike Delahanty from Ford invited me to join him there and he has done so much for me. I met a ton of people that I think could help us so going to PRI helped me get my name out there. It was a great experience!
RT : That's awesome and would you say it truly made you go, I really want to keep my racing dreams going on? And as a racer, how neat was it to see some of the folks in the Motorsports world in one place?
HM : It did. There were so many people there that I've never heard of and it was cool to learn about new stuff and people.
RT : I feel like, since we first met, I can sense so much more confidence from you. And that's awesome considering how successful and driven you were when we met. Have you been yearning to get back on the track? Or do you welcome the change in pace with the offseason?
HM : Yes, I hate the offseason but I look at it as a time to improve and get ready for next season!
RT : True and I think you speak for all of us who are anxiously awaiting for the action back at the tracks. How have you kept focused for the upcoming year? Do you do any simulation racing on a computer or console?
HM : Actually I don't but I've thought about getting iRacing.
RT : Ever tried iRacing before? And normally, how do you get ready for the upcoming year during an offseason?
HM : I've tried it one time and usually, I just get mentally focused and think about what I need to do to make sure I race and how I can get better as a driver.
RT : Would you say that, when it comes to your racing, are you tough on yourself?
HM : Very. I'm tough on myself because I want to be the best I can, and it makes me have that desire to win.
RT : And certainly you had those winning moments! Now that you've had those moments, is it now an addicting feeling?
HM : Yes! It's the best feeling. Especially being a girl in a male dominant sport, beating all the guys!
RT : You've made folks see how amazing you are as a racer and as a winner too! Has all these successes changed you or would you say you're the same, just more relaxing to know how amazing success is?
HM : I want to be the same and not over my head! I want to go into every race thinking it's my first win, so I go after it.
RT : That's a great mindset because it can get easy for some to just get easily wrapped over the highs and lose humility. You haven't and that's a great facet to you as a person and driver. Do you also try to have those carefree, light hearted moments too?
HM : Sometimes! I try not to be so tense.
RT : Would you say that you have a fun side where say, during a caution, do you joke around?
HM : Yes we do. It makes it a lot better and feel closer with your team.
RT : What's one funny moment that you can recall at the track from this year?
HM : Well, one day at practice, my dad's stop watch wouldn't work and he was trying all day to fix it and all of a sudden he just slammed it down and said, "I'm tired of messing with this mess!!" (laughs)
RT : (laughter) Were you thinking, oh boy, dad, what now?
HM : My friend and I were like, "Maybe we should not talk to him for a while." He was not happy.
RT : Aw. Was he a little happier with how that race turned out?
HM : I actually think the race was rained out that night.
RT : I remember us talking a bit about rain during some of your races this year. Does it drive you nuts when you're at the track and all ready for some racing and then Mother Nature details those plans?
HM : Yes it does! We'll practice all day, qualify and then it rains! We had the pole during one race and it did that!
RT : That has to be a bummer considering the highs with winning in racing, whether a pole or race. When racing, do you drive each lap like it's a qualifying session or with a conservative approach?
HM : Depends how long the race is, like it can be 50 laps at Myrtle Beach, so you'll be very conservative. 35 laps at Southern National? That's different.
RT : True, cause each track and race presents their own challenges. Do you prefer the flat out, go get em' races or the longer ones that can be like a chess game?
HM : I like the long races if there isn't a ton of cautions. I like to race so it doesn't matter how long.
RT : Caution laden races probably have to drive you nuts though, especially if you're readying for that winning moment yea?
HM : Yes. During the Myrtle beach race, we had a caution with two laps to go and I was like, "REALLY?!"
RT : (chuckles) I bet you were hollering to your crew like, "C'mon, I'm so ready to finish this race," right?
HM : Exactly. We were all upset and nervous about what was going to happen but it ended in our favor.
RT : It sure did and when that winning moment happened, you bet up here in Boston, I was stoked for you! When you won, how overwhelming was it to see all the support from the press, your peers, and fans too?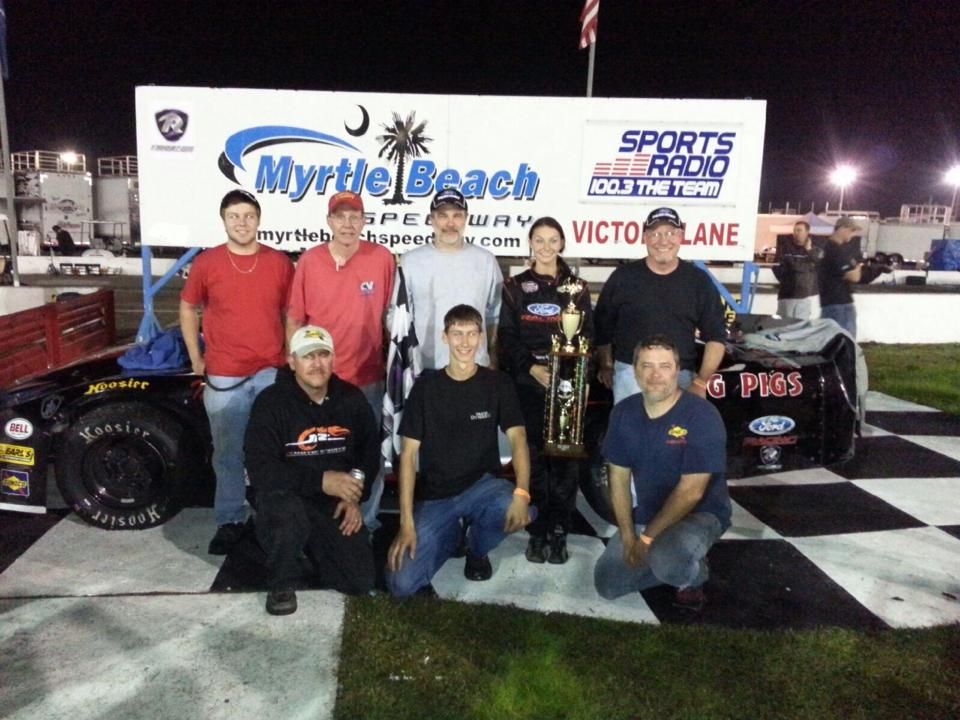 HM : It was awesome! So many people showed support for me and my dad. It was a very special moment I will never forget and it will always be my favorite win!
RT : Now when it comes to off the track, how has racing changed you as a person with family and friends?
HM : I mean we talk about it all the time. My friends are always like, "That's so cool you race!"
RT : That's gotta be neat, cause you get to share those experiences with them. Have you invited them to the track to show them your "office job?"
HM : I sure have. Most of the time it's their first experience at a race track so that's pretty neat.
RT : Speaking of which, and for some new fans, wanna take them through what a week in the life of a racer's like, from the moments at the shop and team to the checkered flag at a track?
HM : Well, we usually go up to Jamey Caudill's shop where we keep the car and get it ready for race day. He is one of the best and I'm glad that I have him to do mine.
RT : In terms of preparing the car, are you hands on with it and do you nickname your cars?
HM : I do what I can to help at the shop. And no, we don't nickname the cars! (laughs)
RT : I was gonna say, you oughta name one "Champ" or "Winner." What is one surprising thing about you that even some friends wouldn't know about you?
HM : I use to take dance when I was 5-years-old.
RT : Whoa, that's actually kinda cool! Did you do recitals and what kind of dancing did you take up before?
HM : Yes, I did recitals - mostly jazz and ballet.
RT : That's cool! Let's just say if you win a championship some day, might we see you bust a few moves in Victory Lane?
HM : Probably not! (laughs) Maybe the famous Carl Edwards backflip for me though.
RT : Now that would be a sight! You are sure full of surprises.
HM : I'll be working on it!
RT : (laughs) I'm sure you will. Let's take a moment and talk music a bit. What are some songs that's been stuck on your head from the radio or just in general as of late?
HM : Lots of country! Mostly Florida Georgia Line and Luke Bryan.
RT : Who are some of your influences in sports that you try to model yourself after?
HM : In racing, I'd have to say Danica Patrick because she has so many people bashing her and she has never given up and she doesn't care what people think. And also the late Jimmy Valvano, who had that famous speech, "Don't give up, don't ever give up."
RT : Both inspirational figures in sports - you sure know winners! Racing is a sport where some folks just don't understand exactly that - racing is a sport! When folks challenge that stance, does it sometimes irk you?
HM : Very much so, because I just want to tell them, "If you don't think it's a sport, get in the car and go 200 mph and then tell me it's not."
RT : If possible, want to invite Donovan McNabb to ride shotgun in your No. 50 Ford Mustang?
HM : I'll take him. (laughs) Better hold on!
RT : Oh girl, you got some sass! (much laughter)
HM : Thanks! (laughs)
RT : Alright, are you ready for another round of Free Association?
HM : Yep!
RT : Oh I love this, alright Haley....first thing that comes to your mind starting with the following. Drama.
HM : Girls.
RT : Hmmm...interesting word choice there. We'll get back to this one day. Hype.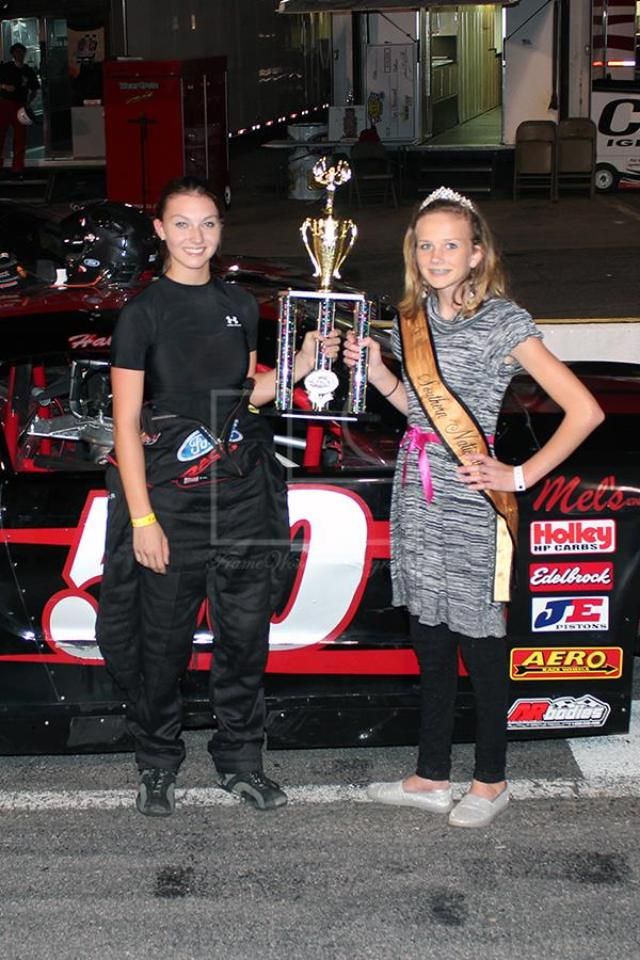 HM : Winning.
RT : Love it. Family.
HM : Love.
RT : Aw. I'm sure they love you so much! An actor who could probably play me in a movie is...
HM : Play you? Or me?
RT : Heck, for this question, let's see if you could choose one for us!
HM : Maybe as me...Sandra Bullock.
RT : That's a cool choice and you do resemble Sandra Bullock. She's got that charm about her. Does this mean I have to be Keanu Reeves?
HM : Reckon so! (laughs)
RT : (chuckles) Well I guess we need to make a movie then! We won't be corny like Speed or Lake House but continuing on with Word Association here, what comes to mind when you hear or see the word "faith?"
HM : The Lord Jesus Christ.
RT : Amen to that. Would you say that you've really turned to your faith a lot this year?
HM : Yes. I had to trust The Lord when my dad was sick that there was a reason for everything and trust Him.
RT : When it comes to 2014, what are your plans and goals?
HM : Well, we plan on running a full limited late model season at Southern National.
RT : It'd be neat to see you race next year! Now, if I were to challenge you in a go-kart race in NC, is it safe to say you'd race me no different than your peers at SNMP?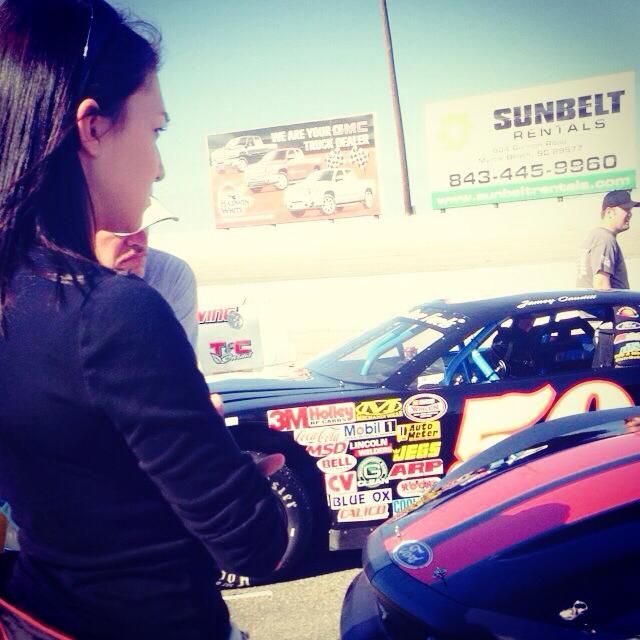 HM : That's right!! Go hard or go home! (laughs)
RT : Aw, bring it, Haley! I'm sure I could hold my own against you...I think!
HM : Oh, challenge accepted!
RT : Just a few more before we wrap up here...would you consider yourself a very superstitious person?
HM : Yes, I always say my prayer before I move that car - it's very important.
RT : If I may ask, what is your favorite prayer?
HM : Something like, "Dear Lord, thank you for everything you've done for me. Please keep me safe and everyone else. I love you and praise you. Amen."
RT : Now as we wrap things up, is there anything you wanna say to your fans, family, and friends?
HM : I want to say thanks to everyone for the support. It means so much! Please follow my Twitter account and go "Like" my Facebook page. Also, if you'd like to help with sponsoring my races, feel free to message me on Facebook or email me at Haleymoody20@gmail.com or call at 252-559-6649.
Author's Notes : I want to personally thank Haley for taking the time for me to interview her once more - she truly is an inspirational and amazing young racer that's got the makings to succeed in racing! Having to grow up faster than usual is hard but she's handling it with the heart and courage of a champion.
All the photos are courtesy of Haley Moody Racing and Haley Moody, with our main picture coming from our good friend Debbie Findley - and yes, Haley, we'll be racing and I'll be there too.
Also, this piece is dedicated to the late Jerry Moody and to everyone who's been a huge part of Haley's life. He was very instrumental in Haley's passion for racing and I am certain that somewhere in the blue heavens, he's smiling and very proud of his successful daughter.