16-year-old Hannah Newhouse recently wrapped up a great year of racing and looks back at her season and the road ahead with her promising career, here on TPF!
It often amazes me how our ambitions can become reality in life. Some of us may resign to our passions or wishes as simply just that - things that we can't make into truth. Then there are those like 16-year-old Hannah Newhouse who's set on making her dreams in racing to become her lifelong journey. For the past 11 years, this young stock car sensation has embarked on a quest to become "the next big thing" while remaining true to herself, a quality often lacking with today's superstar athletes.
When we first met this amazing talent back in late May, we learned she's a second generation racer hailing from Twin Falls, ID who's got her sights set on becoming the next NASCAR star. Her father John was the pioneer in the racing efforts and remains a constant steadfast figure of support with her racing ambitions. Also, we got to know how genuine, humble, and appreciative she was, and with a successful year wrapped up, has she changed since our first meeting?
Newhouse's resume may have grown with some winning moments, but the young gun herself remains as true as ever. Not a trace of an ego is with this incredible racer, as she recognizes her successes in life and with racing aren't all on her own. There's more of a sense of self-confidence since we first met her in May, and it shows with her responses and demeanor throughout the interview.
That comes with age, wisdom, and of course, with the person who wants to maximize their potential with growth and actualization.
Probably the only change with Newhouse is that her determination and passion for racing has grown even more in the past six months. Recently participating in NASCAR's Drive for Diversity combine, let's just say that she wants to make it even more and has a firm grasp and idea of how to make those goals and dreams into reality. Not to mention, she's not afraid to stand her ground, which is huge step forward for a young and very promising racer who's got the look and attitude of a champion.
I caught up with my beautiful, sweet, and competitive friend recently to catch up on how things have been since May. Needless to say, I'm pleased and excited to present my newest interview here on The Podium Finish and it's safe to say she's got a lot of great things to say.
Without further ado, I know you're all ready for this, so let's get it started. Let's get "In the Driver's Seat (Again) with Hannah Newhouse, ASA Pro Truck & RMCS Super Late Model Racer!"
Rob Tiongson: We first talked this past summer and you've had yourself quite the year, my friend. Take us back to the highlights of your season in 2013 and a few of your favorite moments.
Hannah Newhouse : I ran full time RMCS and ASA Pro Truck and that made for a super busy season with almost 22 starts total. I finished the year off taking home 2nd in the ASA Pro Trucks Championship, 4th and Rookie of the Year in RMCS. I also made my debut in the Spears SRL touring Division at Pikes Peak International Raceway which was my first mile track where I finished 11th! I was also re-invited to the Drive for Diversity combine this year which was a great honor again.
RT : Now, you recently participated in the NASCAR Drive for Diversity combine with some of the country's hottest and youngest racing talents. What was it like to battle some of the top drivers in the nation and what did you take away from the combine?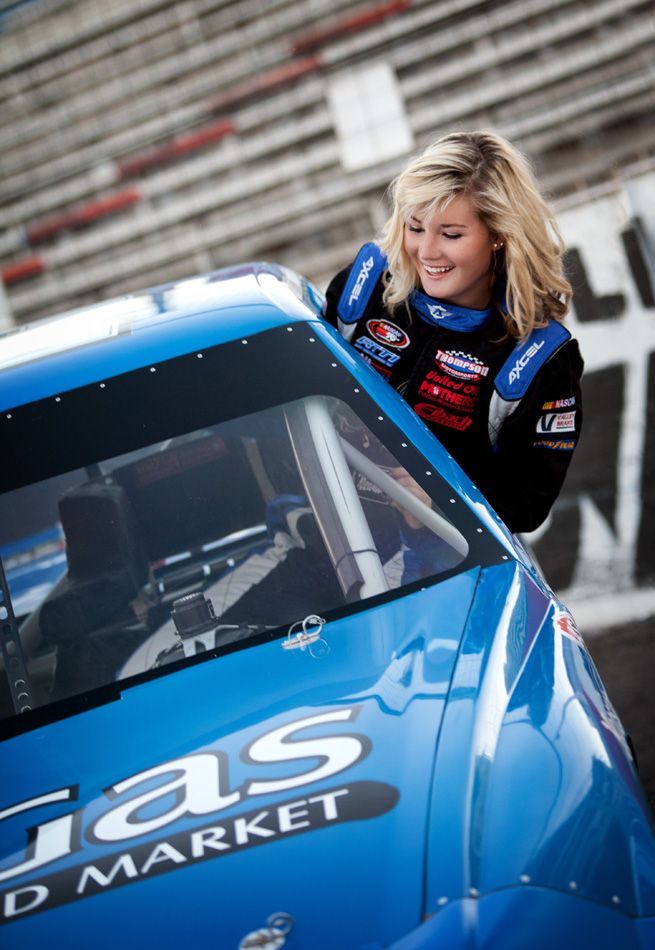 HN : There was a great field of talent at the combine this year and I'm sure the people making the final decisions have a tough situation on their hands!
It was a great experience as always to be surrounded by people close to your age that all share the same love and passion for racing! I grew close to a couple people and made a bunch more friends!
As far as taking away new skills. I learned that once again you have to be able to prove your skills on the track in a matter of 15-20 laps so there is no "warming up". It's go time right out of the gate.
RT : What would you say is different about you as a racer now as opposed to where you were back in May?
HN : I would say I am more confident in my abilities. People often get confidence and cockiness confused and when I state that I am now confident in my driving, I feel that I can hold my own on and off the track instead of crumble to other competitors. Instead of taking a while to wind up and get used to a new track/car, I am able to jump in and trust in my ability to maneuver a car and relay information back to my crew better than ever.
RT : How would you evaluate this season as yourself and as a racer? Would you say you were able to accomplish what you set for goals in 2013?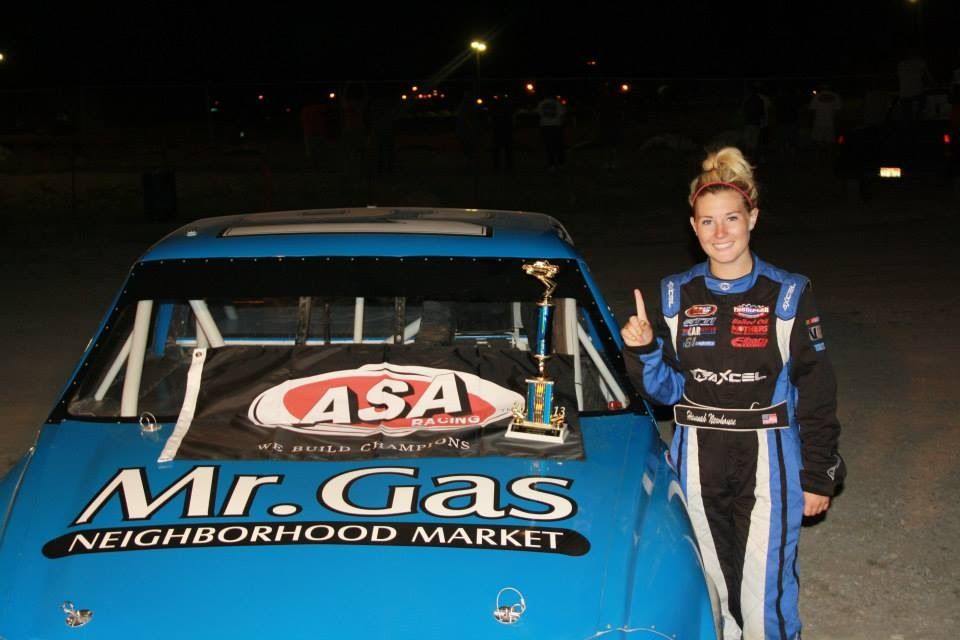 HN : I feel very accomplished in this year! Of course, I would have loved to take home the ASA Championship since we were so close but with the conflict of scheduling with the two series, it just wasn't a possibility. We accomplished the goal of ROY in RMCS and a top-five in points, but I would have really like to get some more wins throughout the season but overall, I feel like I gained a ton more seat time and experience!
RT : As we're now in the off-season, we redubbed it on Twiter as "planning for 2014." How are you prepping yourself for the year ahead? Do you test at certain tracks or race on your simulator to keep sharp before the new season arrives?
HN : I really like to be personally involved in my marketing and public relations and so I take it upon myself during the off season to contact potential sponsors, teams, series, etc. I love the personal connection between a driver and the people that are behind her and so I feel that I should really be a part of that and the off season comes in handy with that tactic when trying to make the next years plans.
IRacing is my best friend during the off season! Not only is it really fun, but it has the potential to keep your abilities sharp! I'm also looking at trying out some dirt go-karts for the off-season to stay in a seat over the winter!
RT : If there's one song on your iPod that best describes you as a person and racer, what would it be and why?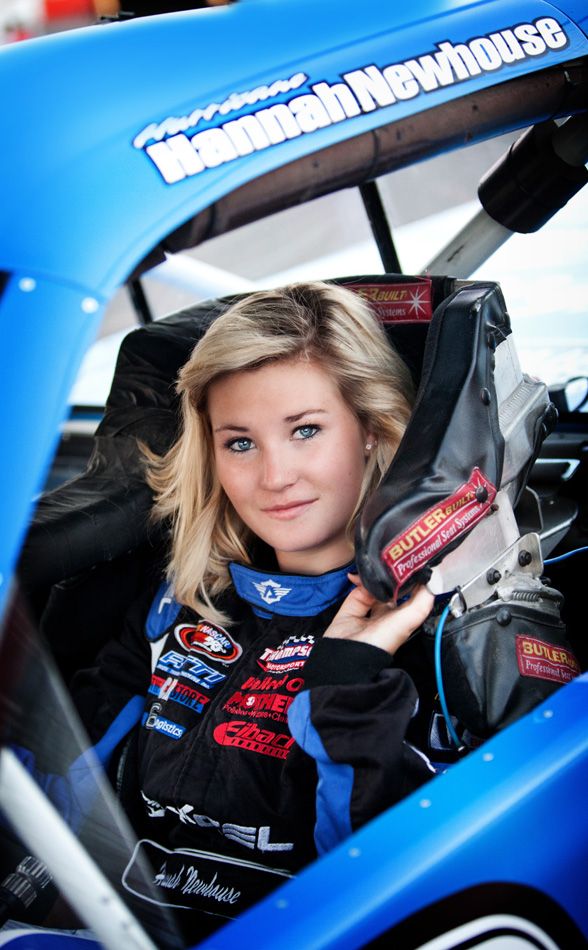 HN : There would have to be two songs: "Hall of Fame" by The Script and "Settle Down" by Jake Miller.
In "Settle Down," it's about a girl trying to convince this guy that his dreams are too far fetched and he just needs to give up and live a normal life and 'settle down' but he refuses and keeps chasing his dream.
I feel like I really connect with that because people are constantly telling my my goals are too far out and I should just give up and take a path that will assure me success instead of being a dream chaser.
"Hall of Fame" basically talks about you can be anything you want to be and if you put you heart and everything into it you have the ability to see your name in the Hall of Fame one day! I absolutely love this song!
RT : Off the track, how's school treating you so far? Does it become a balancing act to get in the groove with the classroom much like it does with tackling your next race?
HN : School has been a whole adventure of its own. I actually will be a two-year high school graduate and graduate this spring instead of spring of 2015! It was a ton of work to be able to graduate early but it'll be totally worth it to pursue my racing career! I miss a ton of school as it is for racing but my school is really good with working with me on it and still allowing me to keep my credits!
RT : What's one thing about you that most people don't know about you that might shock family or friends?
HN : Well, I have third degree burns on my left hand when I was only nine months old and I've had over six skin graphs and surgeries on it. It works perfectly fine and I don't let it affect me whatsoever. I'm really thankful that for such a severe burn, I still have complete use of it for racing!
RT : Let's shake things up here for you, my friend. We'll do some Free Association. Tell me the first thing that comes to your mind with the following:
Pressure.
HN : Oil pressure.
RT : Twerking.
HN : I can't twerk for my life…
RT : Academics.
HN : College for Public Relations.
RT : Friendships.
HN : Racing friends are the best!
RT : Growing up.
HN : Happening a lot quicker than I expected..
RT : Racing.
HN : My future.
RT : My future is looking….
HN : Bright and exciting!
RT : What struck me when we first talked is how you didn't want to change when you make it "big time." Would you say that quality would still stay for sure once (and you will) you race in NASCAR in the coming years?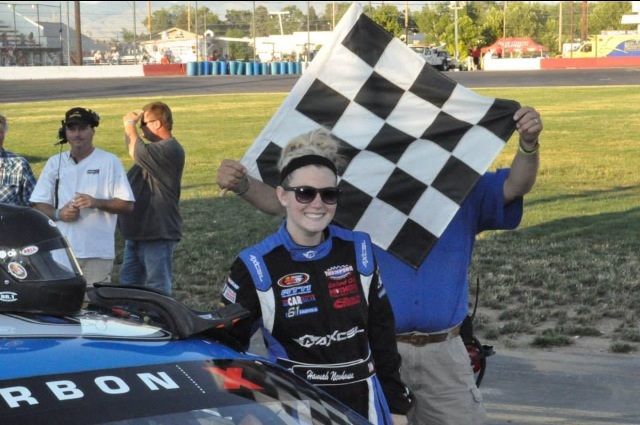 HN : Oh for sure! I've gotten this far because people see something in me that they must like. I feel for me to have to change and become fake to make it or break, it is ridiculous. I would rather be myself in something I enjoy than hate that I am doing what I am doing because I am fake or allowed stardom to change me! I will always be loyal to my fans and be completely myself simply because that is how it should always be! So you can bet that when I make it, I will be the same Hannah with the same virtues!
Author's Notes : I'd like to personally thank my wonderful friend Hannah for taking the time to let me interview her as she prepares for the exciting 2014 racing season. As always, it's a pleasure to catch up with her and her racing endeavors. The photos in this piece are courtesy of JeniB Photography and Action Photography for the shot of her driving in her No. 61 machine!
If you'd like to learn more about my talented racing buddy, "Follow" her on Twitter, "Like" her Facebook page, and check out her official website! Thanks again, Hannah, and enjoy your Thanksgiving holiday!