By Rob Tiongson
There's no greater pressure and exhilaration for a racer in the NHRA ranks than that moment before punching the gas pedal and mowing down that drag strip like a rocketship. The car sits idle, peculating as the motor revs up, and in that vehicle is a driver whose hands sweat and their eyes glisten at the road ahead. Beside them is their next challenge, their roadblock to winning that trophy. "I'm going to win this and you're mine" is likely what the drivers are thinking - and suddenly, that green light is prevalent and all that time spent psyching your competitor is now spent in the next 3.5 seconds making like Usain Bolt in a racing machine. Did you win it after all?
Maybe that's not how it all plays out for young Ashley Sanford of Fullerton, CA, but she is one of the rising stars in the NHRA Top Alcohol Division Drag Racing series. On any given race weekend, it's a chance to make a difference and be a winner in one of the most exciting and action packed motorsports ranks across the world. At age 20, this bright promising talent is the total package with her congeniality, wonderful personality, tremendous skills in her car, knowledge of the tracks and car, and not to mention, she's very interactive with the press and fans on social media outlets. After all, isn't someone who we can connect to part of what makes racing so great?
Like most young racing aces, she started her driving career at age 8 and would work her way up the racing ladder. Nowadays, she's making progress towards becoming an elite NHRA drag racing winner and champion. Humble and cognizant of her success being attributed to her team and her tremendous support system, Sanford is exactly what racing needs today for a role model and a future star.
Always grateful to her fans and gracious to the press, she's also a consummate professional and a driver who's simply hungry to win! We at TPF are pleased to share her racing story right here and right now in this new fresh exclusive interview which we hope you'll enjoy as much as seeing this amazing racer doing what she does best at a drag strip near you!
Without further ado, ladies and gentlemen, let's go behind the wheel and talk with this racing beauty right now by going "In the Driver's Seat with Ashley Sanford, NHRA TAD Drag Racer!" Buckle up tight, friends.
Rob Tiongson : Ashley, first of all, I'd like to thank you for taking the time to let me interview you for the racing fans here on The Podium Finish. For our fans here, could you take us through your racing journey and how you got started?
Ashley Sanford : I am so honored to be able to share my story on The Podium Finish, thank you for the opportunity! It pretty much began the moment I was born - I grew up in a family that loved adrenaline rushes and anything fast! My Grandpa and Father raced in the National Sand Drag Association ever since I was young, and at about eight years old, I made my first pass down the 300 ft dirt track on my Honda 60 ATV. From then on, I only wanted to move onto bigger and faster cars.
At the age of fourteen, I raced my grandpa's Super Comp Dragster, and at sixteen, I drove my father's Blown Alcohol Dragster but it was tuned down into the the Top Eliminator class due to my age. When I turned eighteen, I had the privilege of driving my dad's Blown Alcohol Dragster at full force, getting my best times of 155 mph and 2.53 ET. I'd like to say it was game over from then on! I wanted to continue challenging myself as a driver and to reach faster speeds, so my father and I knew going to the NHRA would be the next best step.
After debating going to Frank Hawley's school of drag racing, to possibly driving for another team, we decided purchasing our own dragster and creating our own team would be the best route to take. I am so blessed because I am making my dreams come true getting to drive against some of the best TAD drivers and teams at such a young age, so I have to slow myself down every now and then to take in how far my team and I have come!
RT : As a third generation racer, how much of an asset has it been to have your father Shane be not only be there to support you but to also be a resource for you at the races?
AS : It is a huge asset to have my father there for me! He is not only my number one fan, he's my number one supporter, because he believed in me when others thought I was crazy for wanting to pursue my dreams! Even though I am racing a dragster he's had no experience in, I can still go to him for advice and tips that only a racer can give to you. Plus my dad and I are very competitive against one another, of course in a fun way, so it is always a great time at the track having him there for me!
RT : When you're dropping the hammer to lay down a quick reaction time and a great overall time against your competitors, does it all go by in slow motion for you or is it as instant as strapping up and getting ready for the lights from the Christmas Tree to go green?
AS : I wish it went by in slow motion! (laughs) It's funny because I feel like every second building up from getting to the track to waiting to be strapped in my Gelish Dragster feels like hours. Then once I am strapped in and the motors are running, it feels like the rest is one continuous motion. I'm just so anxious to hit the throttle at the second the car is moving - I think that is all my mind is focused on!
RT : It's quite interesting, per your website, that when you talk about when the fans ask if you're scared, you reply, "The only thing I'm afraid of is losing a race." Of course we know that racing is a dangerous sport but how do you put that in the back of your mind to focus at each battle on the strip?
AS : I know racing is an extremely dangerous sport, and I understand the risk I take every time I step in the driver's seat, and I think that is why I'm not afraid. If you can face something head on, knowing what you're getting yourself into, there's not much to be scared of. You know what is going to happen or what could happen and you have to just accept it or else you won't have any fun!
I am a very competitive and passionate person and that is why losing is my only fear. I have a lot of people that look up to me from my team, my sponsors and all of my family, friends, and fans. I want to win not only for myself but most importantly for all of them!
RT : How do you prepare for each race mentally or physically? Do you try to stick to a certain workout routine and also practice in simulators or in test sessions to keep sharp?
AS : I like to relax before my runs and take at least 15 minutes to play Dragster Mayhem on my smart phone, which not only helps my reaction time but gets me pumped up for the next run! Once I'm strapped in, I always say a prayer, not only for myself but everyone at the track that day. I just ask God to put his hands in mine, and he always does! I don't have a cool/weird ritual yet because I'm still trying to find one!
RT : Recently, Fox Sports 1 analyst and former NFL quarterback Donovan McNabb said that racers weren't athletes. As a drag racing talent, how do you debunk such a statement?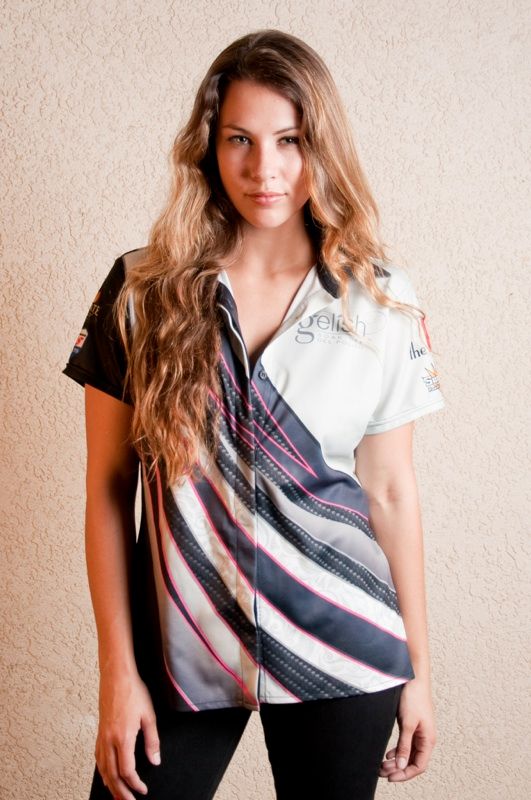 AS : I understand for people who don't follow racing, they don't know all of the dynamics behind being fit and being a driver, but I believe it is extremely important. Your body has to react to life or death situations in sometimes milliseconds and your upper and lower body strength must be in tip-top conditions so you can hold back a 3,500 horsepower speed demon with only the brake and clutch.
And it is no joke when people say it takes the breath out of you, because once you hit the throttle, your body is thrown back but you have to maintain control and focus. Drag Racing isn't easy you truly have to be physically and mentally fit to be a true competitor!
RT : What's been one of your proudest achievements on the track as a racer and individual thus far in your young career?
AS : My proudest moment on the track was my very first national event at the Las Vegas Motor Speedway. My team and I were so happy that we qualified for our very first race! I was then paired up with one of the best drivers I know (Chris Demke), and I had a quicker reaction time then him at .025 but then lost due to tire shake.
Demke even came up to my pit after the run and congratulated me, and that helped make the loss feel more like an accomplishment! For being a rookie, I couldn't have been more proud of myself and my team! I am overall just proud of how far I've come in my career as a whole, and I couldn't be more blessed to be where I am today.
At twenty years old, I am living my dream to race at a professional level with some of the best in the nation. I couldn't imagine life being any better at the moment!
RT : Let's do some Free Association time here, Ashley. Please tell me the first thing that comes to your mind with the following words:
Winning.
AS: I want it so bad, I can't wait to hold my first Wally!
RT : Support.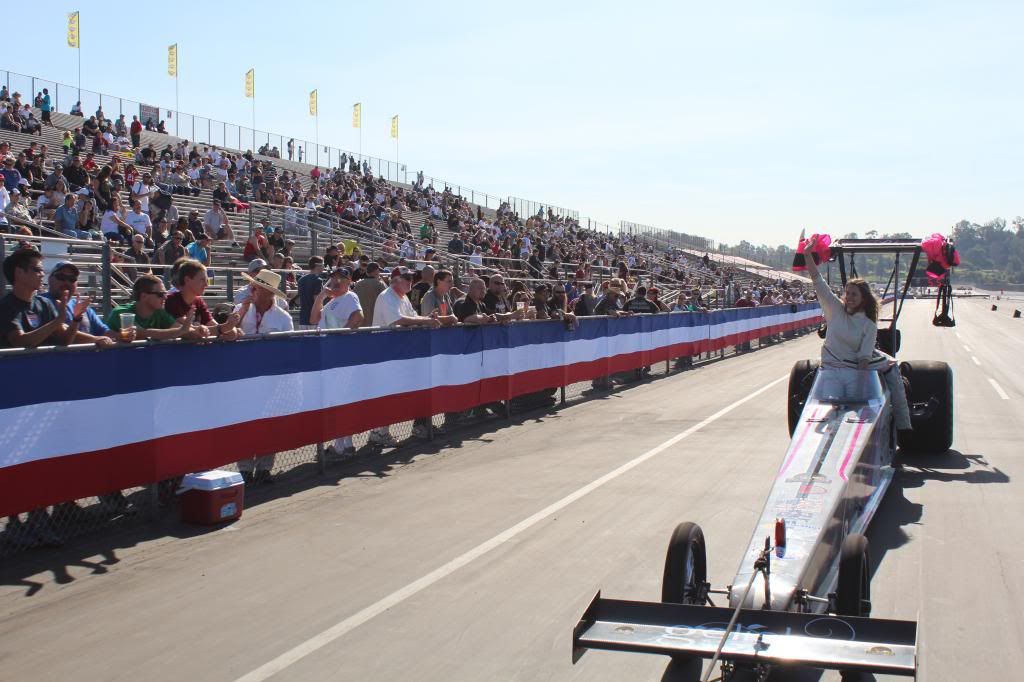 AS : I am so blessed to have such a huge support team!
RT : Fans.
AS : I wouldn't be where I am without them!
RT : Challenges.
AS : Bring it on!
RT : Hope.
AS : To continue to progress as a driver and make it far in the sport!
RT : Love.
AS : I am so blessed to be able to do what I love!
RT : Where I see myself in 5 years.
AS : I would love to have the opportunity to ride in a Top Fuel Dragster!
RT : Now let's take a moment to get off the track for a moment. What's been one song that's been stuck in your head or has played constantly on your iPod or phone?
AS : That is a hard one! I love music so much, especially classic rock! But recently I've been playing a lot of Fleetwood Mac!
RT : It's human nature for us to be so apt to keep things going when success is consistent, but just as easy to be despondent when struggles happen here and there. How do you maintain a level headedness that's balanced so you're never at an extreme?
AS : I believe everything happens for a reason, whether it is good or bad. During bad times, I always remind myself of this Helen Keller quote that goes, "When one door of happiness closes, another opens; but often we look so long at the closed door that we do not see the one which has been opened for us." Dwelling on the negative aspects of life doesn't help change your future. I've learned that sometimes you have to take leaps of faith, and the worst that will happen is you will have to stand up and try again. Always remain positive through life, and I think in the end the positivity will come back to you!
Author's Notes : I'd like to thank Ashley for taking the time to let me interview her for this exclusive piece here on TPF! We'd also like to thank her for the wonderful pictures for the piece. She is a great driver and friend to us here and we are very happy that we could share her story to our fans! If you'd like to keep track with Ashley's season, "Follow" her on Twitter, "Like" her Facebook page, and "Visit" her official website right now! Also, be sure to visit an NHRA track near you to watch Ashley drop the hammer in style!