Congenial, bright, and versatile, 21-year-old Caitlin Shaw's one of racing's leading women when it comes to NASCAR. Less than two months from her second Truck race, I interview the Albuquerque, NM native about her thoughts on racing and her career.
Patient, persevering, wiser, and hungry as ever just to get back behind the wheel, 21-year-old Caitlin Shaw will be making her much anticipated return to the NASCAR Camping World Truck Series on November 12th for the Lucas Oil 150 at Phoenix International Raceway.
For Shaw, racing is the name of the game with her life. She's been waiting to make her second career start in the sport after her respectable debut last year at O'Reilly Raceway Park, placing 24th in a truck fielded by Red Horse Racing.
It's not just the driver's seat where Shaw's passion and expertise in stock racing ends – there's more to this Albuquerque, NM native!
She understands the sport's business side, from the management aspect to the media's role as a liaison between the teams and its followers, including the fans and the press. As you'll learn in my exclusive interview with the young racer, she's quite the wordsmith whose love for the sport can be felt with her works, both in words and with her lead foot.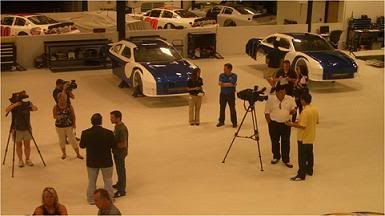 Having worked with Michael Waltrip Racing this year, you could say that Shaw's got a true understanding of the politics, nuances, and the operations of NASCAR racing.
With a great support system as well as contacts with some of the sport's icons, insiders, and legends, their lessons and advice have certainly shaped Shaw into a balanced, all-around, and knowledgeable driver.
Now, it's just a month and a half away until Shaw's return to the track, and her second start may have a memorable story with it. Aligned with Bill Jewell, owner of The Oil Medics, this budding motorsports star looks to make the most of a golden opportunity at what is essentially her hometown national series track at Phoenix.
No matter the results in qualifying and race day, the fact she'll be back in the driver's seat is all the more reason to believe that the sport's future does indeed look bright, with a fusion of racers from all backgrounds ready to make their presence felt in the most elite form of stock car racing.
Her journey is one that can be relatable to those who work diligently to realize their dreams, even with all the obstacles presented before them that can either make or break as an individual.
For Caitlin Shaw, while this may be another chapter in her story as a racer, it might be one of the most pivotal moments for her that will certainly dictate what direction she'll take next in racing.
I interviewed Shaw just before she traveled to Dover, DE with the MWR team and she was courteous, thoughtful, detailed, and a treat to talk to, as always.
Just as one of the songs off her favorite soundtrack sums up her philosophy in life and racing, Shaw "doesn't stop believing," and that's the kind of mentality that just might make this young gun into a staying power in stock car racing.
So strap in, buckle up, and pull those belts tight one more time, because we are going to get ready for some flat out fun "In The Driver's Seat with Caitlin Shaw, NASCAR Camping World Truck Series Racer!"
Rob Tiongson : Business has surely picked up for you in recent times and it's good news for both you and Caitlin Shaw fans – tell the readers about your newest deal that'll surely make them tune into a race!
Caitlin Shaw : I'm proud to say that I will be competing in the November 12, NASCAR Camping World Truck Series race at Phoenix International Raceway (PIR) for The Oil Medics, and Jeff and Shannon's Community Healthcare Services among other sponsors.
I've been working towards finding partners to join my efforts and everything has finally come into place for the Phoenix race. It's been a long year, but I've definitely grown as a person and in my racing career because of the dedication it has taken – and still is taking!
RT : How'd your deal with Bill Jewell and his company, "The Oil Medics," come together?
CS : I've had the opportunity to become familiar with The Oil Medics brand through a lot of the ASCS Sprint Car drivers that I'm friends with in Albuquerque so I decided to contact him about marketing in NASCAR. From there, it all came together quickly and we started on the "Truckers Going Green" campaign as our first collaborative effort.
We wanted to do something more than just a fan of the week; we wanted to promote a worthy cause. The Oil Medics already has creating a greener environment in their company values, so we decided to go that route.
The campaign highlights one trucker per week that has positively impacted our environment. Airtabs has come on board to donate a set of Airtabs to each winner, and we send autograph cards and hats as well. Needless to say, the response by truckers and trucking media has been very receptive!
The Oil Medics are based in the Fort Worth area, but they sell their brands nationally, so it was a good fit with the trucking industry. We talked yesterday and the power of NASCAR's platform has already increased his websites unique visitors per month to a record breaking high level for him – which is good for everyone involved.
I'm very grateful that this partnership has worked out so well and I am looking forward to what the future has in store for our NASCAR efforts. Remember to go to www.theoilmedics.com for more information!
RT : More than ever, I think that fans and observers of NASCAR are realizing just how critical it is for a driver and team to have a sponsor. Without it, it makes even the most short-term goals seem improbable. How did you keep yourself visible despite the long time away from the driver's seat?
CS : I'm very fortunate to be able to spend a lot of my time at racetracks and in the race shops, so that's where the visibility came from.
I strongly believe that if enough effort is exerted that goals will fall into place and good luck will follow, but it all starts with your commitment level and dedication to your goals.
I rarely have free time in my schedule, but it's all worth it when I get the feeling on the starting grid before a race and the adrenaline rush of passing cars on the track.
RT : Were there times that you felt like, "What if nobody takes notice or comes up to me to sponsor my efforts in NASCAR?" It had to be a bit difficult to be on the sidelines, just waiting for the right opportunity.
CS : Sponsorship is something everyone struggles with, but if you tell yourself you're stuck on the sidelines rather than creating your next opportunity, you'll more than likely stay on the sidelines. NASCAR is a tough sport all the way around for everyone involved.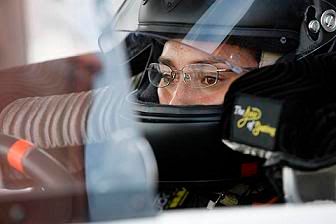 There are a lot of sacrifices and uphill battles, but if you love what you're doing the hardships don't seem to matter as much.
Of course, I felt discouraged every now and then, that's human nature.
But you can't get caught up in feeling sorry for yourself or wishing there were different circumstances.
You have to dig deeper and the reward will be worth it that much more.
RT : What are some of the things that you look forward to with your return to the NASCAR Camping World Truck Series? I understand you'll be attempting to qualify at your "hometown" track at Phoenix International Raceway.
CS : I grew up racing in Arizona; and the first track I ever competed on was actually in Phoenix, so it will be neat to have come so far. I'm hoping a lot of my friends and family will be able to watch because it's the only NASCAR track that is close driving distance to Albuquerque.
Switching gears to the competition side I'm looking forward to getting in some testing before the race. I wasn't able to have any testing time before my last race at ORP and I know that would have helped me tremendously. I've raced at Phoenix in 2008 in the USAC midgets, so I'm familiar with the track which should help as well."
RT : Between your first race last year at O'Reilly Raceway Park and these past few weeks, you've still been a part of the racing scene. What are some of the things you've learned working with Michael Waltrip Racing and have your experiences with them helped you as a racer, in terms of the driving side as well as the business side of the sport?
CS : Michael Waltrip Racing has been one of the greatest opportunities I've had in the sport. I began in January and over the past nine months I have had a taste of almost every aspect that goes into the business side of a race team.
I've focused specifically on the public relations side, writing the majority of Ryan Truex's releases and helping as he made his debut into the Nationwide Series at Gateway. This weekend, in fact, I'm traveling with his K&N East Series team to be there when Ryan clinches the championship at Dover.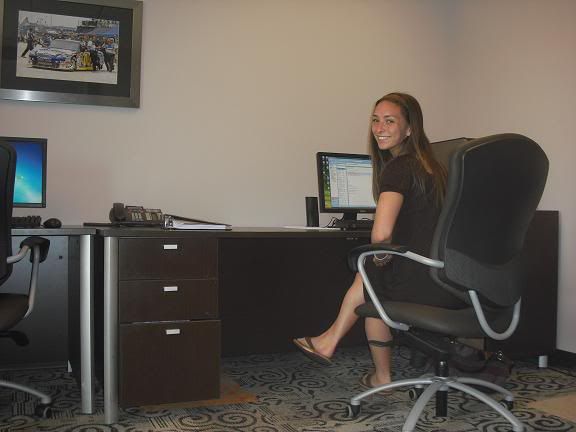 Everyone at MWR has been so supportive of my career both in business and on the track and they have given me as much responsibility as I have wanted to take on.
Michael, David and Martin have all been enthusiastic about my race at Phoenix. I'm just lucky to be learning from experienced people both in the office and on the track.
I think the more sides of the sport I can experience, the better prepared and more knowledgeable I can be on the track and off the track. Ty (Norris) is someone who has experienced just about every position in racing and I really admire how far he has gotten because of that.
RT : When you look at the current state of the sport, where it seems it could go in either direction, what are some of the things that you like, changes wise, and what are some aspects that you feel could be addressed to make NASCAR better, in terms of opportunities for those seeking a chance in the stock car racing?
CS : I think that in the current state of sponsorship NASCAR is doing a great job utilizing resources and helping to draw attention to younger drivers. They are always looking for creative ways to get the drivers in the spotlight, and I think that is what it takes to attract partners into the sport."
RT : I asked this question before with Natalie Sather a while back to somewhat familiarize the readers with driving styles and all, so I'll ask you: If I were your team owner for a race, what should I expect from you? Are you an aggressive racer or a driver that's calculative and saves their equipment until the final laps?
CS : I believe that in order to be successful a driver has to have a balance of both styles and the knowledge of when to be conservative and when to go all out. Patience is important to running up front, because no one wins the race on the first lap. However, if you're not aggressive you can't put yourself in the position to win either. There's a fine line.
RT : Would you have to say that keeping yourself visible and accessible to fans through social networking sites (Facebook/Twitter) has helped you a lot in terms of being back in the driver's seat?
CS : It definitely has! Social media is so important in any career path, but in NASCAR especially because everyone is so spread out. It allows decision makers to see that I'm still pursuing this goal, and gives them the opportunity to see if my personality will work well into their company.
The Oil Medics and I first began talking on Facebook, and our first Trucker of The Week found us off of Twitter. It definitely brings national awareness to any cause."
RT : Free Association time, my friend! We're going to drop the hammer this time around – as always, tell me the first word or two that comes to your mind with the following:
Favorite racing moment as a fan.
CS : My first trip to victory lane in the Cup Series.
RT : Best advice given to you with your career…
CS : It's the art of never being satisfied.
RT : Current song stuck in my head is…
CS : Glee Soundtrack One - on repeat!
RT : Favorite vacation destination.
CS : Jamaica and Europe
RT : Confidence.
CS : Determination to succeed.
RT : Team chemistry.
CS : United working towards one goal.
RT : Fans.
CS : Fun, crazy - love them!
RT : Your future.
CS : Bright and living to the fullest!
RT : While I realize it may be early to ask, at least for the foreseeable future, are there plans for you to race in some capacity in the NASCAR Camping World Truck Series next year?
CS : As of right now it is all sponsorship dependent, but it does look promising for select shows. I have some things that I am working on though, so my fingers are crossed and I'm working hard on it!
RT : It's been a somewhat long and arduous wait and journey for you since ORP, and I understand you have some people you want to thank for supporting you – feel free to shout them out right now!
CS : I wouldn't be where I am today without my mom and dad. They have supported me in everything I have set out to do, and I can't thank them enough.
I'd like to thank Mario Gosselin with DGM Racing, Bill Jewell with The Oil Medics (www.theoilmedics.com) and Jeff and Shannon with Community Healthcare Services for taking a chance on me and joining my NASCAR efforts. It means a lot to have earned their support.
Finally, I want to thank Michael Waltrip and everyone at Michael Waltrip Racing (www.michaelwaltrip.com) for providing me with invaluable information and teaching me so much about business and life. The first day that Michael (Waltrip) learned I was going to drive at Phoenix, he came to my desk and grabbed me to do a television interview; those are the things that bring loyalty to a company.
Even as an intern, I feel like I'm a part of the team and I want to thank everyone in that organization especially the group in my office that I work with on a daily basis, Drew, Jarian, Chris, Stacie, Rick, Traci, Ryan, Carter, and Taylor – Thank you!
Author's Note: I'd like to personally thank Caitlin for taking the time from her busy schedule this week with her duties at Michael Waltrip Racing to let me interview her - you can follow Caitlin via her Twitter (@CaitlinShaw) and through her official Facebook fan page at "Caitlin Shaw."
For more information about Caitlin Shaw, visit her official website at http://www.caitlinshaw.com.