At first glance, it may seem strange to label a 28-year-old NASCAR driver like David Ragan as a "veteran" in his sport. However, when one considers that his rookie season was back in 2007, the second generation racer from Unadilla, GA has certainly grown up in the Sprint Cup series. As a former Roush-Fenway Racing driver, his best year thus far was in '08, placing 13th in points with six top-fives and 14 top-10's. While he's had some adversities racing in his career, finding himself as the odd man from the RFR camp and joining Front Row Motorsports in '12, he's made the most of his opportunities, doesn't make excuses, and instead, looks to the future with optimism and puts forth 100 percent effort towards his No. 34 Ford team.
Ragan has experienced the joys of Victory Lane twice, capturing the checkered flag in the Coke Zero 400 at Daytona in '11 and taking the trophy home in last May's Aaron's 499 at Talladega. Enjoying the challenges of the restrictor plate tracks and the gritty short tracks like Bristol and Richmond, the mild mannered wheelman has a good grasp of the big picture for his team, realizing where they need to improve as well as their strengths and opportunities. Like a marketing professional or student, it's almost like he's got a SWOT analysis of himself and his team down pat and it's now just a matter of executing those fine points on the track.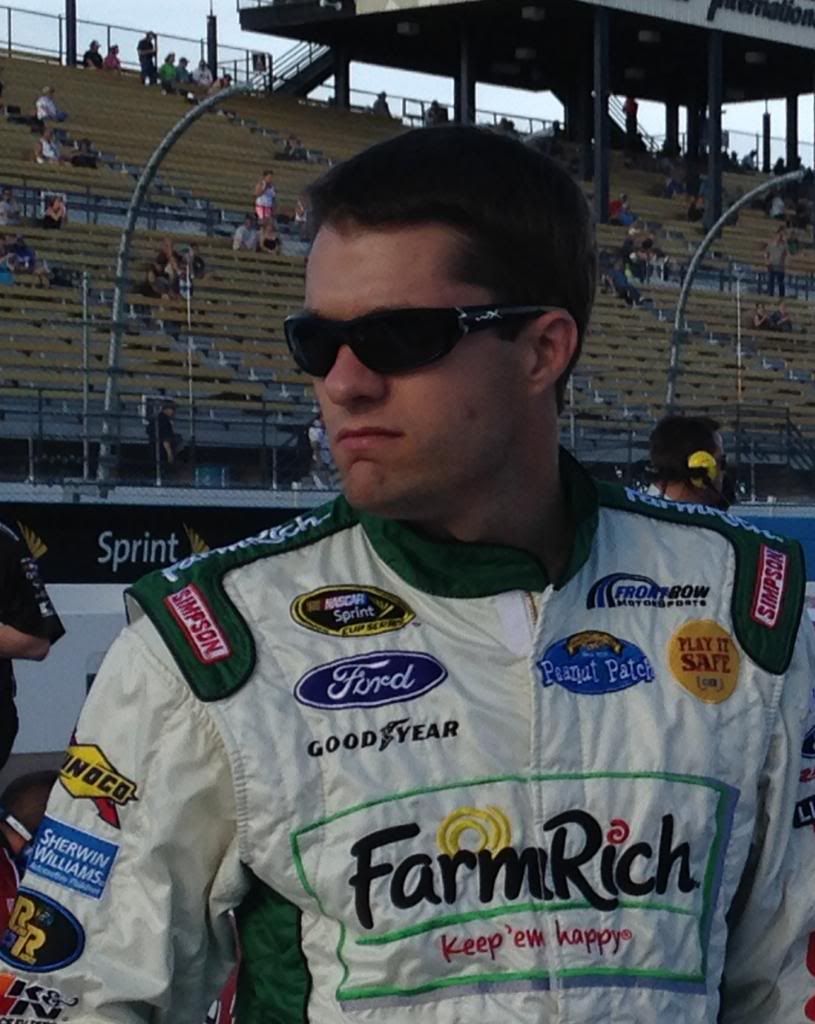 Fans and critics still point out the magnificent upset last spring when Ragan and teammate David Gilliland placed 1-2 for Front Row Motorsports at Talladega Superspeedway, the first victory for their organization. Car owner Bob Jenkins, whose first Cup season was back in 2005, has surely seen his teams flourish and expand from a group that was simply happy to make the field to one that's thinking wins and making the Chase for the Sprint Cup Championship. Settling with a great and dedicated crew, a manufacturer like Ford, and utilizing their resources, it's no secret that they're the modern day version of NASCAR's underdog efforts or the "good guys" that sports fans pull for against the conglomerates. Couple that with a likable racer like Ragan and it's easy to see why the driver of the No. 34 ride is one to watch not only for his kind demeanor, but for his racing abilities behind the wheel.
Make no mistake, there's an uphill battle to still contend with for the Front Row team, but with the progress they've made and with Ragan piloting their equipment, this group could encounter similar or like success that Furniture Row Racing has now enjoyed in the past few years. NASCAR racing may be like other sports with its juggernaut figures and teams, but then there are those like Ragan and his organization which, with the right breaks and opportunities, could make a case as the next success story of Sprint Cup racing. Motorsports is as much chance as making and forging your way into contention and with each race, those characteristics are prevalent with this combination. Not to mention, Ragan knows also how to have fun, as evident in the latter part of the interview.
In one of our most anticipated pieces here on The Podium Finish, I am pleased to present my exclusive piece with this steady and solid Sprint Cup talent who's now entering his third season with the Front Row Motorsports team. Ladies and gentlemen, without further ado, let's get our helmet, gloves, and shoes on and get ready to ride "In the Driver's Seat with David Ragan, NASCAR Sprint Cup Series Racer!"
Rob Tiongson : David, first off, thank you for taking the time to let us interview you for the fans here on The Podium Finish. You're now in your third year with Front Row Motorsports and it's quite clear how much this team has grown and truly strengthened itself as a solid top-15 effort capable of winning races. How excited are you about your No. 34 team's chances to not only contend for victories but also earn a spot in the Chase with the new rules for this year?
David Ragan : I think this opens the field up for the Chase for another 20 potential teams. A team like us that can win a race, but we're not consistently good enough to be 10th in points or 12th in points. I think you look at our team, Richard Petty Motorsports, BK Racing, Swan Racing, or if you even look at a team like Chip Ganassi, they're not good enough to run in the top 10 every single week, but if they could win a race, you're in the Chase and then anything can happen.
RT : You started off in Cup as a very raw but highly talented 20-year-old talent in a few sample races late in 2006 and here you are now, still at the very young age of 28 but with quite the number of starts in your Cup belt. How much would you say that you've grown as a racer in this sport, especially during the transition from the Car of Tomorrow to the current Gen-6 model?
DR : I've grown and learned a lot. And that's something you can only get with seat time, and that's what seven or eight years in the series will get you. I've also learned a lot moving from one team that had a lot more resources to another team that has fewer. The things you focus on for improvement from week to week and year to year are sometimes different.
RT : Not many racers who've come up to the Cup ranks can say they've won a race, much less two and your victories have come at the July Daytona race in 2011 and last May in that spectacular finish at Talladega. Would you say that you like the chance nature of those plate tracks and would you say that those venues are your favorites on the circuit?
DR : Yeah, those tracks are definitely equalizers for team like ours, and those are races we circle on our calendars and pay special attention to. So yeah, superspeedways are among my favorite tracks to go to, but also included in my favorites are shorter tracks like Richmond and Bristol. Those are tracks that I've always liked and that our team at Front Row Motorsports has had some good results at, too.
RT : Let's talk a bit about your team and just how much Bob Jenkins, your car owner, has strived to get this organization to grow in nearly the past decades. Without giving away too much, what are some of the perks with racing for Front Row Motorsports that you'd say is a strength as opposed to driving with one of the bigger multicar efforts like Roush?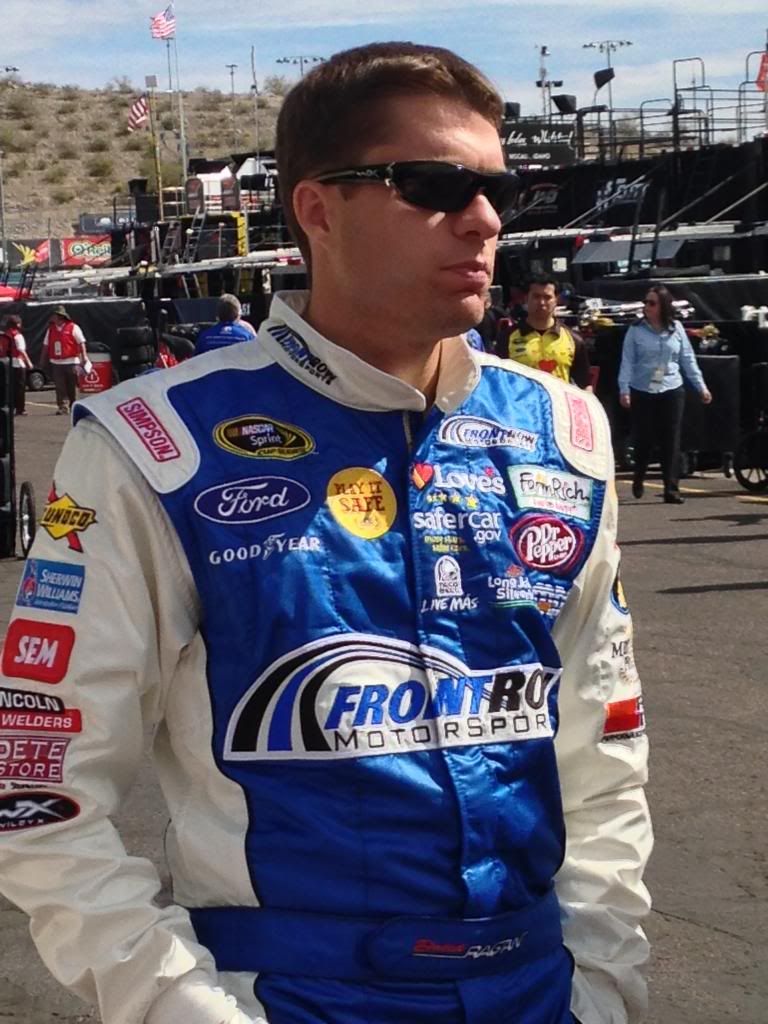 DR : I've been a lot more involved away from the driver's seat than I was at Roush. At Front Row, the drivers are involved in making decisions and other day-to-day stuff, where at Roush I was basically just the driver.
The size of the team makes a win like we had last year a little more special, too. At Roush, we were expected to win. At Front Row, we're aiming for top-10s, top-15s, top-20s on a weekly basis. So getting to go to Victory Lane for Bob Jenkins' first win made that win even more special.
RT : Having worked with your crew chief Jay Guy in the past couple of years, how would you evaluate your chemistry with him and your team? Has it gotten to a point where the communication is so strong that it's almost second nature with the calls he'll make atop the pit box for strategy or adjustments during the races?
DR : I don't know about second nature. The sport evolves every year, whether with rules changes or physical changes to the cars themselves. And the tracks are all different, too. So I don't know that any driver ever gets into a rhythm where you know exactly what your crew chief is going to do. But Jay and I do get along great – the whole team does, actually.
RT : I could imagine that the goals for this season would have to be scoring a win and placing in the top-30 to be amongst that Chase field in September – while the season is young, what are some areas where you feel that you and your team can improve on to be in the playoff picture this fall?
DR : Well, we know we always have a shot at the superspeedways. We know we're capable of getting another win at Daytona or Talladega, either David Gilliland's team or our No. 34 CSX "Play It Safe" Ford team. But I think we can also have good results at some of the short tracks and even the road courses, too. The main thing we have to do this year is just be more consistent. We had some mechanical issues at some races last year that left us with more DNFs than we should've had and that really hurt us in the points, especially the last three or four races of the season last year. So just finish more consistently to maintain our point standing. Finishing in the top 25 would be a good step for this team. Getting a win and getting a spot in the Chase would be even better.
RT : Let's do a little Free Association here for a moment, David. Tell me the first thing that comes to your mind with the following words:
Group qualifying.
DR : Cool.
RT : Proudest moment in my life so far is…
DR : Winning my first NASCAR race.
RT : Favorite go to song on your iPod.
DR : I don't listen to much music. I'm a talk radio guy.
RT : One place that you wished had a NASCAR track and race.
DR : New York City.
RT : What I'd like to cross off my personal and racing bucket list is…
DR : Win a Daytona 500. Learn another language.
RT : I understand that you were quite the pizza delivery man during that lengthy rain delay at Daytona, albeit still in your driver's firesuit! How'd that all transpire and would you say that you delivered those pizza pretty swiftly?
DR : Well, everybody was hungry, myself included. I knew we weren't going back racing anytime too soon, so I hopped in the car with my wife, Jacquelyn, and went to a pizza place pretty close to the track. I kept my firesuit on just in case we got stuck in traffic and I had to sprint back to the track to get in the racecar. But we were fine and were able to deliver a stack of pizzas to a pretty hungry bunch.
Author's Notes and Acknowledgements : I'd like to thank David Ragan for taking the time for this interview here on TPF! If you'd like to connect with David on social media, "Follow" him on Twitter, "Like" his Facebook fan page, and visit his official website! Also, I'd like to give credit to Getty Images for NASCAR for the headshot of David as well as Breaking Limits, LLC for the photos accompanying the article. Best of luck to David and his No. 34 Front Row Motorsports Ford team at Martinsville Speedway this weekend!