Racing is a sport where the brave are those who have skills and have overcome struggles. 18-year-old Emily Zartman of Boyertown, PA is a triumph already in progress in drag racing.
Life can throw some rather challenging setbacks that either derail our dreams or can serve as the catalyst to our success stories. They're perceived as tests in which we truly are put to our limits where we can either keep ourselves safe in our nets away from the world or confront those challenges and take them on without hesitation. Racers, in these aspects, are usually the type of people opting for the latter options with life and tests, as they're a breed that have little to no fear and will put their bodies and lives on the line to do the dangerously amazing things on the track or on the drag strip.
Such is the case for 18-year-old Emily Zartman of Boyertown, PA, a promising and upcoming drag racing talent who has aspirations to become the next NHRA great and champion. While her life may have not been the easiest and she could easily choose to surrender to those adversities, like the winner she is on the track, she's relentless when it comes to making her dreams become reality. With a strong support group with her family and her boyfriend right beside her each step of the way, her determination is about as lit up like the Christmas Tree at any drag strip that she competes at in her dragster.
Beautiful, sweet, kind, and driven, she's worked hard to get to where she's at but she also realizes that her achievements were not solely on her own. Still, she's about as focused on making her goals in racing happen as a professional and the legends of her sport. Much like any racing great who's struggled and succeeded, Zartman refuses to lose and let her spirit become rattled by the bad days in life and on the track. Equally so, she doesn't get too high above her ego when the good days happen, although she absolutely cherishes those moments as a winner.
Still, it's exciting to watch her story in racing unfold each time she's on the track. There's new chapters, acknowledgments, pictures, and moments that are awaiting to happen. Pages of that next big win, the struggle that defined a career or life moment, as well as the look back down memory lane are yet to be realized. When you think about it, that's what makes following Emily Zartman into a very interesting and amazing story to watch for the long haul!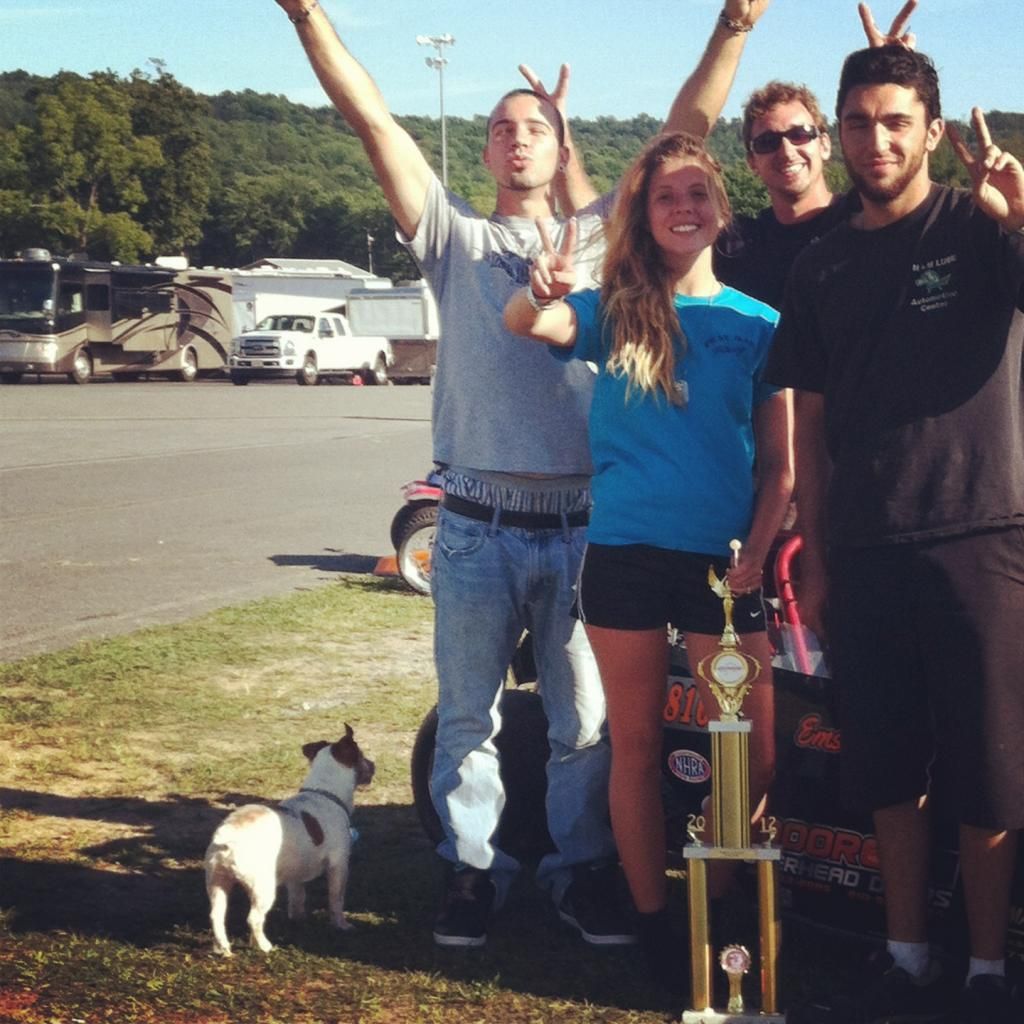 I recently caught up with Zartman this week to discuss about her life and career in racing. Gratitude, appreciation, humility, pride, and poise are the words that I could say safely describe this young driver. She's not afraid to speak her mind, and she's also one who will look at the big picture and see where she stands as an individual and racer.
After I got to know this amazing talent, I even find myself interested in wondering what's net for this great driver. So are you ready to talk racing and go zero to 60 faster than John Davis of "Motorweek?" Well, let's put the helmet and gloves on and go "In the Driver's Seat with Emily Zartman, Drag Racing Talent" right here, right now on The Podium Finish!
Rob Tiongson : For the racing fans at home, tell us a bit about yourself and how you got your teeth cut in racing.
Emily Zartman : Well it started when I was eight years old and my friend introduced me to dirt track racing at Grandview Speedway. I really loved it. I started going there every weekend and I loved the modified. I didn't understand it but it interests me. I ended up working there till I turned 15 and I cleaned the track.
I picked up all the rednecks' trash for six years (laughs). I ended up quitting when I moved out. I fought for an entire year trying to get out of an abusive home. And I can proudly say I did it on my own. I gained a lot of independence and confidence doing it. My dream was to become a racecar driver since I was little and I never expected it to happen. I moved in with my cousins and begged them to let me race! And they did!
I didn't think it was going to be as hard as I thought it would have been. Drag racing is not easy. There's a lot more to it then going straight, like reaction time, knowing how to race the other end of the track, and knowing yourself and the car, as I go 7:90 sec at 85 mph.
Once I actually learned how to race, it got easier to win but more competitive. I won last Sunday's race at Maple Grove and I was runner up last weekend. Honestly, I just got better at it and I don't want to stop. It's an addiction. I love the adrenaline rush and the excitement!
RT : Congratulations! Nice job. First win for you?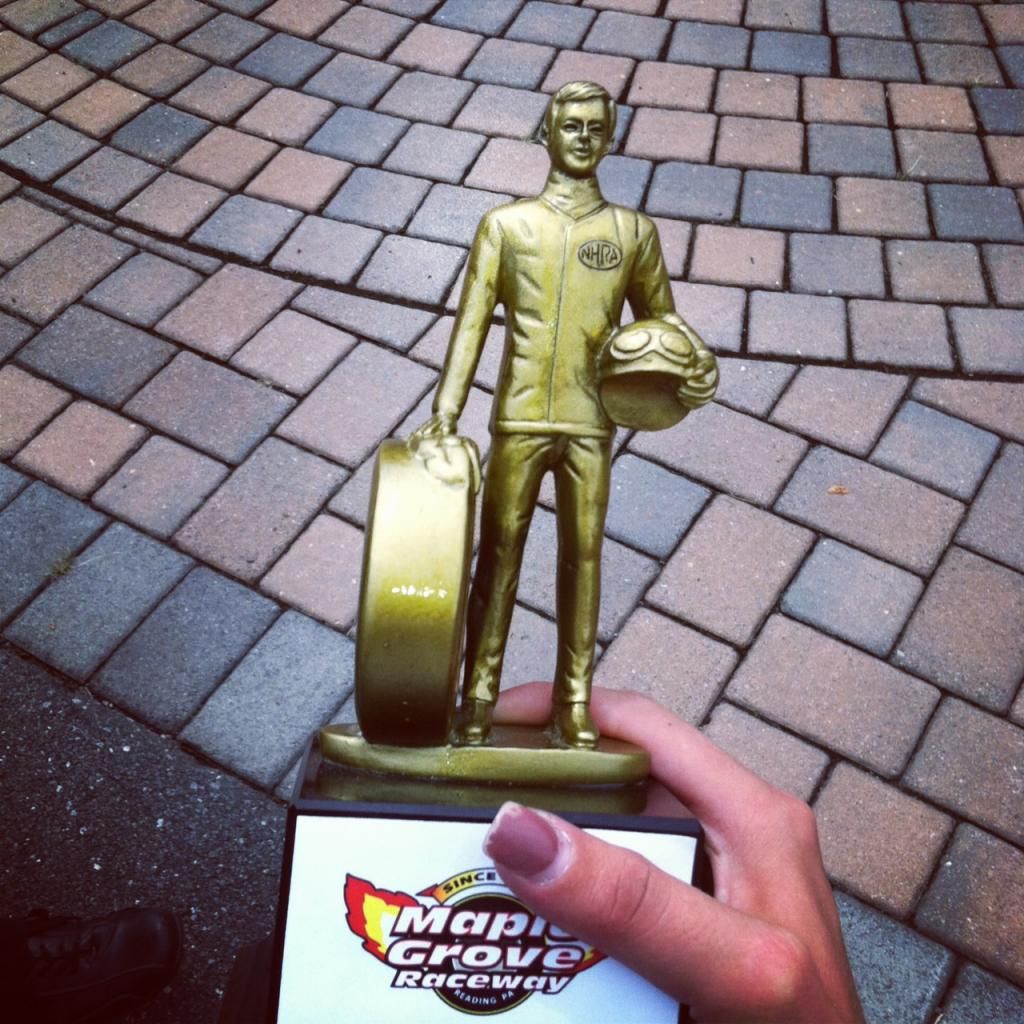 EZ : Yes and I will be getting a small Wally - it's pretty cute!
​RT : That's the holy grail for drag racers. Has it dawned upon you that you are a race winner?
EZ : I am a winner. To be honest, I intimidate my opponents by showing them I'm not scared, which I'm not and I end up winning anyway.
RT : Are you not scared because you feel that confidence within yourself to win plus the fact that you're doing what you love? What drives you behind the wheel of your dragster to win?
EZ : I'm beyond confident! It is because I feel as I I'm the best. I feel like no one can stop me! What drives me? I'd say knowing that I'm doing what I love, I'm doing it with my family, and I'm doing it because I have pride. It's the one thing that makes me happy. It makes me feel like I've succeeded. I'm doing something for myself. I never want I stop. I feel like I can make it big someday and I'll do whatever it takes.
RT : Which racers did you look up to with drag racing?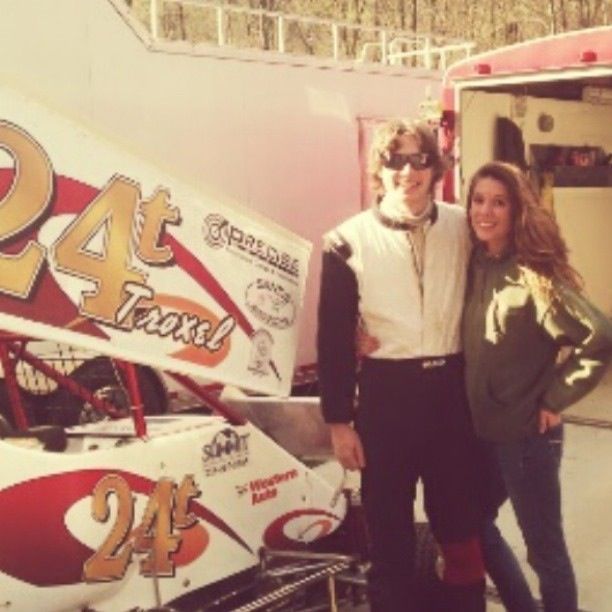 EZ : Lori Johns, who's a model and a drag racer and I like Antron Brown. He's signed our cars twice and he wears our wrist bands that say, "Pray Hard Racin'" on them.
I'm also dating this guy (for almost two years) who races a 600 sprint who I've learned a lot about how to race dirt. He always tells me asphalt is for getting to the race track (laughs). But I always tell him I'll always be better at racing - at least I'm known for it! (laughter)
RT : Describe what you feel and what goes on in your mind when you're dropping the hammer to go flat out down the drag strip for the win.
EZ : Well honestly, I don't think much - I just feel. It is an adrenaline rush. It's a great feeling.
RT : Kind of a seat in your pants, I'm ready to go and it's different each time eh?
EZ : No it's not (laughs). I wanna win and that's all I feel.
​RT : When you have disappointments, do you shake them off fairly easily or does it upset you for a bit until the next time out on the track?
EZ : It depends. If it's the finals and I lose, I stay pretty upset. If it's the second round, it's eh, and if it's the first, I get upset but then support my team.
RT : How do you cope with the hard days at the track?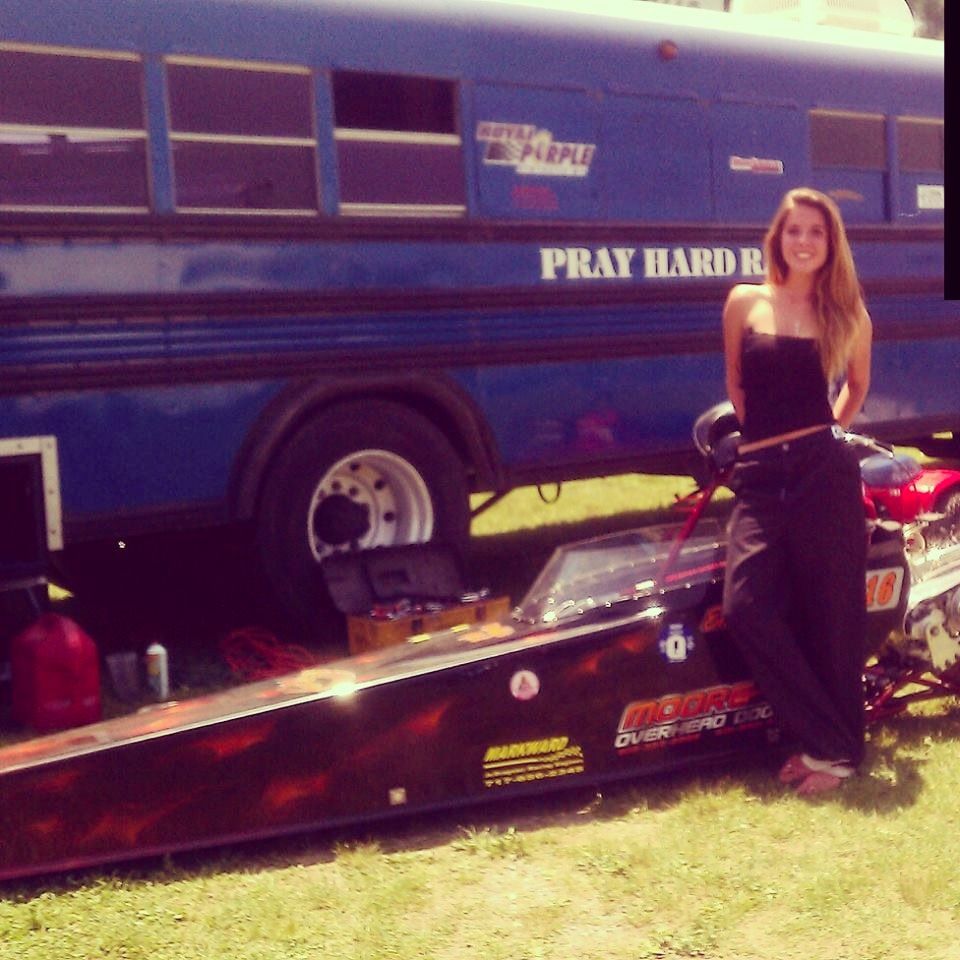 EZ : I walk away from it and just find a way to appreciate the time I have and make it the best. For example, last year at Bristol, I just went and watched my friends and opponents race. I thought of different techniques I could use and supported fellow racers.

And if you mean difficulties like a motor blowing up or crashing, well, my motor has stuck by my side since day one. But I did have a crash last year at Cecil County Dragway. My brakes locked and I rolled my car and spun on my side. I did win that race (laughs). But I couldn't finish as I had to go to the hospital to get checked for any injuries. I was more upset that I couldn't finish the race and that my car needed to be fixed.
Lucky for me that my dad knows a lot of people. A good friend took my car right away and fixed it for real cheap. The ambulance tried to cut my roll bar cage but my whole family and I freaked out because there was really no reason to do that. I was fine but they wouldn't let me get out on my own.
RT : It seems like you have a wonderful support system in your family. Tell us about them and Pray Hard Racing.
EZ : So the "parents" of Pray Hard are Mark and Doris Knarr and they both work everyday to support a team of drag racers. We have seven Jr. drags but six kids on the team. It's a family team that requires everyone's help. We all work together and help each other.
We have Ranae Nyce, Jeremy Ketterer, CJ Ketterer, Paige Ketterer, Hollie Ray Bausher (who just won a Wally) and we have a new girl named Lucie. And there wouldn't be a team without my brothers Jed Knarr, Jake Knarr, and Joe Dedrick. Jake and Joe are crew chiefs and help everyone on the team.
Ty started the team seven years ago and had some amazing drivers who won in points a few times, as Kassie Kulp, Jed, Jake, and Joe were all champions. If it wasn't for Mark and Doris, there wouldn't be a team as they devote their lives to this team. Jake races a '65 Chevelle, while Jed races a 1970 El Camino and Joe has been working on his new Nova.
RT : Have you all ever raced against each other?
EZ : I think CJ and Jeremy raced each other but I don't know if it was the final or semi final.
RT : Would it be safe to say that if any of you make it to the NHRA, that y'all would support each other?
EZ : I would believe so as we are all pretty close as a race team. My brothers worked really hard to push us and make us good racers.
RT : Would you say that you're superstitious behind the wheel?
EZ : I think I know what you mean by that. I always out on my safety gear the same way every single time. And I always shake my car to get my self excited while I wait.
RT : You shake your car? (laughs) Do you nickname your cars?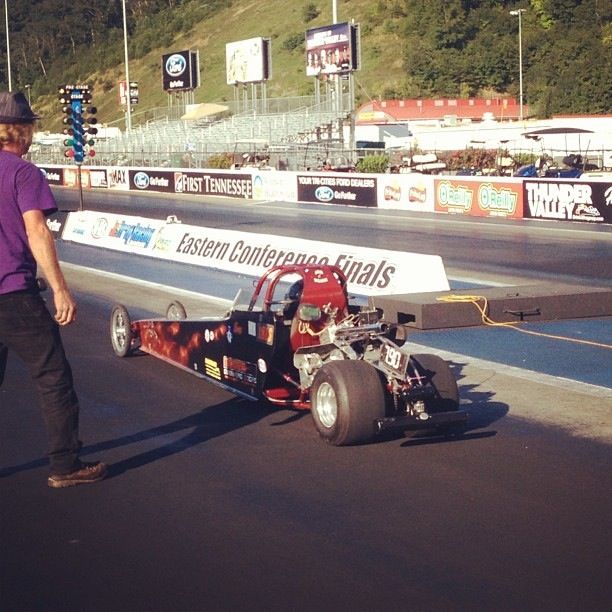 EZ : We nickname out motors but not the car itself. I believe my motor's name is Herbert (laughs).
Another one is Jersey Girl but I forgot the rest. And yes, when I'm all buckled in, I shake myself and my car! It wakes me up or I'll shake my legs. (laughter)
RT : That's an interesting pre-race ritual! Do you sometimes find yourself singing too?
EZ : No I actually never thought of it. And if I do sing, it's not to help me (snickers). I do like to listen to Led Zeppelin to get me pumped on my way to the track.
RT : Oh nice! Which songs do you rock to en route to the track?
EZ : Kashmir, Ramble On, Whole Lotta Love - I love Ramble On!
RT : I know the feeling. What would be your plan with drag racing? Are you looking to climb up the NHRA racing ladder?
EZ : Hell yes! Oh my god, if I ever had the opportunity, I would take it in a flash. I'm looking for a ride next year since I aged out of Jr. Drags. If I don't get any offers, it looks like I'll be racing my 1995 5 speed Geo Prism, my everyday driver, if I'm that desperate! I really want to get to the top.
RT : Have you found that social media has helped with your racing efforts?
​EZ : In this case, yes. I try to put my racing out there on all my social web pages like Instagram, Facebook, and Twitter. I advertise it the best I can.
RT : If you could choose anyone to race against, past or present, in drag racing that you'd love to battle against for a Wally, who would it be and why?
EZ : That's a hard question - I'd have to say John Force in a funny car.
RT : He's the man in funny cars - think you could beat the champ himself?
EZ : I can try!
RT : Without giving too much of your secret away, what would you suppose would be the keys to beating him on the strip?
EZ : I guess just knowing the sport and being confident.
RT : Having raced in your young life, I'm sure there's been some obstacles you've had to overcome. What struggle(s) have you encountered that you've been able to conquer?
EZ : Money I guess. I worked very hard to be where I am. Living with a family that I only lived with for a small amount of time. Paying for everything on my own. Being an adult at a very young age. Stuff I'm still living with. Issues regarding my past. Having emotional issues and learning to do things on my own. Regular life events.
Author's Notes : Many special thanks to Emily for this amazing interview for The Podium Finish! Her story is promising and the potential is there to become a legend! All the photos are courtesy of Emily Zartman. If you'd like to learn more about her, "Follow" her on Twitter, and check out her Instagram account at Ems_Ladyracer!