Racing can truly be a sport that links families together and gives them that much needed time together. Whether it's that brief moment before the battle on the track or working alongside them as a crew member, motorsports can truly bring out the best in all of us and be that time with those we truly care about and love. For 22-year-old Haley Pitts of Lineville, AL, her passion for racing is one where she has that quality bonding time with her father Dewey and also share that enthusiasm for this sport, working on the cars and steadily climbing up the ladder towards a career in NASCAR.
Beautiful, caring, sweet, and diligent, when the helmet's on and the firesuit and gloves encompass Pitts, she's a hard charging, calculating, and most of all, a smart racer, picking her way to the front and pacing herself while letting her car hang out on those Alabama dirt tracks in her crate late model car. Her career in this sport stated eight years ago, starting off in street stocks before finding herself in crate late models. For the past few years, her career was in a bit of a holding pattern as her father was deployed to Afghanistan. With his return back home (and we thank him for his service to our country), this father and daughter team are back, ready to pick up where they were last, and make some major progress to realize their racing dreams.
As she's from Alabama, where NASCAR and racing are pretty much synonymous with each other, Pitts is looking to continue on the legacy of a famed racing group called "The Alabama Gang." Having raced against one of those legendary members in her career, it's safe to say that she could very well earn her way into that group but more importantly, establish a legacy of her own accords where she wants to be remembered as Haley Pitts, racer, winner, champion, and a true competitor.
In this latest interview installment as part of TPF's month long celebration called "Storytellers' Month," you'll definitely feel that passion and keen enthusiasm for racing from Pitts and just how much she wants to be right up there, but of course, by doing things the right way by hard work and effort.
Ladies and gentlemen, without further ado, let's get to know one of racing's upcoming stars - from Lineville, AL, let's get "In the Driver's Seat with Haley Pitts, Crate Late Model Racer!"
Rob Tiongson : For our race fans who are learning about you for the first time here on TPF, take us through your racing career from how you started to where you are right now.
Haley Pitts : On October 7th, 2006, I started my racing career in the Street Stock division. I started 21st (at the request of my dad) and finished fifth and I raced four races that year. In 2007, I ran a full race season at Talladega Short Track in Eastaboga, AL. and I also raced at Hollis Raceway in Heflin, AL, & West Georgia. I had seven main event wins and 10 heat race wins, finishing second in the street stock championship at Talladega Short Track with three main event wins and 13 top five finishes.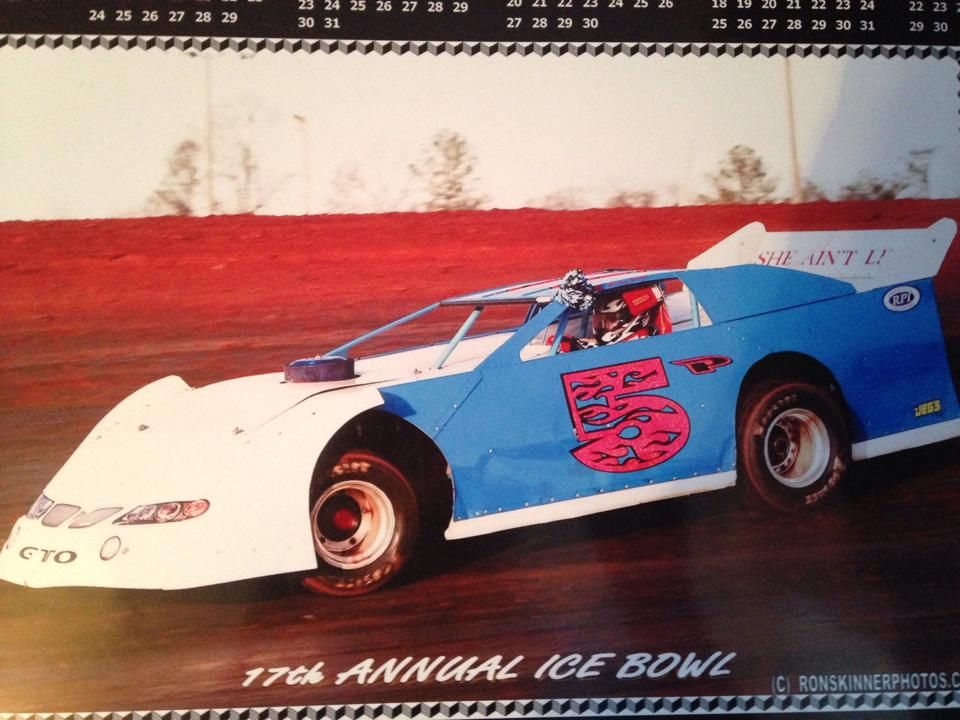 That next year, I took a leap of faith and raced the Talladega Ice Bowl in the NeSmith Crate Late Model class. I raced a full race season finishing 57th out of 251 cars in the NeSmith Chevrolet Weekly Racing Series East Region Points with one top-five finish and one top-10 out of 12 races. During the 2009 season, I raced in the Crate Late Model class for the second year and I only raced seven races at Talladega Short Track.
In 2010, while I was in the process of my new Crate Late Model race car being built, I was getting seat time in a dirt street stock race car at Talladega Short Track. I had three heat race wins and two top-five results out of four races. I also raced at Little River Speedway in Heflin, Al with two main event wins and one heat race win. Between 2011 till 2013, my dad, Dewey, who's my crew chief, was deployed to Afghanistan. During this time, I put my racing career on hold.
Now this season in 2014, I've just started off just as we hoped. In May, I raced at Fort Payne Motor Speedway in Fyffe, Al in the Crate Late Model class, where I qualified 11th and finished ninth. I was pleased with a top-10!
RT : Who were some of your inspirations in terms of pursuing a racing career as well as those who you look up to with racing today?
HP : I've always enjoyed watching NASCAR from an early age. I admire every driver, because each of them have inspired me at different levels. I admire Dale Earnhardt Sr. for his determination and drive, and Carl Edwards with his unwavering attitude and thrill for the drive as he is always a class act.
RT : How would you evaluate your season in racing thus far?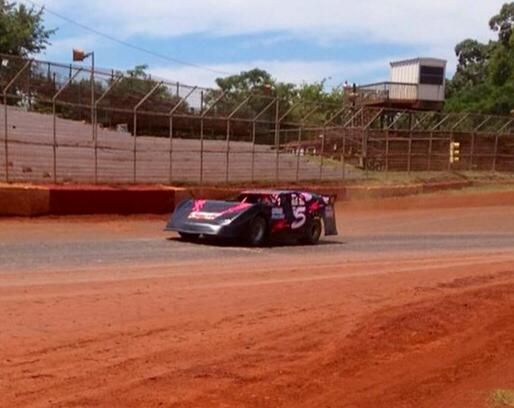 HP : I have started off this season slow and steady, making progress towards racing full-time once again. I have high hopes and expectations for a great future in Haley Pitts Racing.
RT : You have a variety of racing disciplines down, from street stocks, late models, and dirt super late model motorsports on your racing resume. Have you often tried to implement what you've learned from each series and hone those experiences into what you're a part of now?
HP : Racing in different classes on different tracks has molded and shaped me into the driver that I am today. The competition of racing on the dirt track helped better prepare me for doing what I love best which is dirt track racing.
RT : What would have to be your "Welcome to racing" moment that made you feel like you knew that this was what you wanted to do?
HP : My first win!
RT : As you hail from Alabama, NASCAR once had a prominent group of racers, particularly from Hueytown, called "The Alabama Gang." Do you have stock car racing in your sights and revive that famous racing collective alongside your peers from your state?
HP : Yes, I do want to participate in stock car racing. As for the Alabama Gang, I have raced alongside of the legendary Red Farmer and received words of encouragement from him. I have great respect for these drivers because they have paved the road for racing and made it into what it is today.
RT : With racing, there are those high and low moments which can certainly be extremes for a racer's psyche. How do you manage your successes and struggles so that you're at a balance when you're at the track?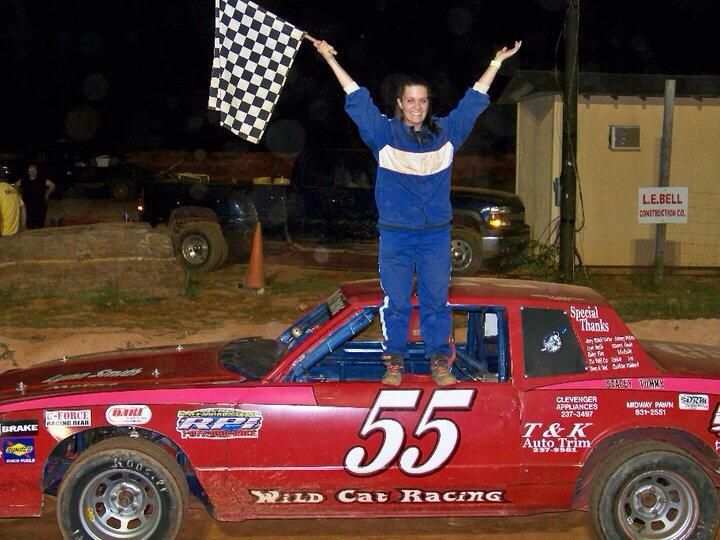 HP : Winning is the highest point of any racers career but driving to the best of your ability can be just as rewarding. Personally, you have to stay focused because every race is different.
RT : If you could race any driver, past or present, at any track, any vehicle of your choosing, who would you compete against and which speedway and car would you pick?
HP : Danica Patrick, at Talladega Short Track in a Dirt Super Late Model, because we are both females in a male dominated sport.
RT : We talked a bit about this which I really liked and thought you'd mention it here. How do you want your critics and fans to recall you once you've fulfilled everything in your career?
HP : I want to be remembered as fierce, confident, determined, and the girl next door.
RT : Racing is definitely one sport where families can absolutely come together. How much does it mean to you that you have them right alongside you as your support system on and off the track with this competitive sport?
HP : In one word: EVERYTHING! My family is my total support system, always encouraging me and cheering me on.

Author's Notes : I personally want to thank Haley for taking the time to let me interview her for the fans here on TPF. All of the photos in this piece are courtesy of Haley and Haley Pitts Racing. If you'd like to learn more about Haley, "Like" her Facebook Fan Page right now! Last but not least, Haley would like to dedicate this piece to her father, Dewey, for all the love and support he's given her with not only racing but with her life! This one's for him!