As one of the sport's congenial and dynamic racers in recent years, Jennifer Jo Cobb fought an uphill battle as a driver/owner in the NASCAR Camping World Truck Series. Now, she sits down for an exclusive one-on-one interview with...me!
Fighting an uphill battle throughout the 2010 season in the NASCAR Camping World Truck Series, rookie driver/owner Jennifer Jo Cobb battled through as underdog competitor.
Successfully qualifying for all the 25 races on the truck circuit, Cobb gained the respect and admiration of not only her competitors on the track, but the fans in the grandstands as well as the press. Her congeniality, perseverance, and strength to endure the weekly struggles made the Kansas City, KS native something of a gritty, true racer.
Consider this: she bought the former Circle Bar racing team prior to Speedweeks at Daytona, which didn't exactly give her the luxury of time to choose her personnel as well as honing her equipment and bearings. Still, she put together a respectable campaign, logging in an average starting spot of 27.8 and an average finish of 23.3.
Finishing 21 of 25 events, Cobb, who placed 17th in the overall points standings, showed flashes of brilliance, logging in four top-20 finishes. One of those impressive results included a pair of 14th place efforts at Texas and Darlington, two distinct speedways with a flair for handling, horsepower, and patience.
With a full year of racing under her belt, Cobb realizes that with the progress that her team has made last season, there's still lots for the entire organization to learn as well as some valuable experiences that are imperative in becoming a long-term successful NASCAR force.
Whether it's finishing races, getting the best finish possible, or just making the best of a difficult day at the track, rest assured, both driver and team will give it their best to become a solid contender on a weekly basis. Beautiful, brilliant, strong, and driven, Cobb will be a racer to watch heading into 2011 NASCAR Camping World Truck Series season.
Also, she's the focus of this edition's In the Driver's Seat, in which you, the readers of The Podium Finish, will get up close and personal with one of today's hottest stars!
Ladies and gentlemen, strap up and pull those belts tight one more time, as we're in the In the Driver's Seat with Jennifer Jo Cobb, NASCAR Camping World Truck Series Racer!
Rob Tiongson : It was quite the 2010 season for you, racing full-time as an owner/driver in the NASCAR Camping World Truck Series in your rookie effort. What have been some of the best moments for you, from a personal standpoint as a racer to short term standpoint with your new team?
Jennifer Jo Cobb : The best moments were our first top 20 at Texas, which locked our owner's points into the field, which we maintained the rest of the season.
The top 15s felt really great but it was a letdown not to best those finishes with so many races left in the season. We just lost on preparation, maintenance and finances.
RT : Having made all the races this year, tell me some of the challenges you've encountered in not only being at the races, but being competitive as a single truck team. Has it been difficult at times on the track as an independent?
JJC : The big teams always offer help and encouragement but they don't really offer horsepower and tires! Seriously, it is frustrating to compete against so many teams with greater resources but it also encourages me to try harder. My philosophy is not to complain about what we don't have but to figure out how to obtain what we need.
RT : With the way the economy's been in recent times, how do you balance or prioritize the needs for your team during the race weekend? Do you go into an event thinking, "OK, I have to bring the truck home in one piece?" or "I'm gonna race this event for a winning effort, no matter what?"
JJC : I think about our team's goals, which is as few DNFs as possible yet besting our prior performances. We need better resources to be going for a win and we actually had that chance at Talladega until we ran out of fuel as we were running inside the top 10 at an average speed of 196mph. Even though we were deflated by the fuel error, we were encouraged at our future possibilities.
RT : You had some great races during the summer, with two 14th place finishes in the June Texas race and at Darlington in mid-August, two challenging and fast tracks for the trucks. Was it a matter of comfort at those tracks that had you up to speed fairly quickly?
JJC : Our team does well at improving over the course of the race. I think we just hit on the right set ups which kept us competitive throughout the race.
Stacy Compton just paid me a great compliment where he said he sees me competing when I have the truck to do so and conserving when I don't to not get in over my head. He felt that was a sign of a good racer. That felt nice to hear.
RT : Most of your followers on your social networking sites know your nickname the chassis of your trucks. How do you come up with the names for them and has it been a custom for you since you started racing?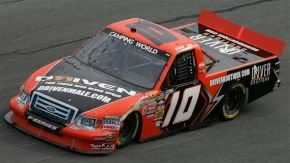 JJC : It really started this year because it's the first year I've had so many race vehicles.
My first crew chief of the year, Rudy Prickler, started naming the trucks and I noticed a pattern of rock stars and I liked the spirit of it.

It helps me keep track of what I'm driving and brings more of connection to our vehicles with our team and the fans.
Since the Nationwide Series focus was on the Kansas Speedway this year, and since I am so proud of being from Kansas, I decided to name the Nationwide cars after Wizard of Oz characters, starting with Dorothy and Toto. Next up will be The Wizard!
RT : Racing insiders often mention how the difference between the haves and have not's as being razor thin. Just how close is the competition in NASCAR truck racing and would you consider it one of the most competitive series you've ever been a part of?
JJC : Any of NASCAR's top 3 levels is going to be uber-competitive. The truck series offers a good mix of teams and driver's experiences.
RT : For some racers, it takes a team to gel completely in the course of several seasons. It seems like the JJC Racing team got along fast – is that a testament to the people around you in terms of the having the same goals and dreams for your team's success?
JJC : Absolutely. We cannot pay well so we have people on our team that have a lot of heart. That are interested in growing the organization. There is no room for egos at JJCR, just people who are interested in overcoming the odds against us and elevating our team's stature.
RT : When it comes to racing in general, what is a real driver's track – a short track, superspeedway, a road course or anything really?
JJC : I like the tracks that provide different elements, like Pocono, Darlington - those tracks that fall into different categories with different corners and strategy.
RT : David Letterman often asks this question to NASCAR Sprint Cup champions and I guess I wanted to know, from your standpoint – how is it that a team can be so good at a particular track one week and then struggle at the next?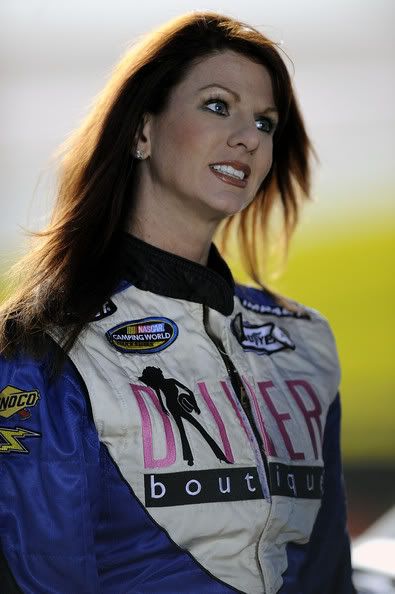 JJC : I think it is the focus of the team. A short track takes a great brake package which we were not able to invest in, so we struggled greatly at short tracks.
Intermediate tracks take a lot of horsepower and consistency in the chassis.
Some intermediate races we were strong and it was likely that the engine was just freshened but we can't afford to freshen every 1-2 races like much of our competition so sometimes we had to compete with 4-5 races on our engine.
We were very lucky in having zero engine failures from Roush-Yates this year.
RT : Free Association Time for you, Jen! You're an absolute pro at this, so this'll be as simple as taming the "Lady in Black." Tell me the first thing that comes to your mind with the following:
Respect.
JJC : So happy to earn it from my competitors and those who know our challenges.
RT : Trading paint...
JJC : ...is what NASCAR is all about.
RT : Payback...
JJC : ...comes in the right time and it's fun that someone who knows it's coming has no idea when/where.
RT : How I race.
JJC : Smart, hard...
RT : Friends at the track...
JJC : Are fickle. Most everyone is nice but be careful who you trust.
RT : Confidence.
JJC : It is an absolute must on and off the track. See Nigel Barker's "Beauty Equation."
RT : Hope.
JJC : It is all I have sometimes.
RT : Adversity...
JJC : ...is the spice of life.
RT : My future in racing looks…
JJC : ...promising, not guaranteed.
RT : You raced in a few NASCAR Nationwide events this year, including the Daytona July race with the muscle car's debut. Was it a seamless transition from the trucks to the Nationwide vehicles or were they similar in terms of drivability and behavior?
JJC : The Trucks are harder but Nationwide cars take a lot more momentum (to drive).
RT : Well, the new year's here. What would you like to tell your fans out there in NASCAR Nation? And what are your plans for the 2011 season?
JJC : I'm amazed at the loyalty of my core fans and our interaction in Facebook and Twitter. I'm grateful for the support and friendships I've garnered throughout 2010. I hope 2011 brings even more fans and friends and for major improvements from our team.
Author's Note: Big time thanks to Jennifer Jo Cobb for taking the time to let me interview her. Always a treat to talk to, she's a true friend in the racing community and in life. Also, I'd like to shoutout to Paul Heath, who played an integral part with Cobb's racing efforts in the past year.
If you'd like to learn more about the speedster herself and her racing ventures, check out her official website as well as her Facebok page. Also, follow her on Twitter (@JenJoCobb), where you can get your nearly daily dose with one of today's driver/owner stars in NASCAR!