Competitive, congenial, and calculative, 20-year-old Johanna Long may just be the next big star in NASCAR. Read all about this sensational NASCAR Nationwide Series rookie on TPF!
Most 20 year olds who follow the sport of NASCAR often dream about racing the famed tracks and star drivers of the sport, often battling wheel to wheel with them in console and computer games. As close and exciting as that experience may be, only a few can truly understand that thrill and rush that stock car racing delivers.
Johanna Long is living that dream right now, as she competes in a majority of this season's NASCARNationwide Series as the driver of the No. 70 Keen Parts/Foretravel Motorcoach ML Motorsports Chevy Impala.
A second generation racer from Pensacola, FL, she's more than just Don's daughter - she is a legit force on the track whose determination and savvy have carried her so far in her very young career.
At the tender age of 20, she's racked up an impressive career for a young gun talent, such as nabbing the Gulf Coast Championship, the late model track championship at Five Flags Speedway, and winning the 2010 Snowball Derby.
She's been making a steady climb up the NASCAR racing ladder, having driven for Billy Ballew Motorsports and her family's Panhandle Motorsports team in the Camping World Truck Series in 2010 and '11 before joining Mary Louise Miller's Nationwide effort this year.
Learning the nuances of the competitive NASCAR divisions, she's shown promise, making the most of her cars and showing critics and competitors just how stout she and her team can be on any given race day.
Long fights an uphill battle with a team that absolutely embodies her philosophy and mindset at the racetrack. She seeks for respect and wants nothing but success every time she's on the track.
A rookie on the NASCAR Nationwide Series circuit, she may be a female driver but she wants her fans and peers on the track to know that she is for real, that she wants to be known as an all around amazing racer and that she accepts the challenges ahead for her. Although she's young, she's got the keen, cool mindset to succeed and make it happen.
Call her a perfectionist or a driver with ambition, but either way, Long is poised to make herself as a force to be reckoned with for the future in NASCAR racing.
Her team, based out of Warsaw, IN, absolutely supports her, good day or bad, with all that she does on and off-the-track and in return, she delivers hardy efforts that have her sitting 18th in the Nationwide Series points battle.
She's logged six top-20 finishes in the 12 races she's competed in this season, including a 12th at the July Daytona race, 16th at Michigan, a pair of 19th place finishes at Las Vegas and Kentucky, and a duo of 20th efforts at Richmond and Texas.
Despite her learning curve, Long isn't going to be content with just simply respectable finishes and her goal for the short term and long term run is to bring it and get checkered flags. Humble but driven, beautiful yet tenacious, she's the kind of racer who follows the golden rule and works hard at earning her racing colors the right way.
On the surface, Long is like the kind hearted girl in your neighborhood who's friendly and pleasant mannered. Once the helmet's on and she's strapped up in her Chevy Impala, it's absolutely go time, baby!
With that in mind, it's time to strap up behind the wheel of this article, so let's sit back, relax, and get with it, "In the Driver's Seat with Johanna Long, NASCAR Nationwide Series Racer!"
Rob Tiongson : For the fans here on The Podium Finish racing blog, tell us a little bit about yourself, where you're from, and how you got started in racing.
Johanna Long : Well, I'm from Pensacola, FL, and I started racing when I was eight years old. I was hoping to race when I was five but my dad was a big late model racer down in Florida and he was traveling alot racing himself so we put it off for a little bit. But when I got in a go-kart at eight years old, you know, that's all she wrote.
I raced go-karts for four years and I loved beating little boys and I loved going fast, you know! I raced go-karts, like I said, for four years, and then got to Legend cars, which was a little bit bigger for me. And it was a big step but I only raced that for half of a year because my dad was a big late model racer. So I moved up to late models and won championships and races and that's how it got me into NASCAR.
You know, when I turned 18 years old, I started racing in the NASCAR Camping World Truck Series and I ran three races with Billy Ballew Motorsports which was an awesome opportunity for me. And then I moved on to my dad's, who got his own team and I raced 17 races last year. That was a big step for me and I learned all these tracks and I learned how to get around them and how to race these people cause it's so so different.
That kind of prepared me for the Nationwide Series this year where I do 21 races with ML Motorsportsand that's another big step for me so I'm really looking forward to this year.
RT : Sounds like you've had a lot going on the past 12 years in your life! You've done probably more than most people do in a lifetime, so good for you on that.
JL : Well, thank you. It means a lot. We just started off this year and I've learned so much from these cars and how to drive them and every time I get in it, I learn so much and I learn and I'm looking forward to Indy this weekend. This whole year has been a work in progress and Indy's going to be one of the biggest race so far and I'm looking forward to it.
RT : For sure and you mentioned something interesting about how you've been learning the tracks and all. I assume that you're the kind of person who likes to win so how has it been to try to temper that side of you that's competitive to where you just have to know that when you get to go to each racetrack, you kind of have to approach it with a different attitude each week?
JL : It stinks so bad! (laughs) You know, when you race your late model back at home and you can compete for a win and you can run in the top-five and you can be there at the end, and have a shot at it. Right now, every series that you go to, you have to gain respect and you have to learn these these race cars, and the differences between them, and learn how hard to push them.
Right now, it's all about learning, and getting that experience and it does stink, you know. But we're doing a decent job this year and I want some better finishes for sure. We've definitely had some top-15's and some top-20's and that does mean a lot to me. But I'm not satisifed until we run better.
RT : You are running really well, I mean, all things considered, you're racing against some multi-million dollar teams and you guys are a start-up team and you're racing really competitively against the likes of some Cup drivers. Does it ever humble you to realize that you're competing against folks that you've probably watched on TV or have heard about back in the short tracks in Florida, to realize that you're actually up there with them?
JL : It's really cool, y'know. But when you're out there racing with them, you don't think about. You can watch those guys and you can learn so much from them and when you're racing really hard with them, like when we're at Michigan, I was racing Brad Keselowski really hard and I learned so much from him and the way he drives can help me and it's all about being in that experience that when you're out racing, you don't pay attention to who you're racing and that stuff doesn't really matter.
RT : Interesting that you brought that up because I was wondering, with you being a racer, you know that there's gonna be times where you and your competitors trade paint and it can be accidental or intentional. Has there ever been a time during a race where you had to choose your battles no matter how much anger or aggression you felt towards a driver?
JL : Exactly. You definitely have to watch the way, you have to race them the way you want to be raced. I've definitely been pushed around a lot this year but I'm not going to wreck someone when I'm running 20th. I want to learn as much as I can and gain laps but if it comes down to it and I'm racing up there, I'm definitely not going to give a lot of room but you definitely gotta race someone with respect because that's how you can respect.
RT : I like that attitude and that's what makes you very much a likable race car driver is that you're so young yet you have such a good head on your success and your career path and I think that will set you apart from other race car drivers who are working their way up in the racing ladder so I find that a very redeeming quality about you.
Now you mentioned earlier about your dad who was a late model racer when you were growing up. Who were some of the people that played a pivotal part in you pursuing a career in being a race car driver and for you, was it clear cut from the beginning that you knew you wanted to be in NASCAR or did you have other plans to race in other series?
JL : It's always been my dad and my brother-in-law Mike Williamson. My brother-in-law's been with me since I was eight years old and he was racing go-karts with me.
He definitely knows my style of racing. He's definitely another guy that I go to for all my advice, as he's someone that's been with me since I was little and my dad of course too.
When I was racing go-karts and racing Legends cars, it was about having fun and just going out there and beating all the boys.
I never once in my life, when I was that young, ever think that I would be where I am at today but when I turned 14, winning races and championships, then I felt, "Wow, maybe this could be a career! Maybe I can do this!"
When I started winning and I started winning championships, that's all I wanted to do, which was to make it to NASCAR.
RT : I bet that when you won the 2010 Snowball Derby, you know, that had to make you feel darn good about racing.
JL : (chuckles) Oh yea, that was one of the very most memorable days for me. It's my hometown, my pawpaw passed away, and he always wanted to see me and my dad win that race. He got to see me win, you know, and that was a very emotional race for me and my family. Everyone was there and it's a race that I'll never forget.
RT : And I'm sure that no matter what you do for the rest of your life, even if you win, say, a Nationwide title, or you make it in Sprint Cup, you know, I think that moment will always stand out to you as that one magical moment that won't fade away for you.
JL : It'll never fade away, you know. The Snowball Derby has a big place in my heart. It's my hometown, I love racing in front of my home fans and I just love that racetrack!
They do a great job with that racetrack and every time I go home, I try to race there cause I've been there since I was a little girl and when I was 13 years old, I was at that racetrack everyday.
RT : And here you are, and you're representing them quite well in NASCAR so that's awesome!
JL : Thank you.
RT : Before a race, do you have any prerace rituals like listening to a certain band or or type of music that helps pump you up for a race?
JL : I feel like I don't really have any rituals. If I run good the weekend before, I try to do the same thing the next week. (laughs) Other than that, I just go with the flow. I like to be alone and listen to music and it calms me down and it gets me pumped up. Usually, I try to have a good time and just focus. It's all about the big picture and getting experience in that race car and doing the best I can but I really don't have any superstition or anything like that.
RT : The Olympic Games are coming up this weekend and athletes have had to give up some of their favorite foods or meals for about a month before their events. I was just wondering, from a nutritional standpoint, are there certain meals that you love but you have to avoid before a racing weekend?
JL : I try to stay away from all kinds of grease, it's definitely not good. I always try to stick with sandwiches and something really clean before a race because it can definitely hurt you. You have to be really clean and rehydrate yourself to get ready for a race. It's all about clean food and not getting any grease or anything like that because that could hurt you.
RT : And that's not the most comforting situation because you have to avoid bathroom trips for like three or four hours so I'm sure you've been asked that question a lot (laughter). Like, how do you handle not going to the bathroom for so long?
JL : (laughs) That's definitely not a problem for me, as I've never had to worry about that so that's a good thing. (chuckles)
RT : Is it mind over matter, like "OK, I don't have to think about it, I'm just focusing on the race?"
JL : Yea, you know, when I get to a racetrack and I'm getting strapped in my car, I don't think about anything. When I see that green flag, everything goes away and all I am is focused and that's just getting in my car, passing as many people as I can, working with the team to get the car better, try to make the best we can and we've done that this year.
It's been good and like I said, it's been a work in progress so we're definitely learning each other. It's been a lot of fun this year. Hopefully, at Indy, we can have a really good run and keep our momentum up.
At Chicagoland last weekend, we should've finished top-15 for sure but we got a couple of laps down from a caution coming out when we were in the pits and we couldn't get it back. We definitely kept on working really hard and that's just what it's really all about.
RT : And I was really honestly impressed with your performance that racing weekend because you guys were kind of struggling but then all of a sudden, you got your car to qualify 12th and then, if it wasn't for bad luck or bad timing with the caution when you pitted, like you said, you definitely had a top-15, top-20 car. I wonder, how much does luck play a factor with the race? Do you make your own luck or do you go out there and rely on the fact that you make the most of your performances?
JL : You just do everything you can - you hope for that break and we were hoping for that break this past weekend and we didn't get it. It's just something that you have to keep on plugging along and you might not get those breaks. And one day you might get a lot of breaks and it might be the best race of your career.
The one thing about racing is you could be on top of the world one week and you can be lower than heck the next week. So it's just all about just keeping on digging and thinking it can happen.
RT : That's so true because racing, I think more than any other sport, can quickly humble you and it can make you feel like a million dollars the next week so I'm sure it's a balancing act to try to keep your head on even keel no matter how your racing weekend has been.
JL : Exactly.
RT : You've been racing for ML Motorsports this season, you've raced for your dad and Billy Ballew the past few years. What's it been like to race for Mary Louise Miller and how quickly did it take for you to gel with your team, including your crew chief and all the guys on your team?
JL : Mary Louise Miller is awesome. She has the same goal as me and the same ambitions as me. She wants the same thing out of her team as I want out of myself. We both want to do well for this team and we want to do good. That's why we click so good because we wanted the same things and and we want the same things and racing for this team - everyone on the team is so nice.
I feel like the first time I went to the shop, we definitely bonded real well. Me and (crew chief) Mark Gutekunst get along great. When we're at the race track, we try to talk things out and do the best we can with the car. He's a great crew chief. It's really cool to work with him and it's great being a part of ML Motorsports.
RT : It's pretty cool that you're working with your driving coach who's won a championship. Explain what it's like to work alongside someone as phenomenal as David Green.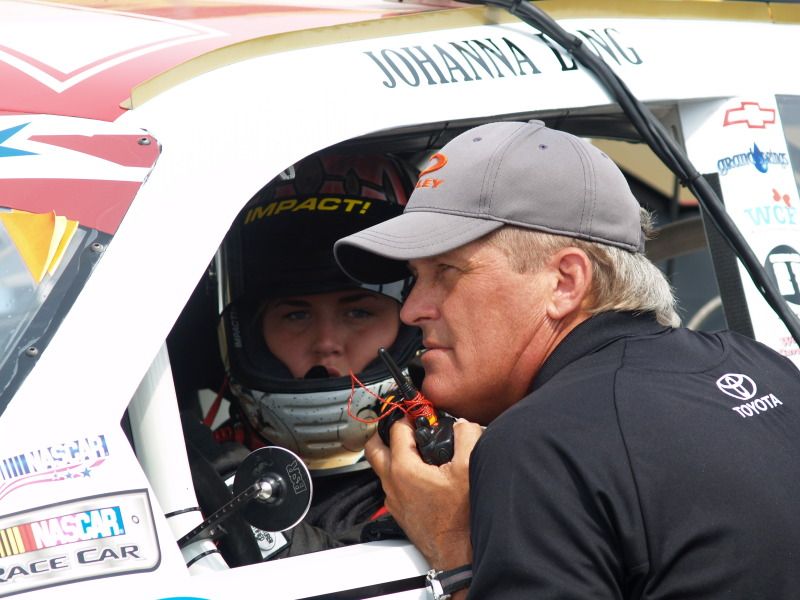 ML : David Green is awesome. He's awesome. I can just sit there and call him right now and I can just learn so much from him from just talking to him for five minutes.
I woke up this morning thinking to myself, "Wow, Indy is going to be so - (chuckles)." I'm nervous, I'm watching videos and stuff like that and we could talk for 10 minutes and I already have an idea of what I need to do at Indy. He's just a great guy to have on your side.
He knows so much and he's on top of the roof and he's spotting for you, he knows everyone around you and he keeps me out of trouble.
If I need to do something a little different with my line, he will definitely tell me and he tells me where everyone else is at the racetrack. He's a big help to me.
He definitely relates to me. When I say something's wrong with the car and I'm trying to talk about it and trying to explain it, David will be like, "You're doing this, this is what it's doing," you know what I mean? He jumps right in there and helps me out when it comes to that kind of stuff so he's just an all around good guy and it's really cool to work with him and for him to be spotter and driving coach is really cool.
RT : I gotta ask you, you must be so excited for Indy! Have you gotten sleep or rest knowing the fact that you'll be racing at The Brickyard on Saturday?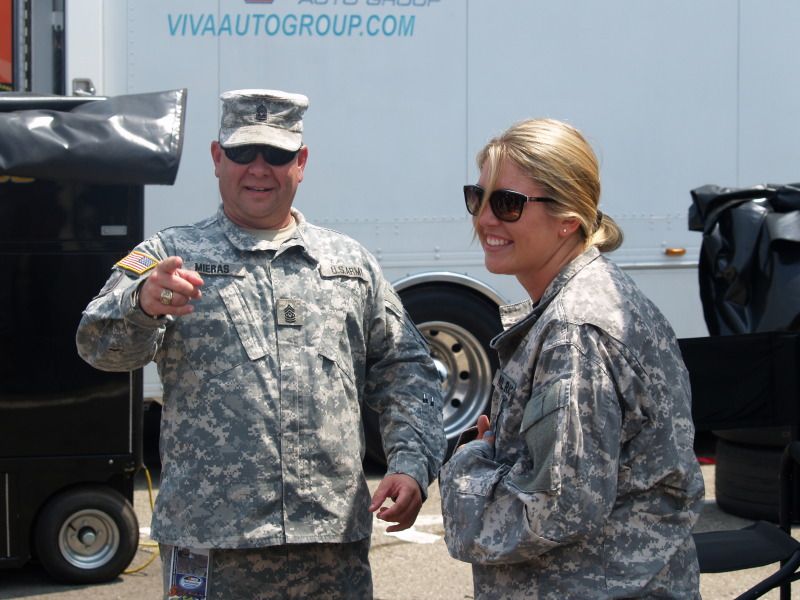 JL : Definitely not. I remember racing around there two years ago and went to Indy and watched practice with my dad, sitting right down there in Turn 3, going, "Wow! This would be so cool one day just to be able to race this race track."
Two years ago, I never thought I'd be racing there right now and it's gonna be cool for me, probably emotional for my dad. It's a big race and it's a big race for ML Motorsports.
We have a lot of stuff going out there with Keen Parts and Wish For Our Heroes for the soliders. It's going to be an awesome."
RT : For sure. What's your goal for the race? Is this one of those races where you'll be taking chances or are you going to go for the conservative finish?
JL : You've got to give and take. You put yourself in the right situation and if you don't think it's the right situation, you get out of it. I'm going to race hard and I'm going to race hard like I do every weekend. If I can get a spot and it might be a little edgy, I'm gonna do it. I want a good finish and I just want to finish for my team, ML Motorsports, and for their families and everyone in their hometown.
I want that. I know we can do it. We just gotta work hard starting from the five and a half hours of practice, getting the car to the best we can and just go out there Saturday and show that we belong out there and that we can race.
RT : Now I'm curious, if you weren't a race car driver, what would you be doing at age 20 right now?
JL : (laughs) I have no idea! I've been racing since I was eight years old and I've never really done anything else. I cannot see myself doing anything else but being involved in racing. I would probably go crazy.
I eat, breathe, and sleep racing and all I ever wanted to do was be around race cars and be at a race track. When I'm not racing, I'm at a short track somewhere. Usually, on Tuesday nights, I'm at Summer Shootout (at Charlotte Motor Speedway) watching Legends Car races. I'm at a race track every week.
RT : Now we're gonna do a little Free Association here. Say the first thing that comes to your mind and it's going to be a little bit random so are you ready for this?
JL : Ooooooh, I'm ready!
RT : I love your attitude, that's awesome. Here we go. Home.
JL : Pensacola, FL.
RT : Nice. Friends.
JL : Brooke Hedges. (laughs)
RT : School.
JL : School? Oh gosh. (laughter ensues) Oh gosh. (more laughter)
RT : You sound like a student already. (laughs) Favorite racing memory.
JL : Winning the Snowball Derby.
RT : A show that you've always wanted to be on is..
JL : Some Disney show! I always watch Disney and I still watch Disney today.
RT : So you're telling me you're a Miley Cyrus fan and all into those Hillary Duff shows?
JL : Oh yea!
RT : You know what, that's cool. (chuckles) Dream race track that you've always wanted to compete at.
JL : Indianapolis or Daytona.
RT : And guess what?
JL : I get my wish!
RT : Yes you did! Good for you. Your future in racing looks...
JL : Hopefully good! Can I say a lot for this question?
RT : Oh of course, go for it!
JL : Hopefully good. I'm out there racing and doing the best I can so hopefully someone will notice me and I want to make it to the Sprint Cup Series one day and hopefully one day, sponsors will take a chance on me and help get to that level.
RT : I'm sure they will because you definitely have the dynamics and the congeniality and obviously the skills to make it so I don't see why not. One thing I've wanted to ask along with that question was who were some of the drivers that you kind of befriended or gotten to know pretty well in the last two years of NASCAR?
JL : You know, at the race track, you're so involved with yourself and your team and you really have these people that you talk to. I think a lot of the drivers in the Nationwide Series are very nice and would love to help you so just anyone in the Nationwide Series really. I can talk to anyone and anyone will be nice.
RT : This is a question from a fan from Twitter, Reba Robinson, asked, "Being in a sport where it's perceived as male oriented, how do you tackle that and do you want to be viewed as an amazing female driver or do you want to be viewed as an amazing race car driver all around?"
JL : Just an amazing race car driver all around. I've never looked at myself as a girl race car driver since I was eight years old. My dad gave me a piece of advice: "If you want to be a good girl racer, this definitely isn't the sport you want to be in."
I've just been doing my thing and that's what I've always thought about and it's all about racing hard and racing these guys and who cares if you're a girl? It's just all about getting out there and doing what you gotta do.
RT : That's true and I have to imagine that when you're facing the mainstream media, it probably gets a little bit tiring to be asked all the questions that go, "You're a girl race car driver, you're racing against Danica Patrick or whatever," I'm sure that gets a little bit old for you.
JL : You know, it really doesn't bother me because I am a female. There's a lot of young girls that wanna race so it's cool to see that happen and hopefully they'll keep on coming along and hopefully a lot of girls will start getting into the sport.
RT : I'm sure when you get to that point, you'll be taken aback when one day, you'll hear a young race car driver saying, "I wanna be the next Johanna Long!"
JL : That would be awesome - that's what it's all about, little kids and the families that wanna start and get involved in NASCAR, even just being a fan and watching it, NASCAR's all about its fans and it's just really cool to be involved.
RT : Flounder (Johanna's hauler driver Tim Frantz) mentioned what music he listens to when he's on the road hauling your cars to the tracks and this is actually something he wanted to know - what's currently playing on your iPod right now these days?
JL : Anything that has a good beat! I like rap, I like pop music, I like a little bit of country. I also like a lot of the new stuff like Katy Perry, and I like all kinds of rap music too. Anything that has a good beat that's going to get you pumped up.
RT : I'm surprised, I was joking with Flounder and I said, "I hope she wouldn't say she has 'Call Me Maybe'" by Carly Rae Jespen -
JL : I like that song!
RT : Oh no, you do?
JL : (laughs) Oh I like it! They play it a lot but I like it. It's my type of music! (laughter)
RT : Are there times during a race where, say, you're having a good run, you have the urge to sing on the radio once in a while?
JL : I might joke around but yea, it'd be funny. No I don't sing and I don't think I wanna sing on the radio. They might make fun of me afterwards.
RT : Who are some of the people you'd like to shout out to and thank along the way for all the success you've had in your racing career?
JL : My family. My family's been there and they've fought a lot for me to be where I am today. It's not just my mom or my dad or sisters. It's my aunts, my uncles, my pawpaw, my grandma, my granny, it's everyone who's done so much for me to get where I am at right now.
It just means so much. Without them, I wouldn't be where I'd be at today. All my family, all my fans, you know, and everyone that's doubted me. They're the ones who, when I was younger, they made me stronger so it's just really cool.
RT : You seem like someone who, when in tough times, you just don't stop. You just keep going and even if it hurts a little bit, it doesn't kill you.
JL : Yea it's like, there's always bridges that you're going to have to cross. You just gotta keep pushing and you'll eventually get to where you wanna be one day. If you want a dream to come true, you just have to go towards it and can't look back. Even if there is a bridge, you just have to keep on pushing.
RT : Tell us one thing about yourself that fans may not know about you as far as you being an individual and who you are as a race car driver.
JL : That's a hard one. I like to have fun, I like to hang out with my friends and family. I like to have a good time and I like to get down to business too. It's all about my racing career right now and it's all about focusing on that.
I feel like I'm a pretty funny person. I like to talk.
RT : How do you stay positive during a long race?
JL : Ooooh, I get so flustered sometimes and I get so mad at myself if I make a mistake. I just wanna do so good that I'm so hard on myself cause I wanna do good and I want good things to happen. Believe me, when I do something wrong, I'm gonna tell everybody.
I'm like, "Damn, I should've that, I should've done that." David Green will go and say, "It's OK, Jo, you did good there, you're learning. Let's keep calm." He just does a great job and keeps me calm and keeps me going.
RT : Nothing wrong with having that perfectionist attitude. It just means you have a desire to win.
JL : Exactly.
RT : As long as you're not pressing the button for the radio and cursing at your crew, then it's a good thing.
JL : Yea, definitely not. That's definitely not my style. (laughs)
RT : I'm not putting anyone out there at all - we're not talking about anyone in particular, right Johanna? (laughter) Oh I'm kidding, I'm kidding.
RT : Word around on the block is that I was a pretty good go-kart driver from Boston and I just never got my break. If I'm going to challenge you in a go-kart race, do I have a chance against you?
JL : Definitely not! (laughter)
RT : Oh really? Oh really? You don't think so? (laughs)
JL : I'm just kidding! The go-karts are definitely fun. I'm pretty competitive though. I'm very competitive, even if I'm racing a go-kart, I do not want to lose.
RT : Here, we'll make a bet. If I win, I get to drive your stock car for two laps. If I lose, you get to shave off my sideburns.
JL : Yeaaaa, I don't think that's going to happen cause I don't make those kind of bets! (laughs)
RT : Aw, you're too nice! (laughs)
Author's Notes: Thanks to Johanna for allowing me to interview her, as well as Jennifer Weaver of MLMotorsports and Haley Long for making this opportunity possible! The photos provided in this piece are courtesy of Vision It Now as well as Jennifer Weaver and ML Motorsports. To learn more about Johanna, check out her official website, her Facebook Fan Page, and her Twitter page! Also, be sure to check out her racing team, ML Motorsports, on Facebook, Twitter, and their official website! Thank you all.