At age 14, Jonathan Findley isn't just your next NASCAR prospect. As BK Racing's development driver, he may just be the next Sprint Cup superstar!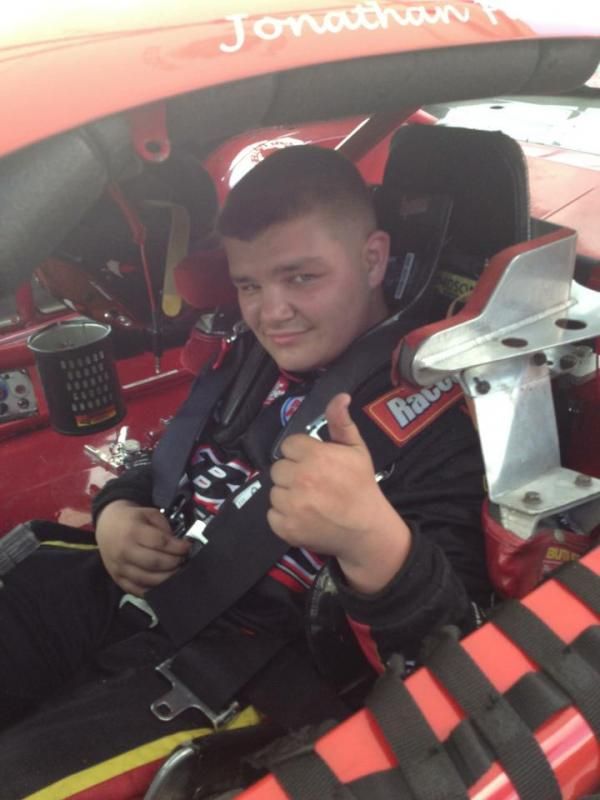 Like most competitive sports leagues, NASCAR and auto racing have a ladder system for their talents to hone themselves as they mature as an athlete and individual. For most children who want to be the next Chris Davis of baseball or a Patrice Bergeron in hockey, they'll hit up the diamond or hockey rink about the same time that they're just entering first grade. Perhaps an unknown to some sporting and new racing fans is that some of tomorrow's stars cut their teeth long before they earn their learner's permit for their regular road cars!
It's not unusual in racing as some of today's best started at a young age, much like Jeff Gordon, Tony Stewart, or even Danica Patrick. Each of them basically have known racing virtually all of their lives, surrounding themselves with the racetrack and cars as much as they did with their school books, teachers, and friends. They balanced out their educational priorities with the asphalt arenas, paving the way to their current seats and position as true motorsports icons.
Not too far behind them is 14-year-old Jonathan Findley, a young Virginian talent who's not just a NASCAR Whelen All-American Series racer, but also BK Racing's "development driver." This youngster has absolute car control and precision like that of his older counterparts at Southern National and Motor Mile, taking in his experiences rather quickly to excel as a true winner and champion for the future. Balancing school with his racing dreams, he's not shown any of the superstar ego that some talents may have for their amazing opportunity.
Instead, Findley's a very laid back, calm, collected individual who obviously has his priorities and goals set by self-motivation and maturity well beyond his age and years (and perhaps folks about twice as old as him). With a strong support system with his family, friends, and as well as with the sophomore Cup effort of BK Racing, all the ingredients for a long, prosperous, and fruitful career are there.
Currently competing at Southern National and Motor Mile, Findley acknowledges that he has much to learn and for a youngster, that's a champion's perspective to take especially given the opportunity that he has as a driver. As one of the youngest competitors at both venues, he realizes the old maxim that "in order to go faster, you have to go a little slower." That said, he's shown flashes of brilliance as a driver, including a sensational second place result and a brilliant fifth place effort at Shenandoah Speedway respectively on April 13th and June 22nd.
Keep an eye on Driver 83 as he works and earns his way up the ranks as a top prospect in NASCAR racing. Sure, we may know who the "Next 9" is presently in stock car racing. You ought to know the "Next One" and it's Jonathan Findley. Think you're ready to know the face of the future?
Well strap up, grab the driving gloves and firesuit, because we'll go "In the Driver's Seat with Jonathan Findley, NASCAR Whelen All-American Series Racer" right here, right now on TPF!
Rob Tiongson : First of all, for the fans of The Podium Finish who may not know about you, tell them a bit about yourself and how you got started in racing.
Jonathan Findley : It all started off with my grandfather. I was at the racetrack with him and I saw these little cars called Bandoleros. I eventually asked my grandfather for one and he said, "I'll think about it." When he did, he finally got one and that's how I got started and how I've gone on racing since.
RT : Right now, you compete over in Southern National and Motor Mile, which are some of the toughest short tracks in the Southeast, much less, the entire country. Do you welcome that challenge each time your car's unloaded or do you feel like, OK, I want to race elsewhere?

JF : I wish I could race everywhere. I want to go to different tracks and not the same ones the entire year. Yes I do like to go to the tracks that I go to, unload, and have a good mindset and hope to do the best that I can do.
RT : When you're at the racetrack, do you observe your competitors' lines on the track or do you talk to them first and apply their feedback into your racing?
JF : I try to follow them and I try to keep up with them for maybe a good 10-15 laps and then I let them go because I have other cars that are behind me and I have to let them go. I keep up with them for a while and then it's all dependent on how good the car is or if I have to ride out where I'm at and let people go. I try to follow them. I don't talk to the competitors much at the track though.
RT : While you are just 14 years old and wheeling these late models around Motor Mile and Southern National, does it amaze you to know you've gotten this far in your young racing career?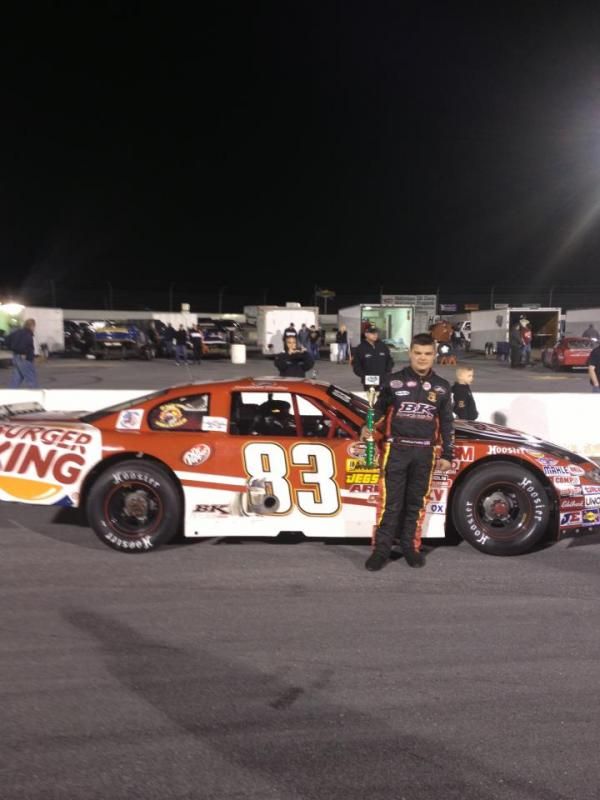 JF : When I first started, I never pictured myself at this series at this age five years ago.
It's surprised me. I never thought I'd step up and go as far as I have so far in my career.
RT : Does it ever occur to you that when you open up your wallet, there's your NASCAR Driver's License?
JF : I don't look at it on a regular basis but that I'm allowed to drive legally in NASCAR and not on the road is a different feeling that I'd ever expect, for sure.
RT : Describe that moment when you're at the track, prior to the start of the race when you're getting ready to clamber into your car. Are there nerves of steel or is it all excitement to be in "your office?"
JF : For me it's nerves. I tell people I'm not nervous. I don't think that I am but I really am. People can tell because I don't talk, I don't eat or do anything. Some people get nervous, some people don't. It all depends on what you're like. As soon as you get ready into the car and go, you're alright. Just for that moment that you're sitting in your car, sure you get nervous.
RT : Is it nervousness because you want to succeed - what kind of nervousness do you feel?
JF : Nervousness because I want to succeed right now. I'm not worried about people watching me and what I do - I just want to get better as the season goes on.
RT : Who are some of the folks in the racing world and outside of the track that you look up to for advice with regards to the sport as well as just with life itself?
JF : I like Carl Edwards a lot. He has a lot of talent. He shows me what you need to do when you speak in front of the fans on TV on a weekly basis.
RT : I've asked a few of my racing buddies this but have you found yourself doing your homework or studying for a quiz for school while at the track?
JF : I have a funny story now that you bring it up. A few months ago, I was at the racetrack and my mom asked, "Where's your homework?" I said, "It's in the trailer." She told me, "Well go get it! You have to finish it before Monday." I had to do it just before qualifying started and fortunately, I got it finished.
RT : Do you play some of the racing video games to get the feel of the cars like the PS3 NASCAR games or iRacing?
JF : Yes - my dad actually bought an iRacing set for me this past Christmas. I play around on it and try to go on different tracks. I love to race South Boston a lot. It's fun to race there. It's not as hard to control as the real life cars. It's still a good place to learn the cars.
RT : Interesting choice with SoBo - have you applied some of the experience in the video game situation with your actual racing?
JF : Racing them is a bit different because they don't slow down as much as the regular car that I drive in real life. It teaches you when to let off the throttle, how to brake, etc. My grandfather tells me to get off the brake, get off the brake. Having iRacing and the games to help you learn different things is better as I've seen myself this year, the more I've gone through experiences, the better I have gotten with practice, qualifying, and race day.
RT : How much of an honor is it to be BK Racing's development driver and know they chose you for their future?
JF : It's an honor for sure. I've told everyone I know that this is what I want to do.
If not, I want to become a mechanical engineer as a back up situation in case I don't get further in my driving career.
Having people on your side is a good feeling because now you know that you have someone who counts on you and backs you up when you need something.
RT : I gotta ask, being with BK Racing, do you get the BK Gold Card?
JF : Nope, unfortunately no Gold Card for me. Everyone asks me this.
RT : I know there's so many years ahead of you and right now, it seems like you're climbing up that racing ladder. Where do you see yourself racing in the next 5 years - are you planning to continue up the NASCAR ladder or are there other possibilities with your career?
JF : I sure would like to be in the Cup Series. But if I don't make it, I hope to go to school in North Carolina or Virginia Tech to get a good education to work somewhere so I could make something out of my life rather than not doing anything at all.
RT : Anything else you'd like to say to the fans here?
JF : Please check out my Facebook Athlete fan page and my personal Facebook page as well! Thanks so much.
Author's Notes: Special thanks to Chase Austin, Debbie Findley, as well as the Findley family for making this interview possible with this sensational And to Jonathan, keep it up - you have a bright future in racing with many checkered flags and trophies awaiting you. All the photos are courtesy of Jonathan Findley and we'd like to thank and acknowledge them and BK Racing as well!