For Justine Jackson of Kingston, Jamaica, she's been pursuing her dream of being a professional racer since she was 12 years old.
Think back to when you were age 12 and were dreaming of the things you wanted to pursue. Perhaps you wanted to be a singer, actor, or a lawyer, all ambitious careers where it seemed like it'd be an eternity before reaching the surface of those job fields.
For Justine Jackson of Kingston, Jamaica, she's been pursuing her dream of being a professional racer since she was 12 years old. Now living in the heart of stock car country in North Carolina, this 20-year-old racer/college student has her eyes on the grandest motorsports division of all - Formula 1 racing.
Sure the journey might take a while and along the way, the congenial and brilliant Jackson will have to battle her hardest to make her dreams into a reality. However, if there's any young racer who's got the courage, the wisdom, and determination to make it all happen, it's Justine Jackson.
She's raced in the SCCA ProRacing Volkswagen Jetta TDI Cup Series, the Junior Rotax Championship as well as its senior division, and 125cc ICC Shifter Karts, all competitive series for a young girl who's got the ambition and smarts to make it in any series she sets her sights on.
Of course, she doesn't just pursue her racing dreams alone. Humble and spiritual, Jackson knows she's got the support of her family and places her trust in her faith to lead her into the next level of her career, no matter where it takes her.
Right now, where it's taking her is this special edition of "In the Driver's Seat," where we'll really get to know Justine Jackson not only as a racer, but as a remarkable individual who's unmistakable and most of all, a brilliant and special girl who'll be making noise in the coming years!
So let's strap up our seatbelts, get our HANS devices properly attached and let's get to know all about Justine Jackson, aspiring Formula 1 racer!
Rob Tiongson : When I think about places where a child is brought up into the motorsports world, Jamaica isn't the first place in mind. How big is racing over there?
Justine Jackson : That's very true. When most people think of Jamaica, they think of Bob Marley and Track & Field, but Motor Racing is very popular in Jamaica. We have go-kart racing which I have done for eight years, circuit racing (road-course racing), rally car racing, dexterities and sprints (autocross), drag racing, and bike racing.
We don't have as many facilities as other countries may have, but we are home to a lot of top level drivers who have competed all over the world. Also, Jamaicans are very passionate about sports, and racing always draws a big crowd.
RT : Here's something I've always wondered – when you decided to make a career in auto racing, what were your parents' reaction? Was it something that eased in with your folks or did it take some convincing for them to let you go behind the wheel?
JJ : My two brothers started racing before I did and of course at 12 years old I wanted to do exactly what my brothers were doing. My dad said, when I saw them bringing their trophies home I got jealous of them so I started racing, I thought that was pretty funny.
My parents fully supported my decision but of course like all moms, my mom was a bit worried but she always showed her support and of course my dad was proud to see all three of his kids racing- it was how we bonded as a family. We spent almost every weekend at the track, whether to race or to practice. We grew up at the track.
RT : Now for the fans here that are curious about you as a driver, tell them a little bit about yourself, what series you race in, and why Formula 1 racing is what you're pursuing.
JJ : I was born and raised in Jamaica and I have been racing for 8 years. Over those 8 years I have placed 3rd in the Junior Rotax Championship twice (2005, 2006) and 2nd in the Rotax Senior Championship (2008) I have also raced 125cc ICC Shifter Karts since 2007. I was also invited to the Women In The Winner's Circle Driver Development Program, established by former Indy Car Driver, Lyn St. James, in 2007.
My most recent racing experience was in the 2010 SCCA ProRacing Volkswagen Jetta TDI Cup Series for which I received a scholarship from Project Podium in conjunction with the series to run the entire season.
Formula 1 has always been my favorite series of racing. My brothers, my dad and I would always watch the races on TV growing up and that has always stuck with me. Even now living in North Carolina as I attend school, I get up early in the mornings to watch the practices, qualifying and races.
It's a very technologically driven series, the toughest in the world and it's where all the top drivers in the world end up. It also involves traveling all around the world, meeting so many different people and exploring different cultures which I really enjoy.
RT : You're 20 years old and that's a relative young age as far as racing's concerned. Where do you feel you stand progress wise with your career?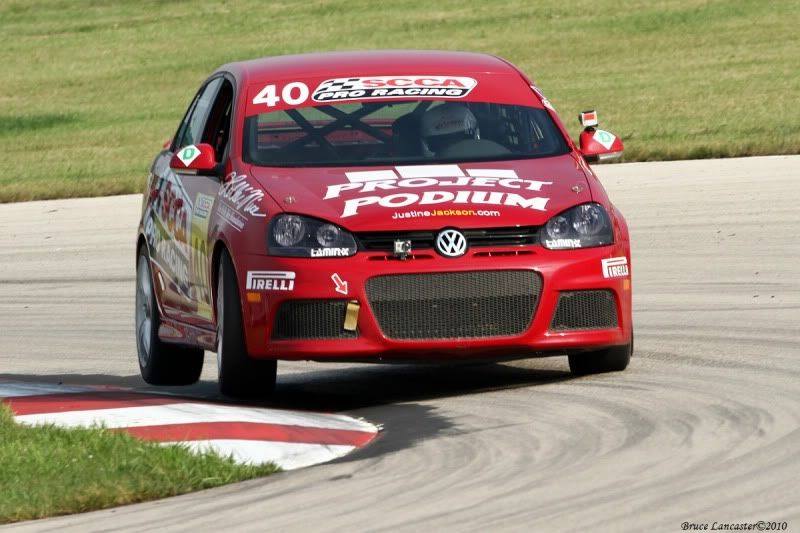 JJ : I am really happy with what I have accomplished so far but of course I would like to go a lot further.
Racing has been kind of like a way of life for me since I was 12 and even though I have been racing for eight years, there is so much more that I want to accomplish such as racing in the 24 Hours of Daytona in the Rolex Sports Car Series.
But I have also learned that taking the next step in my career at the right time is very critical to my development and longevity in this tough sport.
RT : Who are some of your heroes in motorsports as well as with your life? Did you have any mentors in the VW Jetta TDI Cup Series?
JJ : My dad has always been a huge influence in my life and he has been there throughout my career. He would always tell my brothers and me "There is no such thing as, I can't." Throughout his life he has worked so hard to get to where he is right now and he has certainly passed that trait unto my brothers and me.
My Grandmother has also been a big influence in my life. She too is a very hard worker and has encouraged me so much in my faith and my relationship with my Lord and Savior, Jesus Christ who has blessed me so much throughout my life and career.
In the TDI Cup Series we had 4 instructors, Jan Heylen, Ryan Arciero, Andy Lee and Mark Miller who all helped me so much with my development as a driver throughout the season.
RT : With you living in the stock car region of North Carolina, you've obviously gotten the chance to know some folks in that series. Have you given it any thought to go NASCAR racing one day, if given that opportunity?
JJ : I have been in North Carolina for about 2 years now and my interest in stock car racing has definitely increased. Given the right opportunity, I would jump right on it. Road Course racing has always been my first love but I will race anything as long as it as 4 wheels. I have never raced on an oval but I have been on a "roval" (part road-course, part oval) when I raced in Mexico last year and that was a lot of fun.
RT : An interesting fact that I read about you on your bio was how you have a twin brother who was born 10 minutes before you. How close are you to your twin brother as well as your family?
JJ : Yes, my twin brother, Sean was born 10 minutes before I was and it's funny how when people hear that I have a twin they often ask me if we can read each others' thoughts or if I can feel what he feels.
Unfortunately I can't but of course we do look out for each other especially when we're racing. If you mess with one, you'll get the wrath of the other plus some from my older brother Joel. Racing has been a huge part of the Jackson family and will always be.
RT : You've raced a myriad of vehicles in your young life – if suddenly, you got the power to pick any racing car to drive and a track to go full throttle at, which vehicle and venue would you choose?
JJ : That's a really tough question! The car, that's easy Lewis Hamilton's 2008 Championship winning McLaren Mercedes Formula 1 car. The track, there are so many to choose from! Virginia International Raceway is my favorite track that I have raced in but I would love to race at Mazda Raceway Laguna Seca or at Istanbul Park in Turkey. That track has a really cool layout and its signature corner is turn eight which has four apexes.
RT : Is it a bit of a balancing act to juggle school and racing, especially when one coincides with the other with your schedule?
JJ : A lot young drivers struggle with that but it's a matter of good time management and prioritizing. Thankfully, when I raced last year most of the races were during the summer so that wasn't a big issue for me, but for the races that were during the school year, I had to make sure I got everything done before I flew out, even if it meant staying up until the early hours of the morning.
I have a friend from school, Jordan Anderson, who owns and operates his own race team. He works so hard to get everything done and I honestly couldn't imagine how many late nights he's had, to be as successful as he has been on track and at school. I like to think of it as the quicker I can get all my school work done the sooner I can focus on my racing.
RT : Free Association time for you, my friend! If you've raced at a road course, you can surely handle this, yea? Let's do this! Tell me the first thing on your mind with the following:
Faith.
JJ : My faith and my relationship with my Savior Jesus Christ is my driving force. He's my rock and I couldn't imagine where I would be without Him.
RT : Family.
JJ : My family has been my support system right from the get go and without them I certainly wouldn't be where I am right now.
RT : Fear.
JJ : Fear of failure. In anything that I do, my goal is always to succeed and be the best.
RT : Struggles.
JJ : What doesn't kill you, makes you stronger. I have had quite a bit of these throughout my career, as has any race car driver, and it has taught me so much about the importance of self-belief and perseverance.
RT : Necessities in my life.
JJ : Loving friends and family who will support me no matter what I decide to do.
RT : Luck.
JJ : There's no such thing as luck, it's all the Lord's blessing.
RT : Determination.
JJ : Determination is a key ingredient to be successful. Everything worth having is worth fighting for.
RT : My future in racing looks…
JJ : Promising. I've learnt to live each day in the moment and to not worry about what tomorrow brings. Although I haven't really been behind the wheel of a race car for about a year (way too long!), I know that the Lord has something in store for me and I'm just going to keep working hard and trusting Him.
RT : As the 2011 season is winding down, have you been preparing for next year and what are your looking into as far as a ride for 2012?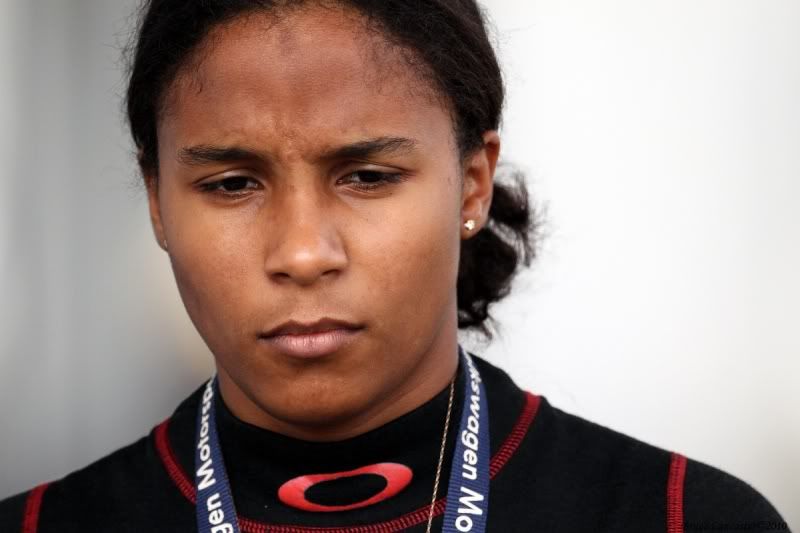 JJ : I do have a couple opportunities that I am looking into for 2012 but nothing that I can say for sure, but I am really looking forward to seeing what God has in store for me.
RT : You're pursuing your career and there's still plenty of racing left for you to do.
Did the thought of not racing ever hit you and if you had to do something else besides being a professional auto driver, what career paths would you have considered?
JJ : That has crossed my mind, especially because I have been without a ride for a year and of course it's not something I like to think about but if I don't race I know I will be working in the motorsports industry some how. I really enjoy being at the track and around the cars and drivers and one day I want to give back to other young drivers as they chase their dreams.
Author's Note : Special thanks to Justine Jackson for taking the time out of her academic and racing schedule to let me interview her this week. If you want to know more about this sensational young talent, visit her Facebook Fan Page and follow her now on Twitter!