Bright, beautiful, and bold, 17-year-old Kaitlyn Brice could be the next New England NASCAR superstar racer. Learn about her right now here on TPF!
Racers often endure struggles and successes that make their stories in the world of motorsports as one that's memorable, extolled, and forever immortalized through articles, books, podcasts, and other means much like oral traditions from legendary civilizations in our world's history. Today's racing heroes could be thought of like the heroes from ancient sagas, except they're not just Southern boys anymore.
Young 17-year-old Kaitlyn Brice of Manchester, CT has a dream to become a superstar in NASCAR racing like her contemporaries. She hails from a racing family and her passion stems from her father James, who raced in dare stocks starting in 2006. The beautiful and competitive racer would then follow after her patriarch's footsteps just two years later, first in 2008 with go-karts before making the leap to asphalt circuits in 2010. Perhaps distinguishing herself from her peers is that she's willing and wants to learn about the mechanics of her machines, much like a medical student who wants to excel in their practice to become the most proficient doctor or surgeon in their field.
Brice has big visions and a mindset where if she puts her mind to it, she can absolutely accomplish the dreams that she envisions. When I caught up with Brice at New Hampshire Motor Speedway this past weekend, I could see the determination and drive in her eyes and just hearing her talk about racing even had me fired up and wanting to go behind the wheel myself! Unike Brice, however, I'm content to watch and admire the racing from the perspective of a writer while she prefers to drop the hammer and give it 110 percent on the racetrack, excelling real well at it too!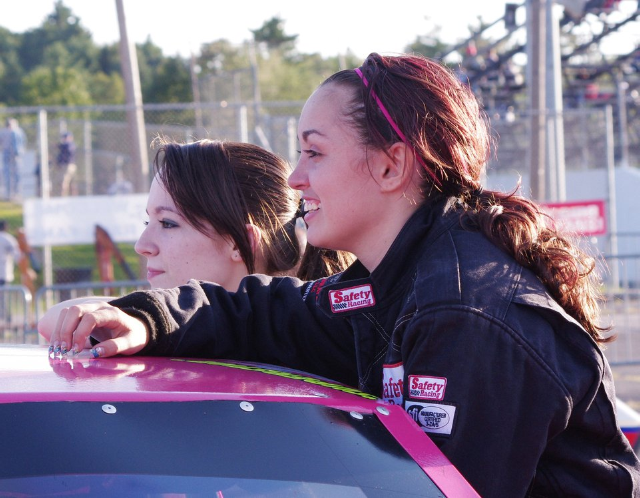 She's a racer who you'll believe in fully by the time you read through this interview, which I'm pleased to present here on The Podium Finish. About four years in the making since interviewing our racing friend Bethany Griffin (nee Viets) here on TPF, needless to say, Brice has such a bright and amazing future in this sport. Humble, mature, and cognizant of the support and encouragement provided by family and friends, it wouldn't surprise me to see this bright young racer become a household name in NASCAR within the next five to 10 years.
So are you ready to go racing and hit up the track now? Let's do it up and go "In the Driver's Seat with Kaitlyn Brice, Dare Stock Series Racer" right here, right now on TPF!
Rob Tiongson : For the readers and race fans here who are just learning about you in this piece, tell us about yourself and how your racing journey started. Also tell us which racing series you are competing in and what divisions you have your focus set with in the near future.
Kaitlyn Brice : Back in 2006, my father, James, started racing a dare stock at Stafford Motor Speedway. My mother, Lisa, and my dad got into an argument about how it's pointless because he has two daughters and they weren't going to be interested. But my mother was wrong. I absolutely LOVED it. I was my dad's biggest fan, supporter, and cheerleader.
In 2008, I got offered to race a go-kart for Steve Rockwood, who may I add, has passed away this past year. When I was racing for him, we were at Whip City in Massachusetts and that is a dirt track. We decided to make the switch to asphalt in 2010 when NASCAR lowered the age limit from 16 to 14. There I started racing at Stafford Motor Speedway here in CT! I made NASCAR history by being the youngest female at a NASCAR home sanctioned track as well as the youngest person as well. From there, I hope to go onto racing either a limited late model or SK Light in the 2014 season! But in my future, I would like to be racing against Joey Logano and all the big time guys at the Daytona 500 and so fourth.
RT : As you hail from Connecticut, it's a New England state that's seen some great racing drivers like the late Rob Moroso and present day NASCAR Sprint Cup car star Joey Logano hail from and talk about. Dou you try to take after some of those talents or are there any drivers locally or across the country that you look up to in terms of their styles with the media and on the track?
KB : I try to watch some of the best drivers races and learn from them, and I learn how they race and their lines at a certain track. I try and see how they communicate with the fans and media.
I'll admit, I'm not very good when it comes to that kind of stuff but I try my best!
I really look at how Whelen Modified Tour drivers such as Ryan Preece, Todd Szygedy, and Woody Pitkat conquer their dreams and learn from them.
RT : What was your "welcome to racing" moment that made you realize, yes, this is where I belong for the rest of my life?
KB : My "welcome to racing moment" was after my very first race when I didn't even finish, when a little girl came up to me and told me that she'd be my fan for life. That no matter what I do or where I go, I am her idol and to this day, she is still asking questions and still supporting me even though I'm not racing at the moment.
RT : If there was a song in any genre that spoke volumes to you as a person and as a racecar driver, what would that be and why?
KB : A song that my team and I have in mind would be "Started From the Bottom" by Drake. We started from the bottom with not having the money to go forward. Not having a crew, my dad having to have his neck fused together, my team has been through a lot with me but we never give up and now look where we are. We are moving up in the world of NASCAR!
RT : You work closely with your family with your racing endeavors and as we spoke about at Loudon prior to the race, it seems like it's an important aspect with your efforts. Are there times when you and your family both learn from each other when it comes to what happens on the track?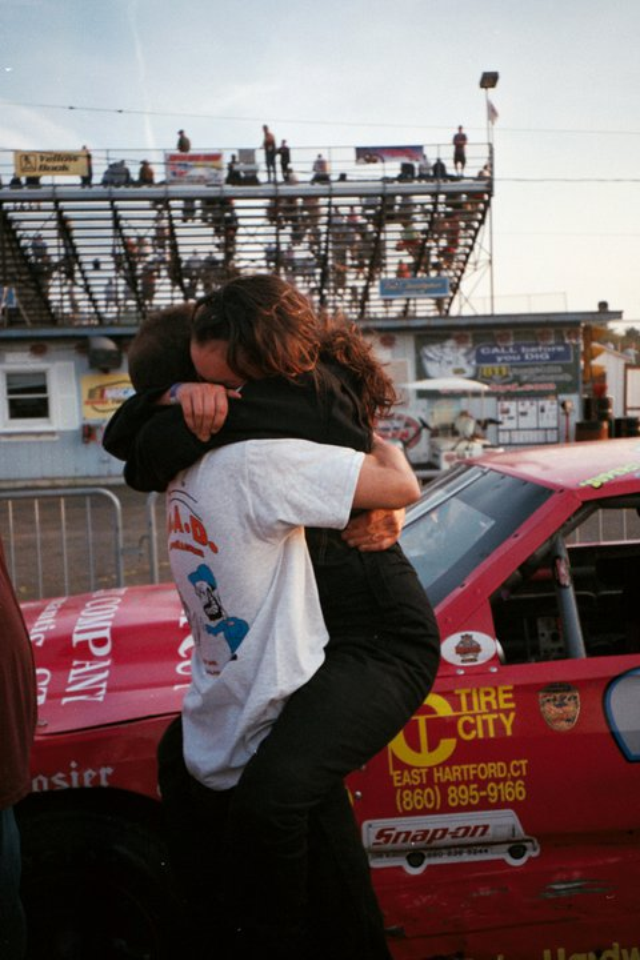 KB : There's many times that my family, my crew, and I have times from where we learn from each other in and out of the track. They teach me how to run at different tracks and I teach them what I think I need to do and what they need to do with the way I drive and how the car drives. We watch past videos and take notes. We work day in day out to get the cars ready.
People aren't joking when they say this sport, in order to succeed, you have to put blood, sweat, and tears into it. Not only that, but we learn how to communicate. My dad and I may have an argument on what needs to be done here and there but we compromise. My dad is so proud of where I have gotten to today in my life and career. The whole team is extremely proud of me. With the support of the team and my fans, that is what is getting me through my career.
RT : Away from the track, are you still a very competitive person when it comes to school and other activities or would you say that the moment you put on your firesuit and helmet, that's when a particular side to you is around?
​KB : Away from the track, I am still a very competitive person. I love to play basketball and I love to get things done at the best of my ability in school. I go to a technical high school - I have to stay competitive so that I can get scholorships for college by doing competitions and doing well on tests. When I get to the race track, I am extremely more competitive than I am normally. It's a win or lose competition out there. Nobody wants to lose, everyone wants to win!
RT : Borrowing a quote from the Ron Howard directed movie Rush, the film portrayal of F1 great Niki Lauda said that there's a 20 percent chance of dying every time he straps behind the wheel. Are there times where the risks and dangers of racing lurk on your mind or are you absolutely confident when you strap into your car, that you're as safe as can be at high speed?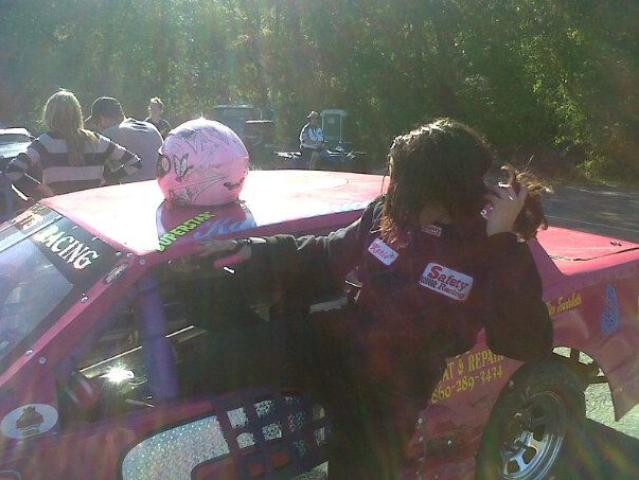 KB : Going to the quote about there being a 20 percent chance of dying, I believe there is a 50 percent chance. You never know what's going to happen in a race. Every time I think about racing, I think about the dangers and risks, but I put myself on the line for it because I love racing this much! My car Is extremely safe but things still happen! I mean look at this past season, where I had to go to about 7 different doctors for my hip because of a racing accident almost a year ago! Things happen and it's all apart of racing!
RT : What's been your ultimate dream with your racing career? Has it been to embark full-time in NASCAR's Cup division?
​KB : My ultimate dream with my racing career is attending UTI/NTI and graduating but walking away in the business of NASCAR. Whether it's racing a car or working on a NASCAR car. I believe in myself that one day, I will be racing in NASCAR! I would like to race in a NASCAR Sprint Cup car one day soon!
RT : Now as I understand it, you'll be going to the UTI, a great university that emphasizes on an education to propel its students and graduates into the world of motorsports. What are your hopes and expectations with attending UTI down by the Mooresville/Concord, NC area?
​KB : My hopes and expectations of attending UTI is to work away with a job in NASCAR as well as learn even more then I already do with the rules and ways to make a race car go! I want to learn how to build a car from scratch and to learn how HARD these guys and girls work in NASCAR!
RT : Would you say that you are a superstitious driver or that you make your own luck at any given race day at any track?
​KB : I think that yes, I am sort of a superstitious driver because some of the superstitions are in fact true. But I also think that my team, my fans, and I make our own luck on any race day!
Author's Notes : I personally would like to thank Kaitlyn and her father James for making this interview possible and for taking the time to meet with me at New Hampshire Motor Speedway during the Sylvania 300 race weekend. All the photos are courtesy of the Brice family. If you'd like to learn more about this bright star, "Follow" her on Twitter and "Like" her Facebook page right now! Thank you so much!