Diligent, determined, and driven - those are some of the words to describe 22-year-old Kenzie Ruston of El Reno, OK. Beautiful, sweet, and quite personable are other words that could be used with her as well, as she's a very humble, appreciative, and fun loving individual who's trying her best to enjoy her budding and promising NASCAR career. Currently piloting Ben Kennedy Racing's No. 96 Chevrolet entry in the K&N Pro East Series division, she's one of the leading young prospects who are looking to earn their opportunity to eventually be in the NASCAR Sprint Cup ranks.
Despite all of her successes at an early age, there is no trace of that cocky attitude. Instead, she's quite mature, realizing that this sport is all about respecting the series, tracks, and competitors. She drives with confidence on the track, tuned into what the tasks at hand are on race day and building that rapport with her crew before, during, and after the battle on the track. As you'll see, I was able to learn more about Ruston as not only a racer, but as a person, and overall, she's solid and very likeable.
Like most young drivers, Ruston raced as a way to link family and a passion together, starting off as something fun when she was just a teenager. Eventually, she climbed her way up from Bandoleros and Legends and she would climb her way up the racing ladder. This two-time NASCAR Next racer is methodical, as she contemplates her moves and strategies before clambering into her car, much like a champion hockey player or boxer who meditates or ponders about what is to happen as soon as they step into the arena.
Today, she finds herself racing some of the toughest tracks of the NASCAR circuit, ranging from New Smyrna, Bristol, Richmond, Dover, and Bowman Grey. It's at these tracks where she'll learn to take the bull by the horns and some day take those skills to be one of the top contenders in the Truck, Nationwide, and Cup ranks. For now, she's not in a rush and wants to enjoy what she's doing. I can't say that I blame her and we ought to let her enjoy being a 22-year-old upcoming talent who's got a natural, raw knack of handling that steel chariot on any given race day. Not to mention, she's got quite the sense of humor - Carl Edwards, your comedic skills may have been taught by Ruston herself!
Race fans, I am excited and pleased to present my latest article in the long line of TPF's "In the Driver Seat" interview series. Without further ado, let's get the gloves, firesuit, helmet, and shoes on because we're about to go "In the Driver's Seat with Kenzie Ruston, NASCAR K&N Pro Series East Racer!" This is one ride that'll surely not disappoint so enjoy it and for Kenzie, as we say in Boston, "you're wicked awesome!"
Rob Tiongson : For the race fans here on TPF, most of them may recognize you as one of the newest racers who are part of the NASCAR Next roster, which is a great group of young drivers across the country. How much of an honor is it for you to be named to that list?
Kenzie Ruston : It's a huge honor to be one of the NASCAR Next racers this year. I was a part of it last year which was such a great opportunity to do so many cool things that you don't get to typically do if you just run the K&N Series or any NASCAR series. They take you to so many cool things. You get to go to Chicago to meet with all the Chase drivers. We get to go to Miami this year and we got to go the Daytona 500 Media Day, which was a lot of media training to get you ready for what you'll do when you make it to the next level.
RT : Certainly and when you get to the next level, besides talking to your team, you'll be on hand with the media quite a lot for sure. One of the neat things you got to mention was that you get to go to the Chase appearance that they do at Chicagoland which they've done for the past few years. How cool is it to be that up close to drivers who you may be potentially racing against a few years down the road?
KR : Very cool! Last year, we got to be paired up with a driver and see what they went through for the whole day. It was really cool. I got to talk to Carl Edwards quite a bit last year and he's just a really cool, down to earth person, as he was giving me pointers on different things. It was really cool to know those guys and hopefully, one day, race them!
RT : Did he also teach you how to do backflips when you win races?
KR : I don't know. I'd probably kill myself if I tried to do a backflip! (Iaughter)
RT : Well don't do anything too crazy when you get to do your victory celebration! (laughter) About nine years ago, you made your debut in racing and have virtually never looked back. What would you say has changed and what would you say has remained the same for you as a racer?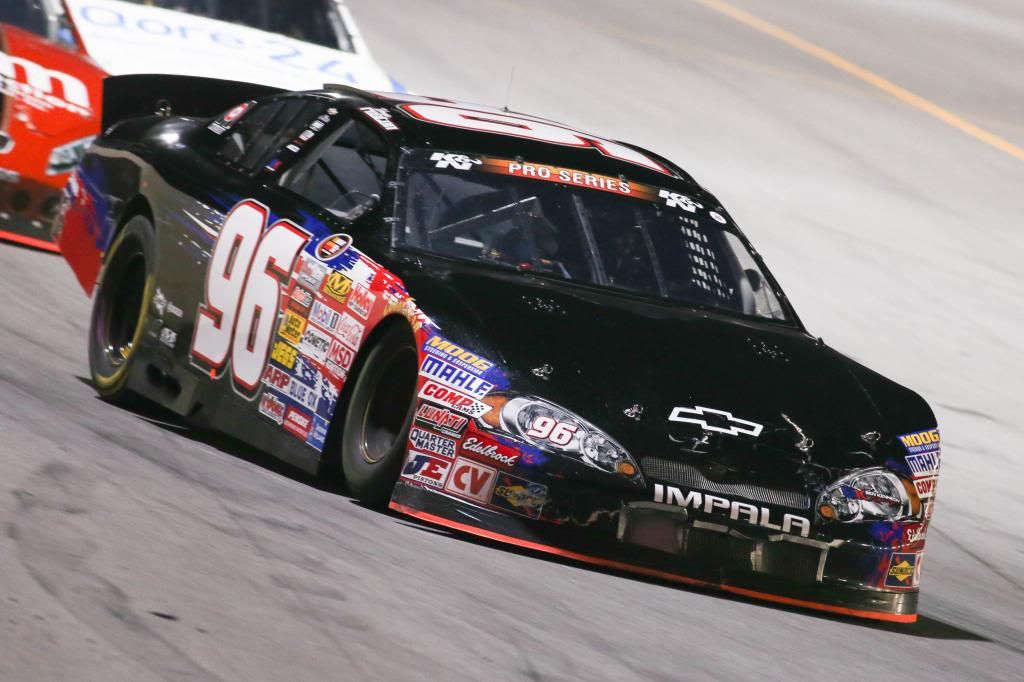 KR : I guess I'm more determined. When we first started out, it was more of a fun thing to do with my family. My parents were divorced so I got only to see my dad on a couple of a weekends in a year and holidays, so it was a fun family thing to do on weekends. When I played sports, I was super competitive and as soon as I got in my car, I knew it was something that I knew that I had to conquer. From the first time I raced to now, I'm way more determined at this point in my career.
RT : That's for sure and it's funny to say that nine years ago, you started as a racecar driver. When I was growing up and watching NASCAR, to say that would make you sound pretty old but you're 21, 22 years old!
KR : Exactly. I got called "old" last year by someone during my rookie year in the K&N Series. They said, "Aren't you getting a bit old to be a rookie in the K&N Series?" (laughs) I was like, "Well I didn't start till later," so I kind of think I'm on my own little path, you know what I mean? That's what I tell people. I've always wanted to move up at my own pace and never wanted to rush myself. I always wanted to accomplish myself in every level before I go up to the next.
RT : It's working out pretty well so far and that's amazing in itself that you started at a "relatively old age" in your teens when most start off when they learn to walk. For you to learn that quickly and be at the same level as they are now is a testament to your skills.
KR : Thank you!
RT : You're welcome – now along the way, you've had your share of successes, like the championship with the Bandoleros at Texas Motor Speedway in the Spring Nationals to your solid third-place finish at Greensville-Pickens in the K&N Pro Series race last year. Does it sometimes seem like a blur to realize how fast your career's been going as well as the accomplishments that you've earned along the way?
KR : It sometimes seems like it flew by, and I'm like, "Wow, that was fast!" Other times, it feels like I've been racing my whole life. (chuckles) Sometimes it's gone by and sometimes it feels like it's been forever. I can't even remember my Bandolero days when I was only a teenager. It's definitely flown by. Sometimes, I wish it would slow down so I could enjoy most of it.
RT : That's quite true but I guess that's what the off season is for! Racing is a sport that has anyone from racers to those in the shop experiencing the highs and lows much like a stock market. How do you keep yourself on an even keel so that you're never too excited or too frustrated with each race?
KR : Well, it's all easier when you're having a good week cause you have that momentum and it gives you a positive attitude. We've had a couple of rough weeks at Bristol and at Greenville, we didn't quite get the finish we wanted. We came back to 12th after running third and getting spun out. At Richmond, we didn't have the weekend we wanted.
It's definitely hard when you have so many bad weeks in a row and you're trying to boost your confidence back up and tell yourself not to give up. I know everybody deals with it differently but I try to tell my people, "Well that's behind us and we've gotta move on to this week."
RT : You've also been going through a transition too with the series as you raced last year with Turner Scott Motorspots and now you're racing with Ben Kennedy Racing. Has it been a bit different in terms of the cars or has it been more or less the same?
KR : It's a little bit different – the K&N cars are pretty much the same. The learning curve hasn't been that different coming from Turner Scott to Ben Kennedy. The atmosphere is totally different, coming from having teammates to not having teammates. Last year, you could lean on your teammates a little bit and ask them questions. It's a bit different now this year but my crew chief and I get along really great and I like him. Our cars have been fast each week but we've just not gotten the finishes that we deserve.
RT : It all happens to the best of them and I know that eventually, if you keep knocking on the door, things will change very soon. You've shown a lot of us how great you are and your team too. Once everything's on the same page, it all gets very great soon. Now, when someone says that racing isn't a sport, how do you counter that, especially given how physically and mentally demanding it can be, especially on the drivers?
KR : I definitely think it's a sport. When some people don't call it a sport, I tell them to try it! See if you can do it and run a 400-500 mile Cup race and handle the heat. It's definitely a physical and mental thing and as soon as you lose your concentration, you're out of it. I've lost my concentration one time in a racecar when I lost my brakes on the hottest day ever at Iowa in an ARCA race. It was brutal. I hated myself the entire race. I lost my brakes and my concentration was lost. It's definitely a mental thing and anyone who says it's not a sport, I tell them to try it out.
RT : That sounds really brutal and I was going to say, "Why don't we have them try out that bullring track from Madhouse?"
KR : Bowman Gray?
RT : Yea that one! Why don't we have them try out a stock car at that track?
KR : Exactly! Exactly.
RT : Cause let me tell you, holy, that's a track.
KR : It sure is.
RT : Now here's something I've not asked in quite some time - describe to me the moment where you absolutely felt welcomed to racing.
KR : Probably when I was driving my Legends car and I won the national championship. Everywhere I went, I felt like we were a top two year and I felt like that time, I came out of my shell and welcomed to this sport.
RT : That's a good series to have raced in – you've raced Bandoleros, Legends; it's like you've been climbing up the NASCAR ladder and just two or three steps from Sprint Cup.
KR : Yea, close! We're close – a lot of money will put us a lot closer to it. We're trying everyday!
RT : It is no secret that you enjoy the show Nashville and popular country group Pistol Annies. Do you get motivated before each race by country music and get into a zone by just listening to music?
KR : I love Pistol Annies but I love music in general. If you go through my iPod, I have a little bit of everything. I really don't listen to a lot of music before the race. I like to concentrate and talk to my team about strategy to get more focused rather than sitting down and listening to music. I feel that I have to a game plan with my team or even sit alone and think about what I have to do.
RT : That's a good perspective cause a few sleep before a race –
KR : Oh no, I can't sleep! (laughs) I can't just wake up and go, "I'm going to jump in my racecar!" (laughs) I guess that's not how my body works. I like hanging out with the guys and being at the track.
RT : Have you experienced moments of being mistreated by a competitor out of spite or in a racing deal?
KR : I feel like when I was younger in Bandoleros and Legends, I'd be raced harder or wrecked because of being a female. I feel like the older I've gotten, the guys I've raced are more mature and they race you as you race them. The more I've moved up in my career, I feel like I've gained respect from the guys than the little boys I used to race.
RT : As I say, you have to separate the men from the boys! (chuckles) And I call it respect! What would have to be your goals for this season and what do you see for yourself in the foreseeable future?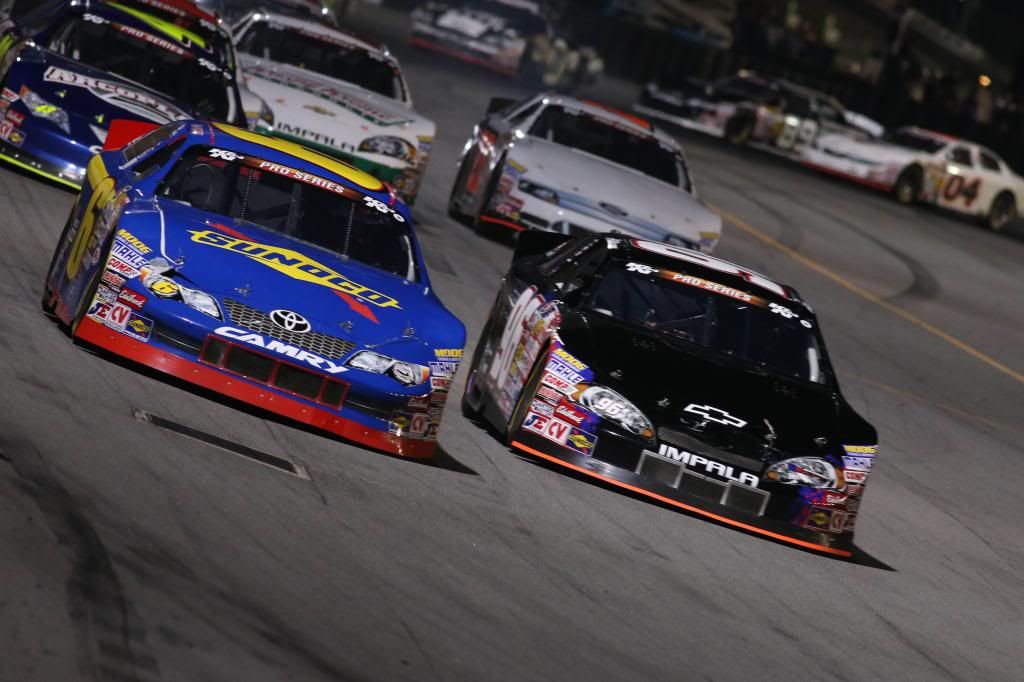 KR : Coming into this year, I definitely wanted to win a couple of races and be there fight for the championship. The further this season's gone along, we've had a couple of weeks. I feel like if we can win a couple of races and be there in the top-3 by the end of this season, that'd be a win.
For the future, I love the K&N Series and wish I could run another year in it. Hopefully it's Trucks or Nationwide but we'll see how it goes but that's definitely where I want to be.
RT : We certainly wish you the best of luck for sure with that for sure and when you come up to race up in New Hampshire, if you win, do we get a little shout out?
KR : For sure! (laughs) I love New Hampshire and I loved it last year!
RT : I certainly hope you do and we'd love to see Kenzie Ruston be a future winner there.
KR : Well thank you! It was good talking to you and we hopefully get to see you in New Hampshire!
RT : You're welcome and hopefully I'll be up there to see you there for the race!
Author's Notes : I'd like to personally thank Kenzie for taking the time to let me interview her! She is a wonderful and great young racer with an exciting future in NASCAR! If you'd like to interact with Kenzie, "Follow" her on Twitter, "Like" her Facebook page, and "Visit" her official website! Also, photo credits for the racing shots of Kenzie on the track go to Scott Hunter of NASCAR. Thanks to all at Kenzie Ruston Racing!