They may only be 13 and 14 years old, which makes the author of this interview piece feel a little old, but for Canton, GA's Lexi and Dawson Gay, they are embarking in their racing journeys to climb up the NASCAR ladder. These siblings clearly love the sport of racing, as they instantly set their sights on the most premier level of stock cars when they strapped behind the wheel of their racecars. Clearly a close and caring group, they respect the sport, each other, and understand that success is earned, not given.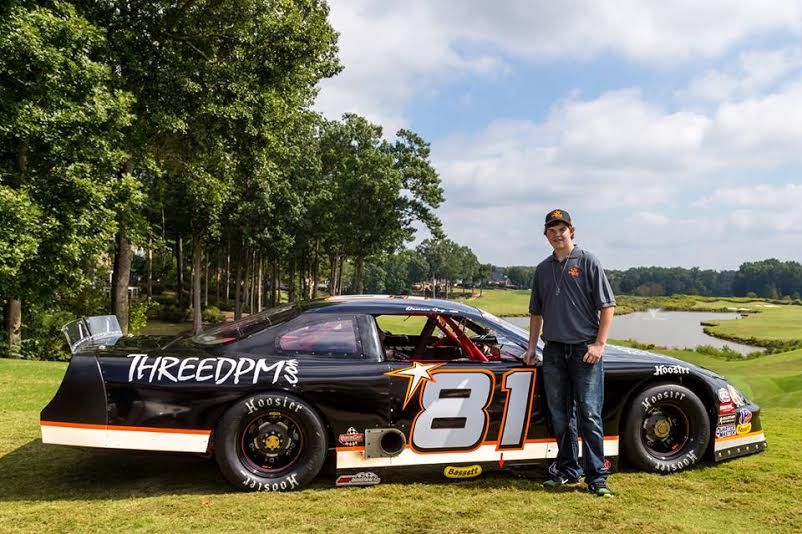 Their discovery of the sport is similar to most of us, as the family patriarch took Dawson to a quarter midget track to watch races. After asking his father if he could take a few laps behind the wheel, that passion carried over with Lexi, who followed her brother's racing action and made her debut in a racing vehicle last year. Needless to say, they are absolutely set into racing, as they are students of the sport in taking advice from their peers and each other, as well as masters of the track, taking their experiences each time on the track to gain ground on what it takes to be a winner and a champion in this competitive sport.
Whether it's racing a Bandolero or a Pro Truck, Lexi and Dawson are surely in for a great year of racing and it's our pleasure to introduce these awesome young talents here on TPF! If you haven't heard of them now, you'll definitely want to follow these promising drivers before they become two of the NASCAR's NEXT racers. Taking some time to downshift and talk racing and their racing careers thus far, let's strap up and get "In the Driver's Seat with Lexi and Dawson Gay, Bandolero and Pro Truck Series Racers!"
Rob Tiongson : First of all, I'm excited to do this fun interview with you guys! This should be fantastic – let's start things off with this question for you both: tell the fans about how you got started in racing and what made you fall in love with racing.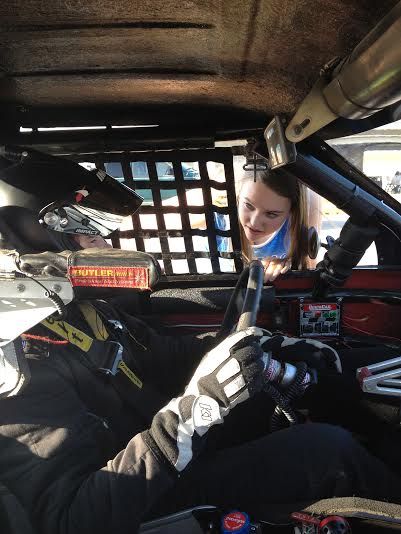 Lexi Gay : After spending years at the track watching my brother, at the end of 2013 I decided to give it a try. I fell in love with racing the first time I got behind a steering wheel. I just loved the thrill of going fast and your adrenaline is always pumping throughout the race.
Dawson Gay : At age nine, my dad and I stopped by the quarter midget track to watch the races. I told him that I wanted to do their test drive. I immediately fell in love with it. I love the speeds, thrill of trying to be better, and the competition.
RT : I'll pose this to this one for y'all – who are some of your influences with racing in terms of driving style and charisma on and off the track?
LG : Dale Jr. is one of my influences because he is positive about racing on and off the track. He is always trying to get better, but I also like what Danica Patrick for what she is bringing to the sport for women drivers.
DG : I like Jeff Gordon. He is an all around good guy. He has taken his racing and has built a good business and does great things for charity. I also like his driving style, he seems very calculated and a calm driver. However Tony Stewart is always entertaining on and off the track.
RT : You both obviously love and respect each other and I could only imagine how much you both support each other with racing. Who would you say is the better racer and how much fun would it be for you both to race each other on the track?
LG : I would have to say my brother is the better racer because he has had more experience in other cars… for now J I think it would be a lot of fun to race each other! It would be interesting because we have such different driving styles.
DG : It's not that my sister is a bad driver, I just have more experience. She has had a great start to her season and is extremely competitive. I think we would have a blast racing together we are already competitive with each other in other things. But it is always good competition. We both are good sports.
RT : Now I'm finding this out firsthand how it's a balance to do school and my focus with racing, but it's a doable challenge. Does it prove to be an interesting task to handle school and racing at the same time?
LG : For me it's not that challenging because I don't have a busy race schedule right now.
DG : Sometimes it can be, because when I'm not racing, I am working on my marketing, out promoting my sponsors, working on my cars or in the community at charity events. I have to make the most of my school time.
RT : What would have to be your "Welcome to Racing" moment that made you both realize that this is something you want to seek for possibly a career?
LG : I decided that NASCAR would be a possible goal for me to reach when I was leading a race. It's just a feeling that I've never had before, it was awesome.
DG : I decided I wanted to make it to NASCAR not just when I won my first race but during one race I was battling for 5th. It doesn't sound exciting but it was a tough race and we had been battling setup all night and it was just good, hard racing. It wasn't my best finish but in that moment, I knew this is what I wanted to do.
RT : If you were allowed to listen to a few songs during races, which ones would they be?
LG : "Lose Yourself" by Eminem (sometimes it's not the lyrics, it's the beat) and "Roar" (Katy Perry).
DG : "Rollin'" (Limp Bizkit) and "Diamond Eyes" (Shinedown).
RT : Let's say you're starting mid-field in a race but you've got one of the fastest cars in what's shaping up to be your longest race yet. What would be your strategy with getting to the front?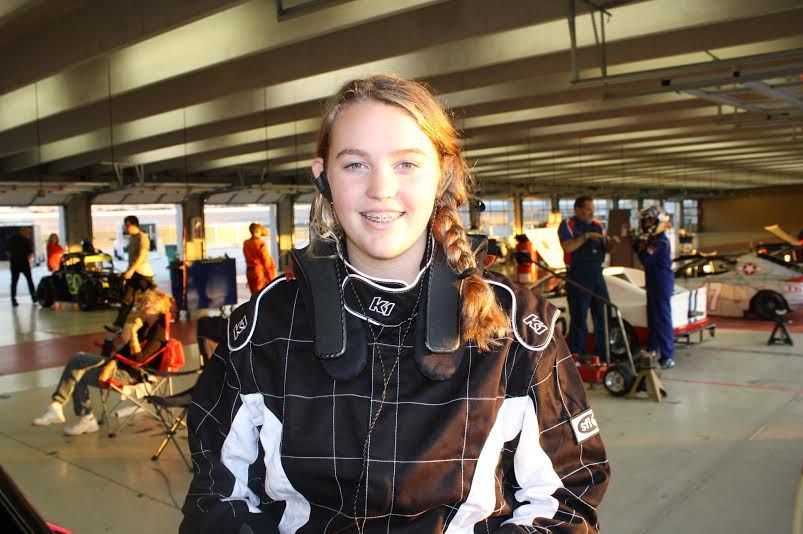 LG : Run smooth and consistent laps and look for gaps and openings to move to the front.
DG : Conserve tires and fuel and run consistent. Then talk to my spotter to figure out the best time to pit under caution, to replace tires and top off fuel in preparation for end of race charge to the front.
RT : For our race fans, what tracks and series can we catch y'all racing in and how can we interact with you throughout the racing season?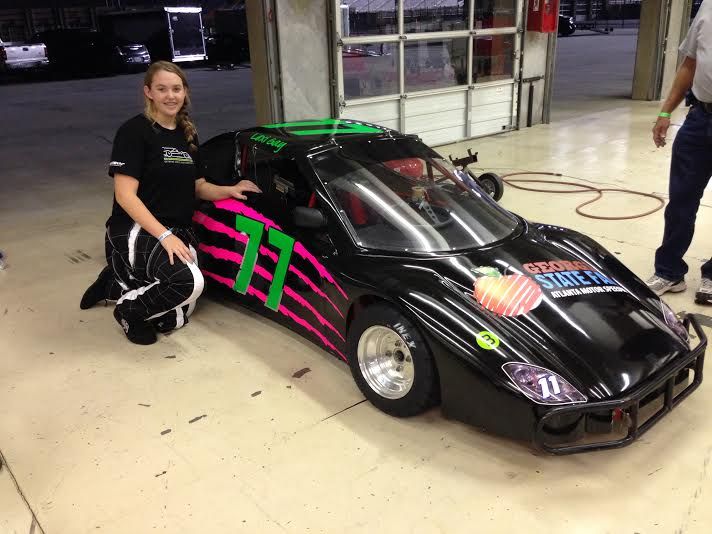 LG : I will be running in my Bandolero in the Thursday Thunder series at Atlanta Motor speedway both June and July every Thursday. You can follow me on my Facebook Page at "Lexi Gay Racing" along with my Twitter at "LexiGRacing77."
DG : I will be racing my Pro Truck at Gresham Motorsports Park in Jefferson, GA. I will be racing my Pro Late Model in the PASS series around the South East. We will also race both the car and truck during some of the 5 Flags Speedway races in Pensacola and at Mobile International Speedway in Mobile, Alabama. You can check out my race schedule and upcoming appearances on my Facebook, Dawson Gay Racing, on Twitter @dgracing81, and my website.
Author's Notes : My special thanks for the photos and interview responses here go to Lexi and Dawson Gay, who are amazing, mature young racers who'll definitely excel and have lots of winning moments to experience in their promising careers! In addition to their social media outlets, stay tuned for a special podcast with Lexi and Dawson along with another pair of racing siblings - Taylor and Jensen Jorgensen! Stay tuned and thanks again to Lexi and Dawson for being so awesome!