Molly Rhoads has been a staying power in the NASCAR and late model ranks across some of the toughest tracks in Midwest. Now, she drives her way to TPF to talk all about racing!
With all walks of life, the maxim of "work hard, play hard" seems to apply to those who strive diligently and arduously at their craft to be the very best. No matter how much success or struggles that individual goes through, they'll keep on searching for ways to excel and be a step above the rest.
Molly Rhoads is the kind of racer where if she's aiming to hammer down a good lap on the track, she's not going to be content with perfecting one corner. Instead, she's attentive to her car's mannerisms, tinkering around with it, racing her heart out while also applying her years of knowledge at the track and her asphalt chariot to get it to pristine condition. If you asked her to go get a a few tenths out there to go faster, she's going to give you 110% and go for that extra difference to be a factor on race day.
That passion is not limited to the track. Outside of the speedway, she's an animal lover and a family oriented individual. There's a sense of calmness and contentment with Rhoads, even with her determination to be tremendously successful on the track. Just one glance at who she admires on the track gives you a sense of the kind of driver she's at on the track. However, when the helmet is off, those traits are there, but the passion is with those close to her like family and friends.
I have to say that with "Storytellers' Week' going on with The Podium Finish, it's neat getting to know the stories of the various principals of racing from all perspectives. Molly Rhoads' story and journey in racing is one that's had a lot of great chapters in it, but the book still has many more pages to be written and many moments yet to be experienced. Undoubtedly, this congenial racing star is going to be a racer to follow and watch, especially for wins, titles, and for some amazing moves on the track too!
Earlier this week, I had the chance to catch up and talk racing with Molly Rhoads, who shared a lot of her insights on and off the track as well as her take with what lies ahead for her in her still young and building racing career. I could see a bit of myself with Molly, as she works a day job while also pursuing and living out her dreams in racing. To say the least, all this dedication to her racing as well as with the people around her speaks volumes about the kind of champion's spirit that she's possessed long before she first put on the firesuit and helmet.
The anticipation's built up and the race is about to get started. Think you have what it takes to race hard and go for the win? Well let's get "In the Driver's Seat with Molly Rhoads, NASCAR Whelen All-American Series Racer" right here on The Podium Finish!
Rob Tiongson : For the racing fans at home that are looking to learn a bit about you, let's start off and talk about you, the racer – how'd you cut your teeth in motorsports?
Molly Rhoads : My brother AJ Rhoads was the first in my family to start racing stock cars, when he was 14. He had built a "bomber car" which is an entry level, big steel bodied car with an old engine and roll cage in it. My twin sister, Megan, and I would help him in the pits. He had planned on moving up a class the next year so he held a mini try-out for my sister and me. I had ended up being the fastest in the car so he let me drive his old car the next year. I just continued to move up through the classes after that.
RT : You race out in the Midwest at some of the toughest and grittiest short tracks for any kind of race machine, much less stock cars. How much of a delight is it for you as a driver to strap up and get to tackle these courses and have a chance to go for the winner's circle each time?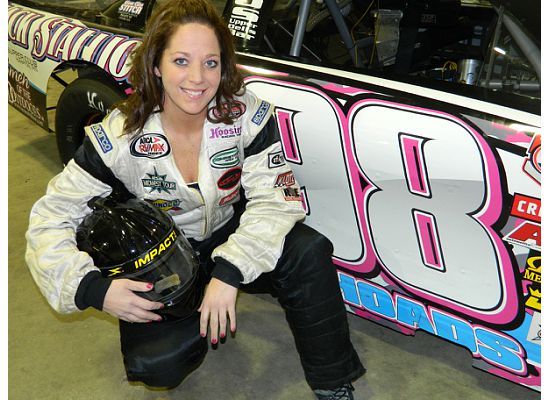 MR : It is an honor to get to race on the short tracks in Wisconsin and Minnesota. There have been so many great race car drivers to come out of these places. I have gotten the chance to compete against NASCAR regional and state champions on a weekly basis and have learned a lot from them. It is a good feeling to know that I am competing against the best of the best whenever I strap in my car.
RT : Who are some of the heroes or personalities in this sport that you looked up to as a driver? Any particular styles you try to emulate when you're on the track?
MR : I have looked up to Dale Earnhardt, Cale Yarborough and Dick Trickle in the past. I am also a fan of Kyle Busch because he is a wheel man and hasn't forgotten where he came from, which is the short tracks. On a more local level, I grew up cheering for the late Dan Ryan at Elko Speedway. I look up to him as a driver and a person because he was always willing to help me out and give me words of advice. There have been a lot of great drivers that have helped me out throughout the years, that I look up to because of that. A few of them who have always been there when I had a question or needed a hand have been; Bryan Roach, Tim Olson, Adam and Jarry Royle, Dan Fredrickson, and my brother AJ Rhoads.
I think as a driver I would like to be like Cale Yarborough, for the fact that he had a "charge to the front attitude", but probably end up using more of a Dale Jarrett, conservative style. I am the driver that runs mid pack throughout the race, saving my equipment, watching all the crazies use up their stuff and then drives by them at the end. Dan Fredrickson jokingly told me that I would win every 300 lap race because I am very good at keeping my tires under me.
RT : If there were a few things that you would love to put in your late model car that's already in your street car, what would they be?
MR : I would love to give my twin sister, Megan, a ride in my super late model one time. She has been around the racetrack for a long time too but hasn't gotten the chance to really experience what it feels like to drive so fast, right next to another car on the track. I also love music so I guess a great stereo system if I could.
RT : Would you describe yourself as exclusively a driver who lets the crew work on the car and trusts them or do you try to be hands on and understand all the nuances that go into making your car drive and handle at its best each race day?
MR : I have to laugh a little at that question, because I am a very hands on driver. I don't put a lot of trust into others when it comes to being in the garage or at the track. This probably comes from not having a lot of crew members throughout the years, so I had to do the things by myself. I take a lot of pride in doing the work myself and being able to go to the track by myself or with one crew member and getting the job done. I own all of my race cars and equipment, and I am proud to be an owner/driver.
RT : How would you describe yourself not only as a driver, but as a person off the track?
MR : I am extremely competitive, it doesn't matter what I am doing, I always strive to be the best. I am also very strong willed and determined, hardworking, and I won't take no for an answer. On the other hand I am thoughtful, dependable, and often quiet or shy until I get to know someone, but after that watch out because I am outgoing all at the same time.
RT : As I've been getting to see, there are quite a lot of struggles to endure when chasing after and working hard to be successful in racing. How do you keep encouraged with your dreams, even when they seem like they're all "closing in on you?"
MR : When I find myself in a slump or feeling bad about myself, I look back at all of my accomplishments and I focus on the things that I have achieved. I have worked hard and earned all of my achievements and I can be proud of that. I also remember what a good friend of mine (Tim Johnson) once told me; "There are people all across the nation that would love to be sitting in your shoes, in a super late model, on a Saturday night... and no matter the outcome of tonight race, bananas will still be 38 cents a pound at Kwik Trip". That helps keep things in perspective for me that no matter how bad or good of a day I have at the race track, the world will still go on.
RT : With more women getting in racing, particularly in the driver's seat be it in a go kart, stock car, or open wheel vehicle, do you find that the opportunities are truly improving or is there still quite a ways to go before in racing?
MR : I think that females are getting great opportunities in racing right now but that doesn't mean we aren't working hard for them. Nothing is going to be handed to a racecar driver no matter their gender, or for sure it won't be easy. We might be getting the chances to drive good equipment but we still have to prove we belong in them.
RT : If racing wasn't in the cards for you, what would you be doing as a profession?
MR : I consider myself a race car driver that has to have a few other jobs to pay for my number one job. I do bookkeeping and accounting work for a few construction companies, as well as a being a server/bartender to pay the bills. I have a Bachelors Degree in Animal Science that I plan to use when I open a rescue for horses and dogs in the near future.
RT : You're still relatively young and have raced against some of the sport's very best talents. Where do you see yourself as a driver in the next five years?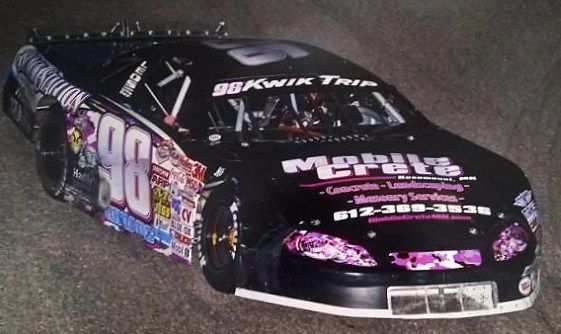 MR : Five years down the road, I see myself continuing to run the short tracks of the Mid-West in a Super Late Model. I have had big dreams of moving up the ranks into NASCAR whether it be trucks or cars, but I will be happy with being a well-respected and well known race car driver at these tough short tracks. I believe that being one of the best around here would be more of an accomplishment than running mediocre in the big leagues. I feel that way because I know what it takes to make it with a great team and that is money. I choose to run a full, competitive schedule locally, rather than run one race or test session with a team with hopes of landing a ride.
Author's Notes : Special thanks to Molly Rhoads for taking the time for me to interview her this week and also for the wonderful photos she's let us share with TPF nation! If you'd like to know more about Molly and keep up with her, follow her right now on Twitter! Good luck, Molly!