In any sport, it's seldom to encounter a young athlete who's professional and classy on and off-the-field, as they let the stardom get to their heads. However, in the case of stock car talent Pete Shepherd, this 24-year-old Brampton, Ontario, Canada native is the epitome of a cool customer who carries himself well.
In any sport, it's seldom to encounter a young athlete who's professional and classy on and off-the-field, as they let the stardom get to their heads.
However, in the case of stock car talent Pete Shepherd, this 24-year-old Brampton, Ontario, Canada native is the epitome of a cool customer who carries himself well.
He's had his struggles and successes in his rising career, learning from those races where the struggle seems insurmountable and when victory's as sweet as the accolades that come after a hard day's work.
For those who may not be familiar with the NASCAR Canadian Tires Series racer, get to know him before he makes himself quite the force in the top three national divisions in the coming years.
Shepherd's worked hard to get the opportunities he's had, often succeeding in about every level of racing he's been competed in since age 10.
His racing accomplishments speak volumes, including the Canadian National Karting championship and amassing over 75 career victories in the many racing divisions he's competed in as a young superstar in the making.
Additionally, he's versatile behind the wheel, having gotten to wheel USAC Silver Crown vehicles, late models, and trucks before finding himself behind the MOPAR power of a stock car.
This humble driver has this quiet confidence to him, almost as if he lets his racing do the talking. You get the sense that he'll give it all he's got on race day, going out there to get maximum results, even when adversities strike along the way.
Earlier this week, I interviewed Shepherd and not only did I learn about the Canadian Tires Series, but about this fantastic driver who'll be a force to be reckoned with real soon in the States. Having dabbled at various tracks with some of the most premier names in racing like Jack Roush, Carl Edwards, and Billy Venturini, that gives you the idea of the talent that States fans ought to know about immediately.
So sit back, strap those belts up one more time...we're going "In the Driver's Seat with Pete Shepherd, NASCAR Canadian Tires Series Racer!"
Rob Tiongson : For some of the racing fans here on The Podium Finish, tell us a little bit about yourself, like what series you're competing in this year and when you first cut your teeth in racing.
Pete Shepherd : This year I am competing in the NASCAR Canadian Tire Series, in the No. 7 National Exhaust/Hy-Tech Drilling Dodge Challenger. I started my stock car career at the age of 13; I originally competed in Go-Karts at the age of 10, so I have been racing almost my entire life.
RT : There are some NASCAR folks who may not be familiar with the great racing that goes on in the NASCAR Canadian Tires Series. Describe the division you compete in – is it similar to the rules and format of the top three national series or is it somewhat different from that or a Saturday night late model series?
PS : I would say it is similar to perhaps the NASCAR K&N East Series as far as format goes. Our cars are a little different in some ways, but the competition level and the way that the series operates is somewhat the same.
RT : Growing up in the Ontario province of Canada, was it always your dream to compete in stock car racing or did you have other ambitions in motorsports?
PS : It has always been my goal to make my way through the stock car ranks just because my family history is so rich in stock cars.
My grandfather started in 1961, at local short tracks, and both sides of the family are heavily involved in stock car racing.
There was a time in my young life, where I dreamed in making the NHL, but once I took a seat in a Go-Kart, my career path changed in an instant.
RT : Who were some of your personal inspirations on and off the track? Would you say you have some mentors or friends on the track in the Canadian Tires Series?
PS : My dad is my all-time favourite race car driver, and I really believe he could have competed at the highest level of NASCAR. I look up to him as far as racing goes.
In the NASCAR Canadian Tire Series, Dave Whitlock gave me my first start in the series; he was always a great race car driver (he even won the Oxford 250).
RT : I have to ask you, even though hockey may be the sports that reigns supreme in Canada, how enthusiastic are the racing fans up there? Are they just as rowdy and excitable as the fans in the States?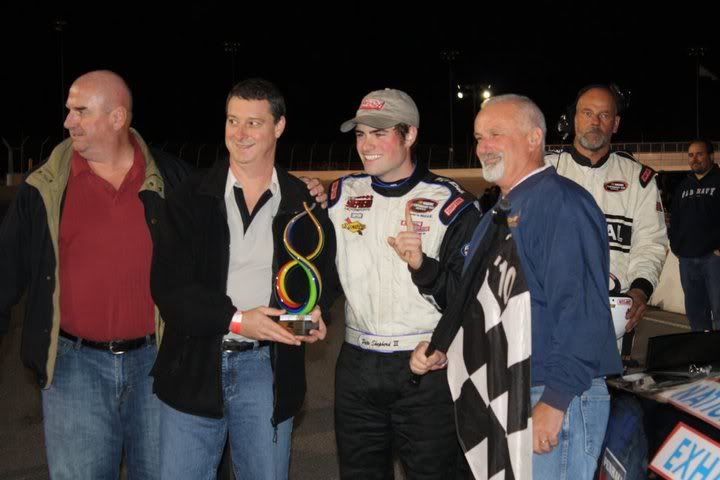 PS : In all honesty, I would like to see the level of fan support increase, but the fans that make it out to the track are very supportive.
Provinces such as Quebec and other places that aren't quite as busy as Ontario, have very passionate fans.
It would be great to see that in Ontario, where I have raced almost my whole life.
RT : You've raced various circuits now in your young racing career – what's a real racer's track in your opinion? Do you like the short tracks, speedways, or road courses?
In my opinion, all of the tracks require a lot of talent. I grew up on short tracks and I believe that is where dreams are made and broken, as this is where everyone has to start in stock cars.
I really appreciate the grind in racing on short tracks, but I would love to race more on speedways and road courses, as I want to get better in all aspects of racing.
RT : ­­­ Last year, you entered five Canadian Tires Series events, winning at Kawartha Speedway and you also collected three additional top-fives and respectable 11th place finish. Now I understand your season just started this past weekend – is it your goal to win the championship this season?
PS : This would be a goal of mine, if we had the sponsorship to run all of the races, because it is not possible for us to run the entire schedule, I just want to be able to compete for the win week in and week out.
RT : I've asked various racers this question and I'm just curious – say I'm your team owner and I've hired you to race my car at a winding short track. We've got a limited budget but we're able to hold our own for the most part….tell me how you'd race in this event and are you going to settle for a respectable finish or go for the win?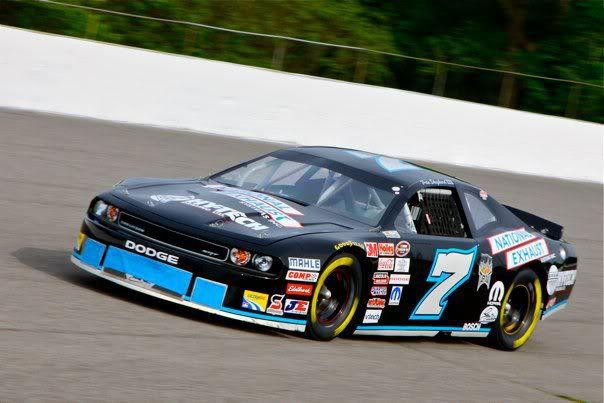 PS : I would do everything in my power to put myself in a position to win. If I am sitting in 11th for example, then barring a miracle, it would be pretty hard to win the race, but I would race hard every lap to put myself in position to win, and hopefully the cards would fall in my favour.
RT : We saw during this year's Indianapolis 500 and Coca-Cola 600 that about anything can happen on the last lap. How heartbreaking do you think it was for J.R. Hildebrand and Dale Earnhardt Jr. to be so close and yet not be able to win their respective races and have you been in a situation similar to theirs before?
PS : I am thinking it would be more heart breaking for J.R. Hildebrand, because he earned the lead and was a dominant car on the race track. It was an accident that happens to everybody who has been competitive before. I really felt for him during the incident because it is arguably the biggest race on the planet and it would be hard to deal with.
With Dale Jr., it is different, because he took a chance that could have given him the victory, but if he didn't take that chance, then he probably wouldn't have been in the same position to win.
RT : Alright bud, it's time for some Free Association! You best be ready for this. I'll ask you the first thing that comes to your mind with the following, alright? Here we go:
Aggression.
PS : Dale Earnhardt Sr.

RT : Pit stops.
PS : Good crew.
RT : Handling.
PS : Most important thing.
RT : Rivalries.
PS : Everyone who is on the track with me!

RT : Pet peeve during a race.
PS : When lap cars get in the way!

RT : Victory.
PS : Okay, maybe the most important thing.

RT : Stanley Cup champion this year is…
PS : Unfortunately the Vancouver Canucks in a four game sweep. (Editor's Note: Let's hope not!)

RT : My future in racing looks…
PS : Brighter than it did 2 years ago.
RT : Some folks believe that racing isn't a sport but merely a game, yet they don't quite grasp just how physical it can get sometimes. What are some of the ways that you keep in shape for a grueling racing season?
PS : Eating properly such as taking my BioX Nutrition Supplements, a little bit of body building, but I really enjoy participating in MMA and hockey.
RT : I'm sure you've gained some new fans that've just finished this interview. Anything you'd like to say the fine fans of the site and how they can learn more about you?
PS : Thanks for supporting myself and racing in general, if you want to follow my racing season my website is www.peteshepherd.ca where you will find links to my Twitter and Facebook fan pages!
Author's Notes : Special thanks go out to Pete Shepherd for letting me interview him just following his first race of the NASCAR Canadian Tires Series. Also, I want to thank Brittany for giving me the heads' up on him and for supporting this website!

If you'd like to learn more about Pete Shepherd, follow him on Twitter (@Petey_3) as well as searching up his Facebook fan page by looking up "Pete Shepherd (athlete)." Additionally, you can catch him racing the full NASCAR Canadian Tires Series schedule all year long at a track near you for our neighbours to the North!