Get to know one of racing's youngest sensations who's ready to tear up the tracks of USAC racing. Get to know 21 year old Shannon McIntosh, who's on the verge of being a true winner in her series!
She may just be 21 years old, but this young racer from Miamisburg, OH has certainly got all the makings to be a true motorsports icon in the coming years.
With 100 combined victories in the racing series that she's competed in throughout her 16 year driving career, Shannon McIntosh knows a lot about what it takes to be at the top of her game, no matter the car or track.
Much like open wheel veterans Tony Stewart, Jeff Gordon, and Jason Leffler, she's a hard charging competitor, doing whatever it takes to get to the front, holding her own in the quick paced world of USAC Midget Series racing.
Known by fans and peers as "Ms. Excitement," it's been that kind of year for the sensational Buckeye State native, perhaps as a turning point for her aspirations as a budding auto racing star.
From her move to one of the racing meccas in the world, otherwise known as Indianapolis, Ind., to a well earned and much anticipated return to the driver's seat this past summer, you could say that McIntosh's world went from neutral to high gear, just as she'd like it! McIntosh certainly proved herself with success, but I'll leave the speedster herself to get into detail about her races!
Back in December, I got to know McIntosh, who, like many talented racers with lots to prove, was just waiting for the right opportunity to come along. Fortunately for her, thanks in part to her accessibility with fans and potential clients through social networking, she was able to realize her dreams and to say the least, she's capitalized on them!
You get the sense that she's on a mission and determined to be at the track, drop the hammer, and just be beyond the podium finish - she wants that checkered flag, the trophy, and the glory?
And why not? She's been a winner before and you know if she reaches the finish line first in a USAC event, she might just give Tony Stewart a run for his money in terms of victory celebration.
Relaxed, confident, and gracious are some of the words to describe McIntosh, who I interviewed this week to get her thoughts on her year as well as her recent races at the track.
Busy as ever, she was able to take the time to have some fun and talk racing, as well as about her thoughts on her career. As the competitor she is, she knows there's still lots to be accomplished - and most likely, she'll realize them in time.
If you're in Midwest America, scouting for a new racer to follow, or happen to be looking for someone to cheer for that's earning her opportunities through perseverance and hard work, you'll most likely want to follow Shannon McIntosh, who has what it takes to be a tremendously successful racer, no matter where her future takes her.
So strap in, buckle up, and pull up those belts nice and snug, because we're going "In The Driver's Seat" with Shannon McIntosh, USAC Open Wheel Racing Sensation!
Rob Tiongson : A lot has happened in the past several months. A long way's since last Christmas - where do we begin? Well, you've been back at it, racing in the USAC circuit, and you've been with some neat folks. Tell the readers out there how you got back on the track.
Shannon McIntosh : I've been extremely fortunate this season. I moved to Indianapolis in February, and by May, I had a sponsor on board to drive with Bob East. I've focused on both social and business networking to help me build my list of contacts and in turn get me on track.
Through Twitter, my current sponsor Glass Hammer Racing (@GlassHamrRacing) found me. We've formed a partnership and are having success both on and off track!
Be sure to check out beatbyagirl.org to learn more about what we're doing together to encourage the interest and participation of young women in motorsports!
RT : When you strapped into the driver's seat for the first time this year, what were your thoughts? Did it feel like meeting up with an old friend or more like the first day of school again?
SM : For me, it's like riding a bike…it's just instinctual. It was like heaven. It hadn't been since last September that I had raced, and I only raced 3 total races last year. I will admit to wondering if I'd be a little rusty, but I had been training and with 16 years of racing under my belt…it's kind of in my blood now.
RT : You got to race in four events with Bob East and needless to say, you hardly looked like a racer who's not seen much on-track action in some time. Is that a testament to your experience, the equipment, or a bit of both?
SM : Hmm...I'd definitely say both. With Glass Hammer Racing's partnership, we were able to put a deal together with Bob East who is legendary in Midget racing, so I couldn't have asked for a better team, mentor or equipment.
I was given the tools necessary to put what I know best to work. We finished 7th in my first ever Midget race at Speedrome, then followed the next three races with 4th, 3rd, and 2nd place finished. Plus a heat race win!
RT : Have you been able to digest all that's happened to you in this busy 2010 season, or is it all still a blur for you? You've been quite the busy racer, particularly since moving to Indianapolis.
SM : I actually have used the term "whirlwind" to describe these last seven months. It's amazing, I haven't really taken it all in yet, but am so thankful for the great opportunities I've been given. We've still got a lot of work ahead of us for next season so we can't slow down now!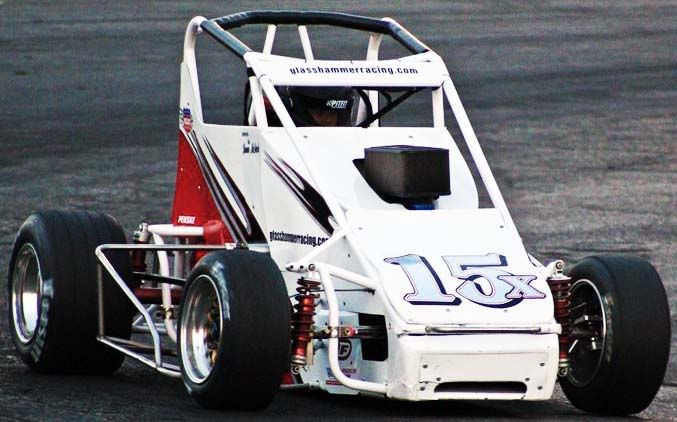 RT : In your four races with Bob East, what are some of the things that you feel you can take from those events that you feel will help you in the future, as a racer and a business minded person?
SM : Well, seat time is the most valuable thing as a driver, and being able to learn from Bob was huge. The horsepower to weight ratio in a Midget is incredible which is great for car control.
RT : Bob East helped pave the careers of some famous open wheel and stock car stars like Tony Stewart, Mike Bliss, Kasey Kahne, Kenny Irwin Jr., and Jason Leffler. What can you say about getting the chance to work and race for a legendary motorsports icon?
SM : It's a huge resume builder to be add "Driver of," because the fact that so many of today's most successful drivers came through his stable is very encouraging and humbling. I look to those drivers as role models but as competition too, as I plan to race against them in a few years!
RT : You've been racing since you were five years old and have accomplished a lot at such a young age. Did you ever dream that you'd encounter so much success so quickly and do you feel the best is still yet to come for you?
SM : I am actually not where I would like to be. My goals have always been high and I thought that by now I would be further along. Racing is so very much a business and revolved around money.
I've learned that I need to understand marketing, business and how to find the funding to get on-track, to do the best part of racing. I definitely feel that the best is yet to come. Everything is going up-hill and the future looks bright!
RT : With the 2010 racing season reaching the homestretch, what are your goals and expectations, particularly with East's team and where you stand with open wheel racing?
SM : We are really focusing on the 2011 season at this point. I am searching for funding to get in a few races as this season comes to an end, but before we know it, 2011 will be here!
RT : Did you ever find that Tony Stewart t-shirt you mentioned back before the holidays? I know you mentioned about that before.
SM : (Laughs) No…I don't know where that thing went!
RT: Free Association - you know the name of the game, you've conquered it before. Try it once more, tell me the first thing that comes to your mind with the following:
Opportunities.
SM : At my fingertips.
RT: Green flag.
SM :Go.
RT : A real racer's line on a track.
SM : Whatever is fastest.
RT : An aggressive driver is...
SM : ...Usually at the front.
RT : Working out.
SM : A must.
RT : Emotions.
SM : Run high in this sport.
RT : Luck.
SM : Gotta have some.
RT : Open wheel or stock car racing?
SM : Both.
RT : Your future.
SM : Bright!
RT : What are some races that you'd love to win before you decide to hang up your helmet and firesuit?
SM : Indy 500 and Daytona 500.
RT : I'm sure a lot of readers out there are prospect racers and some of them may be young boys and girls just who are wondering how to make it in the ever competitive field of motorsports.
What advice do you have for them, and is there a particular "correct" path for them to take when they're going at it?
SM : The best advice I can give can relate to any profession or goal someone may have. To me, if you really have the desire and drive – you will do what it takes and make the sacrifices needed to make it happen.
Eat it, breathe it, live it, eat it. Motorsports is most definitely a cut throat industry, so getting the most seat time possible in competitive high profile series is a must.
RT: Oh yea, wanna grab Starbucks sometime?
SM: I'm always up for Starbucks!
Author's Note: My thanks to Shannon McIntosh for taking the time to be interviewed for my knowledgeable readers at "The Podium Finish," as well as for the pictures provided in this piece.
You can follow Shannon on her Twitter (@SHANNON_MAC) and search her Facebook Fan Page "Shannon McIntosh." Also, check out her official website at http://www.shannonmcintosh.com/. Thanks Ms. Excitement!