At just age 21, Shea Marie Holbrook is living the dream as a competitive SCCA racer. But she doesn't just race for wins; she races for a reason! Read what that is and more in my exclusive interview with Shea, only on The Podium Finish!
The great author Ernest Hemingway once said, "Auto racing, bull fighting, and mountain climbing are the only sports. All others are game."
If one were to take his words to heart, then 21-year-old Shea Marie Holbrook of Groveland, FL is truly competing in a sport that's competitive and tenacious as fighting bulls or climbing up a steep mountain range.
After all, she goes door-to-door and fender-to-fender with some wild bulls around race tracks that might as well be as difficult as mountaineering. She's not in just for respectability, but rather, she vies for victory during any given race.
Like any personality in motorsports, Holbrook's racing story is quite unique, close to home, and inspirational. Dedicated, competitive, and driven are some of the words to describe this incredible young talent who's got her eye not only on the track, but those around her as well as her career and passions.
Don't be surprised if the name Shea Marie Holbrook becomes a household name in motorsports in the coming years.
Making her presence known not only through her personal social media interaction with media and fans, she's also made herself quite the presence in SCCA Pro Racing World Challenge Series as a formidable contender for podium finishes (now that's quite a familiar word!).
Despite the fact she drives quite quickly in her No. 67 Lucas Oil/K&N Filter Honda, she took the time to sit down with me this week to talk about her career, as well as her racing season thus far and much more, including a cause that's very close to home and her heart.
She races for a reason, which only adds to her motivation to not only be on the race track, but to give it all she's got to get that win or nab a top finish.
Charming and very much cordial, take the time to get to know this speedster who'll be competing all season long around some of the finest road racing facilities across North America. Catch her before she zooms by to Victory Lane, which may be in the cards for her at the rate she's going these days.
So strap up, start your engines, and pull those safety belts tight, as we get "In the Driver's Seat with Shea Marie Holbrook, SCCA Pro Racing World Challenge Series Racer!"
Rob Tiongson : You seem to have this natural need for speed with all that you do, based off reading your biography from your official website. Is it safe to say that you're a competitive individual in general or only when you're at the track?
Shea Marie Holbrook : That's very understated! I'm extremely competitive! It became my nature at a very young age when I began competitively water skiing. I definitely give everything my best but more importantly, I've always been taught it's not what everyone else thinks, it's what I think.
Therefore, I strive to be better than I was a year ago, even a day ago. Coaches of mine have always said "I'm driven," and what do you know… they were right, literally!
RT : For some racing fans here who may not know a lot about you, tell them a little bit about yourself. When'd you start racing and which tracks and series did your cut your teeth in motorsports?
SMH : Today, I'm a college student at the University of Central Florida majoring in Communications, a professional race car driver in the Pirelli SCCA Pro Racing World Challenge series, and Parent Project Muscular Dystrophy advocate.
About five years ago motorsports came into my life. It began with a ride along Richard Petty Experience at Daytona International Speedway, and from there I was hooked. My father got his Sport Car Club of America (SCCA) license that very weekend. A family hobby blossomed into something much more.
I began high performance events in my 1998 Acura Integra all around Florida at tracks such as, Sebring, Daytona, Homestead, and Palm Beach International. Then, I went on to obtain my SCCA license and club raced all over the national from sprint races to 25 hour enduros (the 25 Hours of ThunderHill, CA.)
I have had experience in Skip Barber formula cars, Honda's, Acura's, Mazda's, Mustang's, and Late Models oval track racing. With much hard work and support, I was able to achieve the following:
2010 Sixth place in the SCCA Pro Racing World Challenge Championship – Touring Car
2009 Central Florida Region SCCA Champion for H1
2009 Track Record 1:30.027 at West Palm International Raceway class P2
2008 Women in the Winners Circle (Lyn St. James Foundation) received Cooper Tire & Rubber Company Scholarship
2008 First female alternate for the 2008 VW Jetta TDI Cup
2007 Sobre Rodas Talent of the Year award (another winner Helio Castroneves)
My pro debut was in 2010 with the SCCA Pro Racing World Challenge Championships which the Shea Racing team finished sixth in the touring car division.
We were thrilled with our success and came back to World Challenge for the 2011 season. Currently we are 13th in the Touring Car points.
RT : How arduous was your journey to make it to the SCCA World Challenge Pro Racing and eventually, the World Challenge Touring Car Series? Were there sacrifices along the way?
SMH : There are always sacrifices when it comes to fulfilling your passion. For one, I directed my free time to enhancing my career, on track and off track. Secondly, I directed a lot of my time to searching for partners.
As we all know, financially, motorsports isn't the least expensive sport around. I began creating relationships with experienced and successful professional drivers, team owners, and crew chiefs.
I attended Lyn St. James Women in the Winners Circle Academy to further my knowledge of physical health geared toward drivers, learning business-to-business strategies, and understanding the promotional side of this fast paced industry.
My parents continue to make large sacrifices to further my career. I believe having a strong support system and hard work is turns an athlete into a professional.
RT : Who were some of your inspirations with your career in racing? Any particular racers that you looked up or those in the sport that lend a helping hand to you along the way?
SMH : To be honest, I didn't grow up in a motorsports oriented family. So when I emerged myself into the sport I looked for characteristics in drivers that I could relate or find humbling experiences they had as in my own life.
Lyn St. James stood out because of her accomplishments as a female driver, what she's done for the sport in general, what she's done on and off track, and what's she's done for me; give me the knowledge and tools to utilize to enhance MY career.
Because I personally know Lyn, I've learned to respect her much more than what's on paper. She's determined to better the sport and find that edge in a female's eyes.
RT : Having raced various vehicles and race tracks in your young career, how would you describe driving and negotiating your way around a road course? I imagine it's a bit more involved than short track ovals or speedways across the country.
SMH : Well knowing when to turn left and right definitely helps! Thanks to technology and race simulators we can accomplish that. I study a road course or street course before I show up at the track.
Like the surface of the race track. Are there crowns in the road? Paint? Will the rumble strips off set the car suspension?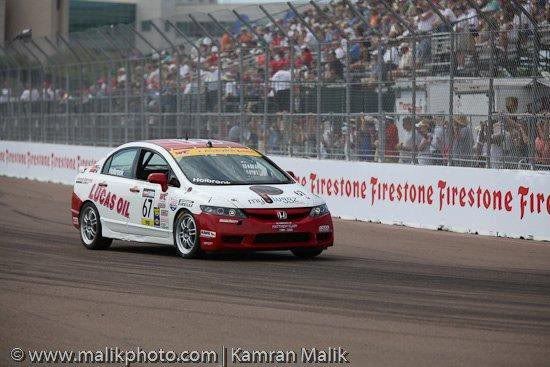 The more technical I can be while studying a race track, the more at home I'll be when I actually get there. I'll know what to expect.
Like all tracks, there will be that one challenging corner for you. I spend my time finding a faster line, or where I can gain time in other places to compensate. I respect all drivers or all kinds of racing. Whether you're an oval track racer or road racer, studying up and practice makes perfect.
RT : Personally, do you find it a grind to balance out school with your commitments in sports car racing? Obviously, there's a lot involved with the sport aside from racing, such as personal appearances as well as sponsor obligations.
SMH : My two priorities are my education and racing and it's been that way since day one. When I establish priorities I get them done. Yes, I find it difficult to give both 110% at the same time.
But many people juggle two, maybe even three jobs - how do they do that? There's never enough time in the day but somehow I seem to juggle both successfully!
RT : I've asked this with various racers in the past but I'm curious. Say I'm your car owner and you're racing around a course like Infineon Raceway. We're starting in the middle of the pack – are you going to bide your time or charge your way to the front for me?
SMH : Honestly, I love starting middle pack! I crave the chase. I'm extremely good at pressuring people and watching where they're weaker, and then make me move.
Gosh, it's definitely harder to keep everyone behind you the whole race! Top five is more ideal though. It gives you enough room to sit back and watch but keeping up with the pack is key. Persistence and technique!
RT : Now, I understand that you don't merely race for the sake of competing and vying for victories, but that you have some added motivation as well. Tell me about your involvement with various charities, including Parent Project Muscular Dystrophy (PPMD).
SMH : In 2010, I became heavily involved with the nonprofit Parent Project Muscular Dystrophy (PPMD) which directly benefits Duchenne muscular dystrophy in 2010.
Duchenne muscular dystrophy is the most common fatal genetic disorder diagnosed in childhood, affecting approximately 1 in every 3,500 live male births (about 20,000 new cases each year).
Duchenne results in progressive loss of strength and is caused by a mutation in the gene that encodes for dystrophin. Young men with Duchenne typically live into their late twenties.
I lost a cousin to Duchenne and currently have a younger cousin affected by Duchenne. It's become a life goal for me to help in funding and finding a cure for Duchenne because every boy deservers the chance to become athletes, businessmen, and fathers.
RT : When it comes to keeping up with your fans on Facebook and Twitter, how important is it for them to know that it is indeed you that's updating your social networking accounts?
SMH : I LOVE social media! I find that the fans really appreciate that I take the time to speak to them, just like I appreciate the fact that they take time to speak to me. Fan base, social media, and for free! It doesn't get any better than that.
I love when fans upload some photos we took together. I'm able to create a relationship with them. I post often, two to five times a day, and on a crazy day ten to twenty times. It's the perfect way to stay connected and become a brand!
RT : Alrighty, Shea…it's time to do a bit of Free Association! This should be relatively easy as putting a hard, fast lap in your No. 67 Lucas Oil/K&N Filter Honda! Ready? Let's do it.
What I love about racing is…
SMH : ...with passion, determination and perseverance success is very much in reach, and when you meet and exceed those goals it's extremely rewarding.
RT : My future in racing is…
SMH : …to become a role model for young women humbled and determined to win, make my own footprint in the industry, and make a difference while at it.
RT : Having raced in sports cars the past couple of years, what are your short-term future plans? Do you see yourself vying for a career in endurance competitions or elsewhere?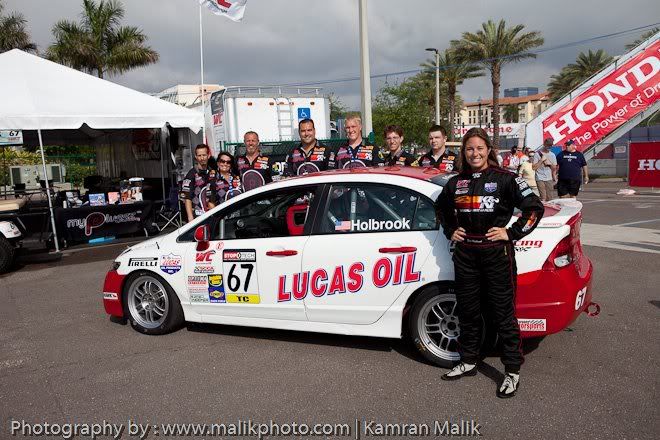 SMH : My short-term goals include: podium finishes with World Challenge in the 2011 season, a top five finish in the World Challenge Championships, moving into the GT class in 2012, and becoming a brand for myself and partners.

My long-term goals include: establishing long-term partnerships and branding myself with that partner or product, entering into the IZOD IndyCar Series and aspirations in NASCAR.
RT : You have a busy couple of months coming up with the Larry H. Miller Dealerships Utah GP and Mosport GP. What would you like to say to your fans out there about those races and any shout outs you'd like to give out here?
SMH : I'm excited to experience Miller for the first time. I've been in contact with Miller Motorsports Park via social network and they've helped us in our charity efforts. I hear the fans are spectacular out there so I'm pumped to meet them all and put on a great race for them at a wonderful venue.
Mosport and I had a love/hate relationship last year. But this year, I'm more than ready to go back and prove myself. We're there the weekend of Victoria's Day and Canadians know how to show their support and love for sports cars. It's just the beginning and I'm having way too much fun!
Author's Note: I'd like to personally thank Shea Marie Holbrook for taking the time to let me interview her in what will be a busy weekend ahead for her as she's heading to Long Beach, CA!
Also, all the photos you see in this interview piece were taken by Kamran Malik, whose works are featured at his official site. These were posted on Shea's official Facebook fan page. If you'd like to follow Shea, check out her Twitter, her Facebook fan page, as well as her official website here!