Bold, beautiful, and relentless, Shelby Frye is the epitome of what it means to race and live life on the edge, one lap at a time.
Some say that racing is just a game of cars going around in circles. Fair game, it's true, as drivers traverse their machines for hundreds of laps but they'll search for the ultimate line that allows them to pass in a "battle for the checkered flag."
Others might argue that racing is just a novelty, not a sport. Well, stop right there - motorsports is a physically demanding activity that tests one's strength, stamina, mentality, and most of all, their core from the moment that the motor's flicked on to the checkered flag.
Then there are those who say racing is meant to be on asphalt, not dirt. OK, now really stop. In the case of young dirt modified racer Shelby Frye, who's been chasing after her dreams to reach the ultimate level of dirt track racing for virtually all of her life.
Hailing from South Haven, MI, Frye's father, Jack, raced dirt modifieds and the young gun talent would pick up her passion immediately.
"I have been around racing all of my life," said Frye. "Growing up in South Haven, MI, my dad use to race dirt modifieds and I watched him since I was in diapers. It's something that's either in your blood or it's not."
Indeed, she's got the racing passion in her blood, continuing her dreams and passions in her own right (and in fine fashion). From her days racing in Case Grande, AZ, it's safe to say that she not only fell in love with racing - she also fell in love with winning!
"When we moved to Casa Grande, AZ at the age of 10, I began racing speedway go-karts, becoming very successful," Frye recalled. "In my first season of speedway karts, I won 25 out of 30 races in my rookie year racing in the Arizona Karting Association or "AKA.'"
It was in 2010 when she embarked in the Modlite ranks, competing at Canyon Speedway in Peoria, AZ, Arizona Speedway in Mesa, AZ, and Tucson International Speedway in Tucson, AZ. That year would mark the current chapter of Frye's ever building racing career story, where she began to race on the dirt tracks. After successful outings in karting and Modlites, Frye and her father Jack made the decision to race in the IMCA Dirt Modifieds, which the young driver described as "one of the toughest and competitive divisions in the western region."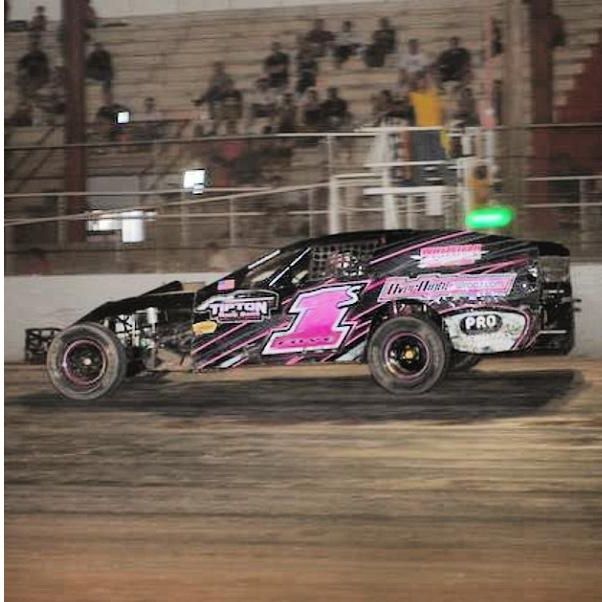 "On a weekly basis, I race with the top two drivers in the nation, and the top four in the western region, with drivers such as the 20rt of Ricky Thorton Jr, or the 44 of Jason Noll," Frye said. "My current chassis is a 2000 pro, which means I'm racing my 14 year old car against guys who have brand new equipment. I have led main events and have three heat race wins with this being my first year in that class."
Racing is slowly becoming a sport where women are making strides to be on the same footing as men on the track.
Realizing her struggles and accomplishments in her career, Frye reflected, "I feel as though I gain more respect from the men with each and every race. Some people say race others the way you wish to be raced. I see it as race others the way they race you."
Observing the golden rule of life with racing, that doesn't mean that Frye is passive when it comes to those who may "play dirty" on the track.
"You can forgive but you don't forget," Frye said. "With this being an open wheel class, it is so very easy for cars to get torn up, and we all know that nothing is cheap. If I get the chance to show my nose, I will, and a majority of the time guys will let a faster driver by.
"There is nothing to be intimidated about when gearing up and strapping in to go over to staging. If you let them intimidate you, you have already lost. I want them I be intimidated by me knowing I'm one of the toughest drivers out there to beat, and with more seat time and newer equipment, I will only get better."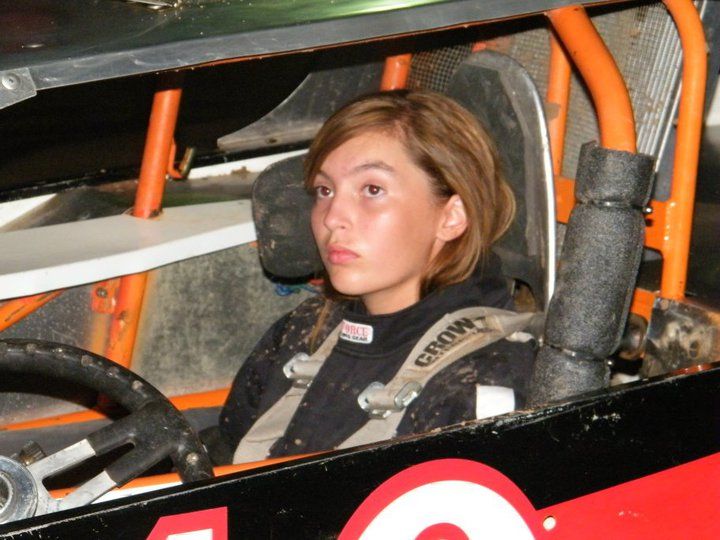 Like an elite athlete who never is satisfied with complacency, Frye is the kind of racer who, while is a beautiful and sweet individual off the track, when she's on the battlefield, she is a warrior, a champion, fighter, and one who's ready to take on the challenges, no matter how dire or adverse that a situation might be for her and her racing efforts. It's beyond a sport that builds her character; it's her way of life and she realizes her success is reliant on those around her and as well as on herself on the track.
"This sport is a way of life to so many drivers including myself," Frye remarked. "You can say that football or baseball is a sport, but in reality, those are just a game. When you're out there on the track, you don't have a team to help you, you have your pit guys. But they aren't there to help you with a slide job going into turn two. It's all on you when that green flag flies, you get there with the help of your team."
Of course, there's the risks involved with this high speed game of racing. While most think of the accolades, the trophies, prize money, and competitive action, there are the dangers of getting hurt or the one fate most of us in this sport rarely want to ponder about. Naturally, Frye has her thoughts on this dark side of the sport, putting some perspective on the finer things of her life.
"Everyone knows this sport is dangerous, so my dad kisses me and squeezes my hand before he goes out because when you leave, as you don't know if you will get to come back," Frye said. "However, people can die from crossing the road and getting hit by a car. Just depends on how you choose to live your life. You can sit back and watch your life pass you by, or you can get up there and pass people with it. It's up to you how you want to live and for me, I want to impact people."
Ultimately, Frye realizes her legacy in racing comes with the risks and rewards of her passions. While she dreams of being in the sprint car ranks and becoming a champion, it's the individuals that we once were that she realizes why she loves this sport and why she puts herself on the line during each instance that she straps behind the wheel for each breathtaking, death-defying lap.
"The kids that come into the pits afterwards with checkered flags and posters to sign make it all worth it," said Frye. "I can't count the number of pictures that I take with fans after the races. To hear every boy and girl say, "I want to be just like you some day," it makes what I do worth it in the end."
To say the least, regardless of how successful, driven, and triumphant that Shelby Frye, the racer, the individual, the daughter, and friend becomes ones day, her legacy on the track is one that will certainly captivate our attention, quicken our heart rate, but most of all, it is a story of a driver and girl who is bound for amazing success in the years to come in this ever competitive thing that we call auto racing.
For now, we've got ourselves a promising young racer who faces the uphill battles, but instead of running on empty, she's ambitious, she's hungry, and she is about as prepared to take on her competitors, the tracks, and to drop the hammer to do what it takes to win on any given day.
Author's Notes : Special thanks to Shelby Frye for allowing me to interview her for this special feature story. All the pictures in this piece are courtesy of Frye. If you'd like to know more about my racing friend, "Follow" her on Twitter and "Like" her Facebook fan page right now!